October 22, 2018
We're two weeks out from the Nov. 6 midterm elections.
1 big thing: Republicans are getting nervous about the House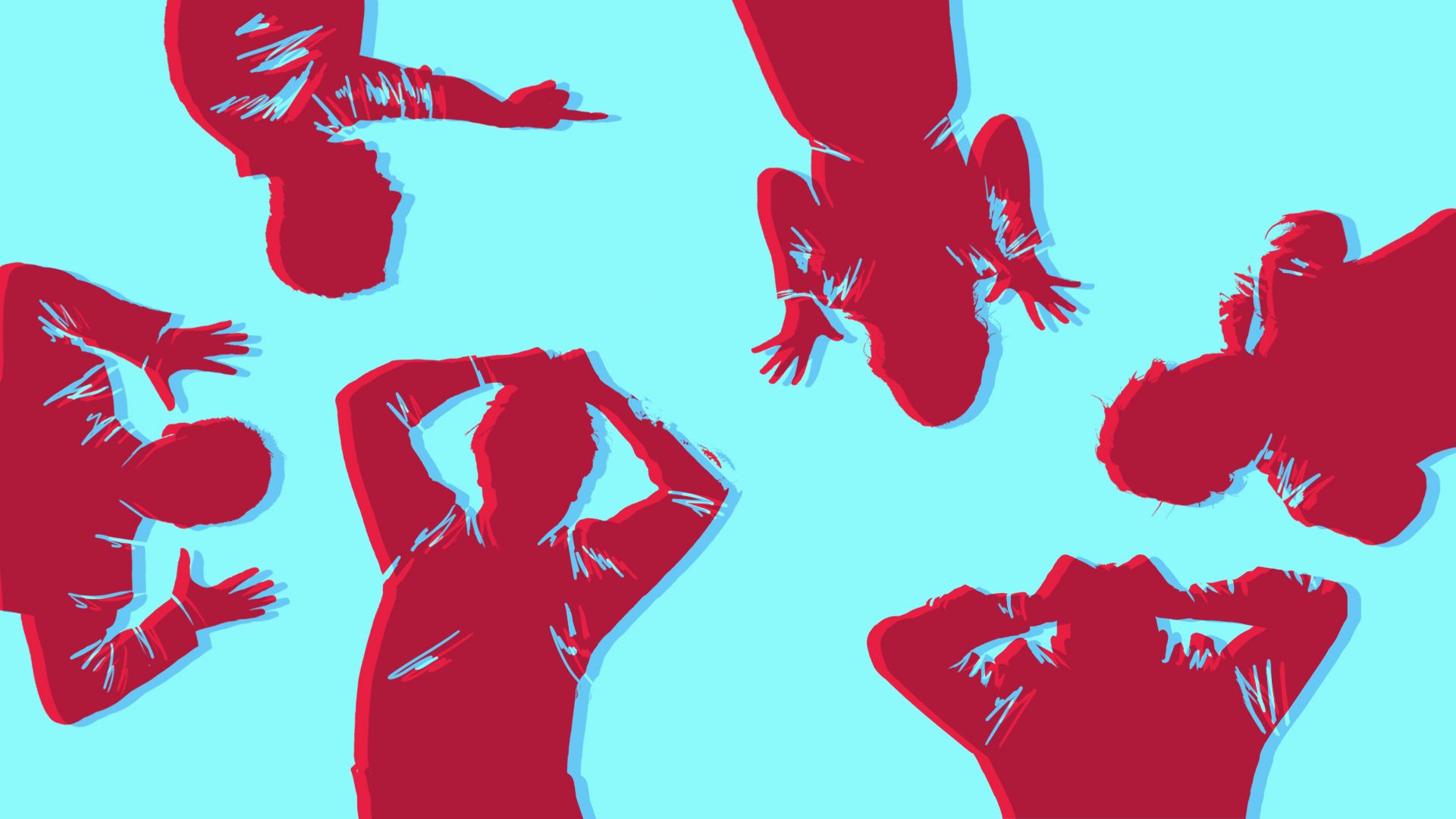 Despite seeing some positive signs in polling and enthusiasm after Brett Kavanaugh's confirmation, Republicans' behavior in the last few weeks shows how nervous they are about keeping control of the House.
Between the lines: The lack of confidence is showing up in where GOP groups aren't spending money and how the Republican blame game is unfolding between President Trump and GOP operatives — all in anticipation of possibly losing the House.
The best example is the party's conflicting signals over Virginia Rep. Barbara Comstock. The Republican Party's campaign arm, the National Republican Congressional Committee, is still spending to save her. But the main Republican super PAC, the Congressional Leadership Fund, disagrees with that strategy and isn't spending there.
A national GOP strategist close to the White House told me Comstock "is dead on arrival" and that money could be spent elsewhere to "possibly win six seats in other districts around the country."
Last week, a national GOP operative pointed to how much money Democrats have spent in Nevada's 3rd and 4th districts — both open House seats rated as "lean Democratic" by the Cook Political Report. The next day, the NRCC pulled its $1.2 million ad campaign in support of the GOP candidate in the 4th district.
Trump is already setting the stage for a loss:
At a rally last week, he said he's not to blame if Republicans lose the House and claimed to the AP that he'll "handle it very well" if Democrats win and move forward on impeachment and investigations against him.
Another Republican operative working closely with a number of congressional races around the country said "the president, him being undisciplined, and his low approval" are to blame if the GOP loses the House.
The math doesn't look totally detrimental for Republicans, who could keep their losses to within the historical average of around 30 seats — but a loss is a loss.
Cook Political Report's Dave Wasserman told me: "In my view, Democrats have a 70-75% chance of retaking the House, with the most likely outcome in the 25-35 seat range." Democrats need just 23 to win the House.
The GOP source close to the White House said two months ago it looked like Republicans were poised to lose 50-60 House seats. Although things look better for them now, the source said, "Today, I think it's going to be somewhere between 20 and 35 seats that Republicans will lose."
A Republican pollster who's familiar with congressional races around the country texted: "Dems have a net gain of 12 or so in hand. 30-35 additional seats still in play. GOP needs to win vast majority of those, which is certainly possible, just tough to do."
The other side: It's still possible that Republicans could hold onto the House, though it probably wouldn't be by much. The GOP is feeling better about picking up an open seat in Minnesota's 8th district after Democrats pulled some of their spending from this race, and they're seeing similar trends in California, Florida and Nebraska.
GOP strategist Michael Steel cites the 2016 election — which Trump was supposed to lose — as a word of caution for assuming GOP fortunes in 2018. "I haven't seen people inside the beltway as convinced and certain about an electoral outcome since the day before Hillary Clinton won the presidency," he said.
The bottom line: Republicans haven't totally conceded the House, but their actions suggest they're bracing for a long night on Nov. 6.
2. Some GOP bright spots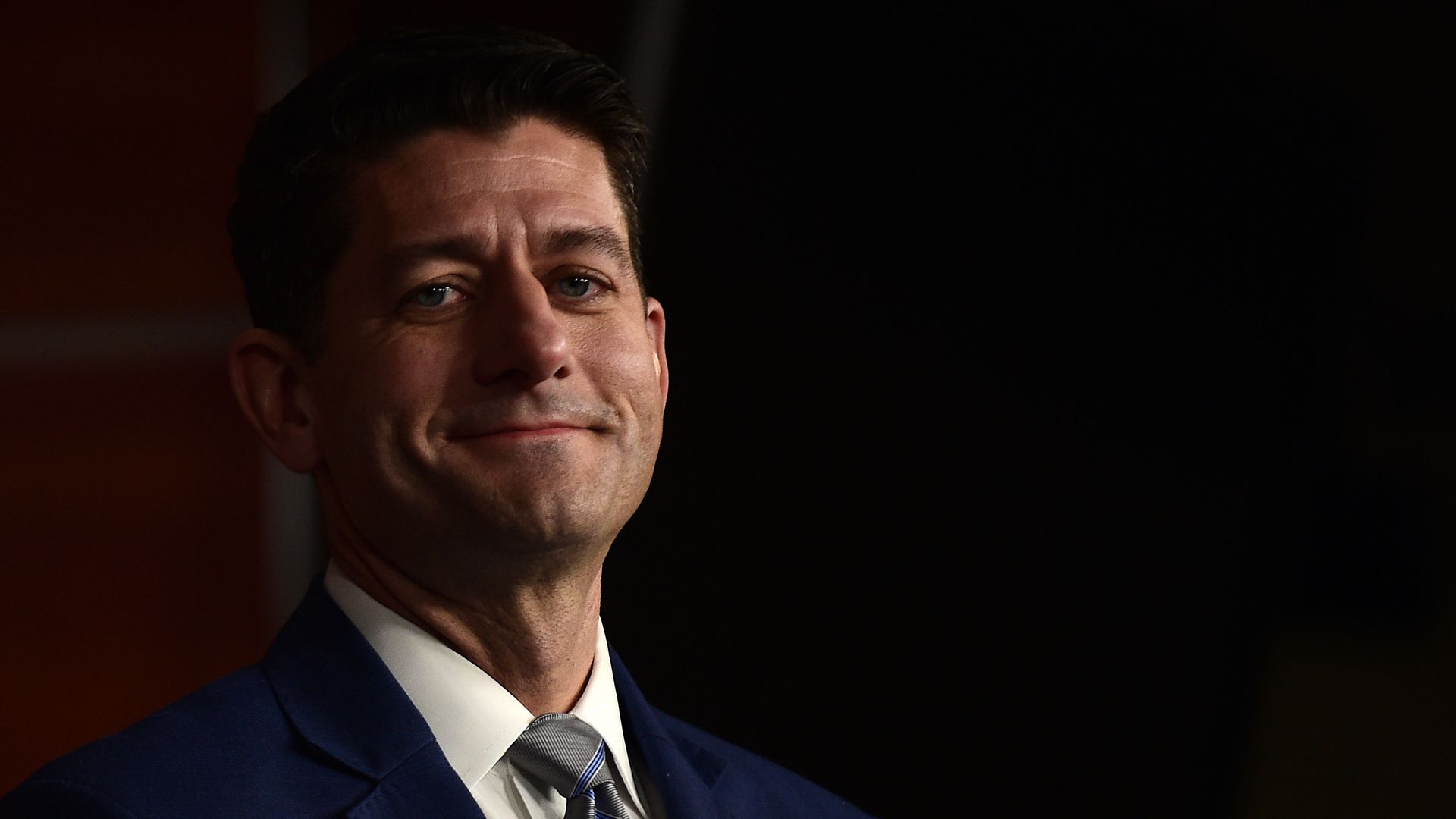 Republicans say some congressional races are moving back in their direction in the last few weeks, according to conversations with six GOP strategists, pollsters, and operatives.
Four races to watch based on an internal memo by the Congressional Leadership Fund, and which were independently mentioned by the other GOP sources:
Nebraska's 2nd district, where CLF polling shows Republican Don Bacon leading Democrat Kara Eastman by 11 points.
Republican Pete Stauber is leading by 8 points in Minnesota's 8th district, Democrats' most vulnerable seat this cycle.
Iowa's 1st district, which has been considered a competitive race for the GOP, now shows Rep. Rod Blum ahead by 4.
Florida's 27th district, where GOP sources say Democrat Donna Shalala has been a weak candidate, which gives them renewed hope. Republican Maria Elvira Salazar is now tied in CLF polling, and the NRCC took $1 million from vulnerable Rep. Mike Coffman's district in Colorado to invest in this Florida race.
Between the lines: Cook rates the first two races as "lean Republican," but Iowa's 1st is rated as "lean Democratic" and Florida's 27th is considered a "Republican tossup."
The other side: There are certainly factors favoring Democrats, like a record number of open seats, which are easier to flip, and Republicans running in districts where Trump's approval is underwater.
One more thing: A Republican strategist said Pennsylvania's 8th district is "the only pickup opportunity we have against an incumbent Democrat," adding that the new district, created after the state's congressional map was redrawn, went to Trump by almost 10 points in 2016. But the strategist then said Republican John Chrin has been down in their internal polling.
3. Ad of the week: Ben and Jerry's for Democrats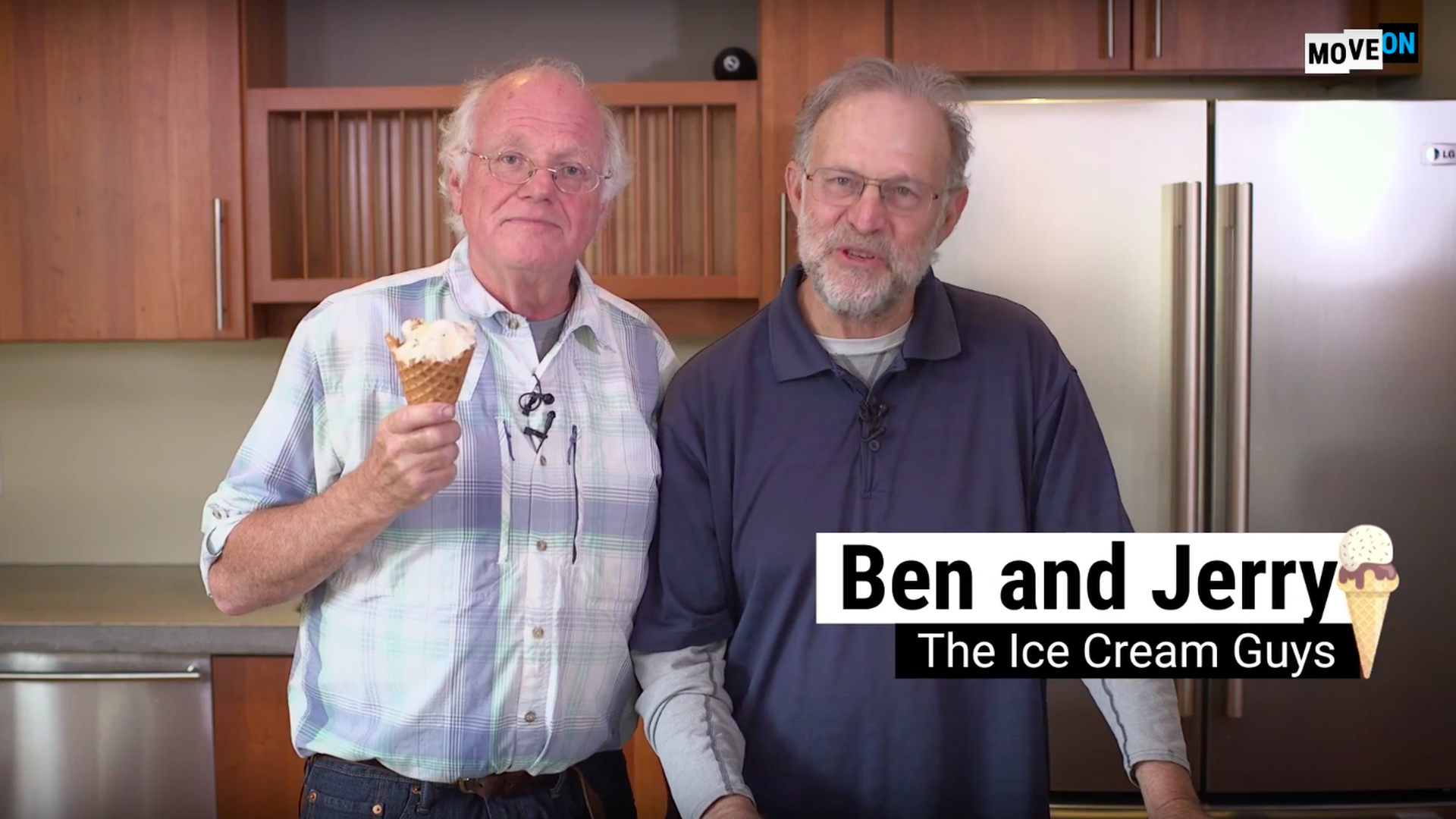 The co-founders of Ben & Jerry's teamed up with the progressive group MoveOn to create custom ice cream flavors for seven Democratic candidates. Their ads in support of five of these candidates will air this week on MSNBC, CNN and Comedy Central.
4. Wave watch: Midterm interest spikes among Dems
A new NBC/WSJ poll found 72% of Democratic voters have a high interest in voting in the midterms, compared to 68% of Republicans. In 2014, only 47% of Democrats and 59% of Republicans felt similarly.
Interest in voting has increased by double digits among Latinos, young voters, and women ahead of the election, compared to their average in previous NBC/WSJ polls throughout the year.
Why it matters: Those are crucial voting blocs for Democrats and could decide the election if they actually show up on Nov. 6.
By the numbers: Democrats lead the generic congressional ballot by 9 points, which is lower than the double digits they've seen in earlier polls.
Voters trust Democrats more on health care (they lead by 18), but look to the GOP on the economy (they lead by 15).
Republicans are up by 8 among white women without college degrees. But Democrats lead by 29 on the issue of which party is looking out for "women's interests."
5. Axios 8 for 2018: Beto still faces an uphill battle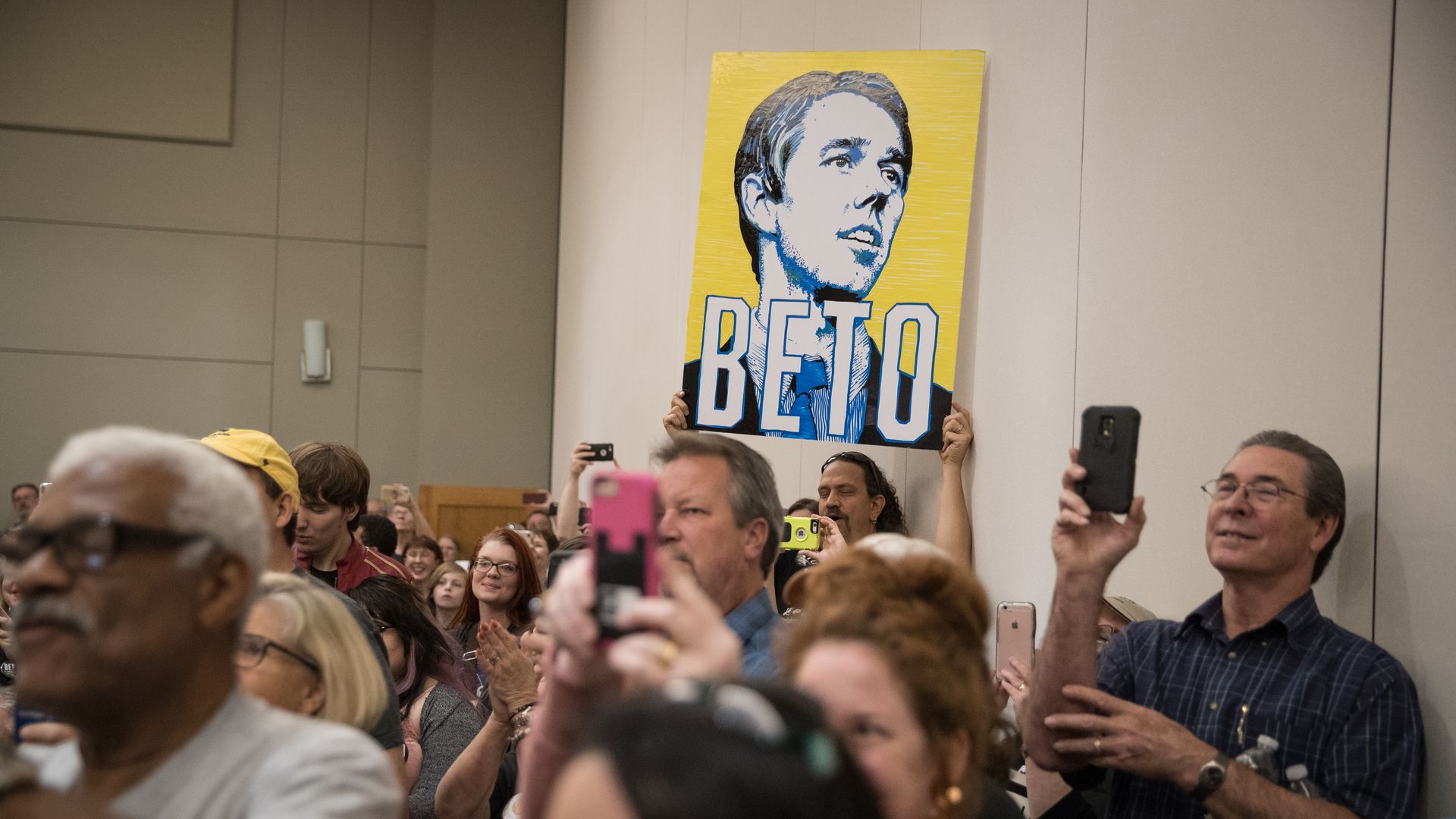 Despite raising $60 million, Beto O'Rourke — who's on our Axios 8 for 2018 list — still faces an uphill battle in turning Texas blue, per CNBC. For context, Sen. Ted Cruz has raised $35 million.
What to watch: Early voting, which started this week in Texas, and whether Trump's visit to the state gets Republican voters more excited.
Between the lines: "Despite his staggering cash haul and quick rise to national prominence, O'Rourke still appears to be an underdog. No recent independent poll has shown him closer than 5 percentage points behind Cruz," CNBC notes.
6. Trail pic of the week: Don Jr. in West Virginia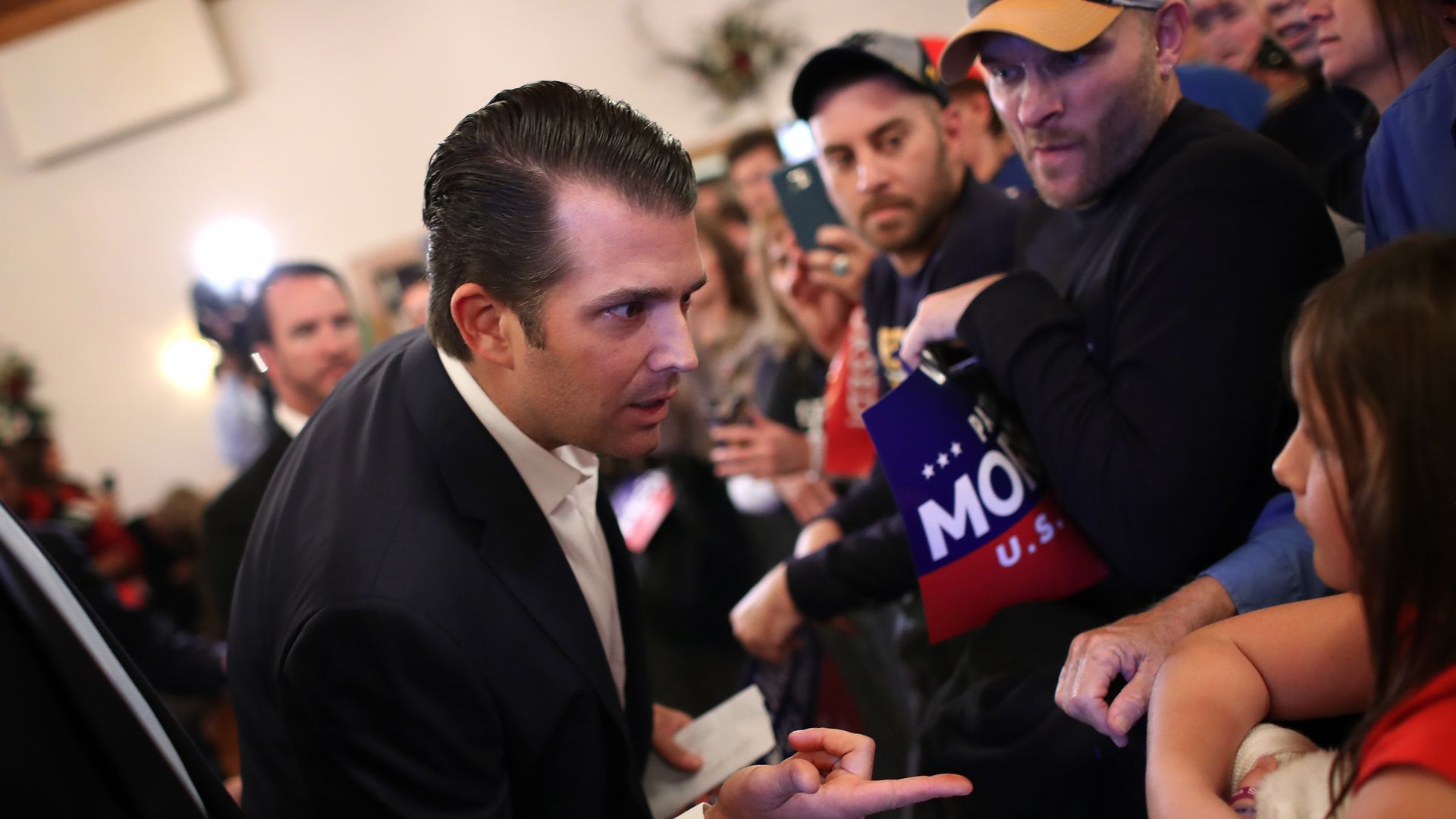 Donald Trump Jr. has been campaigning tirelessly to help Republicans. Here he's pictured at a campaign rally for West Virginia Senate candidate Patrick Morrisey.
Just this week, he's holding a rally for Greg Pence — Vice President Mike Pence's brother — and Mike Braun in Indiana and headlining a fundraiser for them after the rally.
Later, he's headlining a fundraiser for the Ohio Republican Party, followed by two rallies and another fundraiser in the state.
He's finishing the week with an eight-stop bus tour for Greg Gianforte and Matt Rosendale in Montana.