October 08, 2018
We're four weeks out from the Nov. 6 election.
1 big thing: The Kavanaugh cash surge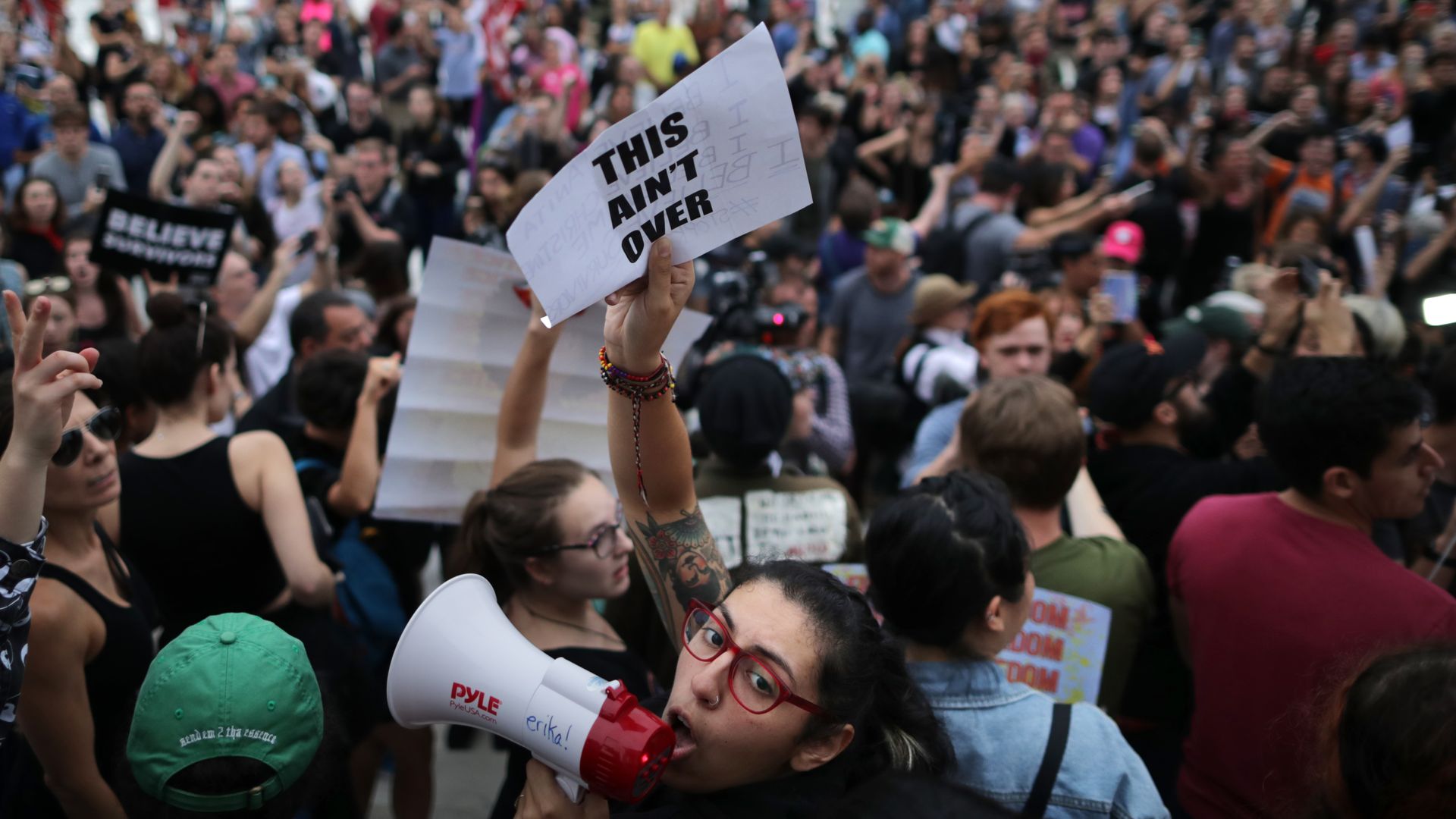 The Brett Kavanaugh confirmation fight has led to a huge increase in donations to Democrats and groups that support them — and Republicans say the battle has been good for their fundraising, too.
Why it matters: It's tangible evidence that the bitter Supreme Court showdown is turning into massive energy for the midterm elections. Republicans have said a "Brett bounce" is increasing enthusiasm among their base, but the fundraising numbers suggest that Democrats are also fired up and throwing all the money they can at the elections.
By the numbers:
The Democratic Congressional Campaign Committee, the campaign arm that works on House races, says it raised $400,000 from emails and texts in the 30 hours after Christine Blasey Ford's testimony.
Sen. Kamala Harris of California raised over $400,000 for Sen. Heidi Heitkamp of North Dakota (who voted against Kavanaugh) in just 24 hours from a single email, per NBC News. Heitkamp is one of the most endangered Democratic incumbents in the November elections.
The DCCC says it also raised $4.38 million from the end of September to Oct. 5 — the day it was clear Kavanaugh would be confirmed.
Republicans have reported huge fundraising increases too, though they're not releasing specific dollar amounts. Instead, an aide at the National Republican Congressional Committee (NRCC), the group in charge of House races, says it saw a 418% increase in online donations in the first week of October compared to the first week of September.
And Ronna McDaniel, who heads the Republican National Committee, tweeted that the group had raised 500% more in the first week of October than it did during the first week of September.
During the week of Kavanaugh's confirmation, the National Democratic Training Committee, which trains and invests in Democratic candidates throughout the country, raised $240,000 — the group's best seven-day fundraising period since it launched in the summer of 2016. The day before the Kavanaugh vote, it received a record $40,000.
ActBlue — the online fundraising platform that has raised over $1 billion for Democrats this cycle — raised nearly $10 million on Oct. 5 and another $9 million on Oct. 6. The group says that was its third and sixth biggest fundraising days, respectively.
Between the lines: Both parties say their supporters are more enthusiastic about the elections now — Democrats because they believe the Senate didn't listen to Ford, Republicans because they believe Kavanaugh was the victim of a partisan hit job. But it's harder to evaluate the evidence for a Republican money surge since they're refusing to release specific dollar amounts the way the Democrats have.
One Republican strategist who's working on midterm congressional campaigns said: "Sure, Kavanaugh is animating white, college-educated women, but guess what? They were not voting for a Republican a month ago and they're still not."
The bottom line: Money isn't everything, but it's a good sign that Kavanaugh is going to drive a lot of angry voters to the polls on Nov. 6.
2. Pay attention to this Kansas House race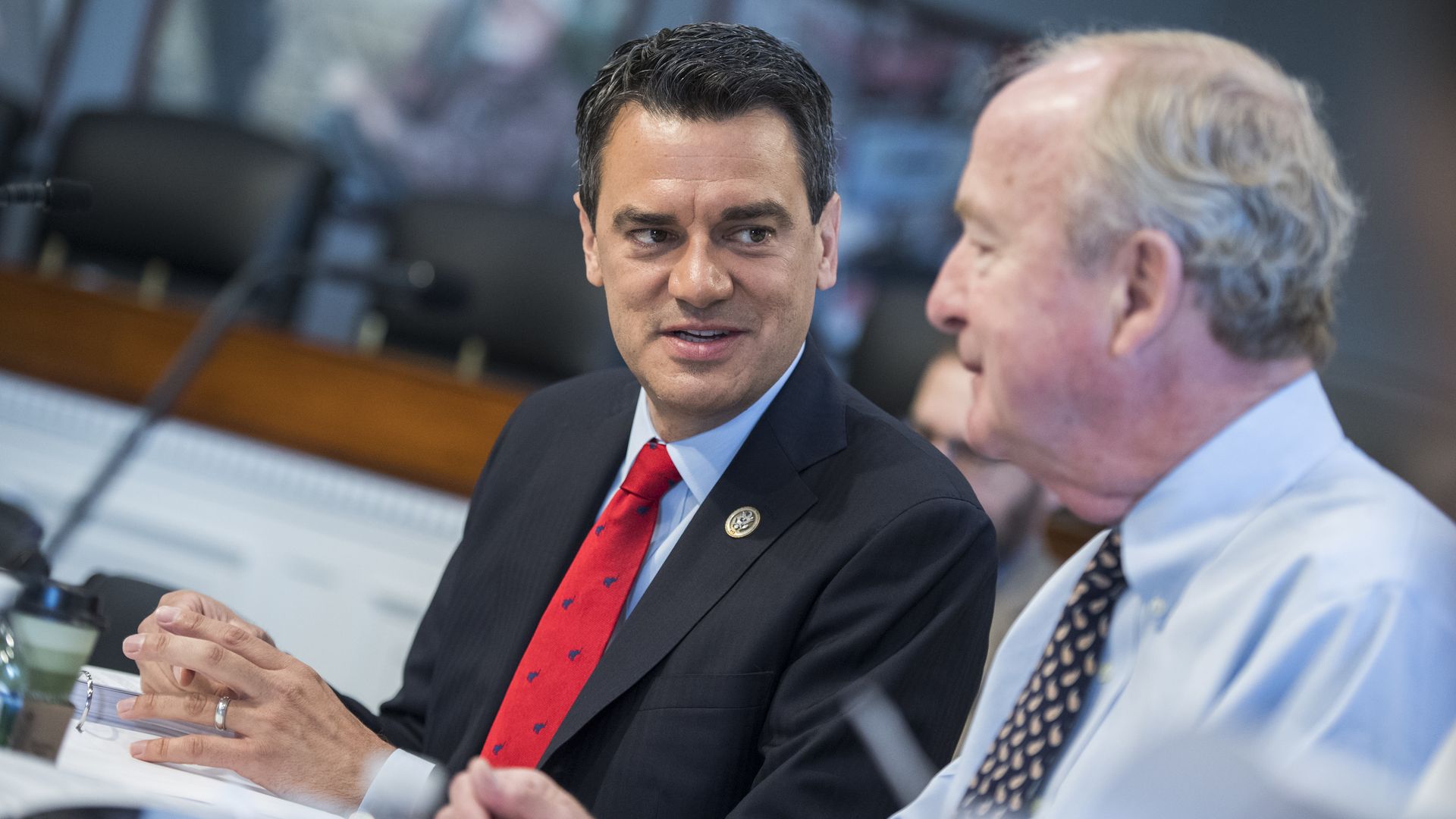 The House race in Kansas' 3rd district, between GOP Rep. Kevin Yoder and Democrat Sharice Davids, "says everything about the midterm environment of 2018," writes National Journal's Josh Kraushaar.
"It reflects the collapse of the Republican Party in typically-conservative suburbs across the country. It illustrates the potency of Democratic challengers with minimal experience in elective politics ... "
Why it matters: The National Republican Congressional Committee pulled its $1 million ad campaign in support of Yoder. And, Kraushaar reports, "Independent voters are eager to cast a ballot to put a check on Trump, and Davids is the beneficiary of that suburban anger."
The big difference in these final weeks: visibility. Yoder is "dashing home from Washington to meet with as many constituents as possible." Davids, on the other hand, "is acting like the incumbent, banking eye-popping fundraising totals and skipping opportunities to debate her embattled opponent."
But another challenge for Yoder is President Trump. Yoder skipped a recent Trump rally in Topeka, Kansas, suggesting he's distancing himself from the president in the final stretch of the election.
What to watch: "That anti-Trump sentiment is coursing far beyond the suburbs of Kansas City, putting the neighboring reliably-Republican 2nd District in play."
3. Ad of the week: Debbie Mucarsel-Powell in Florida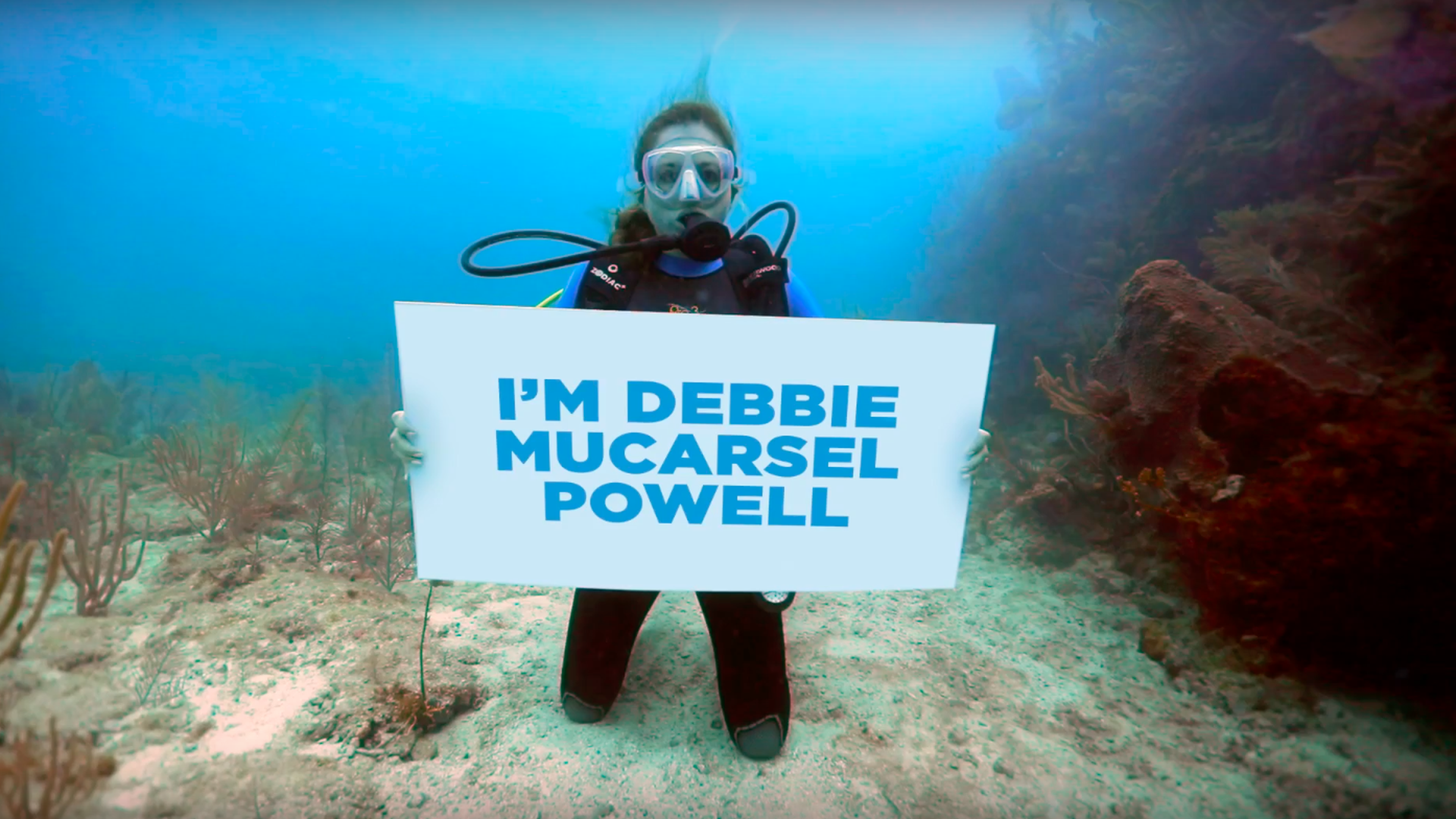 Democrat Debbie Mucarsel-Powell — who's running against GOP Rep. Carlos Curbelo in Florida's 26th district — is out with a new ad shot completely underwater.
The ad, titled "We deserve clean water," focuses on environmental issues she says "Republicans have done nothing about."
I'm told there was a dive master and seven other video crew members underwater with her during the shot.
4. Over 180,000 people have already voted in the 2018 midterms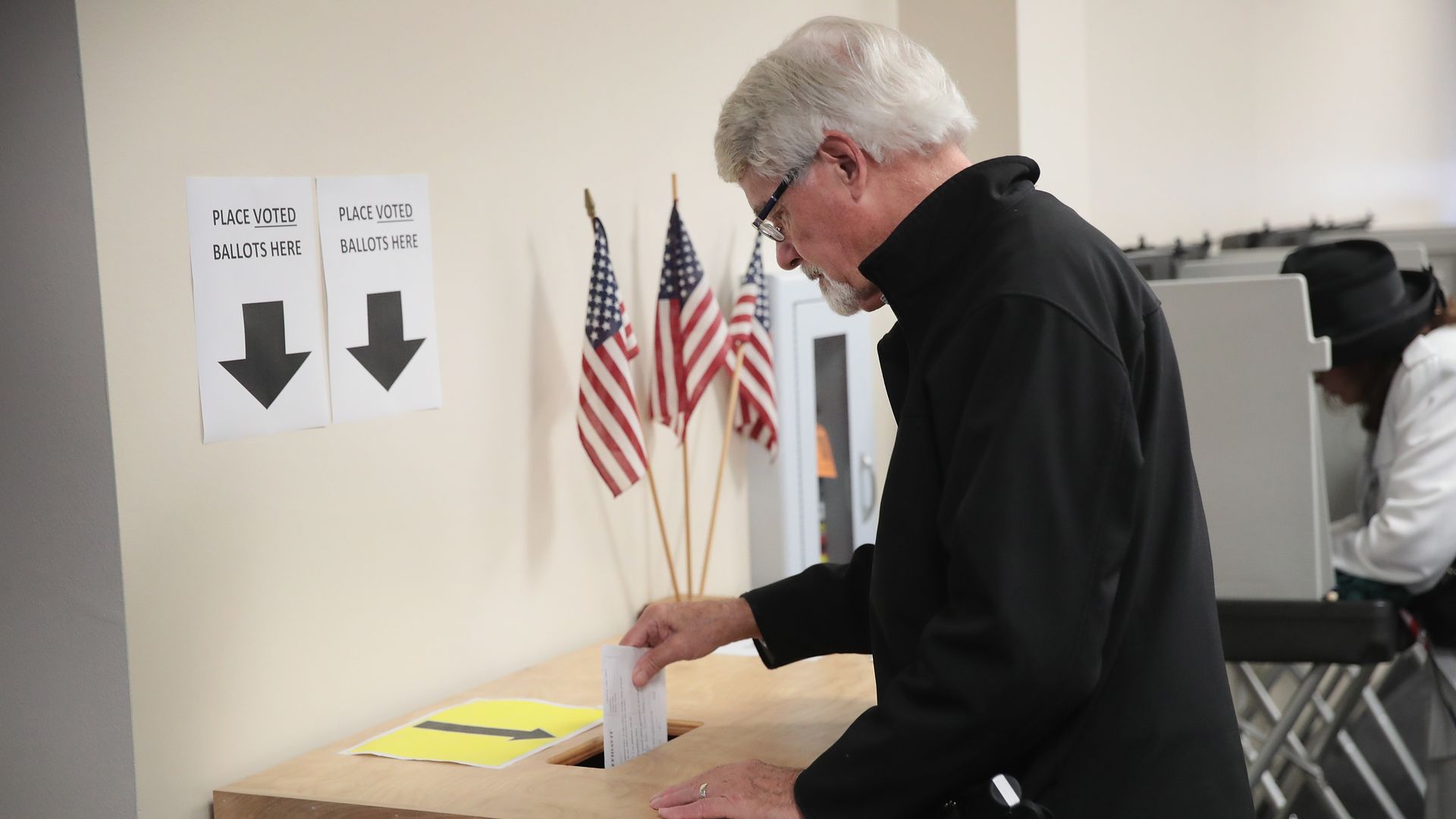 At least 182,016 votes have already been cast in the 2018 midterm elections, according to Michael McDonald, a political science professor at the University of Florida who's tracking turnout on his "Elect Project" website.
Minnesota and Wisconsin are leading the early voting, with 42,552 and 31,902 votes, respectively.
In Florida, 2,767,585 mail ballots were "sent or requested," per the Elect Project database.
Why it matters: While we don't know which party is benefiting from these early votes, those voting earlier than Nov. 6 already have their minds made up — despite any potential October surprises or news events that could come in these next four weeks.
5. Trail pic of the week: Jeff Johnson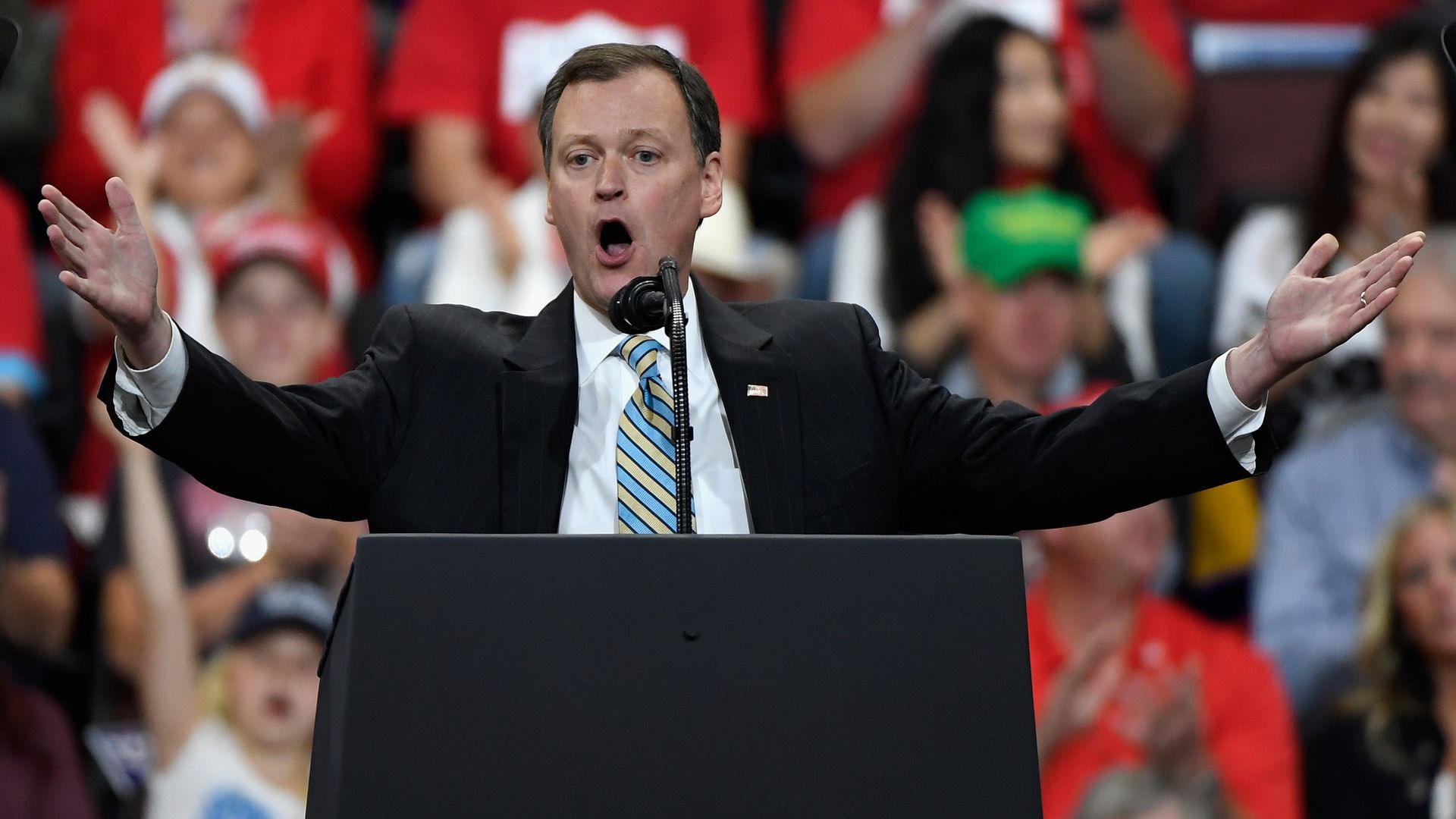 Johnson, the Republican candidate for Minnesota governor, speaks at a rally held by President Trump at the Mayo Civic Center in Rochester on Oct. 4. He's one of the beneficiaries of the rallies Trump has been holding for Republican candidates in the midterm elections.