Aloha from Maui, where I am in town for Qualcomm's Snapdragon Summit.
Qualcomm picked a really chaotic time to jump into PC market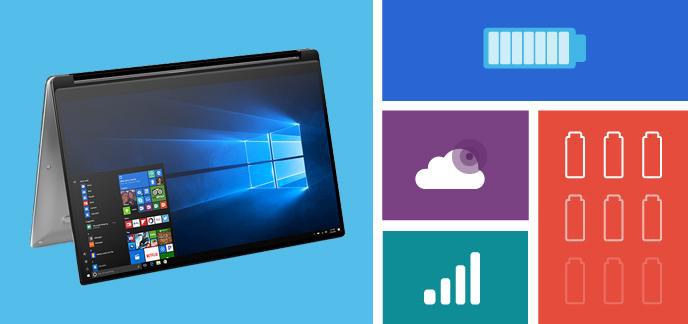 Qualcomm hopes, at long last, its chips find their way into PCs. Photo: Qualcomm
Later today Qualcomm will show off the result of one of its most significant technical and business bets in years — getting Windows 10 running on its Snapdragon 835 chips. Those are the same processors it uses to power many of the world's smartphones. That, along with a separate move into server chips, represents key growth opportunities.
However the effort comes at an unbelievably crazy time for the chipmaker. Here is just some of what's going on:
Why it matters: Nabbing a share of the global PC market, even a small one, could be a big boost for the company, which is under increasing pressure in the phone business. But, as is clear from above, Qualcomm has a lot on its plate.
Check out Axios.com later today for more details on the always-connected PC effort.
Former Obama CTO compliments Trump's tech initiatives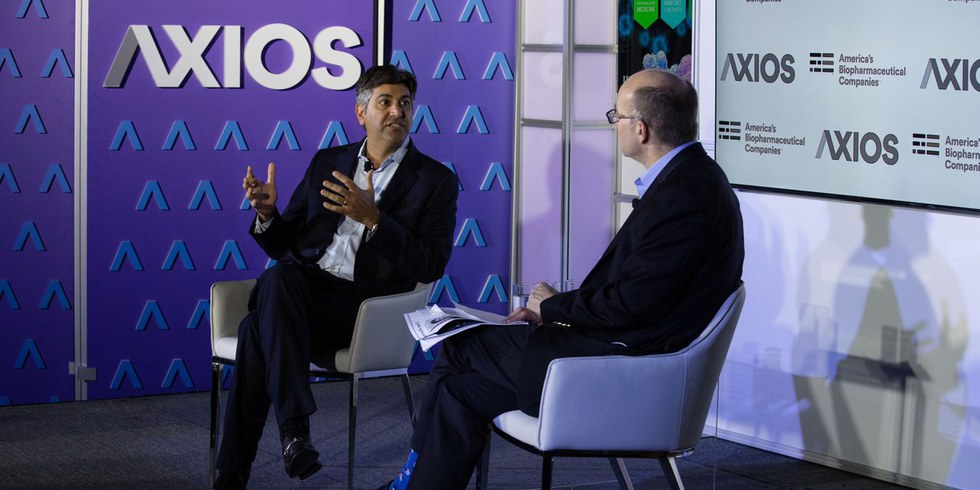 Aneesh Chopra (on left) speaking with Axios' Mike Allen this morning. Photo: Chuck Kennedy / Axios
Aneesh Chopra, the United States' first chief technology officer under the Obama administration, told Axios' Mike Allen this morning that he believes expanding tech literacy is a "wildly bipartisan" issue in government today. Chopra specifically cited the work of the Jared Kushner-headed Office of American Innovation as something that "mirrors very nicely" his Obama-era tech initiatives.
"While you'll generally see those of us in the Obama world sort of fret all of those decisions [by the Trump administration], on this topic you'll see a lot of alignment and a lot of support," Chopra says.
Spending in global app stores to top $100 billion next year
The total amount spent in mobile app stores globally is expected to rise 30% next year, reaching $110 billion, according to App Annie. The majority of that will come from games, but the money from other kinds of apps is growing faster than that from games.
The same study from App Annie notes that the average user now spends two hours a day using mobile apps — that's the equivalent of an entire month each year.
43% of Fortune 500 companies were founded by immigrants or their kids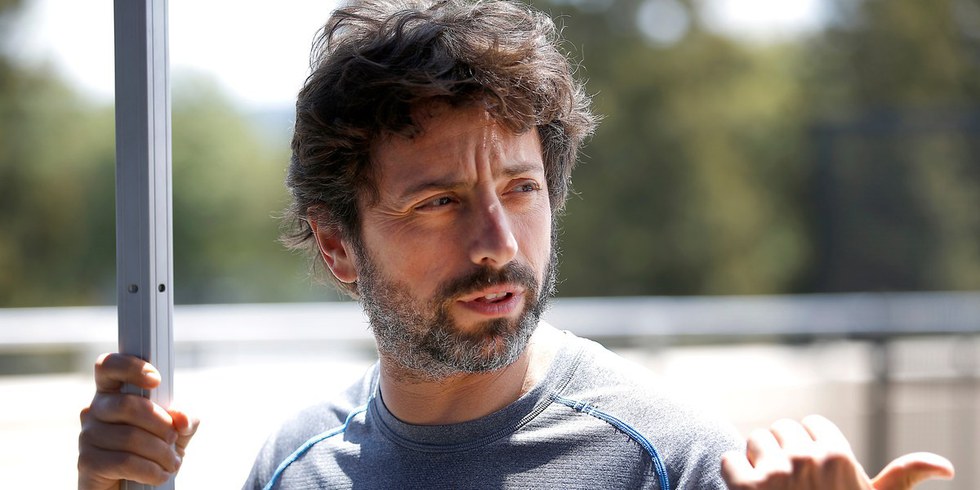 Google founder Sergey Brin was born in Russia. Photo: Tony Avelar / AP
It's worth remembering that more than four in 10 Fortune 500 companies were founded by an immigrant or a child of an immigrant, per a new study from the Center for American Entrepreneurship.
Why this matters: A battle is raging over the Trump administration's plan to rescind the International Entrepreneur Rule, which grants temporary visas to foreign startup founders who meet certain criteria. Last week, a court blocked the Department of Homeland Security's attempt to delay the implementation of the rule.
Axios' David McCabe has more here.
The 20 most-blocked keywords in ad campaigns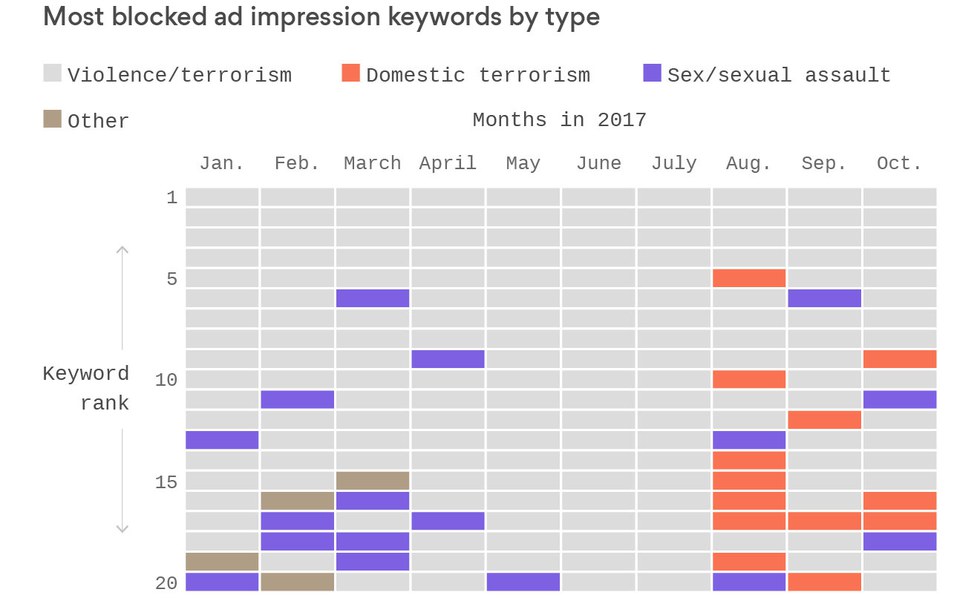 Data: Axios analysis of Integral Ad Science monthly blocked keywords; Note: Other includes drug and profanity; Chart: Andrew Witherspoon / Axios
An analysis of the 20 most blocked keywords monthly from January to October of this year via data from Integral Ad Science shows that marketers are most concerned about gruesome, violent content, like mass shootings, bombings and explosions.
Why it matters: Bad actors abusing the open web with terrorism content and violence are not only challenging our conventional notion of the benefits of the internet, but also forcing regulators to revisit outdated internet policies.
Girl Scouts dive deeper into computer science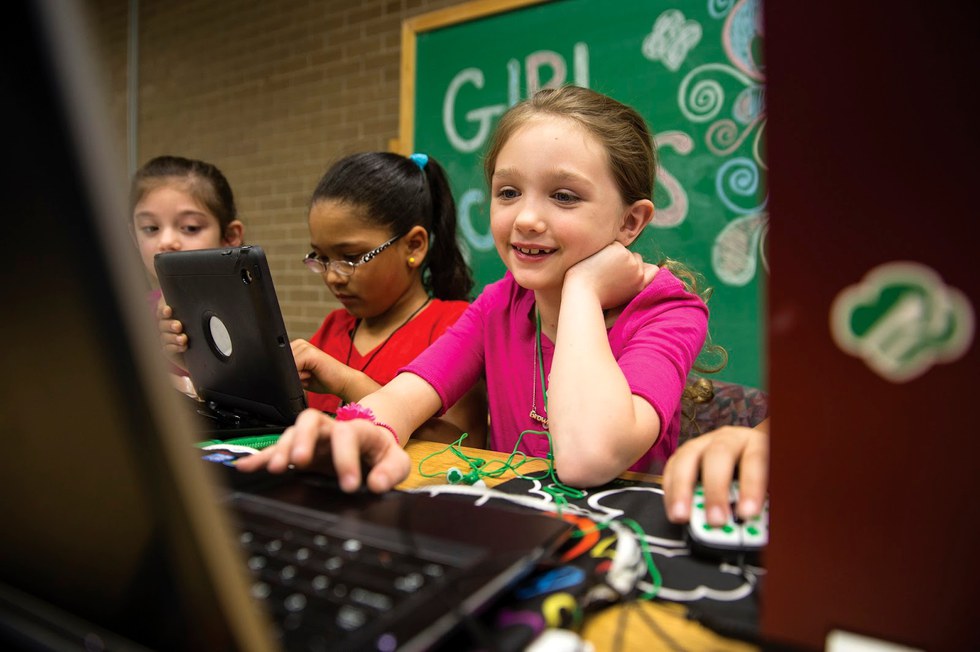 The Girl Scouts are collaborating with Raytheon on a nationwide computer science curriculum. Photo: Girls Scouts
The Girl Scouts are working on the next phase of their effort to integrate computer science into their scouting curriculum. Earlier this year, the scouts added a merit badge in cybersecurity.
Next up: Shannon Vavra reports the group is focused on a nationwide computer science program, developed with defense contractor Raytheon. It will begin as a pilot next year and roll out in the fall and aims to help middle and high school girls' prepare for potential careers in cybersecurity, artificial intelligence, and data science.
Why it matters: Girls' interest in math and science tends to dip in middle school, according to the Girl Scout Research Institute's Generation STEM report. Only 29% of science and engineering occupations are held by women and Girl Scouts boasts a network of 60 million girls and women in every residential zip code.
Our thought bubble: Coding camps for girls are important, but so too is including computer science in broad-based programs for kids. That's why it's good to see the efforts from groups like the Girl Scouts and 4-H, which has computer programs of its own.
Fun fact: This week is Computer Science Education week and it's also the birth week of computer science pioneer Grace Hopper.
Take Note
On Tap: It's the final day of TechCrunch Disrupt Berlin...The World Internet Conference wraps up in Wuzhen, China...Qualcomm is talking about its effort to power always-connected PCs in Maui (see above).
Trading Places: Mike Pellini, the former CEO of cancer companies Foundation Medicine and Clariant, has joined Section32, the venture capital firm launched earlier this year by Google Ventures founder Bill Maris.
ICYMI: Apple has agreed to pay $15 billion in back taxes to Ireland after the EU ordered the country to collect the money...Dozens of musicians now let fans pay with cryptocurrency...Amazon shows a staggering dominance in the voice-assistant market...Steve Case's Rise of the Rest fund has raised $150 million from a star-studded group of investors that includes tech execs Eric Schmidt and Jeff Bezos, investors John Doerr and Jim Breyer as well as fashion icon Tory Burch, Spanx founder Sara Blakely as well as members of the Pritzker, Koch and Walton families...Microsoft is renewing a pricey deal with the NFL that ensures its Surface tablet a place on the sidelines...Some consumers are trying to convince Twitter they are from a different country in order to see less Nazi-related content; hmm, maybe Twitter should consider offering all users that option.