I may need to see a doctor I spent so much time shaking my head at everything that went down yesterday.
Defying expectations, Uber manages to have an even worse day
I think even the screenwriters at Silicon Valley would have thrown out this idea as just too preposterous: What if — as part of unveiling an effort to rid the company of sexism — a male board member interrupted a female colleague to make a sexist joke.
Yes, but: That's basically what happened Tuesday as part of perhaps the craziest day yet at Uber.
Board member Arianna Huffington was laying out the changes that would be made due to Eric Holder's investigation, including the fact CEO Travis Kalanick was taking a leave of absence. As she got to the importance of having female board members, colleague David Bonderman interrupted to "joke" that having more women just means more talking. Audio of Bonderman's interjection was leaked to Yahoo, and by day's end, Bonderman announced he was resigning from the board.
Wait, there's more: That wasn't the only questionable moment. The meeting began with HR chief Liane Hornsey asking employees to give one another a hug.
Holder's recommendations: By contrast, Holder made rather sensible suggestions for a company looking to shed its frat house culture. The recommendations, which the board unanimously approved Sunday, include: reducing alcohol use at company events, codifying rules about intra-company relationships, and strengthening efforts to recruit and retain a diverse workforce. In a sign, though, of just how deep Uber's problems go, the report also called for five of the company's 14 core values to be either scrapped or altered because they were serving to foster Uber's culture problems.
Making sense of Uber's cast of characters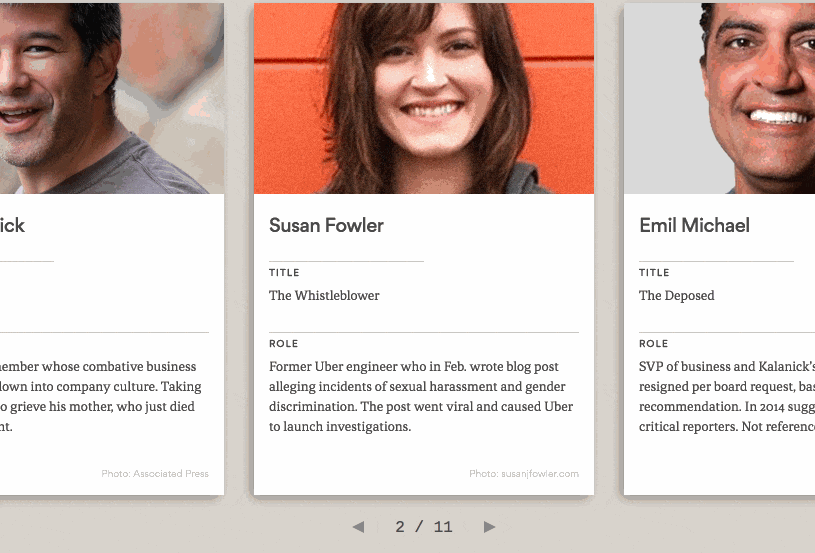 Gerald Rich and Rebecca Zisser / Axios
Let's be honest, with so much upheaval at Uber, there is a lot of news but only 24 hours in the day. So you'll be forgiven if you sometimes get confused over who is doing what there. Fret not, we here at Axios feel your pain, and have come up with the perfect solution. Check out the cards above to learn more about Uber's rotating cast of characters. We've even added a nickname to make them easier to remember.
Trump nominates Rosenworcel to go back to FCC
President Trump plans to nominate former Democratic commissioner Jessica Rosenworcel to return to the FCC, the White House said late Tuesday night, David McCabe reports. She'll need to be confirmed by the Senate.
Why it matters: Rosenworcel would fill one of the open seats on the commission. Republican Brendan Carr is expected to be nominated for the open Republican slot, according to multiple sources, and they'll likely be confirmed as a pair. The makeup of the 5-seat commission has big implications for major impending policy decisions — most notably effort to roll back net neutrality rules.
Girl Scouts add merit badges for cybersecurity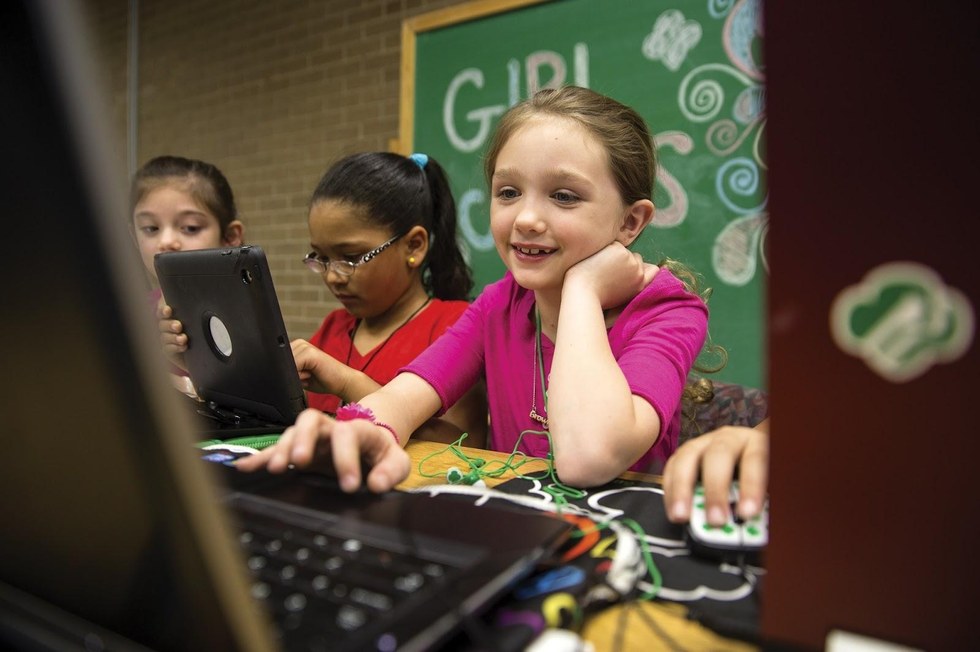 Girl Scouts
Forget archery and horseback riding. The Girl Scouts are adding a series of new merit badges in cybersecurity.
Working with Palo Alto Networks, the Scouts are developing the curriculum now, with a goal toward offering the first badge by September 2018. Over time it aims to have a set of 18 different options with content targeted at girls from kindergarten through high school.
While the cybersecurity badges are new, the Girl Scouts have been adding STEM content for a while.

Getting more self-driving cars on the road
Self-driving cars are getting a lot of attention from policymakers this week.
Three senators laid out a high-level framework for a legislative package on autonomous vehicles, David reported Tuesday. It includes an effort to clear up the conflicts between different regulations in separate jurisdictions — an industry ask.
The House Energy and Commerce Committee is also working on a package of legislation that would likely preempt some state regulation of the space and clear the way for more testing.
The Department of Transportation is looking at updating self-driving regulations in the near future.
Today:
The Senate Commerce Committee
holds a hearing
on removing hurdles to getting self-driving cars on the road. Chairman John Thune — who is working on the legislative package — is expected to say that safety should be the main priority for policymakers even as they look for ways to encourage development of the technology.

In the states: New York Gov. Andrew Cuomo announced Tuesday that Audi — the first manufacturer to receive an autonomous vehicle testing license — has completed the Empire State's first successful demonstration of a self-driving vehicle. The head of the New York DMV said the state was "proud to embrace this new technology."
AI: the next battleground for U.S. and China
China's increasing investments in artificial intelligence are attracting top scientific talent to the country and bolstering concerns in the U.S. about brain drain and corporate espionage as the nations face off in a battle — largely taking place in boardrooms and banks — to dominate cutting-edge technology.
What is happening: The U.S. wants to strengthen its ability to scrutinize Chinese investment in American tech companies, especially when it comes to artificial intelligence, per Reuters.
Why it matters: China appears to be outspending the U.S. to be at the forefront of artificial intelligence just as the Trump administration is slashing government research funding. U.S. officials worry that some of America's most cutting-edge companies could become beholden to the whims of a foreign adversary, and that the outcome will be China overwhelming the U.S. with soft power.
Axios' Shane Savitsky has more here.
Building new homes with Wi-Fi in mind
There are tons of products, like Eero which we wrote about yesterday, that try to address the challenges that come from the fact that most homes weren't designed with internet access in mind. But, for those building houses today, why not build Wi-Fi into the blueprints?
Well, the Wi-Fi Alliance agrees and the trade group is partnering with home builders on a new standard to certify new home designs. In conjunction with the news, home builder Lennar announced its first certified homes, which also feature a built-in Alexa from Amazon.
Take note
On tap: Rutberg FM 2017 continues in Half Moon Bay, Calif., where I will be interviewing augmented reality pioneer Ralph Osterhout later this morning...E3 continues in Los Angeles.
Trading places: Variety reported Tuesday that Google has hired Manu Gulati, a key chip designer at Apple, as the company looks to potentially design its own chips for its Pixel phone line.
ICYMI: Sprint launched a new promo, offering a free year of service for those switching from another carrier...Publishers are fleeing Medium amid that company's shift In focus...Yahoo and AOL employees are bracing for layoffs, a day after Verizon closed its Yahoo deal and combined the two venerable brands.
After you Login
Airbnb CEO Brian Chesky can draw a mean chicken. Well, the chicken isn't mean. It's just a pretty darn good drawing.