Power shifts in St. Paul as Senate Democrats and GOP pick new leaders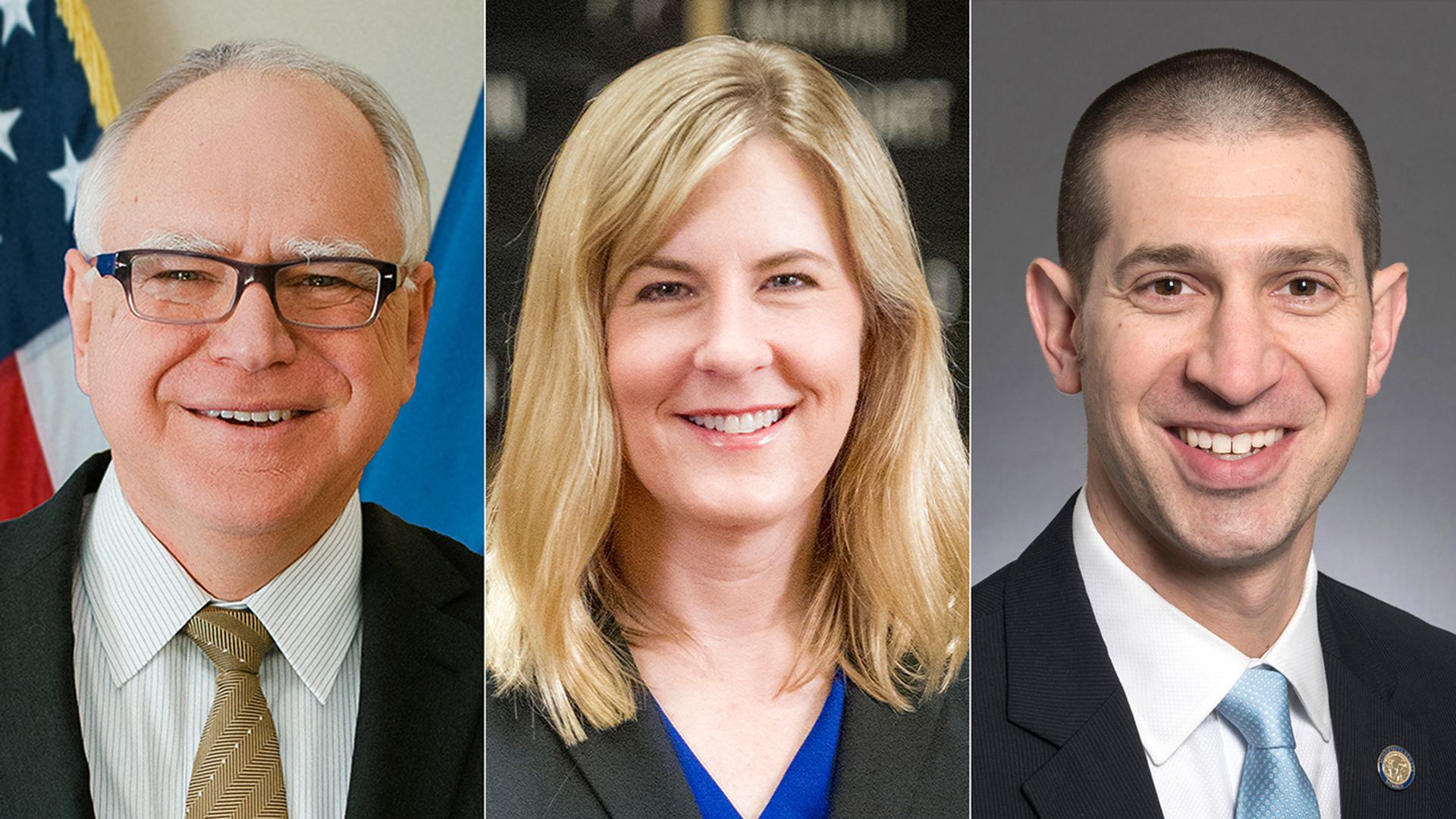 There's a changing of the guard underway at the Minnesota Senate — and the outcome could impact policy and politics for years to come.
What's happening: Senate Republicans picked Jeremy Miller of Winona as the next caucus head in a private meeting last week, after Sen. Paul Gazelka stepped down to run for governor.
Senate Democrats, meanwhile, meet Monday to select a successor to Minority Leader Susan Kent, following her decision to retire from the Legislature at the end of her term. Sens. Melissa Lopez Franzen of Edina, Nick Frentz of Mankato and John Marty of Roseville are contenders.
Why it matters: Leaders serve as the face of the caucus, helping set their party's messaging strategy and legislative agenda.
As majority leader, Miller will be at the negotiating table with Gov. Tim Walz and House Speaker Melissa Hortman to broker deals in the politically divided Legislature.
Plus: Control of the Senate is up for grabs with all 67 seats on the ballot in November 2022.
Wins in key districts post-redistricting could set the tone and trajectory for the next decade.
The intrigue: Miller, who was elected in 2010 and became the Senate's president in 2019, has played mostly a behind-the-scenes role in the past. He was among the senators who helped launch the bipartisan "purple caucus." Insiders are watching closely to see if and how his leadership style and policy positions differ from Gazelka's.
Now, as leader, he's representing a GOP delegation that includes vulnerable incumbents and some more conservative members who prefer to take a hard line against Democrats.
Between the lines: Despite their ideological differences, Gazelka and Hortman developed a constructive working relationship that paved the way for breakthroughs on issues ranging from insulin affordability to police reform.
Miller said Thursday that he, too, gets along with his DFL counterpart — she texted him congratulations the morning after the vote.
"There are going to be disagreements on issues. that's the way the democracy works, but I feel that we can work through those disagreements in a respectful manner," Miller told reporters.
What to watch: The first big test of the new leadership dynamics will come soon, as leaders and Walz hash out terms for an expected special session on frontline worker bonus pay and, potentially, drought relief.
Walz has said he won't call lawmakers back unless Republicans give their word that they won't fire state health commissioner Jan Malcolm or other key appointees.
Miller said last week that he wasn't ready to make that commitment.
More Twin Cities stories
No stories could be found
Get a free daily digest of the most important news in your backyard with Axios Twin Cities.