Old News: How Lucifer took over a Utah newspaper during the satanic panic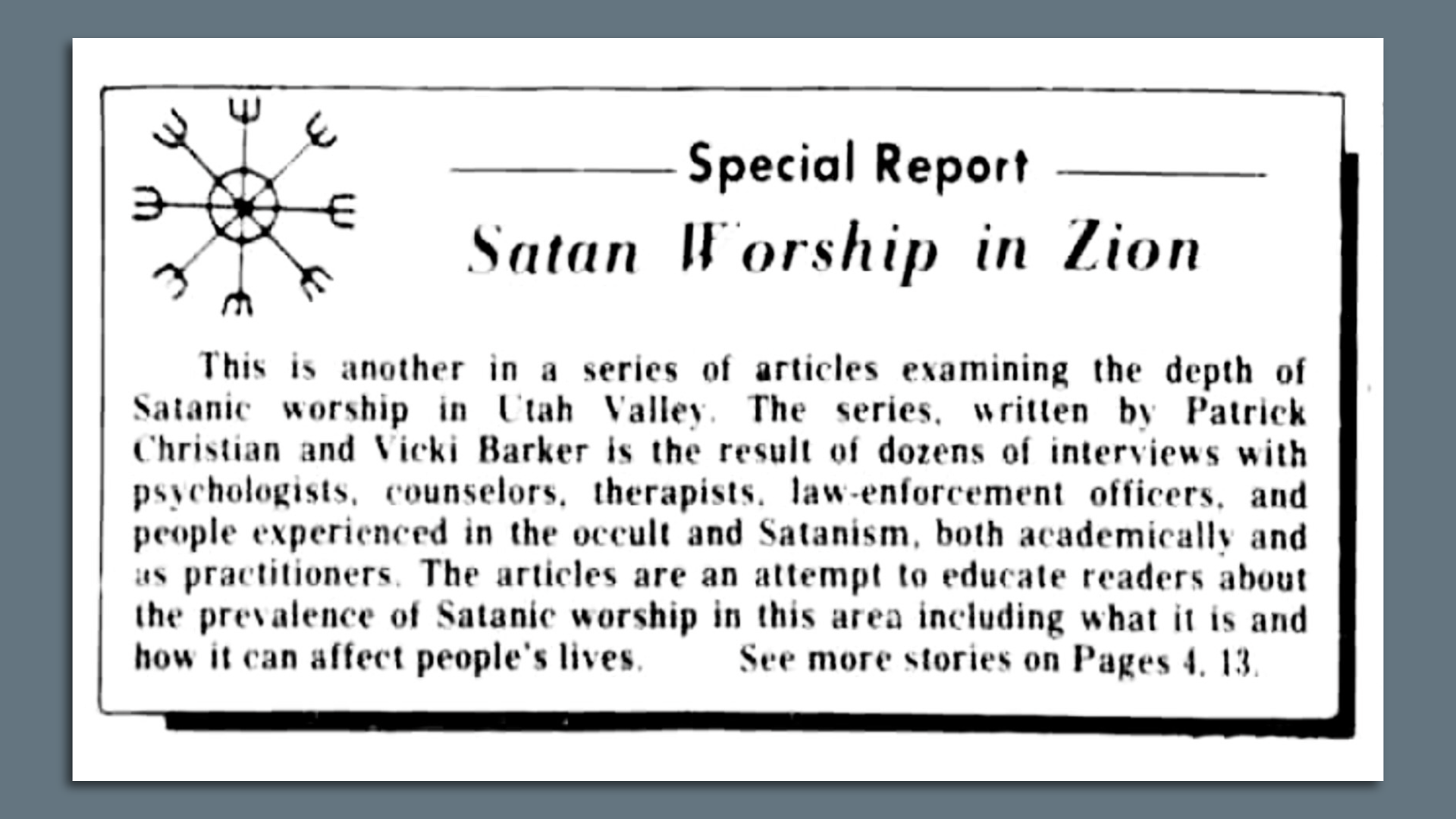 On this date in 1985, The Provo Daily Herald was in the midst of a 12-part … uh, exposé? … titled "Satan Worship in Zion."
Context: It was the satanic panic, a 1980s hysteria that swept the nation with reports of Satanic cults abusing children in rituals and recruiting teens.
Law enforcement and psychologists piled on with criminal charges and claims that victims' "recovered memories" revealed childhood abuse at the hands of occultists.
Media reports of widespread devil worship were common at the time.
Details: The Herald's special report cites anonymous interviews with:
A teenager who claims he drank the blood of sacrificed animals after meeting a satanist in 7th grade and witnessed a red glow that possessed a girl to stab her brother with drumsticks.
A director of a youth group home who says 60% of Utahns in the criminal justice system have had "some involvement" with satanism and that teens in his care have "witnessed supernatural powers such as levitation."
A 22-year-old Provo man who has monster posters and describes his interest in satanism as escapist "fantasy," and yet is deemed newsworthy, apparently because he owns tarot cards.
Meanwhile, two Utah County Sheriff's deputies said "covens of witches" were operating in abandoned buildings; one deputy launched "a new Intelligence Unit that is building a file on occult activities."
The other side: One article quotes a local counselor who warns against the hysteria.
Yes, but: "The Daily Herald perceived that two camps seem to exist: Those who believe evil is best fought by an informed enemy, in which case there is no such thing as too much information, and those who ride on the 'hear no evil, see no evil, speak no evil bandwagon' and believe the less said, the better," per the story.
Why it matters: Echoes of the satanic panic can be heard in the claims of rampant human trafficking made by contemporary conservative and religious groups.
The 2022 primary contest for Utah County Attorney drew on fears of ritual abuse and human trafficking, and ultimately unseated David Leavitt, a moderate who favored sentencing reform.
Amid rumors that Leavitt and his wife were involved with cannibalism and sex crimes, Leavitt said in a press conference he was falsely accused in a report from the '80s and denied the allegation.
Worth your time: Rick Emerson's 2022 book "Unmask Alice" revisits Utah's satanic panic in the context of Beatrice Sparks, the local propagandist who wrote the bestselling fake diary "Go Ask Alice."
More Salt Lake City stories
No stories could be found
Get a free daily digest of the most important news in your backyard with Axios Salt Lake City.