Old News: The great Alta freak-out of 1873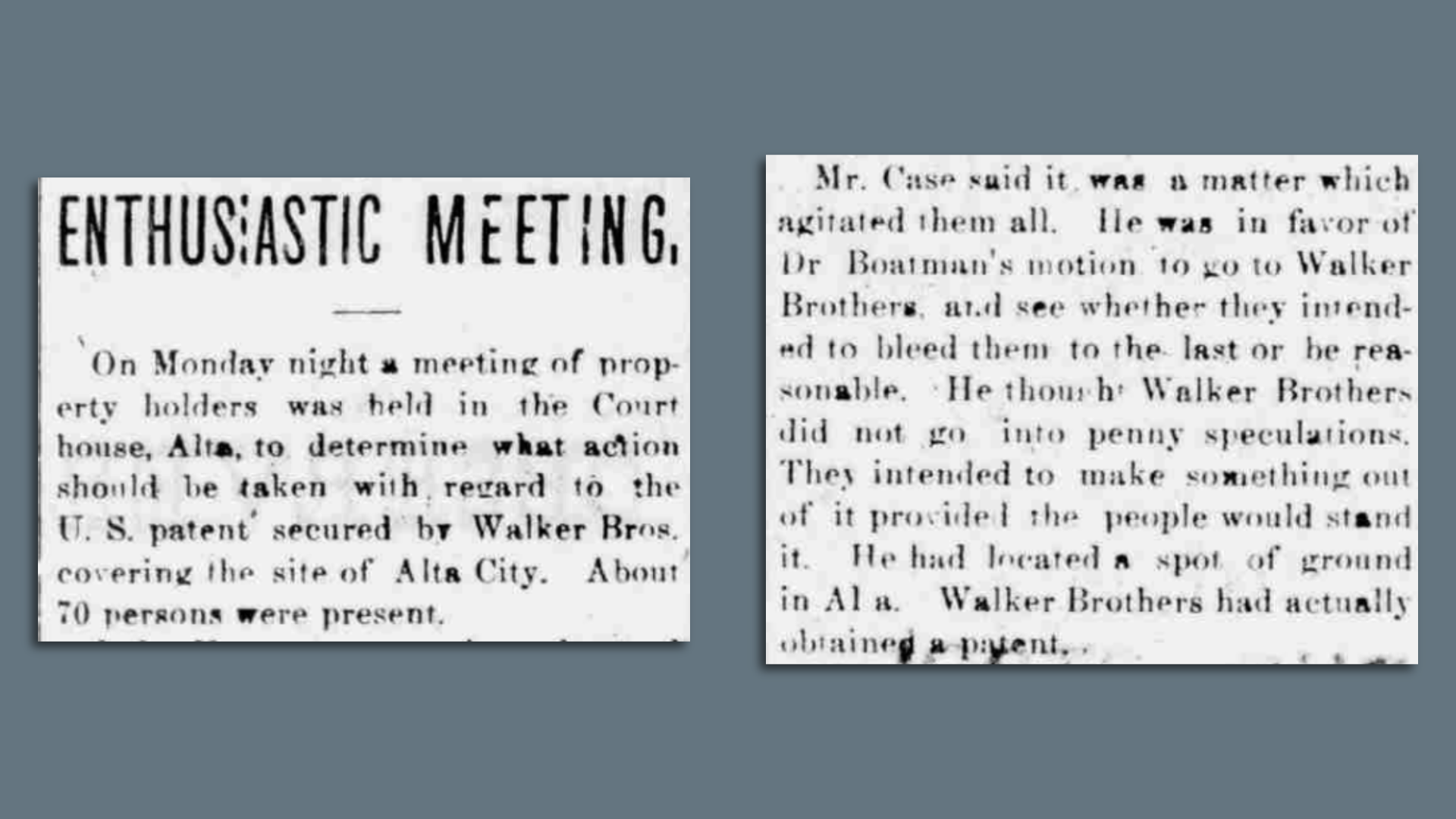 If you haven't heard of the Walker Brothers — four Yorkshire lads who moved to Utah and built the corporate empire that brought us the Walker Center downtown — you're missing out on some rich drama.
It was 150 years ago this week that Alta discovered the Walkers had bought up pretty much the whole town.
Why it matters: Their land grab at Alta eventually made Utah's first ski lift possible.
Catch up quick: By the early 1870s, thousands of people lived in Little Cottonwood Canyon.
Prospectors, miners and shopkeepers clustered around the silver mines, with buildings popping up on what was still public land — and the Walker Brothers saw a real estate opportunity.
What happened: About 20 years earlier, Congress tried to eliminate Sioux ownership of land in Minnesota by offering public land parcels elsewhere in exchange for their fertile Midwestern tracts.
The Walkers in 1873 apparently enlisted a prospector to quietly record the land where Alta stood, and apply for it in the name of Amanda Brown, a Sioux woman in Minnesota, wrote historians Lawrence James and James Fell in "From the Ground Up: The History of Mining in Utah."
The prospector then arranged for Brown to sell the land to one of the Walkers' managers for $2,500.
A few months later, "the people woke up and found that Walker Bros., legally held today every foot of land upon which the town was built," the Cottonwood Observer printed in its first-ever issue on July 17, 1873.
The townspeople freaked out, realizing the Walkers could "bleed them to the last" to stay on the land, and federal officials tried to assure them the deal wasn't fraudulent.
The intrigue: Amanda Brown wasn't done with the Walkers yet. She and her husband also sold the land to others, creating a potential challenge to the Walkers' title, James and Fell wrote.
The Walkers sent their manager to Minnesota to buy out all possible claimants, settling their ownership of Alta — just in time for the price of silver to tank, which all but snuffed out their boomtown.
Yes, but: By cleaning up and consolidating all the claims, the Walkers created an island of privately held, developable property in a labyrinth of mining claims and federal forest land.
When the Collins ski lift opened in 1939, the site was available to support the new tourist attraction — for better or worse.
Old News: 🍸 A big step toward booze
More Salt Lake City stories
No stories could be found
Get a free daily digest of the most important news in your backyard with Axios Salt Lake City.