Arizona fares well in unanswered rate for 988 mental health calls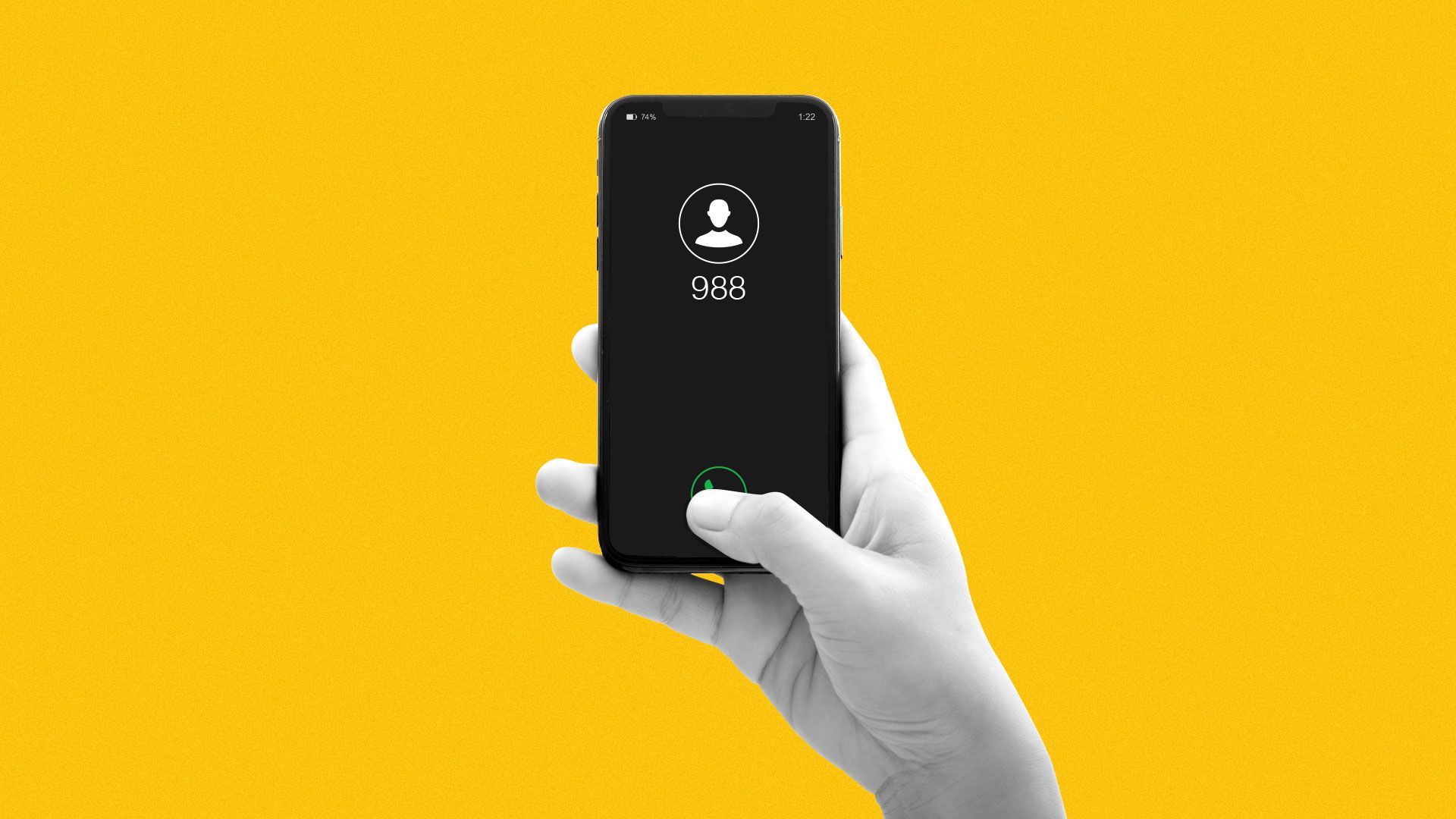 More than 11% of 988 calls made across Arizona went unanswered between April and May, per a new analysis from health research outlet KFF.
By the numbers: Of the 11,532 mental health crisis line calls made in Arizona in April and May, only 1,320 went unanswered, according to KFF. That's the 19th lowest rate in the U.S.
Despite the prevalence of other mental health lines in Arizona, the state had more 988 calls during that two-month period than all but 12 other states — California, Florida, Georgia, Illinois, Michigan, New York, Ohio, Pennsylvania, Texas, Virginia, Washington and Wisconsin.
Yes, but: The stats are better than KFF's analysis shows, said Andrew Erwin, chief operating officer at Solari Crisis and Human Services, which manages 988 and Arizona's main mental health crisis line.
Most of the missed calls hung up in less than 15 seconds, which Erwin said is about three rings of a phone, meaning operators didn't have enough time to answer.
Because of the way the automated distribution system works, Vibrant Emotional Health, the entity that provides KFF's data, doesn't always recognize when calls are answered.
Erwin said Solari's answer rate for 988 calls is actually above 90%.
Zoom out: Though calls to 988 are on the rise in Arizona, use of the resource is vastly overshadowed by well-established preexisting mental health crisis lines.
As of May, Solari was getting about 4,800 988 calls per month, Thomas Bond, Solari's senior director for communications, marketing and education told us at the time, compared with about 38,000 to the preexisting Arizona crisis line in April and May.
Erwin said Solari's answer rate for the state's main crisis line is 99.1%.
Solari announced last week there had been about 63,000 calls to Arizona's 988 line since it launched last year.
Why it matters: These missed calls are happening at a time when most Americans still aren't aware the 988 national suicide prevention and mental health hotline exists — and even as we hit the service's one-year mark, few states have established long-term funding commitments to sustain it, Axios' Sabrina Moreno reports.
The big picture: Plans to use some of the nearly $1 billion in federal funding for a nationwide public service campaign haven't materialized, partly due to early concerns that marketing 988 could overwhelm the lifeline.
Ahead of its launch, fewer than half of public health officials charged with deploying 988 said they were confident they had the necessary staff to field the expected surge in calls.
The lowest unanswered rate in the country was in Mississippi, at 2.2%, while the highest was next door in Alabama, where 45% of calls went unanswered.
Still, since the National Suicide Prevention Lifeline was replaced last year with an easier-to-remember number, 988 has been contacted nearly 5 million times nationwide.
Officials, mental health advocates and call center leaders say they're pleased with that number.
Between the lines: More than 80% of Americans remain unfamiliar with the new hotline, according to a recent National Alliance on Mental Illness survey.
While more people in Arizona are familiar with the traditional crisis line, "988 has sort of changed the playing field in terms of giving more accessibility to people that might not be familiar with access to the crisis system that we've had here for so many decades," Erwin said.
More Phoenix stories
No stories could be found
Get a free daily digest of the most important news in your backyard with Axios Phoenix.