Two-week manhunt for convicted killer Danelo Cavalcante ends with capture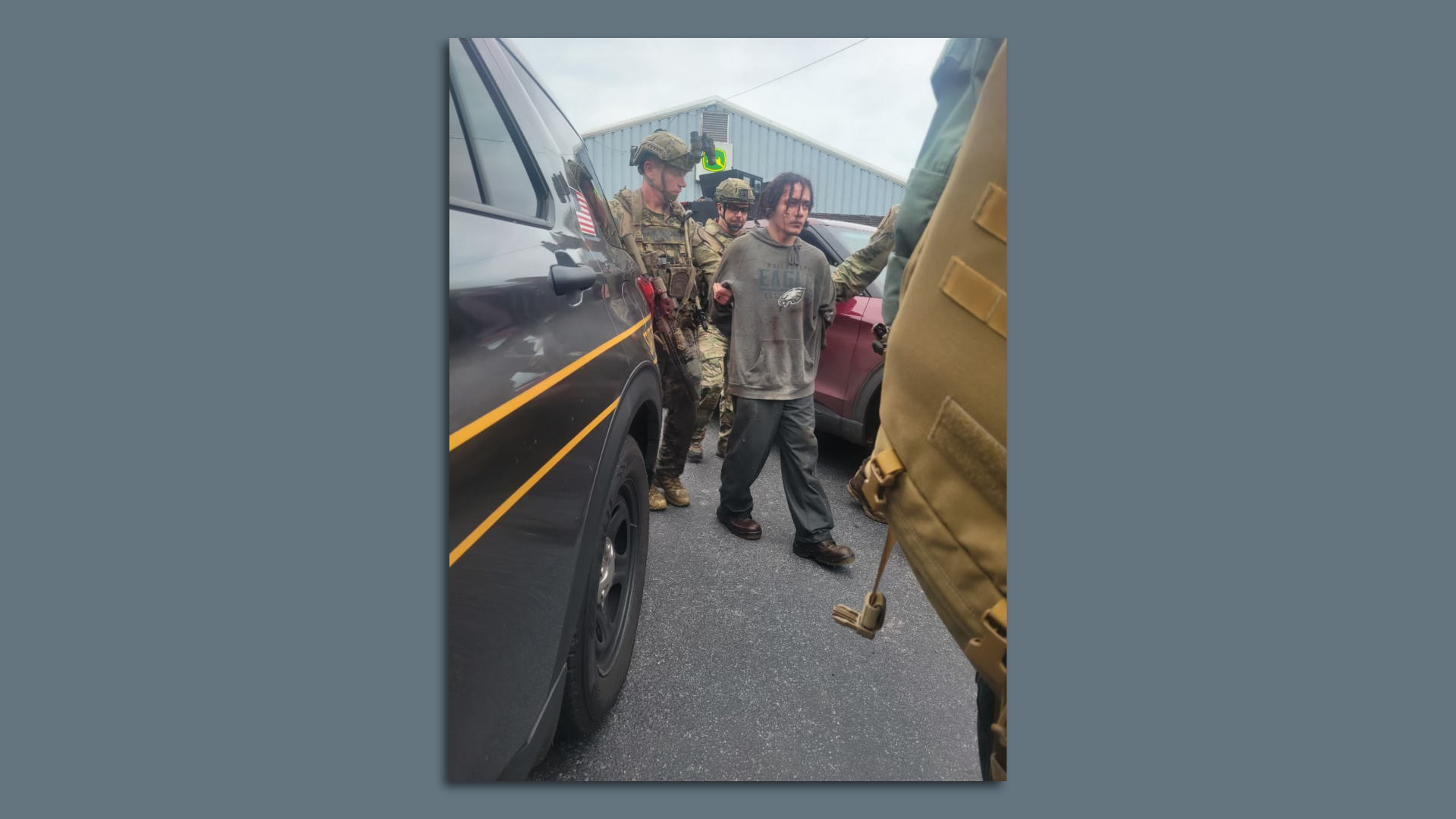 Convicted killer Danelo Cavalcante is back in police custody following an epic two-week manhunt that paralyzed parts of Chester County.
Why it matters: The killer's daring jailbreak led to school and business closures, instilling fear in residents whose lives were upended while authorities closed in on the escapee.
Driving the news: Cavalcante was hunkered down in a wooded area west of the Pennsylvania 100 highway, near South Coventry Township, when federal and local tactical teams surprised him around 8am Wednesday, Pennsylvania State Police Lt. Col. George Bivens said during a news conference.
Cavalcante was armed with a stolen .22-caliber weapon. He tried to crawl away under some thick underbrush. But a police dog nabbed him, Bivens said.
What they're saying: The community is finally breathing a "collective sigh of relief," Chester County District Attorney Deb Ryan said at the news conference.
Catch up quick: Cavalcante escaped from a Chester County prison Aug. 31 by crab-walking up prison walls to the roof, then pushing past razor wire and evading a corrections officer sitting watch in a tower. The officer was later fired.
Authorities deployed hundreds of officers, helicopters, drones and infrared technology during the manhunt.
Cavalcante knocked on doors and surfaced multiple times on surveillance and doorbell cameras, including one instance days after his escape in Pocopson Township, around Longwood Gardens.
He managed to slip past a law enforcement perimeter and steal a van from a dairy farm.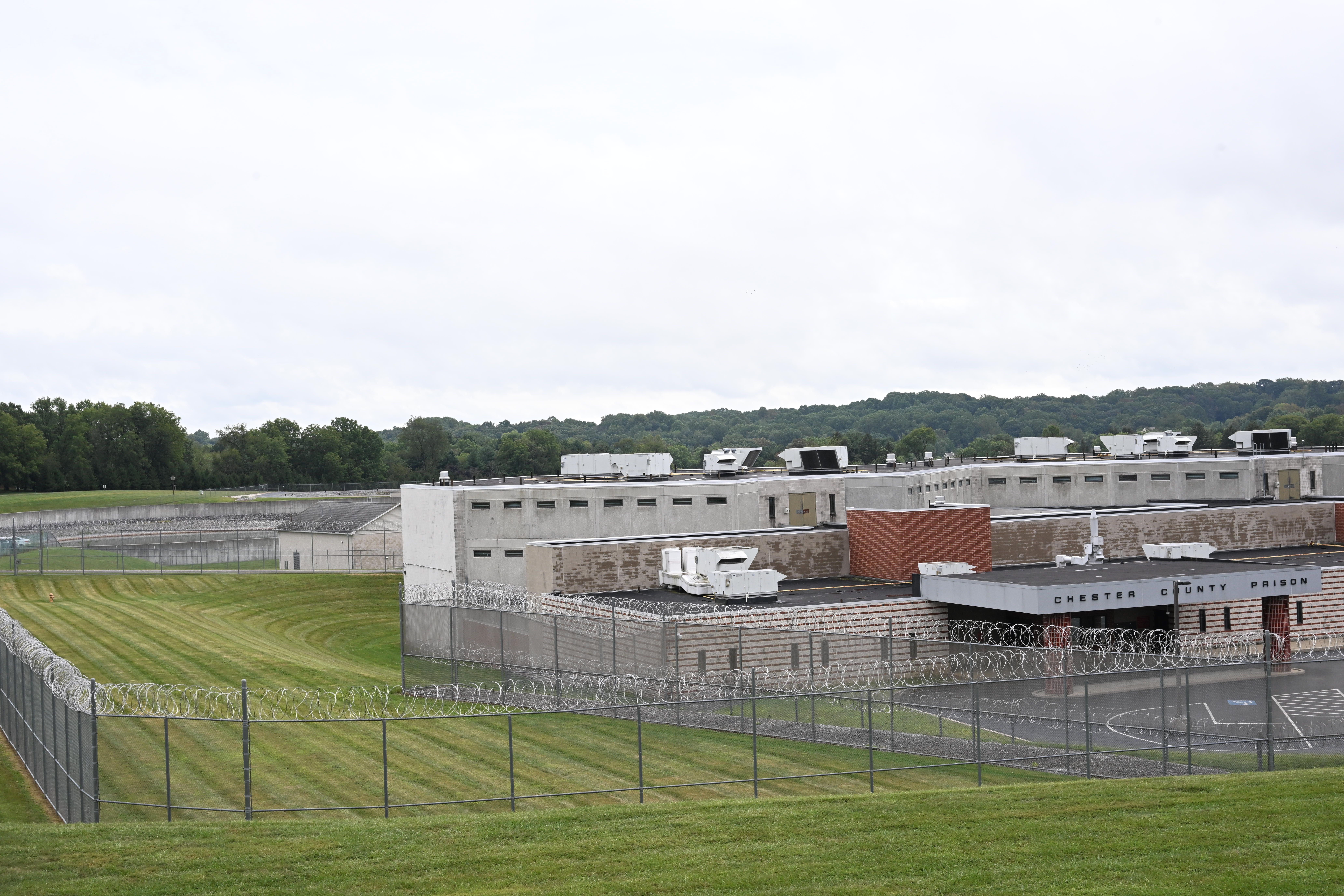 Zoom in: Cavalcante was arrested behind a tractor dealership more than 20 miles north of where he escaped.
Having grown up in rural Brazil, Cavalcante had the kind of know-how that could help you survive in Pennsylvania's rugged woodlands.
He was resourceful at eluding authorities, ditching prison digs in favor of stolen clothing and boots and changing his appearance.
He typically traveled under the cover of darkness, navigating creek beds and trails to conserve energy and avoid being detected, unless he was "pushed" by officers to relocate during the day, Bivens said.
How it ended: A DEA aircraft picked up Cavalcante's "heat signature" around 1am Wednesday hundreds of yards away from a perimeter authorities had established around South Coventry Township, Bivens said. But then came a lightning storm. The plane had to call off the search.
Wednesday morning's better weather brought results: Cavalcante was taken into custody within five minutes of when tactical teams arrived at the search area.
He was wearing an Eagles sweatshirt — a discovery that prompted a joke from Gov. Josh Shapiro at the news conference: "Whoever had their Eagles hoodie stolen," the governor quipped, "if you could let us know, I'll do my best to get you one of those new kelly green ones,"
Zoom out: After Cavalcante's capture, camouflage-clad officers were shown by news cameras posing for pictures alongside him. Bivens defended the celebratory photo-op, saying the tactical teams were "proud of their work."
Residents lined up outside the state police barracks in Avondale, grabbing pictures and video of the Cavalcante SWAT cavalcade as it pulled in with the fugitive.
What we're watching: Cavalcante could face additional charges. A price tag for the manhunt hasn't been tallied, but it's expected to be costly.
Authorities said they also thwarted efforts by others to help Cavalcante. His sister faces deportation as an "overstay" after she refused to help authorities locate her brother.
Editor's note: This is a breaking story and may be updated.
More Philadelphia stories
No stories could be found
Get a free daily digest of the most important news in your backyard with Axios Philadelphia.