Flash exhibit in Philly shows portraits of gun violence victims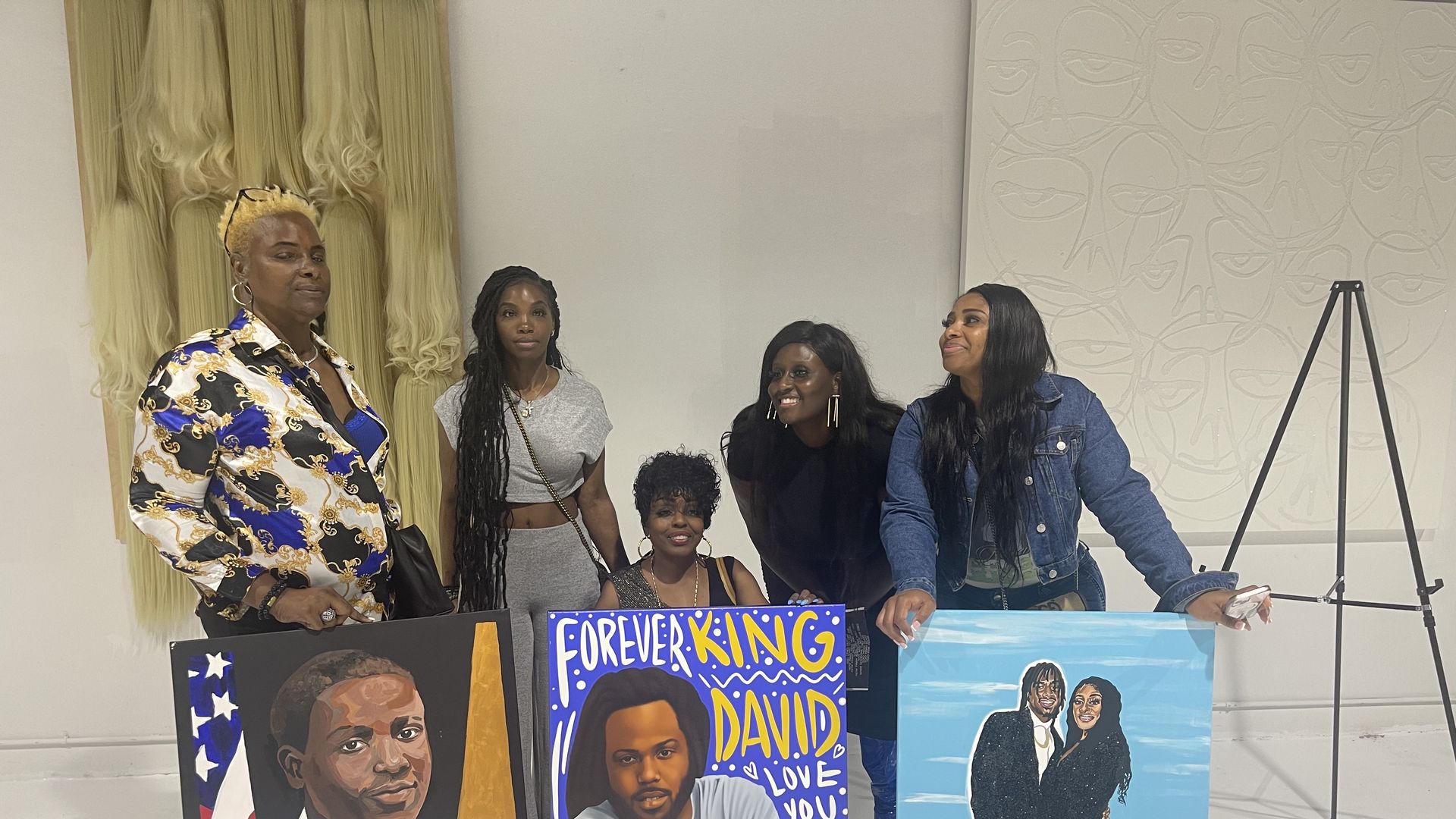 Art curator and activist Zarinah Lomax knows the many faces of trauma.
She's a rape survivor, her father is serving a life sentence for murder and one of her loved ones, Dominique Oglesby, was killed in 2018 in West Philly.
Driving the news: With Mother's Day coming up, Lomax helped organize a flash exhibition in the City Hall courtyard of portraits honoring families who lost relatives to gun violence. She'll also lead a frank and healing conversation on the topic Friday.
Axios sat down with Lomax to better understand how survivors cope around a holiday that dredges up painful memories. The interview was edited and condensed for clarity:
Lomax on how art breaks down such a heavy topic: "A lot of them don't want to go to therapy. This [art] is their therapy.
"This allows them to … say, 'OK, we see all these other pictures. It's not just me. I can feel safe here.'"
On the most profound advice she's heard from surviving mothers: "Don't allow anybody to project on you where they think you should be in their own ignorance of not understanding … [Survivors are] really big on protecting their peace because they really don't have a lot of it left."
On trite themes of "justice" and "closure": "Where's the justice? Nobody's coming back. When the state has the sentence that they feel is just to them, they move on; you don't.
"I don't believe justice really takes place. This is what we're taught to say. You think of [the victims'] last moments, and I don't know if I'll ever make peace with that."
On how to support survivors: "Be there. They need consistency. This is a consistent battle for them every day.
"Consistently send a text message, consistently give them a hug, or consistently go to their events, or consistently just remember their child."
On the exhibition: "I'm looking forward to being able to give them a moment to smile. Somebody sees them. God sees them, and their loved ones didn't die in vain."
If you go: 12-3pm, 1400 John F Kennedy Blvd.
More Philadelphia stories
No stories could be found
Get a free daily digest of the most important news in your backyard with Axios Philadelphia.