Stanton Moore's Jazz Fest feat? 19 gigs in 10 days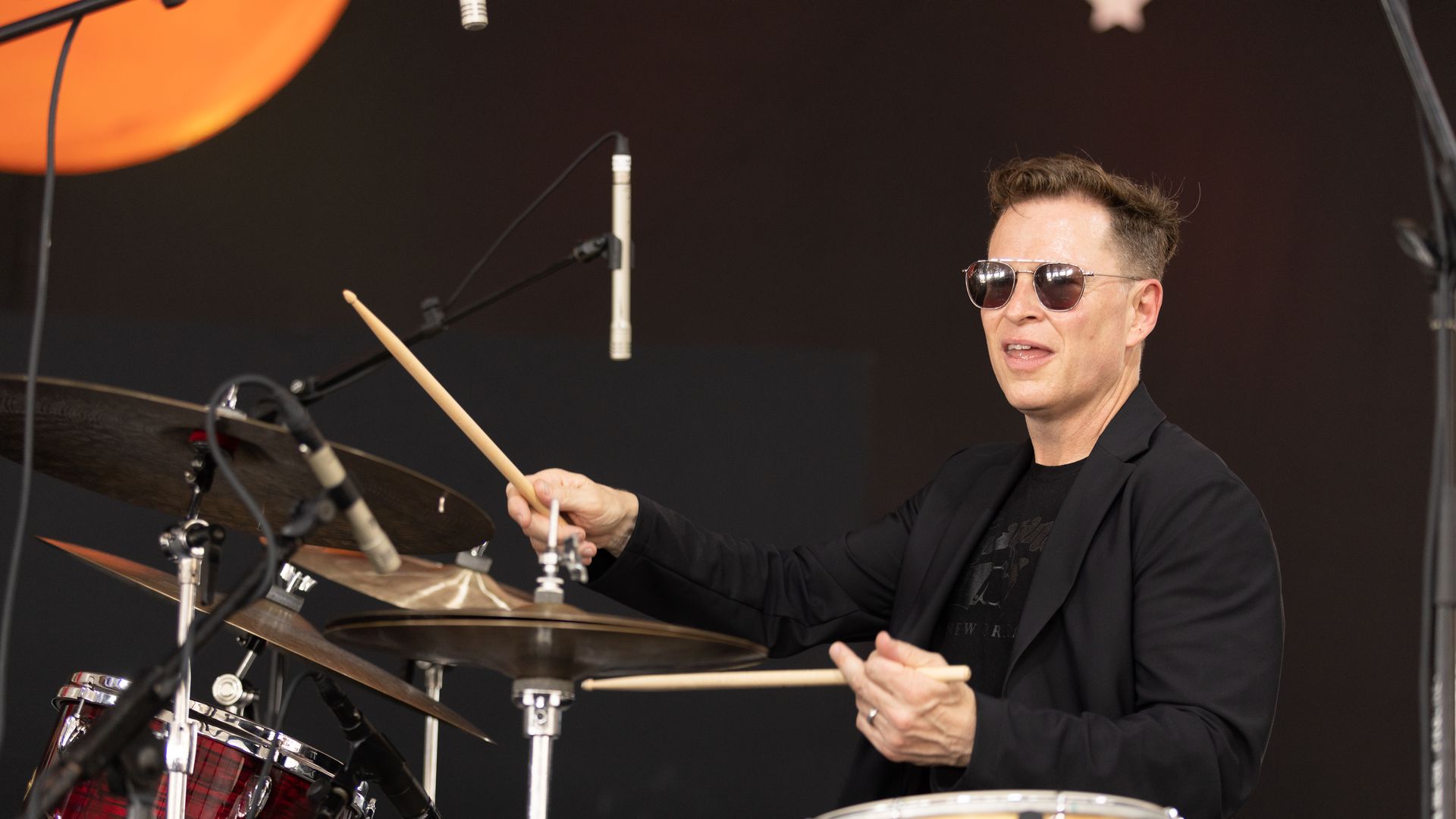 It's the busiest time of the year for New Orleans musicians, and drummer Stanton Moore might be one of the busiest, with 19 gigs across 10 days of Jazz Fest.
Who dat: Moore is a founding member of Galactic, but the Grammy winner also has a robust solo career and has worked with a slew of other artists as well, including a recent release with guitarist Eric Krasno.
Where he went to school: Brother Martin High School. As a musician, there are few (if any) local stages he hasn't performed on since Galactic's 1994 inception.
His latest album, "Book of Queens," with longtime friend Krasno is a collection of covers of songs made famous by female artists.
"We didn't want it to sound like elevator music," Moore tells Axios. "We just needed to make sure that it sounded authentic and like us. It did take some experimentation. … The amount of great female artists to draw from is almost infinite, but we also have to be aware of what songs are going to work with this format."
Call the wives: Moore and Krasno wanted to tread lightly as they created the project to make sure it served as tribute and not caricature.
"We credited our [wives] on the record, and we made sure to run everything by them, but also to make sure everything we were doing felt authentic," Moore says of the project, which featured only male artists. "We were OK with that because it is a tribute to women in music."
Catch him live: With so many gigs, it might be hard not to catch Moore out and about in New Orleans. But he and Krasno will perform together at the Blue Nile on May 6, and Galactic plays at Jazz Fest on May 7.
His dream jam session: "Jimi Hendrix on guitar, John Coltrane on sax, Miles Davis on trumpet, Jaco Pastorius on bass and 'The Lion' Smith on organ, Maceo Parker on alto sax and Fred Wesley on trombone. And me, right? That's a hell of a horn section."
What he's eating at Jazz Fest: "The duck gumbo, but we like to get the cracklins from a couple booths down and put the cracklins in the gumbo. … Also the crawfish strudel, the oyster combo plate [and] the cochon de lait po'boy, I love."
Wave your magic New Orleans wand: "The crime would be first on my list. Everything else we can deal with. But the risk of random acts of violence would be the first thing I would address. Runner-up would be potholes."
More New Orleans stories
No stories could be found
Get a free daily digest of the most important news in your backyard with Axios New Orleans.