Hometown hero leads East Nashville High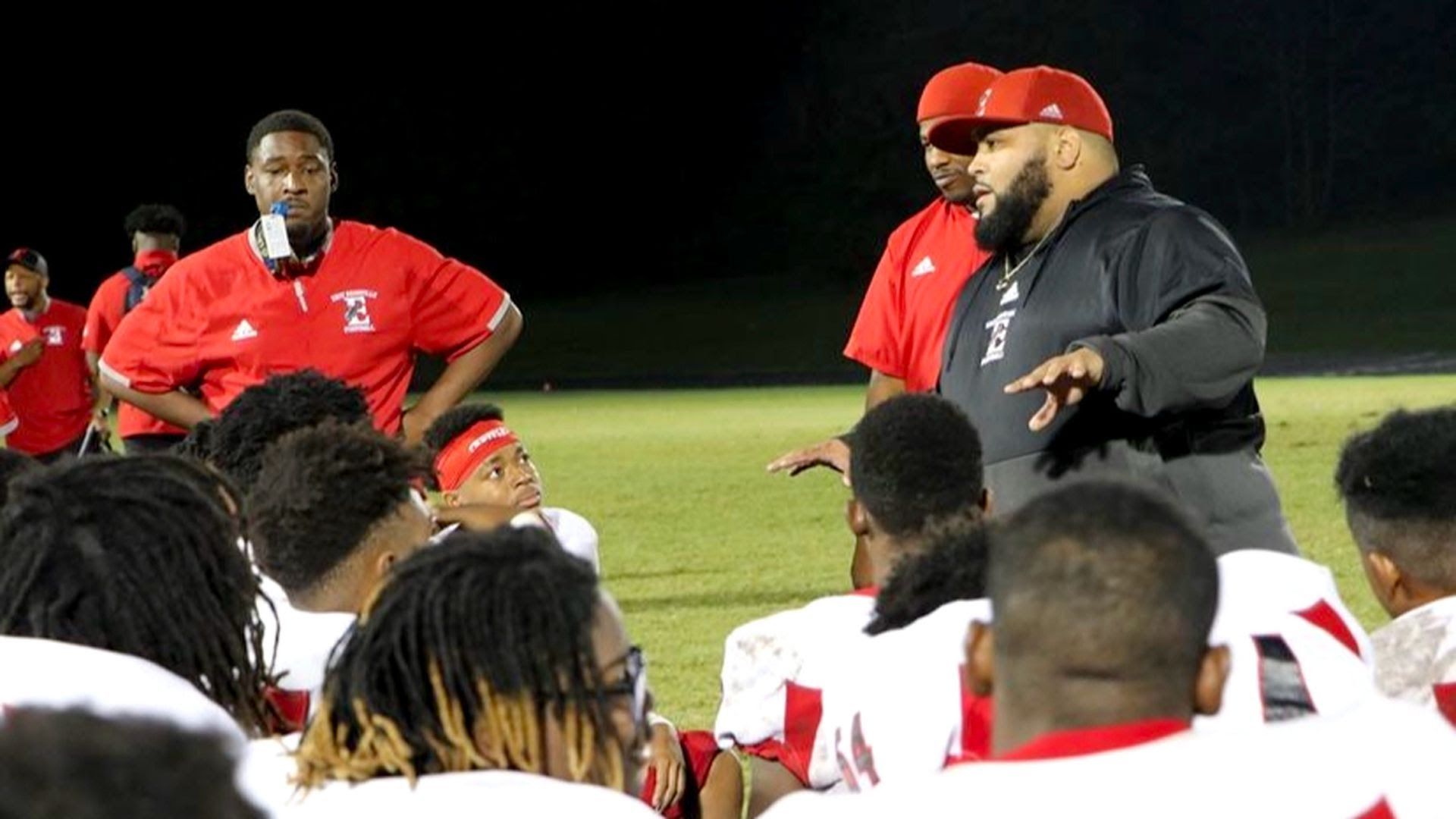 Jamaal Stewart is East Nashville High's head football coach, but his actual job stretches far beyond the gridiron.
"We're more than just football coaches," Stewart, an East Nashville native and rising star in Tennessee prep football, tells Axios. "We're Uber drivers, we're parents. We cook for them. It's so many hats we have to wear."
"I have two daughters myself, but I spend more time with (my players) a lot of the time."
Why it matters: Stewart's approach has paid off for the Eagles, who last Friday won the first region title in school history and are steamrolling into the playoffs.
Context: Located in the epicenter of East Nashville's affluent Five Points area, East Nashville High is a working-class school. According to the most recent state data, 43% of the students are economically disadvantaged.
Stewart hopes the on-field success will lead to community support for the cash-strapped program.
Several local businesses have donated money, while Noble's Kitchen and Beer Hall partnered with nonprofit Foundation for Athletics in Nashville, Inc. to feed the football team, cheerleading squad, and band members prior to tonight's game.
Details: One big way neighbors can help the team is simply buying a ticket to home playoff games, which kick off tonight at 7pm against White House Heritage at J.J. Keyes Stadium.
"We really need a lot more for us to be successful," Stewart tells Axios. "The high school football budget solely comes from gate tickets and donations. And last year with COVID, we didn't make any money because we couldn't have any home games."
Stewart has an annual fundraising goal of $40,000. Hosting up to four playoff games could be a golden opportunity for the program to raise money.
What he's saying: Stewart, 32, says his team is full of "good kids," but many of them come from single-parent homes and have issues to deal with outside of football.
"Some of my kids have to work to make ends meet," Stewart says. "All good kids though. Literally, I'm not just saying that. Really good kids, but some of them have a tough upbringing."
The bottom line: "This is really the job I've always wanted, and it's good to be back in East Nashville," says the 2007 Stratford grad. "With all the gentrification going on, the ability to be on my side of town and make a difference is something I always wanted to do."
More Nashville stories
No stories could be found
Get a free daily digest of the most important news in your backyard with Axios Nashville.