Learn to love the "seaweed blob"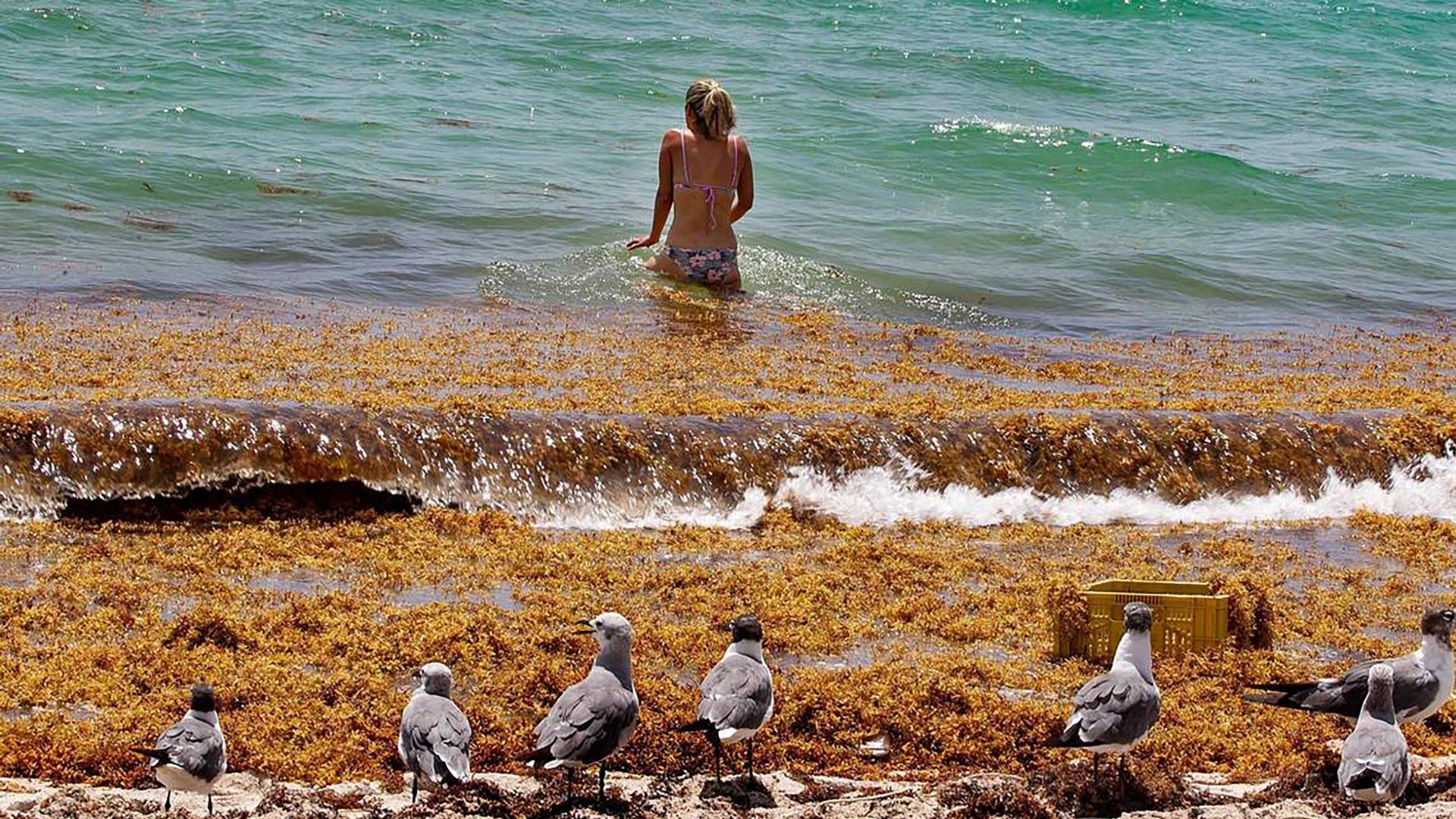 A University of Miami professor wants us to appreciate, not fear, the 5,000-mile mass of seaweed that's floating toward Florida.
Why it matters: Seaweed blooms in the Atlantic Ocean every summer, but a giant mass of it has become so large since 2011 that it's been dubbed the Great Atlantic Sargassum Belt.
Researchers believe what's been called a "seaweed blob" has grown due to climate change and fertilizer runoff.
If parts of it reach Miami's shores this summer, beachgoers and money-spending tourists could be repelled.
Context: All seaweed is algae. The genus Sargassum encompasses more than 100 species of seaweed.
The Sargasso Sea — a patch of the Atlantic Ocean where it grows — was named after the algae.
Once on land, the seaweed turns brown, releases hydrogen sulfide and smells like rotten eggs.
Small organisms in it can cause skin rashes.
State of play: A University of South Florida tracker found record amounts of Sargassum in the Caribbean Sea in April.
Zoom in: Sargassum typically hits Miami-Dade County beaches from May - October.
The parks department removes seaweed from beaches each morning with heavy equipment, checking for turtle nests first.
Environmental regulations prohibit proactively removing it from the water.
The county spent $2.8 million on seaweed cleanup in 2020 and $3.9 million last year, WUSF reports.
The intrigue: David Die, a marine science professor at UM, acknowledges the problems with seaweed but tells Axios the mass is home to shrimp, crabs, fish and sea turtles.
Mahi, marlin, albacore tuna, billfish and eels are all reliant on the food chain sustained by sargassum.
What they're saying: "One of the troubles is that it's called a blob," Die said. "It's really an amazing habitat."
Beach managers used to mix seaweed into sand and incorporate it into dunes, which Die says is the most appropriate kind of management because "it mirrors the natural cycle."
But they now just haul it away because of the volume, he says.
What we're watching: Inventors are developing fertilizer, cosmetics, leather alternatives and bricks from seaweed.
The bottom line: "The most important thing is to make people understand — and that's both beachgoers and tourists — that this is a natural phenomenon," Die says.
Visitors should plan trips with the possibility of seaweed in mind, just as they anticipate storms, Die says. It shouldn't be "an impediment to having a reasonable vacation."
More Miami stories
No stories could be found
Get a free daily digest of the most important news in your backyard with Axios Miami.