Florida legislative session kicks off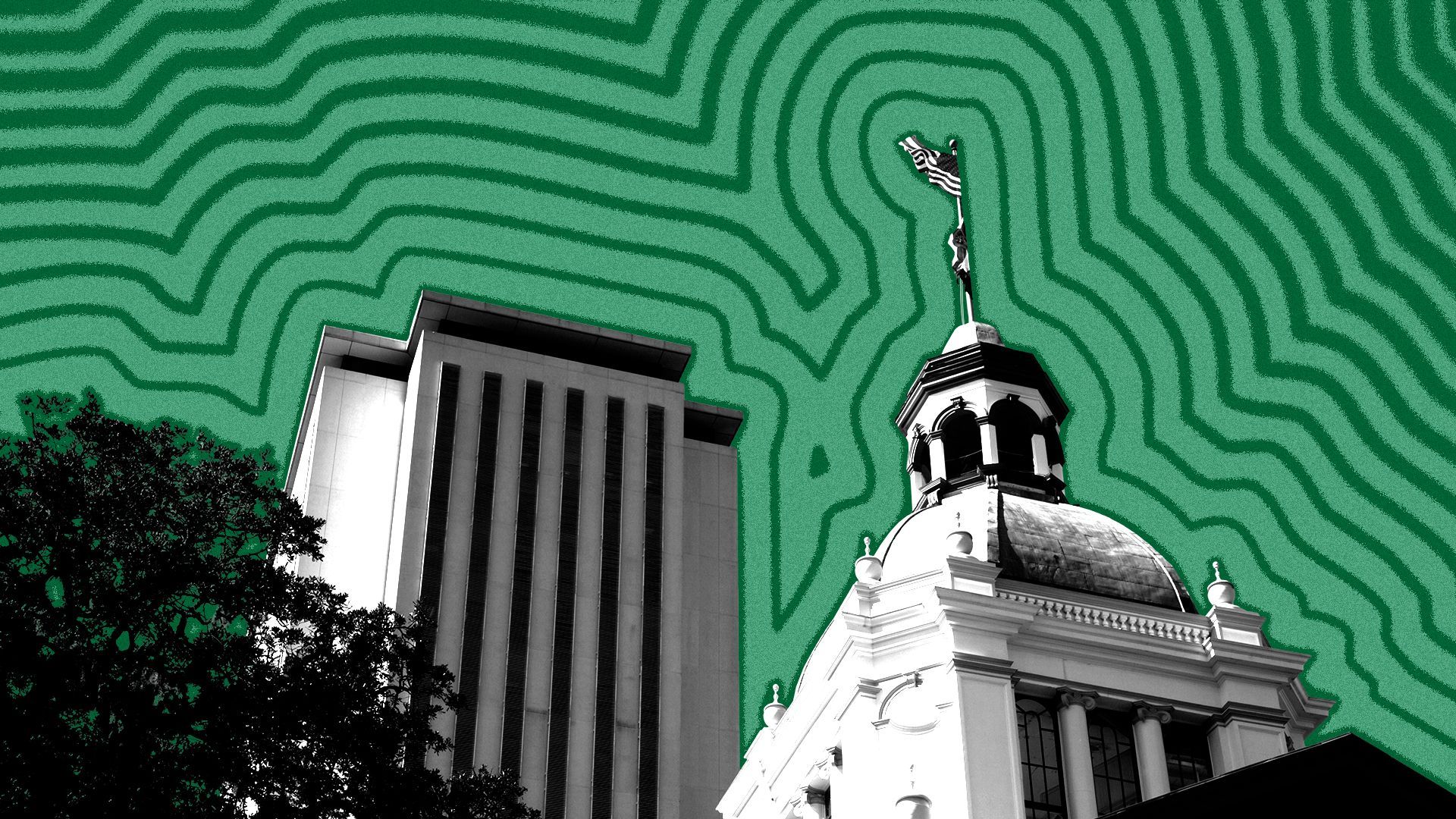 Florida lawmakers are gathering in Tallahassee today for the start of the 60-day legislative session.
Why it matters: Florida Republicans have a supermajority in the House of Representatives and the Senate, and lawmakers are likely to approve legislation spearheaded by Gov. Ron DeSantis — giving him a broader platform for a potential presidential run.
Hundreds of bills have been filed this session. Here are some that we're monitoring:
Permitless carry: HB 543, which DeSantis supports, would allow people to carry concealed guns without a permit unless they have a felony arrest or arrests related to substance abuse.
Gun violence prevention organization Giffords Florida conducted polling that found more than two-thirds of Miami-Dade voters (68%) oppose permitless carry.
Samantha Barrios, Giffords Florida state director, tells Axios that Miami-Dade County is already facing an epidemic of gun violence. Gun deaths have been rising over the past 20 years and reached 325 deaths — in this county alone — in 2020.
LGBTQ issues: SB 254 would give the courts temporary emergency jurisdiction over children "if they are at risk of or are being subjected to the provision of sex-reassignment prescriptions or procedures."
HB 1223 goes a step further than last year's Parental Rights in Education bill, dubbed by critics as "Don't Say Gay," by prohibiting classroom instruction on sexual orientation or gender identity from prekindergarten through eighth grade.
It also states that employees at public schools "may not provide to a student his or her preferred personal title or pronouns if such preferred personal title or pronouns do not correspond to his or her sex."
Housing: SB 102 would ease zoning restrictions on affordable housing developments and prohibit local governments from passing rent control laws.
Officials in low-slung communities from Surfside to Martin County have expressed concerns that the bill could preempt local height restrictions.
Surfside Mayor Shlomo Danzinger tells Axios that the bill could result in new construction projects that exceed local height restrictions.
"It's not just about ruining the small town vibe," he said. "We don't have the infrastructure when you get that big."
Water quality: HB 1197 prohibits local governments from adopting laws related to water quality, pollution control or wetlands.
Development: A dozen environmental groups outlined seven bills related to development that they referred to as "legislation of concern."
SB 346 would give local governments 180 days to review applications for a development permit or order, deeming the applications approved if the deadline is passed unless an extension is granted.
HB 41 would prohibit local referendums to decide any land development regulations.
The nonprofit 1000 Friends of Florida, which advocates for "smart growth," warned in an email alert that, "This is shaping up to be the worst for the future of a sustainable Florida since Florida's growth management process was severely damaged in 2011."
The other side: Backers of the bills argue these planning regulations would be better addressed by the state.
"Businesses need as much predictability and consistency in the regulatory structure as we can so that they know what they're getting into before they start a project," Adam Basford, vice president of Associated Industries of Florida, the business-backed lobbying group, told the Miami Herald.
Other bills making waves:
SB 1126 would make it illegal to approach a police officer or firefighter at an incident scene after a warning to stay away with the intent to interrupt or harass them.
SB1316 would require bloggers who write about the governor or state legislators to register with the state and file monthly reports disclosing how much they were paid.
HB 1407 would create a Department of Housing and Tenant Rights. It would require that landlords give tenants at least 60 days' notice if their lease won't be renewed or if the rent will be increased and the right of first refusal to purchase the home if the landlord is selling it. The bill would also prohibit landlords from evicting tenants facing domestic violence.
More Miami stories
No stories could be found
Get a free daily digest of the most important news in your backyard with Axios Miami.