Scoop: Whitmer to tackle population growth at Mackinac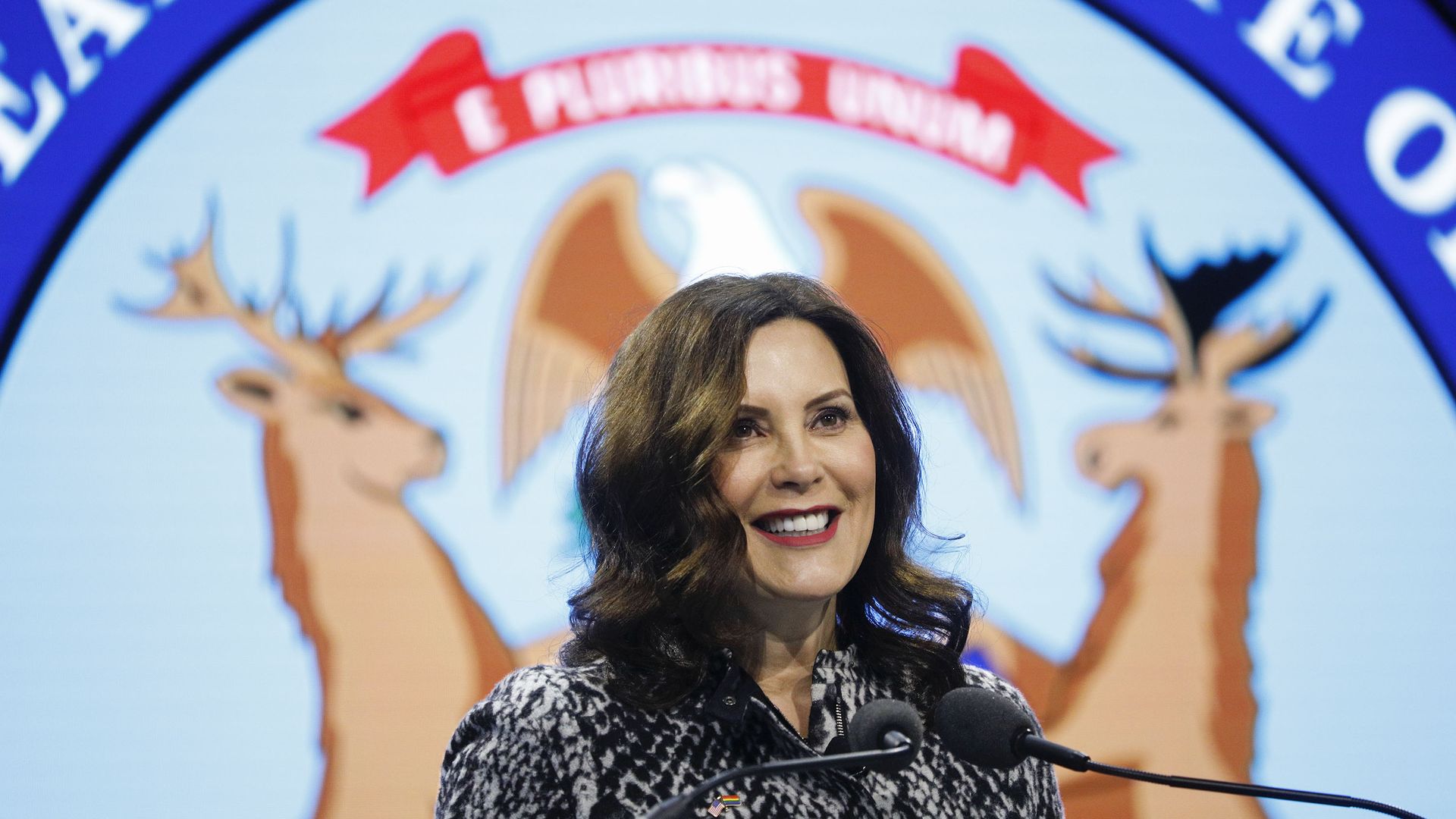 Gov. Gretchen Whitmer will address Michigan's sluggish population growth during her keynote address at next week's Mackinac Policy Conference, the governor's office tells Axios Detroit.
Why it matters: Michigan's slow growth could have disastrous long-term effects on our economy.
A report released last week by the Citizens Research Council of Michigan shows the state is falling behind others in population growth, jobs, earnings, health, educational achievement and the quality of public services.
Whitmer is expected to take multiple actions to address the issue for the first time since announcing a plan last fall to establish a task force that would analyze Michigan's population trends and recommend strategies for growth.
What she's saying: "W​​e've got low cost of living compared to other states — I talk to folks at KLA who made their second headquarters in Washtenaw County, and they say they have an easier time recruiting in Michigan than they do in Silicon Valley," Whitmer tells Axios. "I think that tells you we've got something special going on here. We've got to continue to be strategic about how we build on that."
"We're pretty humble and maybe that works to our disadvantage sometimes. When you meet a person from Texas — doesn't matter what their political background is — they brag about Texas. I think humility is actually a really good quality in a person, (but) maybe we're not as adept at telling the world how amazing this place is."
Flashback: Past administrations have also implemented programs to attract more people to the state: Former Gov. Jennifer Granholm's "cool cities" initiative focused on improving amenities, while former Gov. Rick Snyder made it a priority during his second term.
Between the lines: State and local leaders have used tax incentives to lure large businesses to invest in the state in hopes of adding more workers. Both Whitmer and Detroit Mayor Mike Duggan defend the practice amid growing public criticism from both sides of the political aisle that tax revenues could be better spent.
Whitmer cited Our Next Energy's $1.6 billion investment last fall, the proposed $2.4 billion factory by Chinese manufacturer Gotion in Big Rapids and a $3.5 billion EV battery factory planned by Ford Motor Co. — each lined up to receive millions in state funds.
"Michigan has been trying to do this with one hand tied behind our back up until the last few years," Whitmer says. "We created the SOAR (Strategic Outreach and Attraction Reserve) fund and it's really helped us land some incredible opportunities."
More Detroit stories
No stories could be found
Get a free daily digest of the most important news in your backyard with Axios Detroit.