Johnston wins Denver mayor's race as progressives lose key seats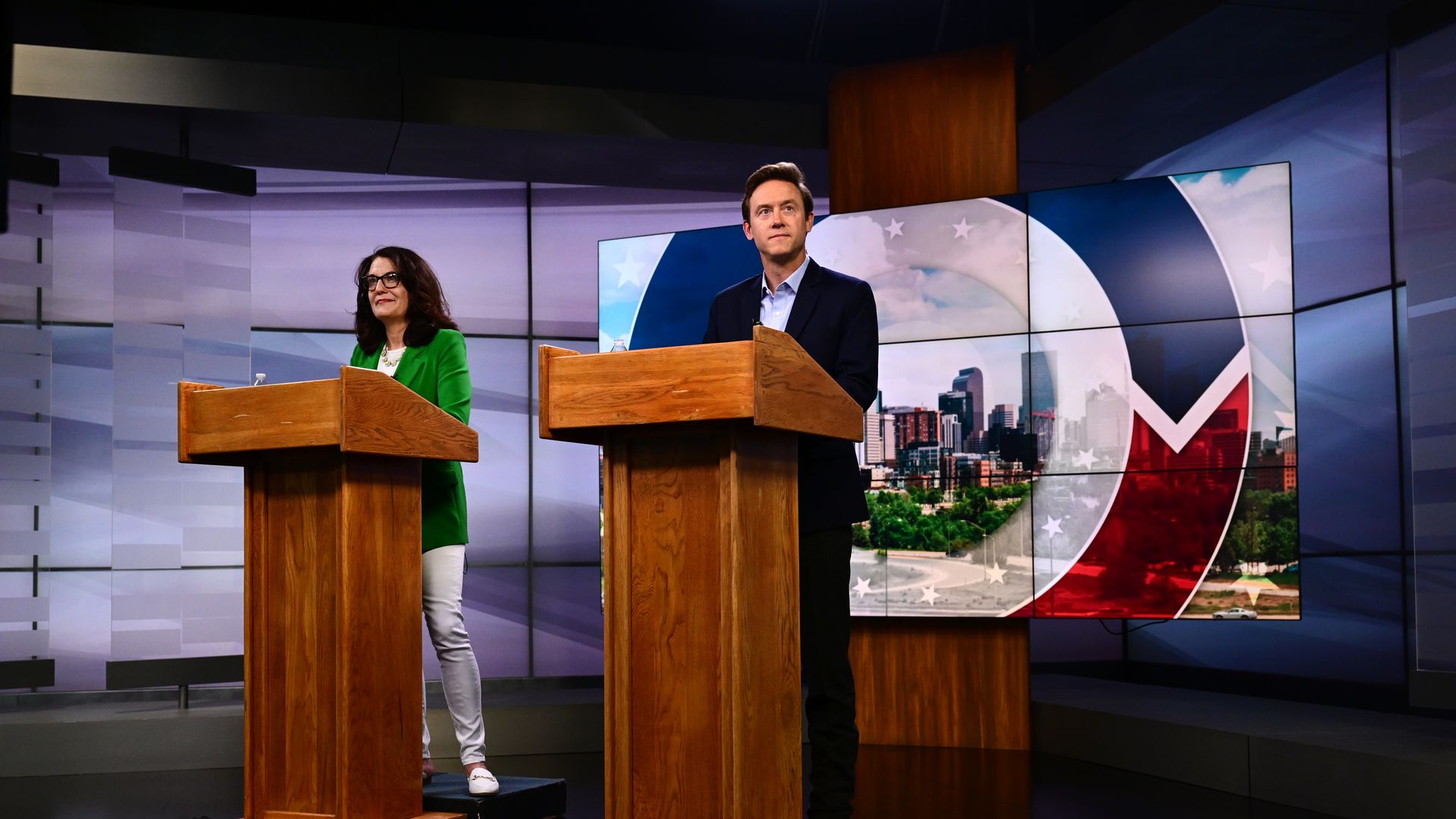 Denver voters cast ballots in the June 6 runoff election to decide the city's next mayor and three outstanding council seats.
Why it matters: The next mayor is the first new face in 12 years, succeeding outgoing Mayor Michael Hancock, while the council contests will determine the extent of progressive political power in the city.
Editor's note: Coverage has concluded for this liveblog.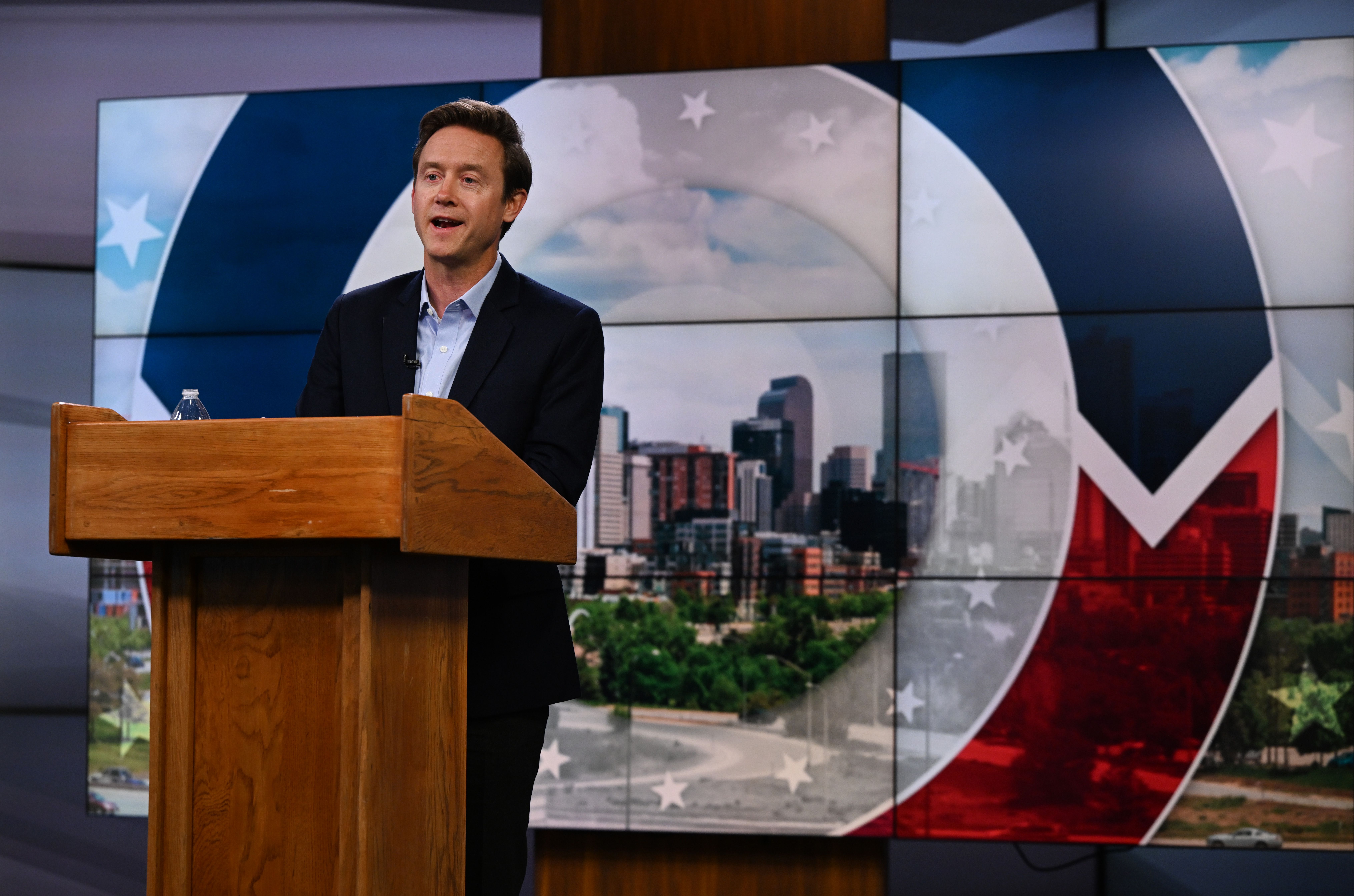 Addressing a packed and chanting crowd, Johnston made his first public speech as the mayor-elect of Denver just after 10:30pm at Union Station.
What they're saying: "This race was about a big vision for what's possible for Denver," Johnston told supporters.
"We can build a city that is big enough to keep all of us safe, to house all of us, to support all of us — that is our dream of Denver," he said.
Of note: Johnston said he received a call from Brough, who conceded and wished him the best ahead. He credited her for her work on the campaign trail and called her "deeply committed" to the city's future.
What's next: Johnston will be sworn into office on July 17.
Mike Johnston is Denver's next mayor, cruising to victory in Tuesday's runoff election with support from a coalition of progressives and $5 million in outside spending from national big-money donors.
He stood at 54%, about 10,700 votes ahead of Kelly Brough, the longtime CEO of the Denver Metro Chamber of Commerce, according to preliminary election results at 10pm.
Brough conceded just minutes after the third batch of results rolled in, wishing Johnston "Godspeed" at her watch party at ReelWorks.
Why it matters: Johnston takes office at a time of great turmoil for the state's largest city, where homelessness is rising and affordability is reaching a breaking point.
What's next: The former state senator is expected to make his acceptance speech shortly at his watch party at Union Station.
Denver voters appeared to reject a leftward shift of the city council as three progressive Democrats lost bids in Tuesday's runoff election.
State of play: The candidates — backed by the Democratic Socialists of America and the Colorado Working Families Party — hoped to capture four seats on the 13-member council, building on progressive Sarah Parady's at-large win in April's election.
Yes, but: CdeBaca, the most progressive elected official in Denver, lost her re-election bid to establishment-backed Darrell Watson in the redrawn District 9.
Watson received 63% of the vote compared to 37% for CdeBaca, according to the final preliminary vote counts posted at 10pm. He declared victory shortly before the latest results.
His win came after outside super PACs and special interests spent about $600,000 to defeat CdeBaca.
Of note: Two other progressives also struggled for support in runoff contests and faced headwinds from moneyed opponents.
In District 10, incumbent Chris Hinds solidly won a second term with 57.6% of the vote, compared to 42.4% for challenger Shannon Hoffman.
The intrigue: In District 8, Brad Revare holds a narrow 76-vote edge against Shontel Lewis, 50.3% to 49.7% with ballots still outstanding.
UPDATED: The Denver Elections Division is revising its statement about counting all the ballots in the city's runoff election tonight.
It now knows how many people voted— but not the candidate's vote tallies.
What's happening: In a statement, officials said the next batch of results released at 10pm will include "total unofficial turnout numbers" but later issued a clarification that the numbers won't include results.
By the numbers: The votes from 28,000 ballots remained uncounted at 10pm.
CdeBaca remains behind challenger Watson in the closely contested District 9 race.
What's new: The latest election results published at 8:30pm show Watson at 63.5%, compared to 36.5% for CdeBaca.
Incumbent Hinds, forced into the runoff after a lackluster showing in the April election, held a solid lead against progressive challenger Hoffman.
Of note: In District 8, Revare maintained a slim lead against Lewis.
Johnston's edge over Brough is widening.
State of play: Johnston stood at 53.9% compared to 46.1% for Brough, according to preliminary results posted at 8:30pm.
That's a difference of 9,800 votes.
Of note: The mood at Brough's watch party shifted with the arrival of the latest results. The crowd isn't so smiley anymore, and the energy seems to have dropped.
What to watch: The next results will be posted at 10pm.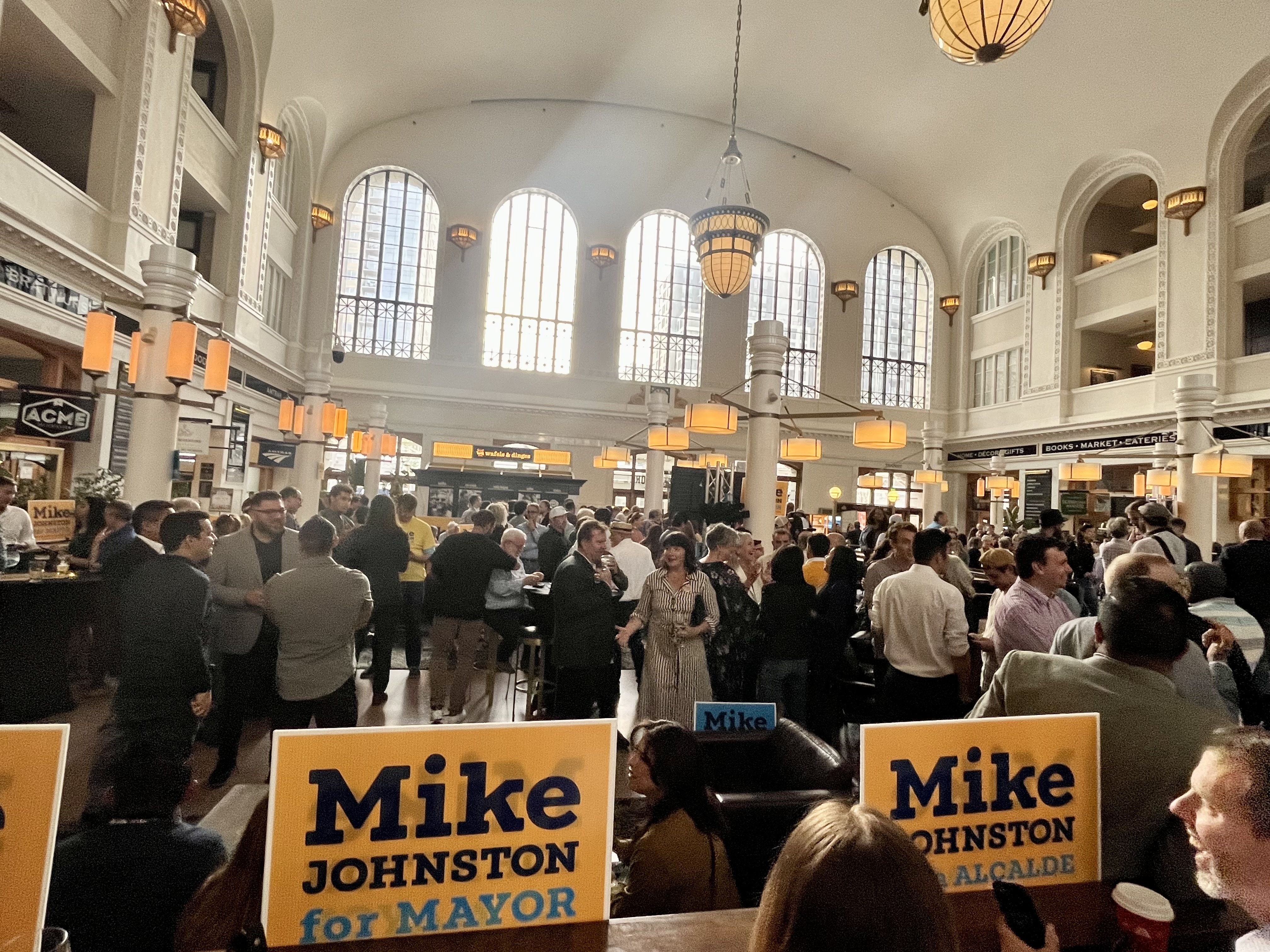 Cheers were heard throughout a jam-packed Denver Union Station as soon as early results flashed on the big screen at Johnston's party, showing his lead over Brough.
The place is packed, though Johnston still hasn't been seen.
Yes, but: Although the mood is a bit more subdued at Brough's party, held at ReelWorks, the atmosphere remains energetic with lots of people, flashing lights and loud music.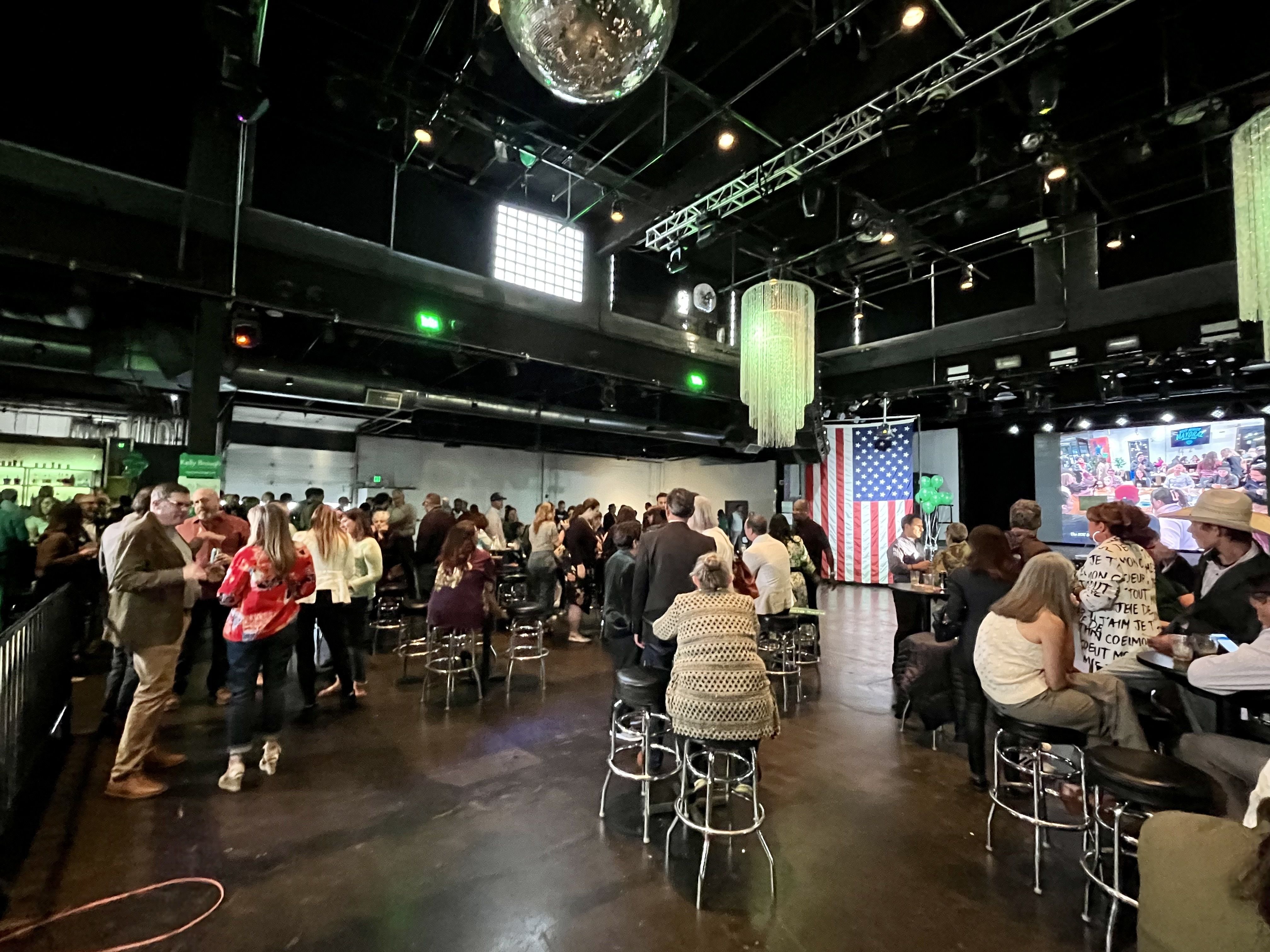 Three progressive candidates for Denver City Council will need another surge of late ballots after early voting totals show them behind in key races.
State of play: Incumbent CdeBaca stood at 35.9% compared to 64.1% for challenger Darrell Watson in the much-watched city council District 9 race, according to preliminary results posted at 7pm.
In the race for the open District 8 seat, Shontel Lewis was just behind Brad Revare, 50.1% to 49.9%, respectively.
In District 10, Hoffman received 41.6% to 58.5% for incumbent Hinds.
The intrigue: The counts represent the early vote. In April, the first results favored establishment contenders with support for progressives building from Election Day voters.
Early returns show Johnston ahead in the race for mayor.
What's happening: The former state senator has locked in 53.4% of the vote as of 7pm, while Brough has raked in 46.6%, according to unofficial results from the Denver Elections Division.
That separates the two by about 8,000 votes.
Why it matters: The winner will take over at a critical moment in the city as crime, homelessness and affordability challenge Denver's image.
Flashback: In April's municipal election, Johnston finished with 24.5% of the vote. Brough had 20%.
What's next: The next results drop at 8:30pm.
The first round of run-off election results will drop at 7pm, the moment polls close citywide.
Details: The Denver Elections Division will share additional results online at 8:30pm, 10pm and 11:30pm.
The first report is expected to include all ballots received before Election Day.
Public data dashboards will show returns for each candidate, as well as voting behaviors by neighborhood.
What they're saying: If Denver elections officials are bombarded with ballots on Monday and Tuesday, "we will likely have a midnight hard stop and resume counting Wednesday morning," spokesperson Lucille Wenegieme said in a statement.
Between the lines: A last-minute surge in turnout appears to be happening. As of 5:45pm, city figures showed turnout among registered voters was about 27.5%, at more than 122,000 votes — and nearly 19,000 ballots have been cast today.
Of note: All results are unofficial until ballot certification on June 20.
This is the Denver municipal election, so don't expect exit polls or TV projected winners.
Yes, but: There are a few interesting data points you can chart based on online metrics. And the initial takeaway: Many voters remained undecided until they voted.
Google search trends this morning showed locals looking to find out the most basic information, such as which political party the mayoral candidates belonged to.
Other online data points reviewed by Axios Denver show strong interest in learning the differences between Brough and Johnston, as well as the city council candidates.
Some are looking for who prominent leaders are endorsing as a proxy to help them vote.
What's happening: This is not unusual in Colorado elections, and a byproduct of the mail ballot system that lets voters do their homework and fill in the bubbles from their kitchen table or office desk.
The bottom line: No matter how much voter outreach and education the campaigns and outside interests do, not everyone pays attention — until it's time to vote.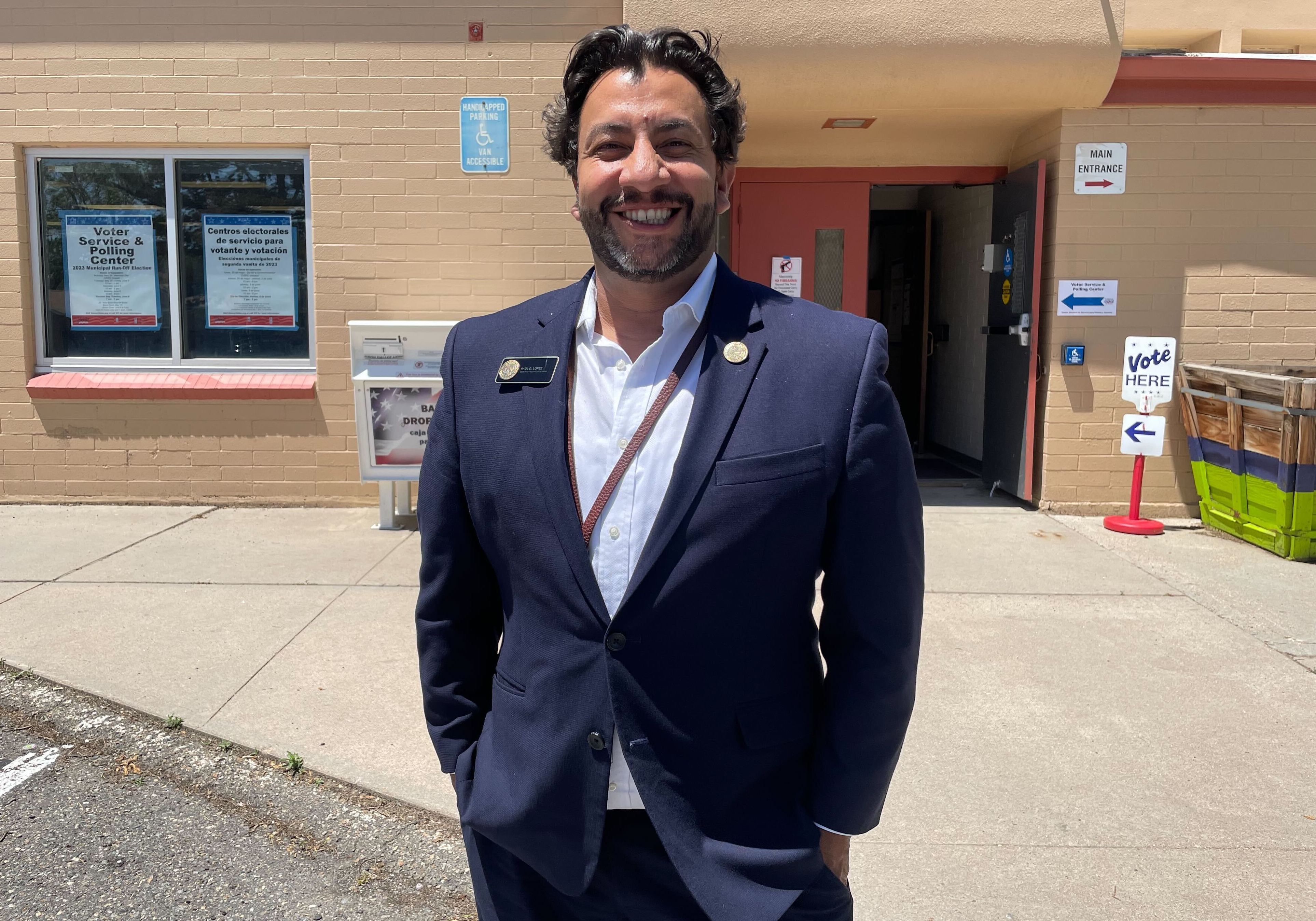 Denver Clerk and Recorder Paul Lopéz was making the rounds on Tuesday, greeting poll workers inside the Swansea Recreation Center.
Zoom in: Lopéz called it a "strange trend" to see so many ballots cast on Election Day, but said his office is equipped to handle the turnout.
"For us, it's about accuracy over anything else," Lopéz said.
By the numbers: Preliminary figures show more than 18,000 ballots were cast on Tuesday, according to online data.
Staff won't know exactly how many ballots were returned on Tuesday until tomorrow morning.
Between the lines: The Elections Division slow counting in the April election drew the ire of some people, including Jocelyn Bucaro, former elections division director, who told Westword slow counting risks voters losing faith or confidence in election results.
Regardless of who wins, top political pundits agreed the two candidates for mayor would make strong chief executives.
Driving the news: On the latest episode of PBS12's "Colorado Inside Out," panelists called the mayor's race an election of "really small differences," highlighting that Johnston and Brough are largely aligned in most areas.
What they're saying: "I don't think we'd come out a loser either way," said Patty Calhoun, editor of Westword. "I think both of them are capable of being strong leaders."
Krista Kafer, a columnist for the Denver Post, called the candidates "solid" and "thoughtful."
What to watch: If Johnston wins the race, it will mean progressives gravitated toward him at the polls, pundits say.
Yes, but: Pundits are raising questions about how big-moneyed interests are shaping the race.
With Johnston racking in nearly $7 million in support, "you have to wonder what is the impetus for all this money from these tech billionaires around the country," said Eric Sondermann, a political strategist.
"The only conclusion I can draw is they don't care all that much about who the mayor of Denver is … They're investing in who Mike Johnston can be on a state or national level," Sondermann surmised.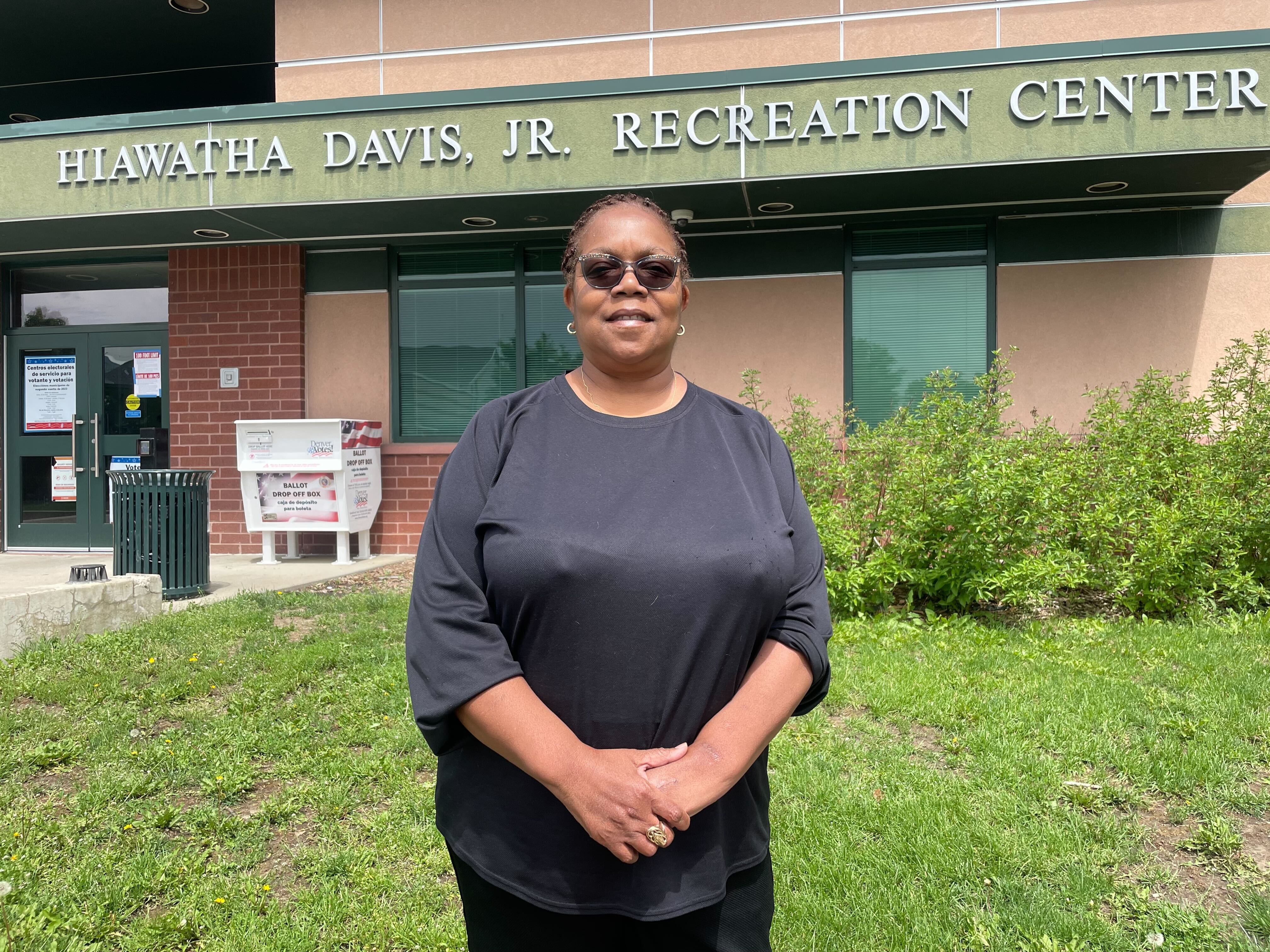 Green Valley Ranch resident Leslie Brown had a straightforward reason why she voted for Brough: "Because she's a lady and she's a Democrat."
Zoom in: Brown dropped off her mother's ballot outside the Hiawatha Davis Jr. Recreation Center after she cast her own ballot early on Tuesday.
"Her story just resonates with me," Brown tells us. "[Brough is a] single mother, her mother was a single mother, and I just think it's time for a woman to be in office."
She said she found Brough's ads more honest than Johnston's, and based on news coverage, she felt she was the better candidate.
What we're hearing: Hilltop resident Patrick Jacques says he voted for Brough after speaking to people currently working in Hancock's administration.
The intrigue: Jacques said multiple people told him about special interest money in Johnston's campaign, which he said he felt could influence Johnston's future decisions.
"I felt like Kelly Brough was the safer choice," Jacques tells us.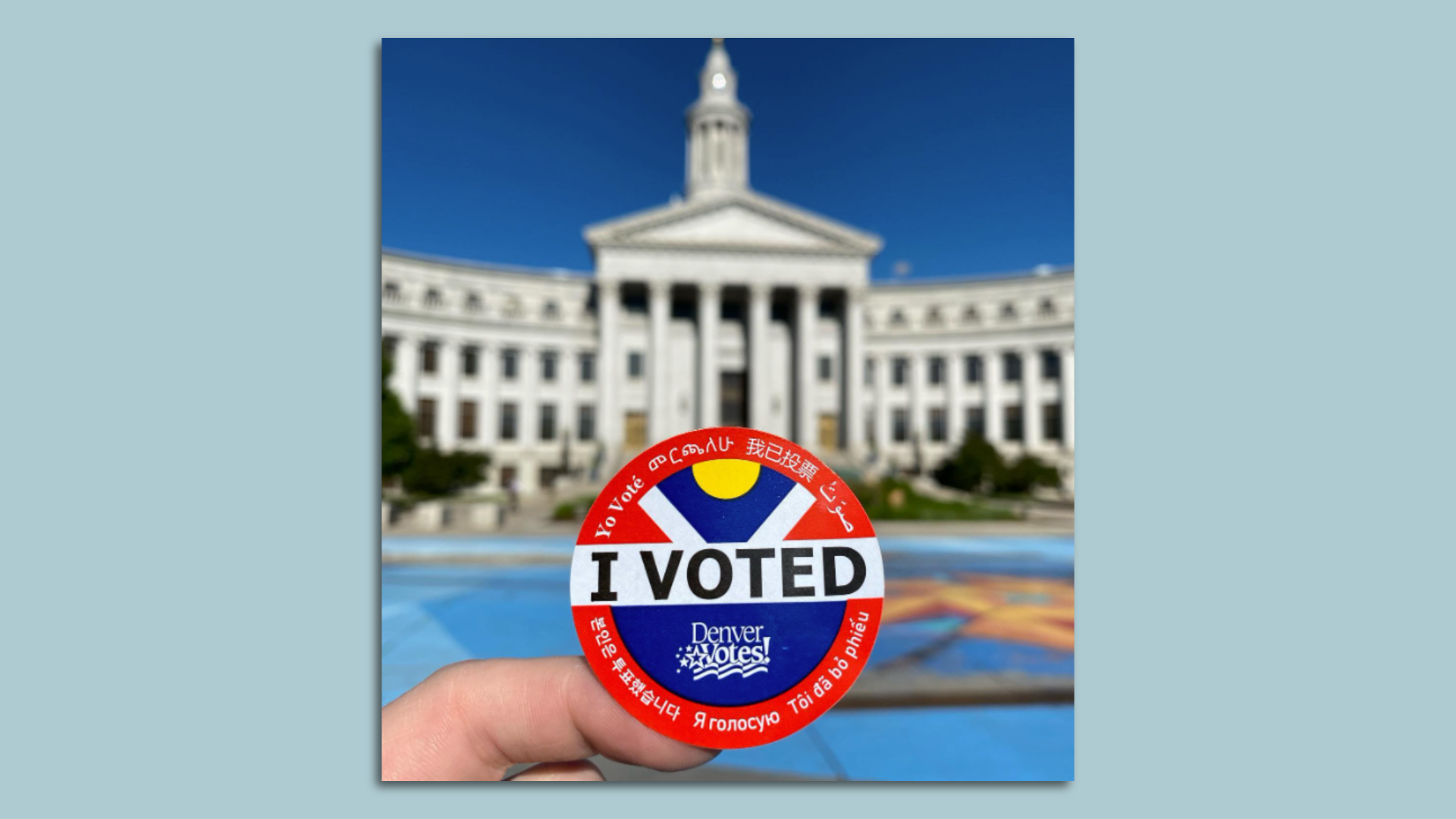 One of the best parts about voting is scoring a sticker. 😉
Details: The "I Voted" stickers for today's runoff election are the same used in April, Denver elections spokesperson Lucille Wenegieme tells us.
The stickers were made by the city's usual designer and inspired by Denver's flag.
What they're saying: "We wanted to represent some of the languages spoken in Denver and celebrate the diversity of our city," Wenegieme says.
"It has phrases equivalent to 'I voted' in Amharic, Arabic, Vietnamese, Korean, Russian, Spanish, English and Chinese."
Flashback: For last November's election, the city partnered with a local artist who is legally blind to create "I Voted" stickers that featured Braille and incorporated American Sign Language for people navigating disabilities.
Johnston is the one to beat in tonight's mayor's race — and not just because he's got the money advantage.
State of play: He peaked at the right moment in the April election, buoyed by millions in spending by an independent super PAC, and took the most votes in the first round, besting Brough, 24.5% to 20%, respectively.
That's 7,600+ votes more than Brough.
The latest: The only independent poll made public in April showed him ahead of Brough by a similar margin, 38.9% to 34.1%, within the margin of error but still a slight edge.
Of note: If endorsements mattered, he also would win the hypothetical matchup.
He received endorsements from six former rivals who collectively received roughly 32% of the April vote. Combined, that would give him about 57%.
Brough received endorsements from two former challengers, adding to 6% of the vote. She is also backed by two candidates who exited the contest early.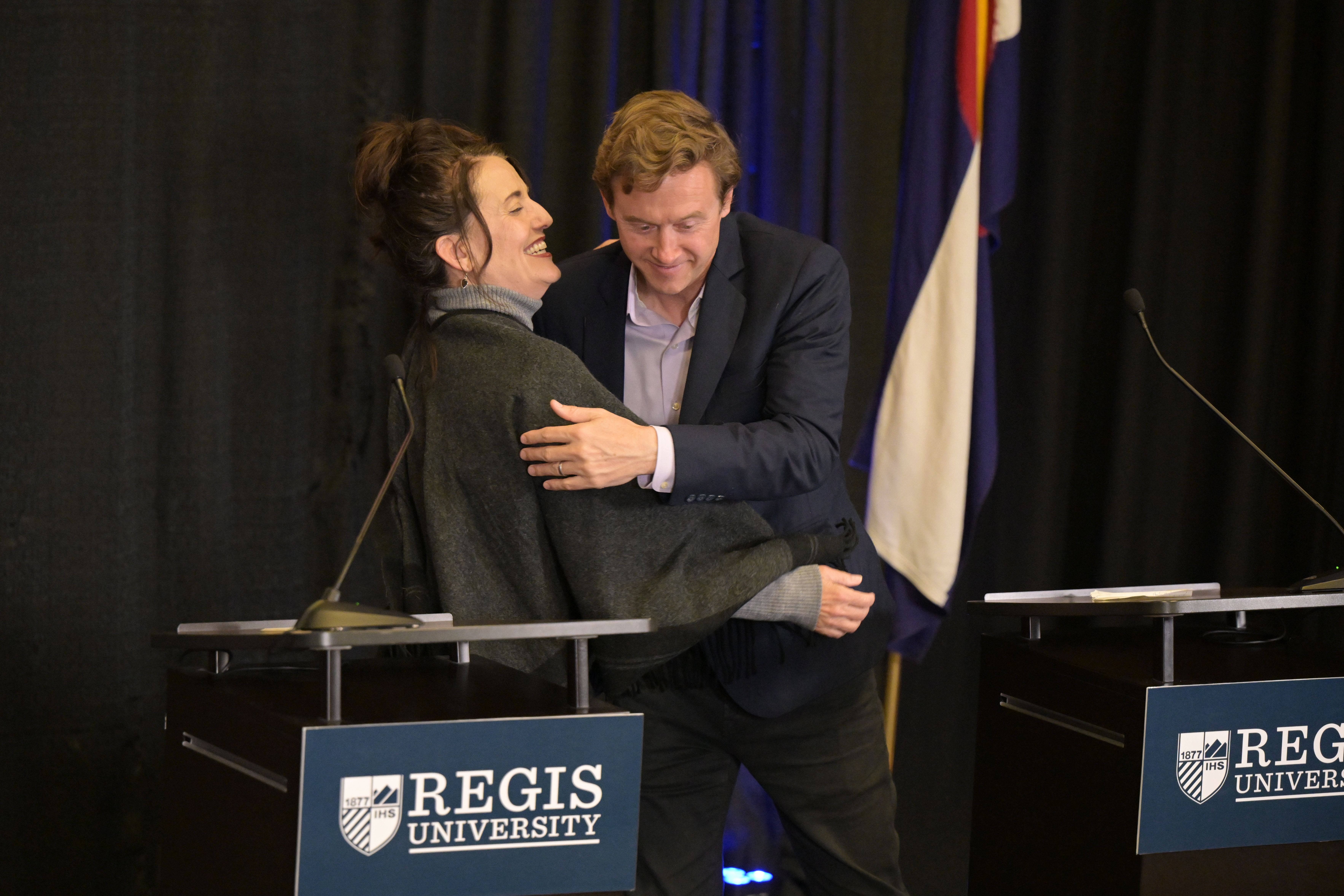 The candidates in the Denver mayor's race are more than their resumes and policy positions.
What to know: We asked Johnston and Brough to answer a series of questions about their favorite hobbies and places in Denver:
👀 Fun facts
Brough: "I absolutely love to cook, and I used to bake bread for my family almost weekly."
Johnston: "I was a sports nut as a kid, and was a state champion ski racer and played college Division I soccer [at Yale]."
🍳 Favorite places to eat and drink in Denver
Brough: "Las Delicias and Campus Lounge"
Johnston: "Brothers BBQ, Cherry Cricket, Little India and Station 26 Brewing"
😄 Hobbies
Brough: "Riding my bike, walking my dog and doing pretty much anything outside."
Johnston: "Playing soccer, skiing with my kids, ice hockey and watching the Broncos."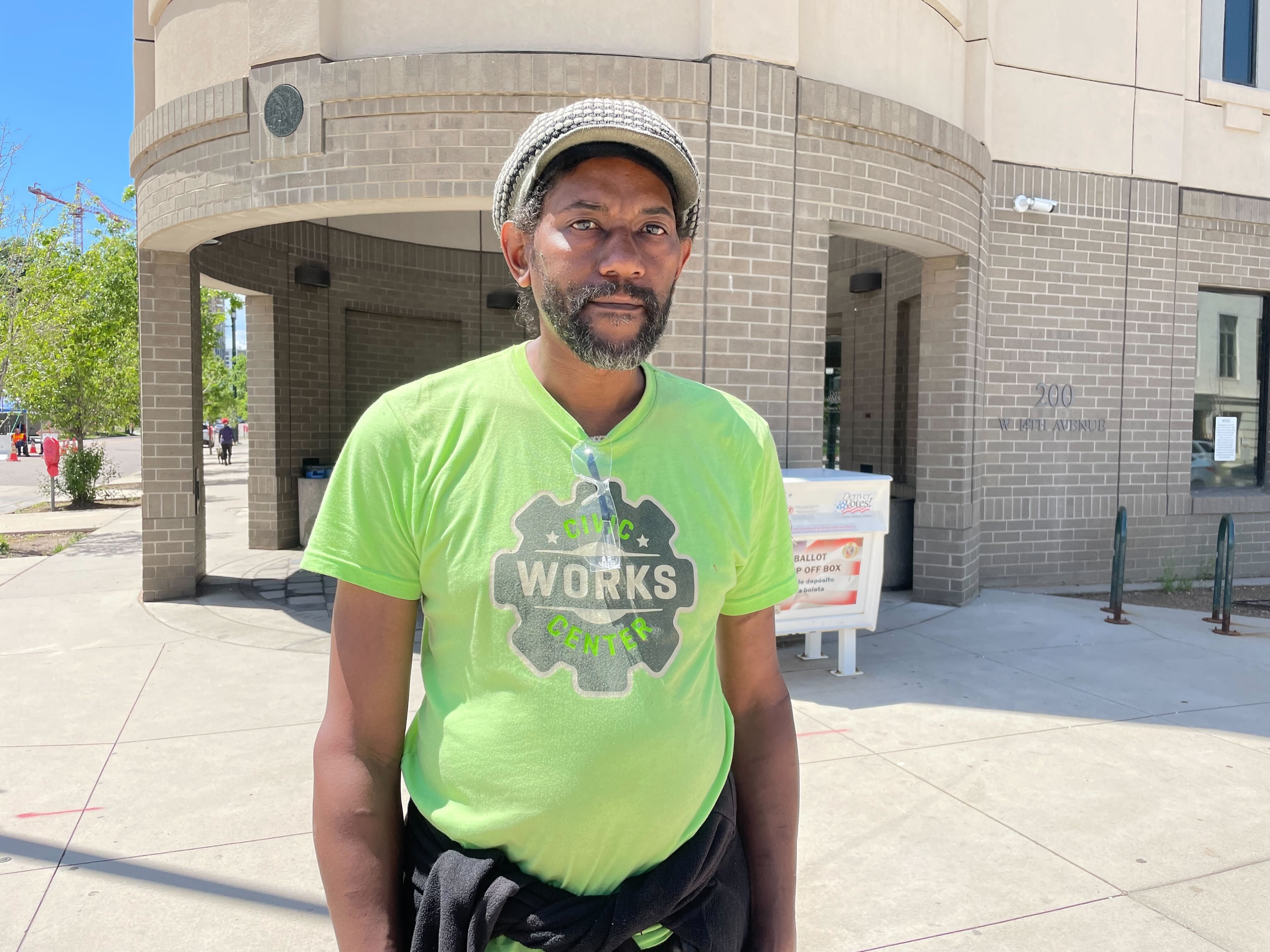 Freddie Martin cast his ballot Tuesday morning at the Denver Elections office for Brough for mayor and CdeBaca in Council District 9.
Details: Martin said Brough's former role as mayor John Hickenlooper's chief of staff made her his choice over Johnston. But he acknowledged Johnston had good ideas around helping people experiencing homelessness.
The other side: Carlos Rios, who also voted today, tells us he liked both mayoral candidates. Johnston earned his vote, in part because of his plan to build out the city's bike infrastructure.
"We have good infrastructure right now, but it could definitely be better," Rios said.
The intrigue: Rios said Brough's endorsement from the police union representing Denver officers "threw him off," and said he feels that candidates who historically are endorsed by police tend to be "more conservative and less progressive."
Early voting in Denver's runoff election is exceeding the April vote, and raising hopes of a strong turnout.
By the numbers: Turnout among registered voters stood at 22% through Monday. At that point in the April election, it was 19%, an Axios Denver analysis shows.
Why it matters: The runoff is the second election in three months, and takes place the first week of summer, raising questions about whether busy voters will take interest and cast ballots.
Context: In prior municipal runoff elections, turnout varied from a high of 35% in 2019 to 29% in 2011. (The 2015 runoff was not citywide.)
Of note: Final turnout for the April election reached 33.9%.
The intrigue: The strongest early vote is coming from southeast Denver neighborhoods where Brough and Johnston roughly split the vote in April.
The more diverse neighborhoods on the west side and southwest corner of the city — where Lisa Calderón did well in April — are seeing fewer people cast ballots.
A $1 million infusion of super PAC money flowed into the Denver election in May, a new Axios Denver analysis shows.
Why it matters: The final-month donations are a reminder of how big-moneyed interests are defining the contests for the city's top post and city council seats.
By the numbers: The most recent reports show independent donations for Johnston reached nearly $5 million this election cycle, and the total money supporting his bid reached nearly $7 million — more than double his rival Brough.
Brough received another $100,000 in outside super PAC support to bring the total behind her campaign to $3.4 million, the latest reports show.
Between the lines: In the final month, Johnston's campaign raised $305,000, compared to $183,000 by Brough.
Of note: Three establishment-supported candidates for city council — Darrell Watson, Chris Hinds and Brad Revare — also benefited from outside money. Hinds, an incumbent, received the most help at $45,000.
Three progressive candidates — CdeBaca, Hoffman and Lewis — took in far less than their challengers in terms of campaign cash and outside support.
Three seats remain undecided in this year's race for Denver City Council, which will feature five new faces later this summer.
District 8: Shontel Lewis, a former Regional Transportation District representative for Denver, is facing Brad Revare, who most recently worked for an educational nonprofit, to serve several neighborhoods, including Central Park, East Colfax, Northeast Park Hill, Montbello and South Park Hill.
District 9: In what's the most-watched city council race, incumbent Candi CdeBaca is attempting to keep her seat from challenger Darrell Watson to represent neighborhoods such as Clayton, Cole, Elyria Swansea, Five Points and Globeville.
District 10: Incumbent Chris Hinds is competing against Shannon Hoffman to serve constituents in Cap Hill, Central Business District (downtown), Cheesman Park and City Park West.
Go deeper: … Denver runoff election: A quick voter's guide on the candidates
The once-crowded contest to replace term-limited Mayor Michael Hancock has come down to two candidates:
State of play: Although both hopefuls have sounded similar on the debate stage, their approach — and records — show splits on five key topics: homelessness, public safety, affordable housing, downtown and climate.
🗳 Mail ballots must be returned to a drop box by 7pm, or voters must be in line by then to cast an in-person ballot.
📍 Where to go: There are 43 ballot boxes across the city, which are open 24/7. Use the Denver clerk's map to find in-person voting sites and drop boxes.
🖊️ Register on the spot: Even if you're not yet registered (confirm your status online), you can still register at a voting center and cast a ballot through today in person — but only if you have lived in the city for at least 22 days as of May 15.
More Denver stories
No stories could be found
Get a free daily digest of the most important news in your backyard with Axios Denver.