Colorado pitches an early Democratic presidential primary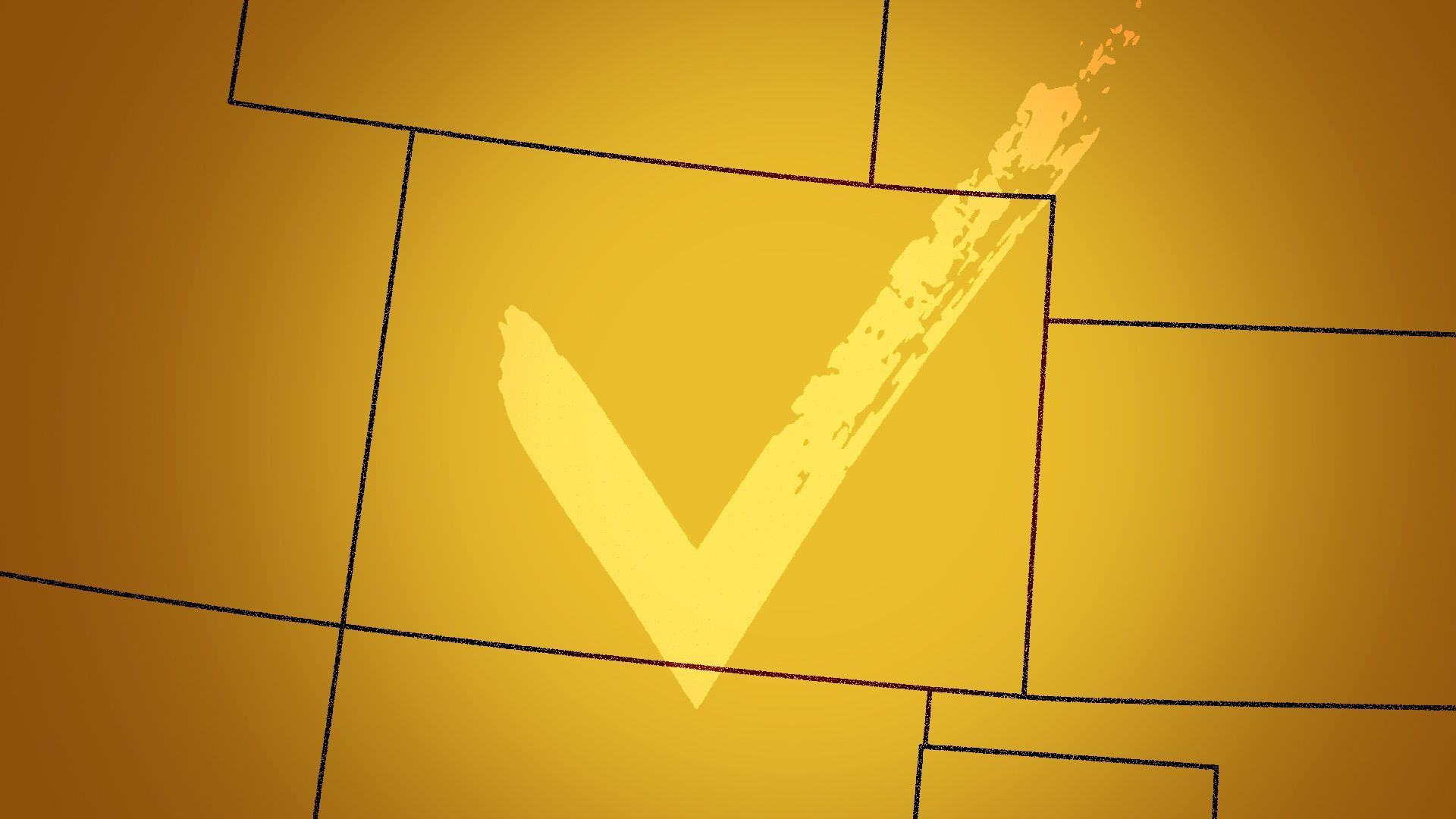 Colorado Democrats are campaigning to play a more important role in future presidential elections.
Driving the news: A national Democratic panel meets this weekend to continue a debate about which states should get the coveted opportunity to host one of the party's first presidential primaries.
Colorado is one of 17 states in contention, competing with current early-calendar states Iowa, New Hampshire and Nevada, as well as others that want a piece of the action, including Michigan and Georgia.
"I'd say we have a 50-50 chance," said Howard Chou, the Colorado party's vice-chair, who made a pitch to a national Democratic panel in late June. "If there are five [early] states, I think Colorado has a really good shot."
Why it matters: The states that host pre-Super Tuesday votes will play an outsized role in selecting the next Democratic nominee for president.
And it would draw big Democratic names, infusions of campaign spending, and plenty of national attention to Colorado's top issues.
Between the lines: Though President Biden insists he will seek reelection in 2024, much speculation suggests he could step aside, given his approval ratings and age.
If he does run, an early Democratic primary may not prove consequential, but this could set the stage for an open race in 2028.
State of play: The diversity of Colorado — in its economy, geography and population — make it a prime test ground for presidential candidates, the state Democratic Party contends.
"That is the single most important thing — how much we reflect the rest of the country," Chou told Axios Denver in an interview.
In addition to diversity, Chou emphasized two other factors at play in the national party's decision: The state is politically competitive and easy to campaign in.
Colorado did not go for the eventual Democratic presidential nominee in the last two primaries, but it still went to the winners in five of the six presidential elections since 2000.
"We are seeing a shift in the demographics, we are seeing a shift in the political trends, and it runs through Colorado," Chou said.
Yes, but: The state's push to move up the primary calendar is not new. In 2006, Democratic strategist Mike Stratton pitched a "Rocky Mountain" primary, with Colorado and other western states early in the cycle, but it was defeated. Instead South Carolina and Nevada moved up the calendar.
Stratton told Axios Denver that the 2020 caucus debacle in Iowa makes the national party receptive to change, but cautioned that "it's very, very difficult to change the schedule."
"I would say there's an OK chance … but it's got a long way to go, and you have 50 other states that would all have a dog in the fight and they all want to be relevant," he added.
By the numbers: In contrast to the existing early Democratic states — Iowa, New Hampshire, Nevada and South Carolina — Colorado boasts a younger, more educated population, according to an Axios Denver analysis of census data.
Colorado also counts the largest military veteran population of the bunch, and its Hispanic and foreign-born populations are only exceeded by Nevada.
What they're saying: Steve Welchert, a veteran Democratic strategist in Colorado and an Iowa native, told Axios that Iowa and New Hampshire don't represent the U.S. or the party's voters anymore.
"Iowa is just antique. You can hear the brittle bones breaking as you go across Iowa," he said.
What's next: The Democratic Party's rules and bylaws committee is not expected to make a decision at its meeting Friday and Saturday, but hopes to present a proposal to the Democratic National Committee in August.
Of note: If Democrats advance Colorado on the calendar, what happens to the Republican primary remains uncertain.
Colorado law gives the governor the ultimate authority to set the date for the party primaries.
More Denver stories
No stories could be found
Get a free daily digest of the most important news in your backyard with Axios Denver.