Chicago actors warn Hollywood strikes could hurt film/TV industry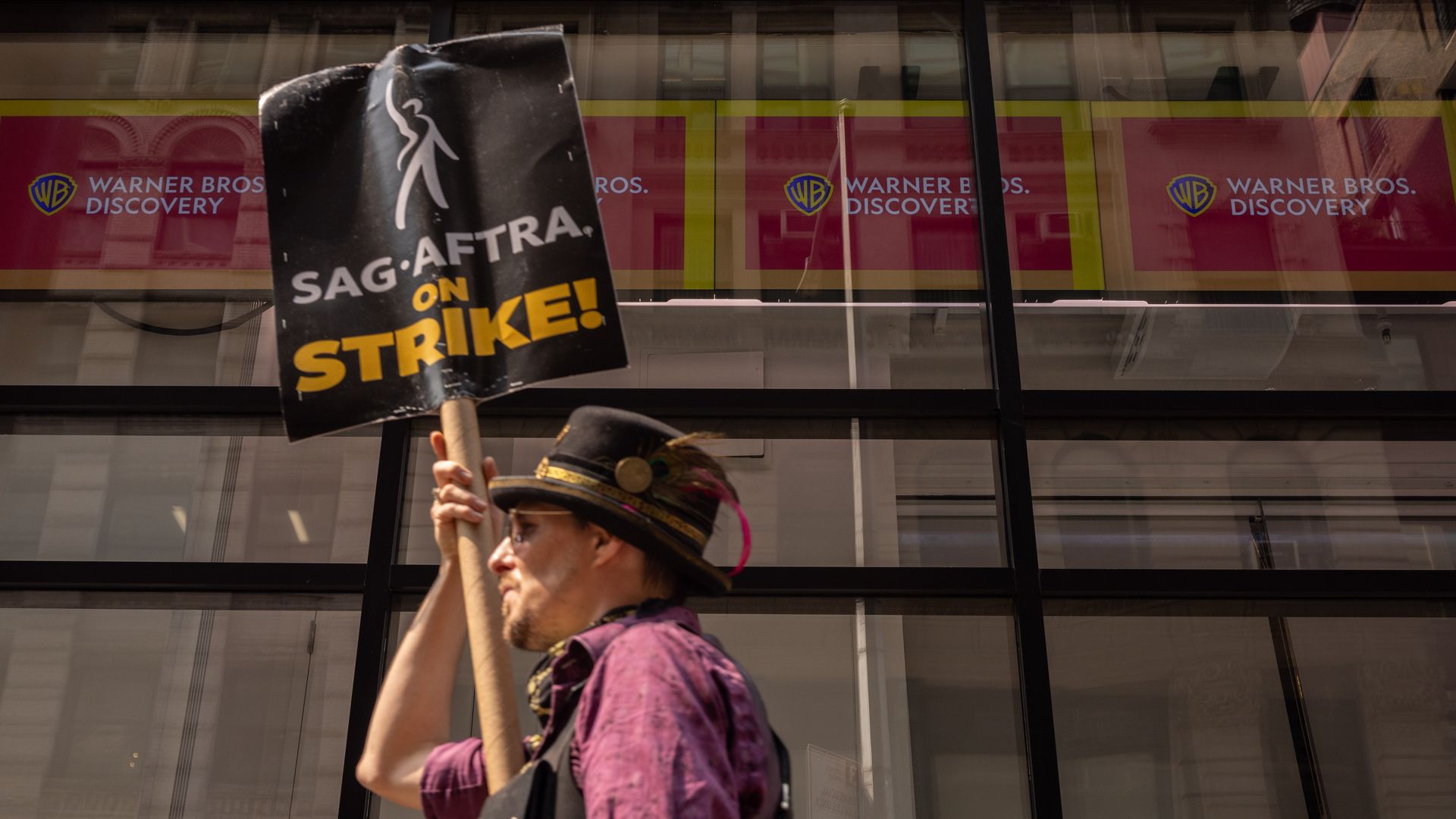 Late last week, actors joined writers on the picket line, leaving the immediate future of Hollywood productions in serious doubt.
Why it matters: It's the first time SAG-AFTRA, the union that represents film and TV actors, has been on strike at the same time as the Writers Guild of America (WGA) in almost 60 years.
What's happening: The Screen Actors Guild-American Federation of Television and Radio Artists is joining WGA in demanding better pay and working conditions, especially when it comes to residuals on streaming shows.
Actors also want protections against artificial intelligence.
Zoom in: The concurrent strikes could have serious economic ripples in the state, which saw almost $700 million in economic impact from the film/TV industry in 2022.
Several television productions film here, including NBC's "Chicago Fire," HBO's "Somebody Somewhere" and Showtime's "The Chi."
What they're saying: "There are over 15,000 hires in a calendar year for film and TV productions in Illinois," Illinois Production Alliance executive director Christine Dudley tells Axios.
"With the strike, those productions aren't happening."
We spoke to several union actors with Chicago roots, many of whom were trained at places like The Second City, about why they're striking.
Chris Witaske (FX's "The Bear"): "I just hit 10 years living in L.A. after a decade of cutting my teeth in the Chicago comedy community. One thing I've learned is that what actors and writers get paid compared to what the studios make (off our work) is truly insane. All we're asking for here is an updated fair contract. We'll use the money for frivolous things like rent and health insurance."
David Razowsky (Second City): "It's vital that we all hold tight, take care of each other, and don't f--king back down. If we don't, the film industry landscape will be a desert, and no one wins that way."
Melissa DuPrey (ABC's "Grey's Anatomy"): "Disney CEO Bob Iger recently said that SAG-AFTRA is operating at a level of expectation that is 'not realistic.' We are not trying to be realistic. We are asking all involved to be revolutionary; 87% of actors cannot meet the minimum $26K income requirement to maintain medical benefits. We are asking them to recognize that placing a business profit model on creatives, who are responsible for revolutionizing their industry, is unsustainable."
J. Nicole Brooks (FX's "Fargo"): "A lot of people think this is about celebrities wanting more money. I am here to tell you, I am not a celebrity. I am not a punk, either, because Chicago raised me and we are a union town. I am a member of two labor unions, and I still don't qualify for health care. I receive checks for $0.03 on the regular, and the math ain't matching."
Joe Nunez ("Superbad"): "Residuals have been a blessing in times of need when there has been little work, health issues and cost of living increases, only to watch my entire body of work stream worldwide and on every streaming service to receive literal pennies on the dollar. My fear is that profits over people will contribute to wiping out the film and television industry in smaller filming destinations like Chicago."
Tim Baltz (HBO's "The Righteous Gemstones"): "Streaming platforms disrupted and decimated the way networks and unions had negotiated their contracts for decades. It's gutted the middle class. It's disruption for the sake of enriching a few people at the top, undermining the quality of a product while selling off the parts once they've made their money. Everyone loses from this cycle, especially the consumer."
More Chicago stories
No stories could be found
Get a free daily digest of the most important news in your backyard with Axios Chicago.