Georgia's carbon emissions have dropped, but no thanks to cars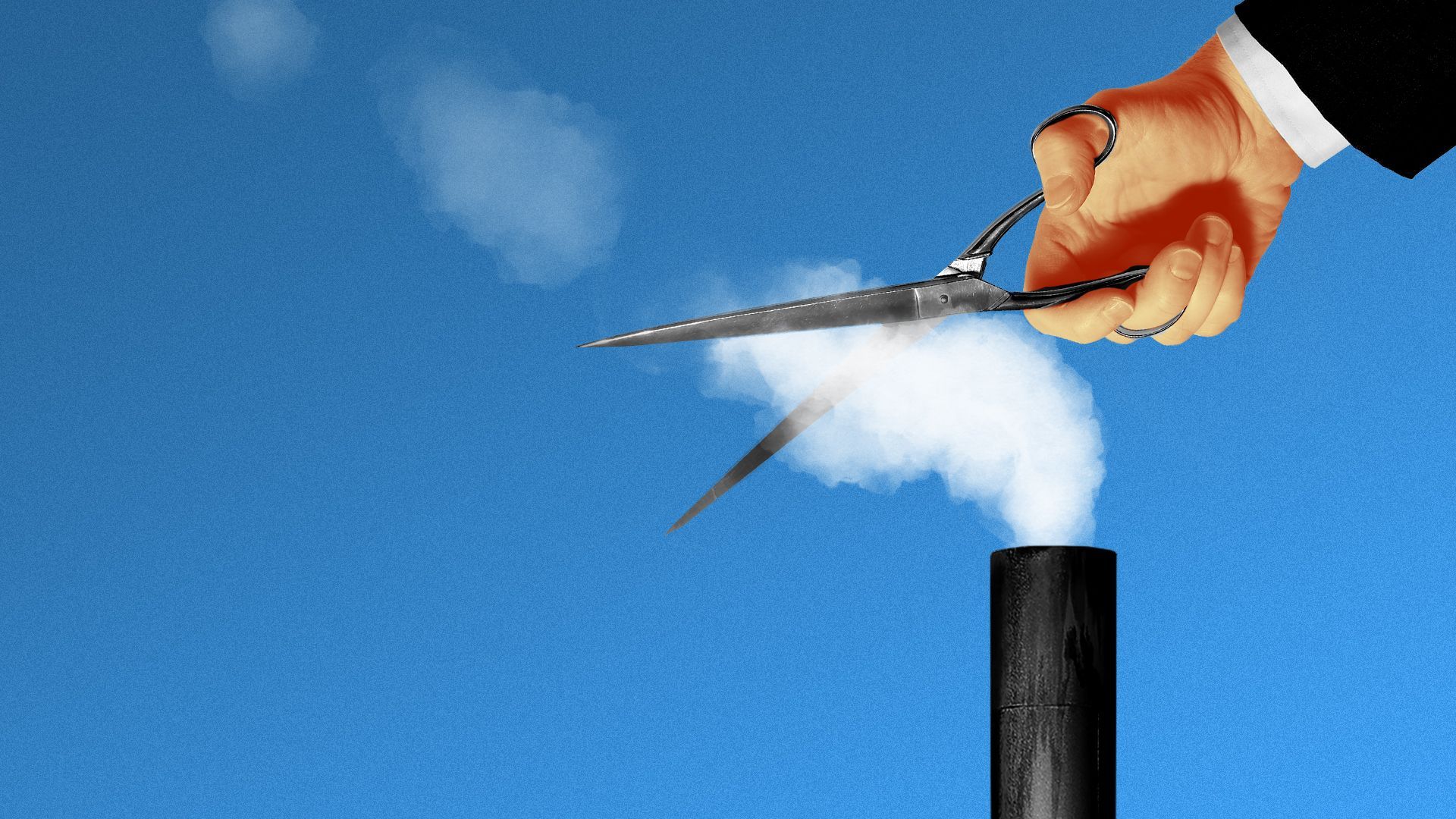 Georgia's carbon footprint is shrinking — but our reliance on cars and big SUVs persists.
Driving the news: Greenhouse gas emissions declined by about 8% per person between 2017 and 2021, according to new data from Drawdown Georgia looking at emissions from electricity, transportation, land sinks, agriculture and building.
Why it matters: The drop is "gigantic," said Marilyn Brown, professor of sustainable systems at Georgia Tech. Particularly, she said, when you take into account that the state's economy simultaneously grew 10% and the population by 4%.
"Earlier in my career, I was always told: 'Well, but we can't afford to do this. We need to grow our economy, and that means we need to consume a lot of energy.'"
These numbers, she said, dispel that.
Of note: Drawdown Georgia is a multi-university collaboration, started in 2020 and largely funded by the Ray C. Anderson Foundation.
Zoom in: Emissions in the electricity sector saw the best change, with a more than 15% decline as the state has retired coal plants. (Almost all are set to close by 2028.)
Food and agriculture industry emissions also dropped about 7% — but largely due to the electricity emission change. The sector could still do more in adopting "smart climate ag" strategies, she said.
Georgia's "land sinks" or forests, soil and wood products offset nearly a third of Georgia's emissions, but total forestland has dropped slightly thanks to the economy's growth, Brown said.
What's next: Brown said as the new units at nuclear power Plant Vogtle turn on in the coming years, the state will automatically see another 5-10% drop in emissions.
Yes, but: Georgia's transportation emissions for cars, pickup trucks and SUVs did not change at all. "The transportation story is not good right now," Brown said.
That's even though, "we have everything we need now" to cut our gasoline reliance: more EV models, rebates and charging infrastructure on the rise, she said.
Threat level: Transportation remains Georgia's largest source of carbon emissions, researchers said.
Emissions for diesel trucks and buses went up slightly thanks to a boom in online retail, but still represents about 40% as much as the emissions from cars, pickups and SUVs.
The big picture: Brown says Georgia amounts to a "conundrum" because while the state is becoming a leader in the "production of all these solutions: solar and EVs and batteries…at the same time, the market of consumers is not adopting these technologies."
For example, the state hosts the largest solar manufacturer with Qcells in Dalton, yet ranks towards the bottom nationally for rooftop solar.
That's in part, she said, because the incentive structure isn't strong enough: Georgia Power will pay a homeowner nearly 7 cents per kilowatt hour returned to the grid, but the average residential electricity rate is 14 cents per kilowatt hour to buy it back, per Energy Sage.
Yes, and: The state will soon host three new EV manufacturing sites: Rivian in Social Circle, Hyundai in Bryan County, and KIA's new EV in West Point. Yet Georgia is in the "middle of the pack" for EV adoption. "We could be doing so much better," she said.
Reality check: According to a recent federal study, emissions need to drop by 6% every year to meet a federal net-zero target of 2050.
Brown says we're not likely to hit the 2050 target, but are going to go "beyond target" for the 50% by 2030 outlined by the Paris Climate Accord.
More Atlanta stories
No stories could be found
Get a free daily digest of the most important news in your backyard with Axios Atlanta.