Featured
Axios Sneak Peek
An extra quick Sneak Peek today, with Congress on recess and the President on a working vacation for two weeks at his New Jersey golf club. As always, I'd love your tips and feedback: jonathan@axios.com. And please urge your friends and colleagues to join the conversation by signing up for Sneak Peek.
1 big thing: About that wall...
The White House director of legislative affairs, Marc Short, says the Trump administration has clear expectations for the fall: "We get tax reform and we also complete funding of the government which includes rebuilding of the military and securing our border." (Read: the wall.)
Sources inside and close to Republican Hill leadership, however, are privately less sanguine:
Some say there's a good chance of a government shutdown before the end of the year because of deep rifts over spending priorities.
No one sees Trump's wall getting much more than a symbolic nod, which is sure to anger Trump and the Bannon faction, and could lead to a shutdown.
Tax reform in this calendar year seems increasingly unlikely. A bill and big debate? Yes. Something signed into law? Very hard given the points above and persistently deep disagreements over which loopholes to keep and how to pay for the tax cuts.
What happens next: Congress must pass bills to raise the debt ceiling and fund the government before the end of September. Top Hill sources believe the most likely scenario is that a coalition of Republican leaders, Republican moderates and Democrats cobble together a bill that extends government funding for three months, reauthorizes the Children's Health Insurance Program and raises the debt limit.
Hill leaders have discussed ways to get Trump "enough" on border security so he feels they're making enough progress to sign their funding bills. This could mean modest funding for the wall or other border security measures that moderates could live with, and/or other avenues to add funding to fight international crime gangs like MS-13.
But sources close to Trump say he's dead serious about building an impressive wall and will go crazy when he realizes Congress has no plans to pay for it.
Even if Paul Ryan can work magic, the bill still needs 60 votes in the Senate to pass. That means leadership will have to work with a messy coalition of Republican moderates and centrist-Democrats — sure to enrage Tea Party types and fuel even more anti-Ryan vitriol.
Bottom line: The wall is no metaphor to Trump. He will accept no substitutes to a huge, long, physical wall, which he believes his voters viscerally want. He told GOP Hill leaders in June he wants it to be 40 to 50 feet high and covered with solar panels. Hill Republicans privately mocked that idea, but some of those same people now recognize that Trump's big, beautiful — and in their minds, ridiculous — wall could be the thing that brings the U.S. government to its knees.
2. The shows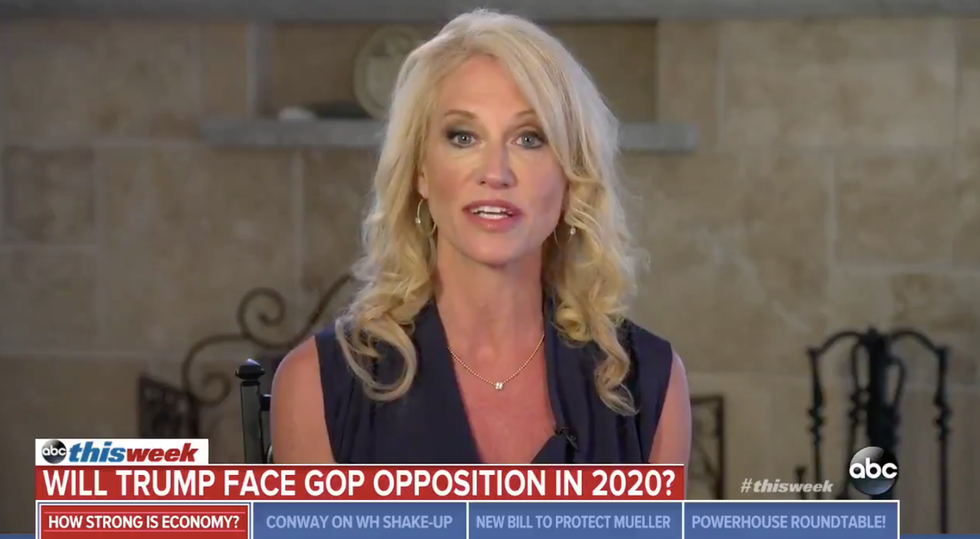 Sunday highlight reel, with a focus on whether Trump will fire Robert Mueller, the special counsel overseeing the Russia investigation.
Republican Sen. Thom Tillis appeared on ABC's "This Week with George Stephanopoulos" with Democratic Sen. Chris Coons. They promoted their bipartisan legislation that would let a judge review any decision by the President to fire a special counsel.
"Our effort here is just to take that [firing Mueller] off the table, any sort of precipitous removal," Tillis told Stephanopoulos. "But we don't have any specific evidence to suggest that the President is going to do that."
FWIW: Stephanopoulos asked Kellyanne Conway whether the President would commit to not fire Mueller. Conway's response: "I'm not the President's lawyer here. But I will tell you, as his counselor, he is not discussing that."
Also, some Republicans are still defending the President's authority to fire Mueller. Sen. Tom Cotton told John Dickerson, host of CBS' "Face the Nation": "I don't see them [his colleagues pushing legislation to restrain POTUS] going very far...we have an executive branch in which the power of all the departments and all the agencies reports to the single elected member of the President."
3. See you in court!
Chicago is taking the Justice Department to court. Mayor Rahm Emanuel said in a statement provided to Axios that his city will try to force the DOJ to keep giving it crime-fighting grant money, despite the fact that the city doesn't cooperate fully with federal immigration enforcement.
"Chicago will not be blackmailed into changing our values," Emanuel said.
Two weeks ago, Attorney General Jeff Sessions announced that if so-called "sanctuary cities" like Chicago don't let Immigration Customs and Enforcement (ICE) agents into their jails, they'll lose valuable federal grants. Over the years, Chicago has used the grants they could lose — known as Byrne JAG funds — to buy SWAT equipment, police vehicles, and tasers.

Why this matters:
While many law enforcement leaders decry sanctuary policies, a number of local police chiefs across the country defend them. The defenders say they worry that letting federal immigration agents into their jails will erode trust between police and immigrant communities. And when undocumented immigrants fear the police, they're less likely to call for help if they're victims of crime and less likely to testify in court about crimes they witness.

The politics are powerful. Trump won a lot of support on the campaign trail by railing against sanctuary cities and highlighting instances of undocumented immigrants killing American citizens in sanctuary cities like San Francisco. Democrats have yet to find a smart way to concisely explain why cities that don't fully cooperate with federal law enforcement should still expect to get federal grant money. Emanuel is trying to lead the way here.
Chicago will likely be the first of many cities to sue. An Emanuel aide tells me the mayor is in discussions with a number of other mayors and immigrant groups about joining the suit.
4. Trump's weekend tweets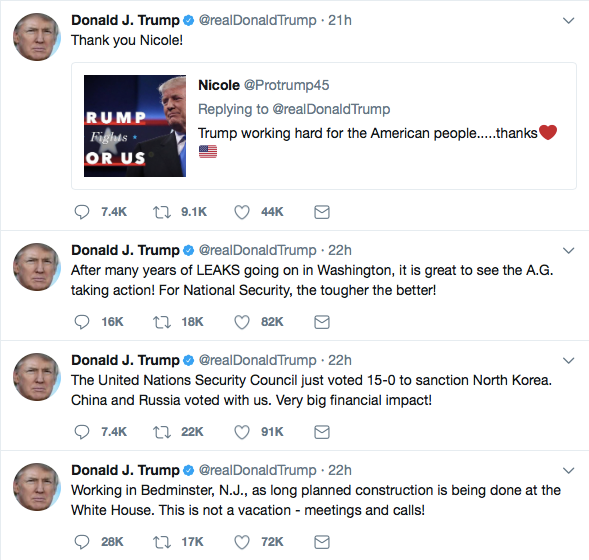 5. 1 fun thing: the legend lives on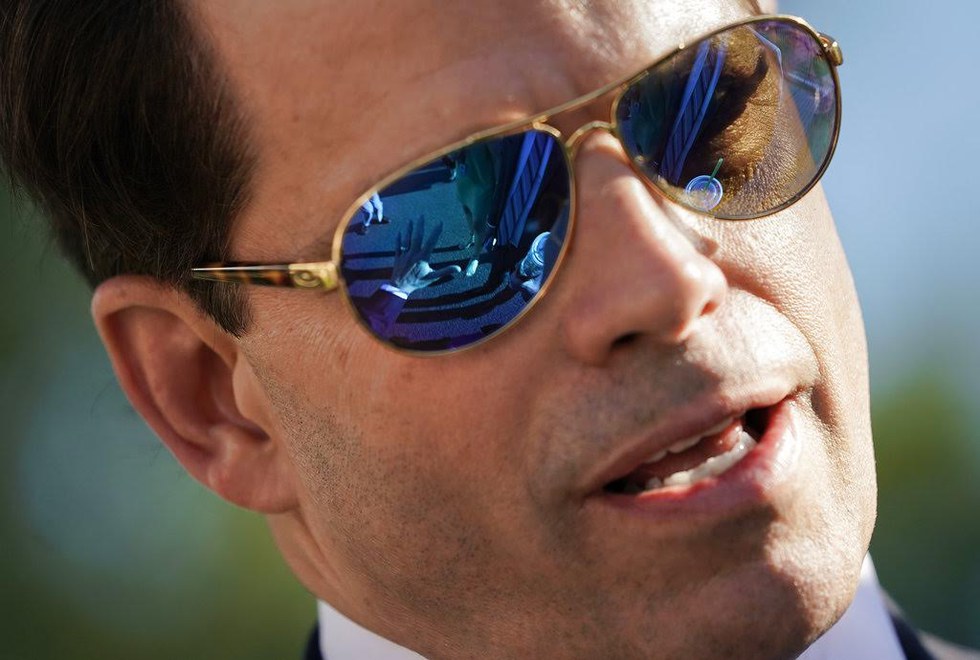 In this July 25, 2017 photo, White House communications director Anthony Scaramucci speaks to members of the media outside the White House in Washington. Scaramucci is out as White House communications director after just 11 days on the job. A person close to Scaramucci confirmed the staffing change just hours after President Donald Trump's new chief of staff, John Kelly, was sworn into office.
(AP Photo/Pablo Martinez Monsivais)
Mooch made an appearance on Saturday night at Dee Angelo's restaurant in Westhampton Beach, N.Y.
The crowd of diners cheered Scaramucci's entrance, and women then flocked over and asked him for pictures with his now-famous aviator sunglasses on. It was 9 p.m.
Meanwhile, back at the White House, incredulous aides are still reminiscing about the brief, crazy reign of Anthony Scaramucci as communications director. My favorite anecdotes from what some West Wingers call "the 10 days of Mooch":
Mooch in a communications staff meeting, going ballistic, saying he's going to fire everybody and it's just going to be him and Sarah Huckabee Sanders left on the team. A moment later, he says, "but I don't want to, I want to bring everyone together."
Mooch railing against leakers in a communications staff meeting. He said: "Let me tell you a story. You probably don't know this about me but I used to own an ice cream shop." He proceeds to tell a story about how he suspected the guy who was managing the shop was stealing money from the cash register. Mooch told the staff that for a week, he stuffed the drawer with extra money to prove the guy was stealing. He said the moral of the story was: "I always find out." Then someone asked what happened to the guy. Mooch replied that the guy was married to a family member and that he let him go because he's got a big heart like President Trump. "It's kinda like here," he said, "I may end up firing all of you, but I'll help you find a job somewhere else."
Mooch would walk around the West Wing saying "I'm stopping with the TV. No more TV. Gotta keep a lower profile today." And then two hours later he'd be on a high-rating cable show or holding an impromptu press conference on the White House grounds. Aides described the Mooch as a man battling an addiction: to media attention.
When White House communications staff asked him questions about policy, he would sometimes refuse to answer them, saying he couldn't tell them anything because it would leak.
Mooch loved drawing diagrams for visitors to his office — especially diagrams that dramatized the divisions in the communications shop between the RNC staff and the campaign holdovers. A favorite: he'd draw circles around "POTUS" and his own name and draw a line connecting them, explaining to the visitor that he reports directly to the President.