Featured
Axios Sneak Peek
Happy Father's Day, and welcome to Sneak Peek, our weekly lookahead for both ends of Pennsylvania Avenue. I'd love your tips and feedback: jonathan@axios.com. And please urge your friends and colleagues to join the conversation by signing up for Sneak Peek. See you all week in the Axios STREAM.
1 big thing: debt ceiling, behind the scenes
President Trump is likely to play a much smaller role than previous presidents in the coming debt-ceiling fight.
Marc Short, director of the White House's Office of Legislative Affairs, has told associates his recommendation is that the House and Senate initiate the debt-limit negotiations within their own conferences rather than leaning on Trump to do the heavy lifting. (During the previous debt ceiling crises, Obama aggressively lobbyied Congress both publicly and privately.)
The White House theory: Congressional spending habits got America into this mess and the President has enough on his plate and would gain nothing from spending his political capital on this fight.
The upshot: Trump will ultimately have to play some role in the debt ceiling debate, but the White House won't have him out there providing cover for congressional leadership to negotiate an unpopular bill.
Current status: Nobody agrees on anything. Budget Director Mick Mulvaney wants to use the debt limit bill to cut spending. Treasury Secretary Steven Mnuchin just wants the debt ceiling raised without fuss — to avoid a last-minute standoff in September that could crash markets.
Why this matters: Presidents have traditionally used the weight of the presidency to push Congress to raise the ceiling. Some in Republican leadership circles are frustrated that the White House appears willing to make GOP leadership do the thankless work.
Between the lines: Some in the White House believe Republican leadership has already given up on the Freedom Caucus / Mulvaney approach, and concluded the only workable path is to collaborate with Democrats and moderate Republicans. Leadership says it's not close to making such decisions.
Click here for three options being kicked around.
2. "Tapes"?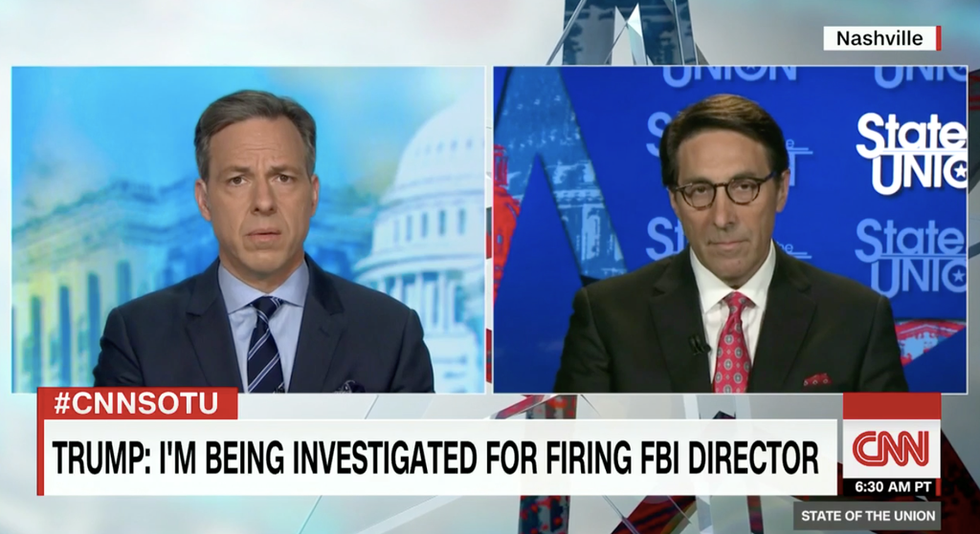 We told you in last Sunday's Sneak Peek you should expect to see a lot more of Jay Sekulow — the man Trump has chosen as his TV lawyer for the Russia probe. Today Sekulow repped POTUS on nearly every Sunday show — Fox, NBC, CBS and CNN.
Tantalizing: Sekulow told John Dickerson of CBS's "Face the Nation" he expected Trump to address "in the week ahead" whether he secretly taped his private conversations with former FBI director James Comey.
Several of Sekulow's interviews got testy, especially his exchange with "Fox News Sunday" host Chris Wallace. The two talked over each other, with Sekulow accusing the host of manipulating his words.
Wallace's
response:
"Don't tell me what I'm trying to do because you don't know what I'm trying to do. Actually, what I'm trying to get is a straight answer out of you."
The bone of contention: Whether Special Counsel Bob Mueller is investigating Trump. Trump seemed to confirm the investigation when he tweeted: "I am being investigated for firing the FBI Director." But Sekulow said nobody had told Trump he was under investigation, and the President was only responding to the Washington Post story.
Money quote: "The President is not under investigation by the Special counsel," Sekulow told NBC's "Meet the Press" moderator Chuck Todd. "He's not afraid of the investigation. There is no investigation."
3. Huge week for healthcare
Sources close to Mitch McConnell tell me the Majority Leader is dead serious about forcing a Senate vote on the Obamacare repeal-and-replace bill before the July 4 holiday.
Some senators want to delay the vote but McConnell views that as delaying the inevitable. There are no mysteries about what the toughest disagreements are over — Medicaid funding and insurance market regulations.
This week is crucial: the Senate won't vote without a CBO score, which means they need to finalize negotiations this week.
Behind-the-scenes: McConnell and Senate leaders have been at this for all of May and now first couple weeks of June, turning their weekly lunches into working sessions on various aspects of the healthcare legislation. They've whittled down the stack of items that people don't agree on. I've spoken to a number of people who know McConnell well who speculate that he'll force a vote regardless of whether he knows he has 50 votes. They say he's desperate to move on to tax reform and can't have healthcare hanging around like a bad smell through the summer.
On the House side:
Following the White House's "Workforce Development Week," House GOP leadership will vote on two workforce bills. The big one: a bipartisan bill to reauthorize the "Perkins Act" for six years — providing more than $1 billion per year in federal support for career and technical education programs.
Wednesday's conference meeting is expected to be more policy-focused than usual. (They had to cancel Friday's meeting due to the fallout from last week's shooting.) A senior House aide tells me the Wednesday conference will focus on the budget caps and appropriations.
Paul Ryan and Kevin McCarthy will both address the National Association of Manufacturers. Ryan pushing tax reform and McCarthy on reg reform and workforce development.
4. What Tim Cook will tell Trump
Apple CEO Tim Cook will be at the White House tomorrow for tech meetings organized by Jared Kushner's Office of American Innovation. It's the first of two heavy-hitter meetings in what the White House is calling "Technology Week."
A source tells me Cook, who doesn't belong to any of the President's councils, plans to proactively raise four issues:
Immigration: Cook will participate in the session titled "H-1B/immigration." He's got a long history of arguing for the importance of immigration to the American economy and doesn't agree with the Trump-Bannon-Sessions view that unchecked immigration has been driving down wages and stealing jobs from Americans.
Encryption: Cook will "fly the flag" for strong encryption. This has been a controversial issue within the administration and it remains unsettled. Shortly after the San Bernardino shootings, Trump called for a boycott of Apple products because Cook refused to cooperate with the FBI after it requested that Apple create a special version of its operating software that would have given the government a backdoor into the iPhone used by the terrorists. Cook took a lot of incoming after saying it'd compromise customers' privacy and security. Some argue Cook has been vindicated given subsequent leaks from federal agencies.
Veterans' affairs: How to better serve vets both in the provision of medical care and in hiring policies.
How the administration talks about human rights: Ensuring it remains a priority for the U.S., both domestically and internationally.
Other points on Tech Week:
I'm told the White House won't be rolling out any new policies or signing any executive orders related to technology.
Tomorrow: Attendees are expected to include Alphabet Chairman Eric Schmidt, Amazon's Jeff Bezos, Microsoft's Satya Nadella, IBM's Ginni Rometty, Oracle's Safra Catz, and venture capitalist John Doerr, among others. Cabinet secretaries will attend and the President will drop by, too.
Wednesday: Per a White House official: "We're taking the tech conversation to rural America ... [W]e'll be in Iowa talking about agriculture and technology and showcasing the latest technology that is changing the way farmers produce, harvest, and market food." The event will double as a send-off for Iowa Gov. Terry Branstad, who's heading to China to be the U.S. ambassador.
Thursday: Breakout sessions focusing on 5G and the Internet of Things, the commercial use of drones, and what the administration can do to spur innovation. The attendees are expected to come together after their more specialized sessions for a meeting with Trump. C-suite level executives and general partners from venture capital firms have been invited. Commerce Secretary Wilbur Ross will play a key role.
What's next: "Energy Week." (These branded weeks are part of the White House's framing of June as "Jobs Month" — focused on public-private partnerships.)
5. 1 $$ thing: Kellyanne's cost
A source from a Fortune 100 company tells me his business was ready to pay an eye-popping price to have Kellyanne Conway speak to them shortly after the election. Her going rate in December: $75,000 for a "local" speech and $100,000 for outside the New York area. That's not far from Clinton money.
The conversation got me wondering exactly how much cash would've been available to a top official from a winning presidential campaign. (Kellyanne and the others who joined the White House gave up that immediate earning capacity.)
A well-known book agent tells me Kellyanne and other top officials could expect "high seven figures" if they publish the first "insider" book on life inside the Trump campaign or White House. The agent told me he's heard from a number of officials currently inside the White House who want to know how much money they could expect to make from writing books when they leave.
(N.B.: Corey Lewandowski is reportedly one step ahead of them. CNN's Oliver Darcy reports that the sacked campaign manager is shopping a book through his agent. I'm told he can expect more than $1 million if he goes through with it.)
Final thought: what POTUS could be talking about
The father of Otto Warmbier — the American college student just freed from prison in North Korea — held a deeply moving press conference on Thursday. Wearing the blazer his son wore during the show trial where North Koreans sentenced him to 15 years of hard labor, Fred Warmbier ripped into the Obama administration and praised Trump.
His son was arrested during Obama's presidency, and the Obama administration told the family to stay quiet about his imprisonment in hopes of negotiating a deal to free him. It didn't work. Then Trump's State Department got Otto free.
Our thought bubble: It isn't the first time diplomatic efforts under Trump have succeeded where Obama's fell short. In April, Trump's team convinced the Egyptians to free an American aid worker. But instead of sharing this deeply moving moment and praising his Secretary of State's leadership, the President tweeted about Bob Mueller's "WITCH HUNT."