Good morning and happy Tuesday. This is the sixth edition of Axios Media Trends. Send tips and ideas to sara@axios.com and tell your friends and colleagues to join the conversation by signing up here.
1. Amazon's eating the media, too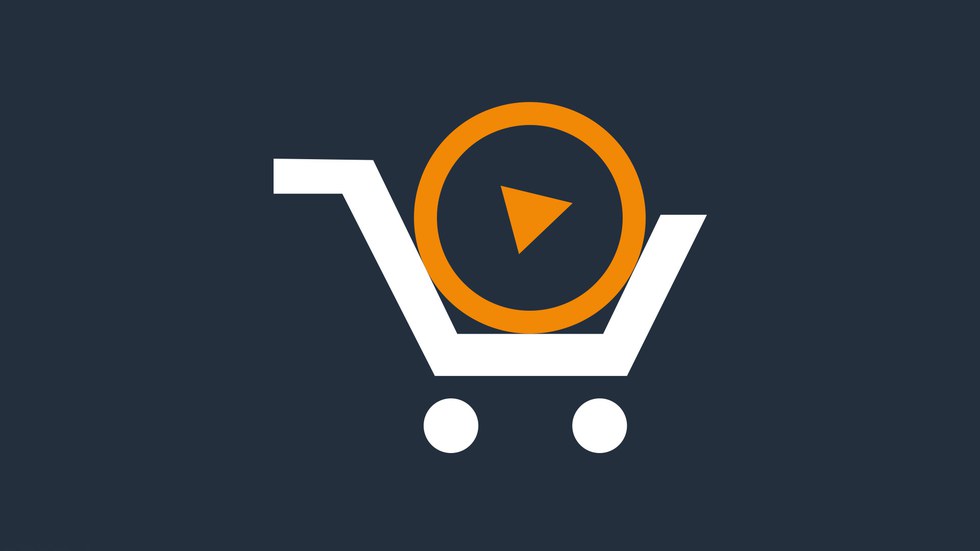 Rebecca Zisser / Axios
Amazon is moving into every sector from groceries to health care, but it's clear that dominating the media business is also a priority.
Why it matters: Not only is Amazon competing against digital media companies for ad revenue — they're challenging Hollywood studios for box office dominance, gobbling video distribution deals from cable companies, and launching social media and messaging networks to compete with the other major tech platforms. And their strategic investments to make money in these areas show no sign of slowing down:
Amazon is reportedly working on not one, but two social media networks: Spark, a shopping social network, will rival Pinterest's social commerce network and Anytime, a standalone messaging app, which could challenge WeChat, Facebook and Snapchat.
Advertising revenue is skyrocketing: Amazon made nearly $1.4 billion in advertising revenue last year — more than Snapchat, Yelp or Pandora. Per eMarketer, it's slated to grow its ad business by another 30% this year to $1.8 billion. On its Q2 earnings call, Amazon CFO Brian Olsavsky said there's an accelerated growth in hiring for Amazon's ad sales and web services teams.
Amazon is becoming content king: It poured $4.5 billion into content this year, including $12 million on Sundance to beat out studios for Oscar-winning and Emmy-nominated content.
It's dominating voice and starting to eat at search: Amazon's Echo dominates the digital voice assistant market with 70.6% of users using Echo over other devices, according to eMarketer. Reports surfaced last week that Amazon quietly acquired a data startup in May to boost Alexa search. The company has been beefing up its search presence to take on Google and Microsoft.
Prime is the new hot video and live destination: Prime is becoming a key destination for video distribution, as cable subscriptions dwindle and Prime subscriptions rise. It's landing major live-streaming deals (like a $50 million Thursday night streaming deal with the NFL) and is offering resources, and in some cases money, to video publishers to distribute video. They've successfully landed content deals with publishers across the globe, including a big deal announced yesterday with Indian superstar Salman Khan.
Could Amazon be the next ESPN? BTIG Media Analyst Rich Greenfield tells Axios: "Think about 2021 when the NFL's Monday Night Football contract expires. I don't think there's anyone who doesn't believe anymore that Amazon Prime in the U.S. won't have more subscribers than ESPN." (Amazon Prime currently has 79 million U.S. subscribers while ESPN has 88 million.) "So if Amazon wants Monday Night Football, it's theirs for the taking."
1 fun thing for our agency readers: AdWeek reports that Amazon has put its $1 billion global media business under review. IPG Mediabrands' Initiative and MEC currently own the buying, but those contracts could be up for grabs.
2. Scoop: Off the record media event focuses on Facebook
Jessica Lessin, founder of The Information, hosted a day-and-a-half long event called Off the Record for around 25 news leaders last week in Menlo Park, Axios has learned from a non-Axios source. A large part of the conversation centered around Facebook and the leverage that publishers have to negotiate with the platform.
Some of the attendees included:
Ben Smith, Editor-in-Chief, BuzzFeed
Kevin Delaney, Editor-in-Chief, Quartz
Carrie Budoff Brown, Editor, Politico
Isaac Lee, Chief Content Officer from Univision
Peter Kafka, Senior Editor, Re/code
Dan Primack, Axios
Noah Shachtman, Executive Editor, Daily Beast
Mitra Kalita, Vice President for Programming, CNN Digital
Lydia Polgreen, Editor-in-Chief, Huffington Post
Amir Efrati, Senior Reporter, The Information
Amelia Lester, former Executive Online Editor, The New Yorker
The conversation also touched on ways to deal with the big tech platforms, what can be done to help local news, restoring trust in the media, can the popular "pivot to video" strategy really work, ad vs. subscription models, how to recruit and retain journalism talent, and the impact of consumer tech trends like VR on the news business. Lessin is planning to make this an annual event.
3. Media deals continue to increase under Trump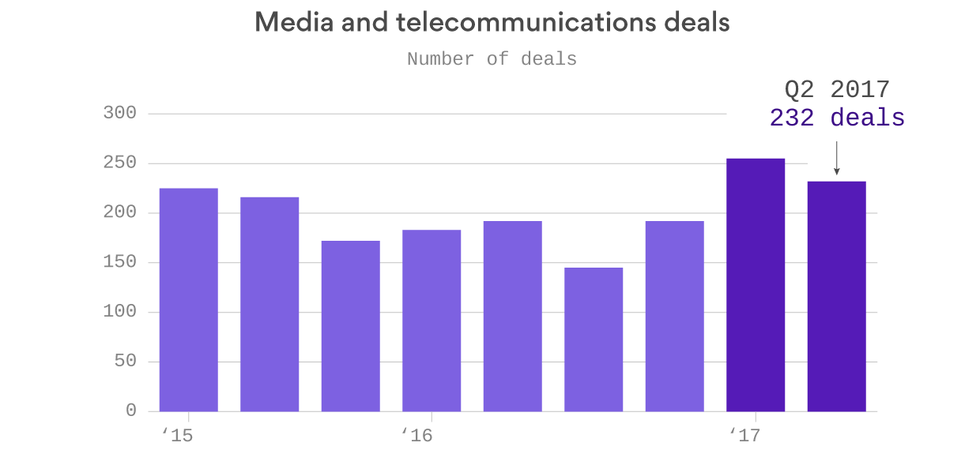 Data: PwC Deals; Chart: Chris Canipe / Axios
The number of media deals continue to rise under the new administration, with more media deals in Q2 2017 than any quarter during the last two years of the Obama administration. While consumption habits driven by technology continue to put strains on legacy media companies, causing mergers, analysts tell Axios that there's no question the laissez-faire approach to media regulation under the new administration and new FCC Chairman Ajit Pai has made investors more confident in doing deals.
"2016's wait-and-see approach has given way to more emboldened deal makers," says Todson Page, US Technology, Media and Telecommunications Deals Leader at PwC. Five deals larger than $1 billion in value were announced last quarter, most notably Sinclair Broadcasting Group's acquisition of Tribune Media for $3.8b.
Expect Q3 to be just as active:
Cable: The AT&T/Time Warner merger seems more than likely to be approved by antitrust regulators at the DOJ.
Digital: VC giants continue to gobble up digital companies. (KKR bought WebMD for $2.8 billion in late July.)
Ad tech: As we highlighted in last week's newsletter, consolidation in the ad tech space between major players is also expected to rise this year.
Telecom: Axios' David McCabe explains: "This is a wild time for speculation around telecom deals. This weekend, for example, a potential Sprint-Charter merger appeared to blossom and die within the span of 48 hours — and it looks like that story is just beginning."
The latest example: Discovery Communications, Inc. announced Monday it's buying Scripps Networks Interactive, Inc. via a cash-and-stock transaction valued at $14.6 billion, or $90 per share:
4. Reddit raising and rising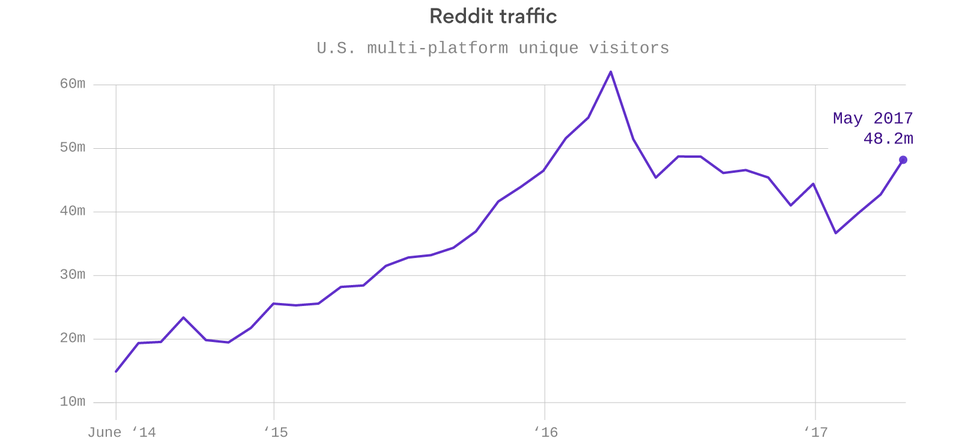 Data: comScore; Chart: Chris Canipe / Axios
Online discussion site Reddit has nabbed its largest funding round ever, raising $200 million from a group of Silicon Valley heavyweights including Andreessen Horowitz and Sequoia Capital, as well as individual investors like Y Combinator's Sam Altman, who sits on Reddit's board and a few other investment and mutual funds.
CEO Steve Huffman told Recode that the additional cash will go towards internal product and business efforts, including a homepage redesign, a more mobile-friendly design and a push into user-generated video.
But where's the exit?: Axios' Dan Primack notes that a big question remains as to how these investors ever get out. Huffman says liquidity could lead to many paths, but it's unclear the type of investor that would want to eventually buy Reddit. Huffman suggests an IPO as a possibility. But while Reddit has grown its traffic steadily over the past few years, the company hasn't scaled its monetization businesses to meet that bandwidth, and traders care even more about revenue than VCs.
Why it matters: Reddit has grown its audience steadily over the past three years, despite a leadership shakeup in 2014 and a few complicated moments surrounding free speech and alt-right groups on the platform. The new investment shows investors believe Reddit can continue to grow despite these setbacks.
5. Companies brace for new European privacy rules
U.S. companies are largely unprepared for what's about to hit them when a sweeping new EU data law takes effect next year. The regulation — the General Data Protection Regulation (or GDPR) — requires that companies get consent of subjects for data processing and report data breaches in a timely fashion, among other things. Companies that fail to comply with the complex law will face steep fines, up to 4% of their annual revenue or €20 million, depending on the scale of the infraction.
Why it matters: Europe has by far taken the most aggressive regulatory stance on protecting consumer privacy and will in many ways be a litmus test for regulating the currency of the data economy. It impacts a huge number of businesses, even those not specifically doing business in Europe. As long as any part of their data flows through EU countries, they have to comply with GDPR. That means everyone from Google to your neighbor who sells shoes on eBay could be affected.
Go deeper: Kim Hart and me on the compliance challenge, tech watch and E.U. perspective.
6. People remember "payoff" ads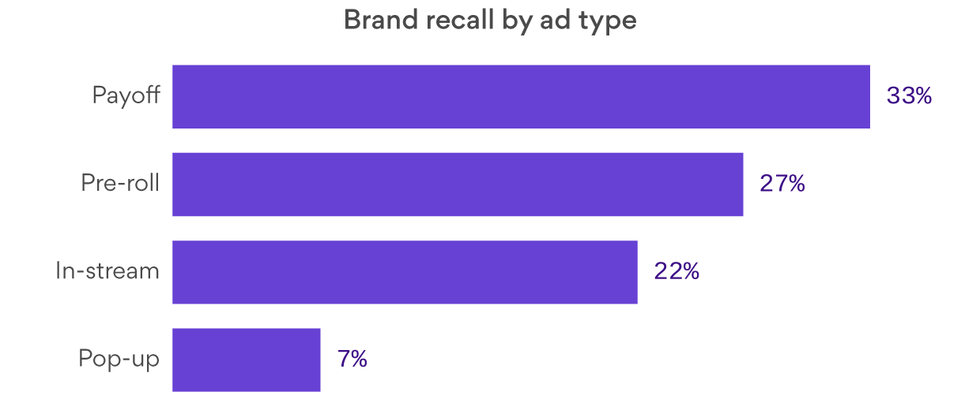 Data: Advertising Research Foundation; Chart: Chris Canipe / Axios
"Payoff" ads, or ads that reward users with commercial-free viewing sessions, discount codes, etc., are surprisingly effective, according to Dr. Manuel Garcia-Garcia, SVP of Global Research and Innovation at the Advertising Research Foundation.
Why it matters: Garcia-Garcia's research on the neurological affects of advertising exposure show that users respond positively to payoff ads in almost every category. These type of ads are commonly used in gaming, where users can earn coins or extra points by opting to sit through ads. According to Garcia-Garcia, payoff ads result in an immediate positive reward, meaning users are more likely to lean into them as opposed to pulling away from them. Other ad units that are more disruptive result in negative feelings toward the brand and limited brand recall.
Compared to pre-roll, in-stream and pop-up ads, payoff ads:
Have the highest brand recall among users (see chart above)
Are the least likely of measured ad formats to be quickly avoided
Are the least likely of measured ad formats to result in user willingness to pay for an ad blocker
Are the greatest (by far) in increase in positive emotion after viewing
7. Spies and two-factor authentication
Two reports out this week about foreign actors using fake social media accounts for spying underscore the importance of user authentication on big tech platforms.
Russia uses fake Facebook accounts to spy on Macron: "Russian intelligence agents attempted to spy on President Emmanuel Macron's election campaign earlier this year by creating phony Facebook personas," Reuters reports. According to a U.S. congressman and two other people briefed, about two dozen Facebook accounts were created to spy on Macron when he was facing off against French nationalist Marine Le Pen in round two of this years' election.
Iranian hackers use fake LinkedIn profiles to spy on unsuspecting targets: "A group of suspected Iranian hackers are using a sophisticated network of fake LinkedIn profiles to spy on unsuspecting targets worldwide," CNN reports. "Cyberspies were posing mainly as recruiters from major international companies including Northrop Grumman, General Motors, Teledyne Technologies, Doosan and Airbus."
Why it matters: According to Marc Boroditsky, VP and GM of Authy, fake accounts are a result of using email-only as a verification method which he calls "horrible and easily vulnerable." Instead, he says we should be using two-factor authentication, which includes phone and email verification, to better establish a user as a real person and not a faceless bot or malicious actor.
8. 1 ugh thing: No place is sacred
Giphy
First, Google puts ads in Gmail. Then, Facebook announced it's putting ads in Messenger. Now, Giphy is testing sponsored Gifs.
Per TechCrunch: "According to a source close to the company, Giphy will begin testing sponsored GIFs within messaging experiences. This means that users who search for GIFs may be served a sponsored GIF within the messaging tab."
You think it's bad now? Imagine how many more ads you will be faced with when cars are driverless. It never ends!