Good Thursday morning. Situational awareness: Ahead of Veterans Day on Saturday, former Defense Secretary Robert Gates writes an N.Y. Times op-ed, "Ending DACA Will Hurt Immigrant Troops": "All of those undocumented immigrants, through their willingness to shed blood to protect the rest of us, have earned the right to call themselves 'American citizen'" ... AP: In the year since Trump's election, the S&P 500 index has notched at least 60 record highs and risen 21.1%.
1 big thing: Sean Parker's jarring Facebook tell-all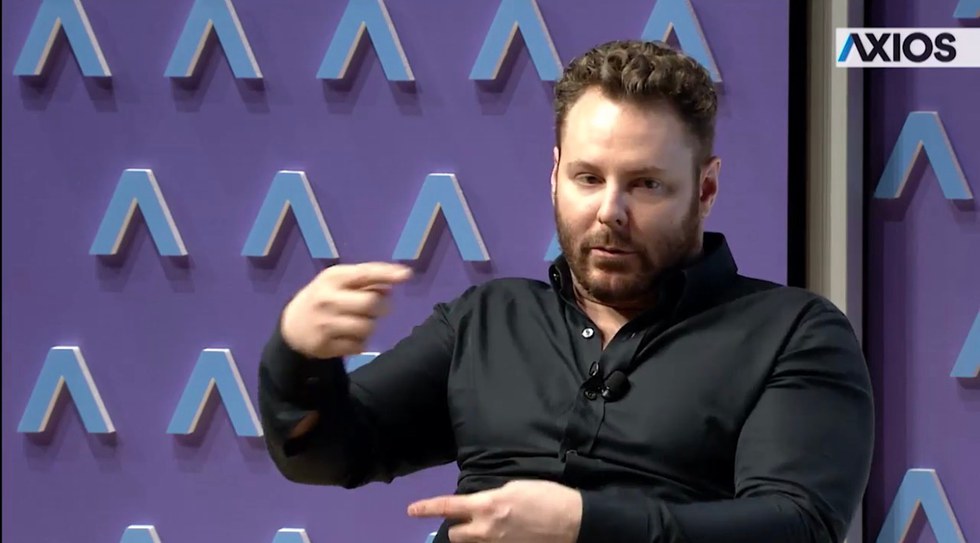 Sean Parker explains Facebook's "social-validation feedback loop." (Axios video)
Sean Parker, the founding president of Facebook, gave me a candid insider's look at how social networks purposely hook and potentially hurt our brains.

Parker, 38, now founder and chair of the Parker Institute for Cancer Immunotherapy, spoke yesterday at an Axios event at the National Constitution Center in Philadelphia, about accelerating cancer innovation.
In the green room, Parker mentioned that he has become "something of a conscientious objector" on social media. By the time he left stage, he jokingly said Mark Zuckerberg will probably block his account after reading this:
"When Facebook was getting going, I had these people who would come up to me and they would say, 'I'm not on social media.' And I would say, 'OK. You know, you will be.' And then they would say, 'No, no, no. I value my real-life interactions. I value the moment. I value presence. I value intimacy.' And I would say, ... 'We'll get you eventually.'"
"I don't know if I really understood the consequences of what I was saying, because [of] the unintended consequences of a network when it grows to a billion or 2 billion people and ... it literally changes your relationship with society, with each other ... It probably interferes with productivity in weird ways. God only knows what it's doing to our children's brains."
"The thought process that went into building these applications, Facebook being the first of them, ... was all about: 'How do we consume as much of your time and conscious attention as possible?'"
"And that means that we need to sort of give you a little dopamine hit every once in a while, because someone liked or commented on a photo or a post or whatever. And that's going to get you to contribute more content, and that's going to get you ... more likes and comments."
"It's a social-validation feedback loop ... exactly the kind of thing that a hacker like myself would come up with, because you're exploiting a vulnerability in human psychology."
"The inventors, creators — it's me, it's Mark [Zuckerberg], it's Kevin Systrom on Instagram, it's all of these people — understood this consciously. And we did it anyway."
Be smart: Parker's I-was-there account provides priceless perspective in the rising debate about the power and effects of the social networks, which now have scale and reach unknown in human history. He's worried enough that he's sounding the alarm.
P.S. Parker, on life science allowing us to "live much longer, more productive lives":
"Because I'm a billionaire, I'm going to have access to better health care So ... I'm going to be like 160 and I'm going to be part of this, like, class of immortal overlords. [Laughter] Because, you know the [Warren Buffett] expression about compound interest. ... [G]ive us billionaires an extra hundred years and you'll know what ... wealth disparity looks like."
Go deeper: Joe Biden rips Trump's "phony nationalism".
2. Axios debut: One of the Mideast's top reporters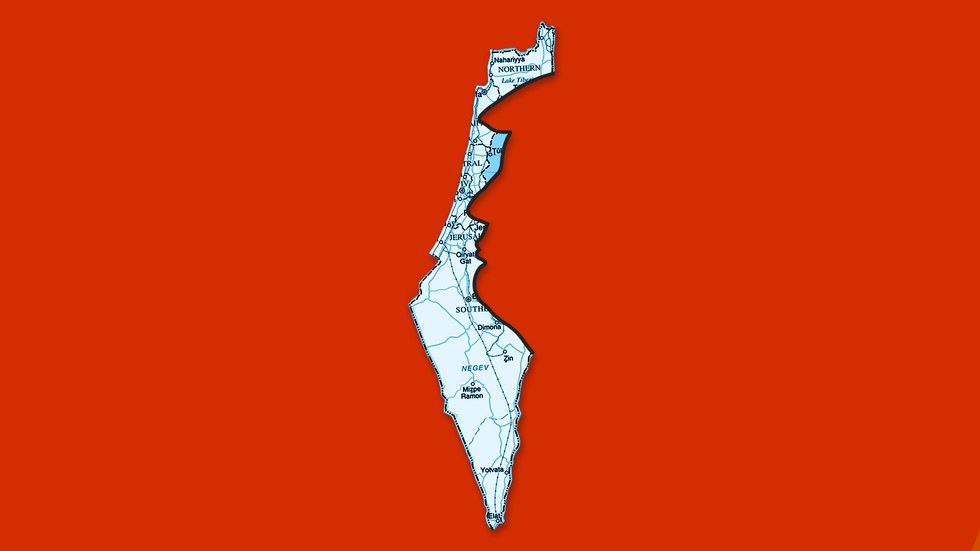 Illustration: Rebecca Zisser / Axios
Trump's "peace team" ... Barak Ravid of Israel's Channel 10 News, one of the Middle East's most-wired and respected reporters, makes his debut contribution to Axios, "Trump's mystery plan for Mideast peace":
What's coming: "Israeli and Palestinian officials expect President Trump to unveil a Mideast peace proposal by early next year. What nobody knows yet is the shape it will take or if the proposal will be based on creating a Palestinian state, which has been U.S. policy for the last 20 years."
Be smart: "The U.S. 'peace team' working on the issue is relatively small and very discreet — just five people, including senior adviser Jared Kushner and special envoy Jason Greenblatt. The entire process is being run out of the White House, with the State Department and other agencies providing advice and support."
Behind the scenes: "According to U.S. officials, Trump is the driving force on this issue and is personally involved. Israeli officials say they hear Trump is pushing his team to have a proposal soon."
See Ravid's "What to watch."
3. Trump evades "Great Firewall"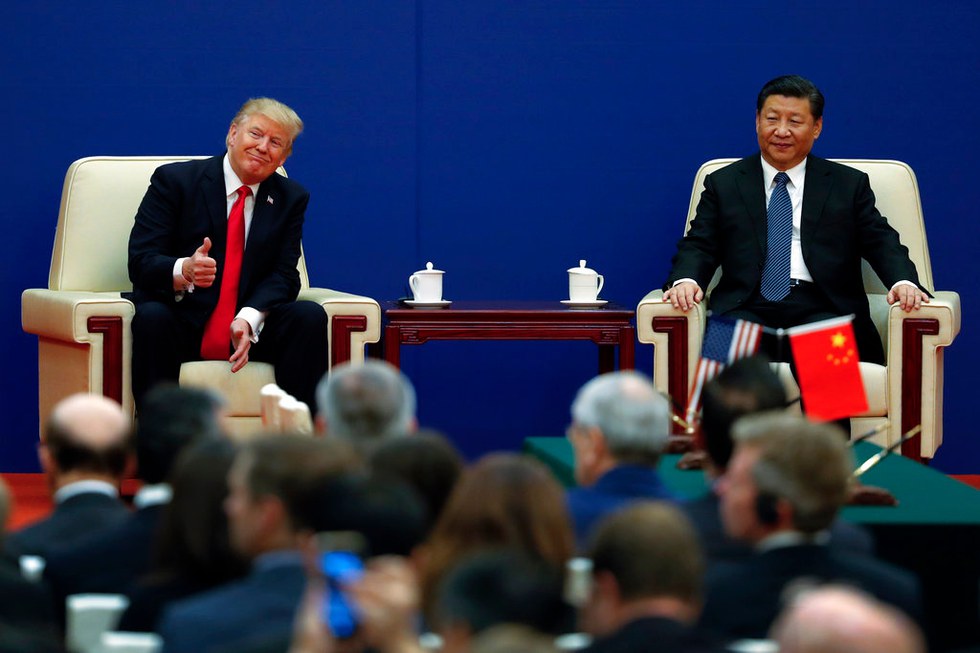 Trump gestures to his delegation as he meets Chinese President Xi Jinping during a business event at the Great Hall of the People in Beijing today. (AP's Andy Wong)
"Forbidden in China, but Trump skirts 'Great Firewall' to tweet about Beijing trip," by Reuters' Ryan Woo in Beijing:
"Many Western social media platforms such as Twitter and Facebook are banned in China. A sophisticated system has been built to deny online users within China access to blocked content."
"Many foreigners log on to virtual private networks (VPNs) to access content hosted outside of China. Another option is to sign up for a data-roaming service."
Fun fact: "Trump's visit was ... the third-most talked-about topic on Chinese social media platform Weibo over the last 24 hours, trailing only the birthday of a singer in a Chinese boy band and a weekly Asian pop song chart."
Bonus: Pic du jour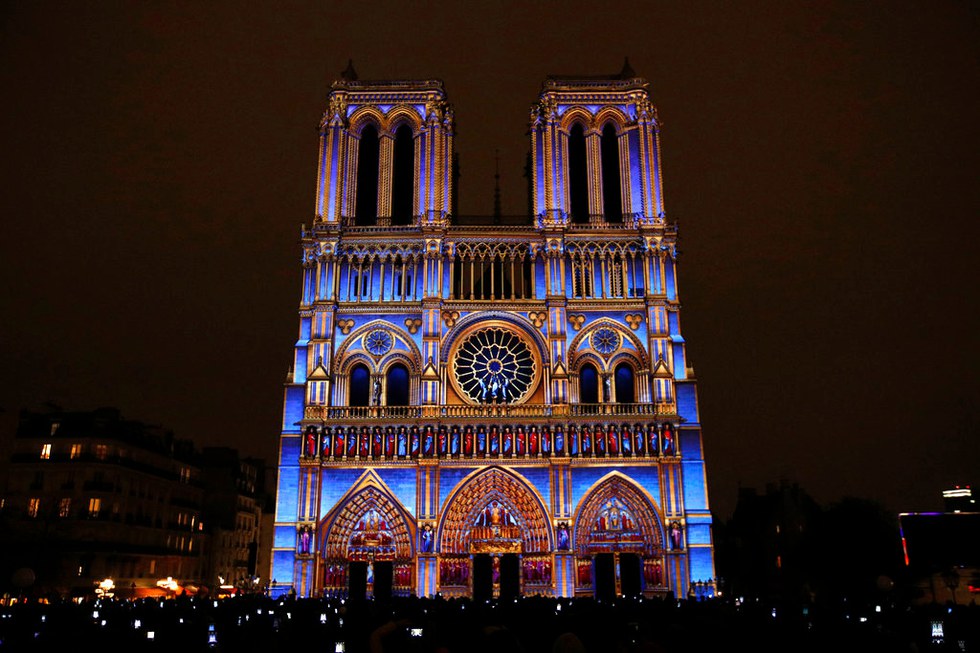 AP's Christophe Ena
The Notre Dame cathedral in Paris is illuminated yesterday during a light show called "Dame de Cœur" to celebrate the centenary of the First World War.
4. Election sets off blame game in GOP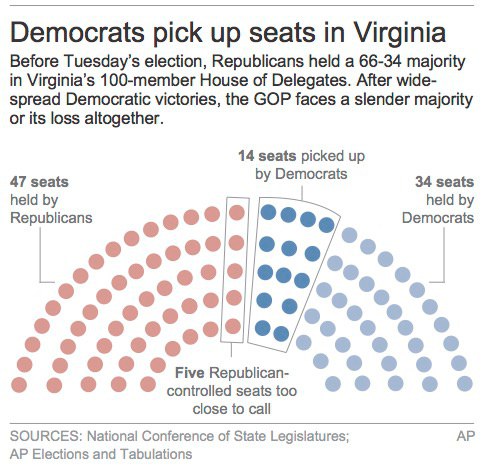 "A wave of Democratic victories
ignited a ferocious debate across the Republican Party ... over whether President Trump's un­or­tho­dox behavior and polarizing agenda are
jeopardizing the GOP's firm grip [of] Congress, governors' mansions and state legislatures,"
the WashPost's Bob Costa and Phil Rucker write in the paper's
lead story
:
Why it matters: "A year ahead of the 2018 midterm elections, Republicans are increasingly uncertain about keeping their majorities on Capitol Hill and are worried about how damaging Trump's jagged brand of politics may become to the party."
Key sentence: "[E]ven among Trump's allies, there were complaints about the White House being dis­engaged and unready to deal with the party's mounting challenges."
Be smart ... N.Y. Times' Alex Burns and Jonathan Martin: "If a suburban insurrection might help Democrats take the House, the Senate seats at stake next year are overwhelmingly in conservative, rural states, where feelings about Mr. Trump range from ambivalent to positive. So far, only two Republican Senate seats are clearly in play: the one in Arizona being vacated by Jeff Flake and Dean Heller's in Nevada."
"Democrats see ... momentum for 2018 state [legislature] elections," by AP's David Lieb and Christina Cassidy:
What happened: "Democrats ... erased a previously dominant Republican majority in the Virginia House of Delegates and won a special election that gave them control of the Washington state Senate. ... Democrats flipped about two dozen state legislative seats around the country Tuesday and have now gained at least 30 seats previously held by Republicans since ... Trump won election last."
Why it matters: That reverses several years of Republican momentum.
"Heading into Tuesday's elections, Republicans controlled more than two-thirds of all state legislative chambers, including full control of both chambers and the governor's office in about two dozen states. By comparison, Democrats had complete control in only a half-dozen states."
5. First look: Bob Woodward's secret sauce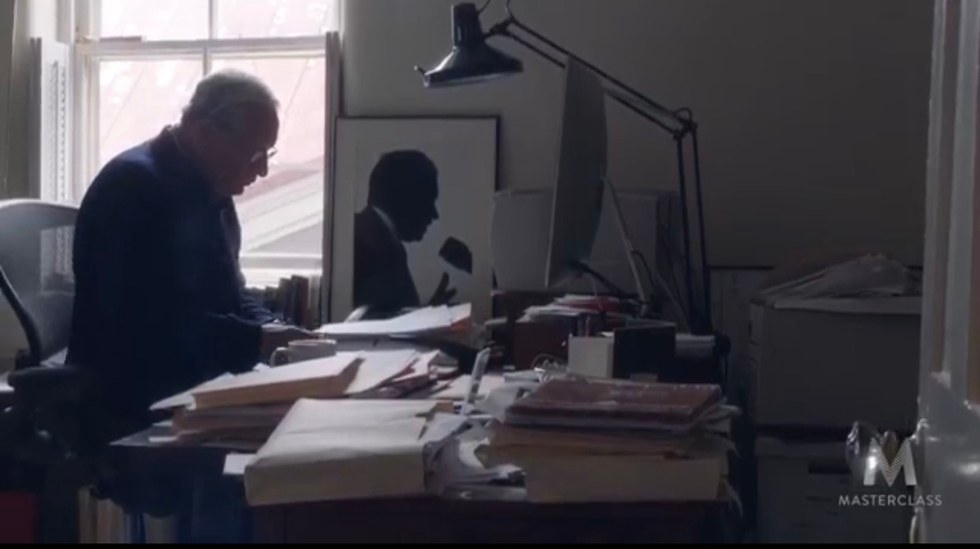 MasterClass / YouTube
Bob Woodward, who's working on a book about President Trump that's due out some time next year, is offering a rare window into the techniques that have made him the most famous investigative reporter in the world, with 18 national nonfiction bestsellers.
"This is a time we're being tested," Woodward says in a preview video for his first-ever online class. "Let's not be chickenshit about this. Break the rules — not the law, but the rules. ... This is the final exam for democracy."
Woodward teaches the importance of working multiple sources: "No one ever gives you the full story."
Woodward says one tip for reporters is to just "shut up" when interviewing someone: "Let the silence suck out the truth."
Topics include: building trust with sources and protecting confidential relationships, understanding the importance of documents and contemporaneous notes, collaborating with and using editors, acting aggressively, taking everyone as seriously as they take themselves, going back for the sixth or seventh interview (!), avoiding bias and hyperbolic language, maintaining your independence and status as an outsider, developing stamina, and knowing you have one important audience — your readers.
The class is available for $90 (pre-order) through MasterClass, a San Francisco company former in 2015.
Good advice in the preview video.
6. First look: How we see fake news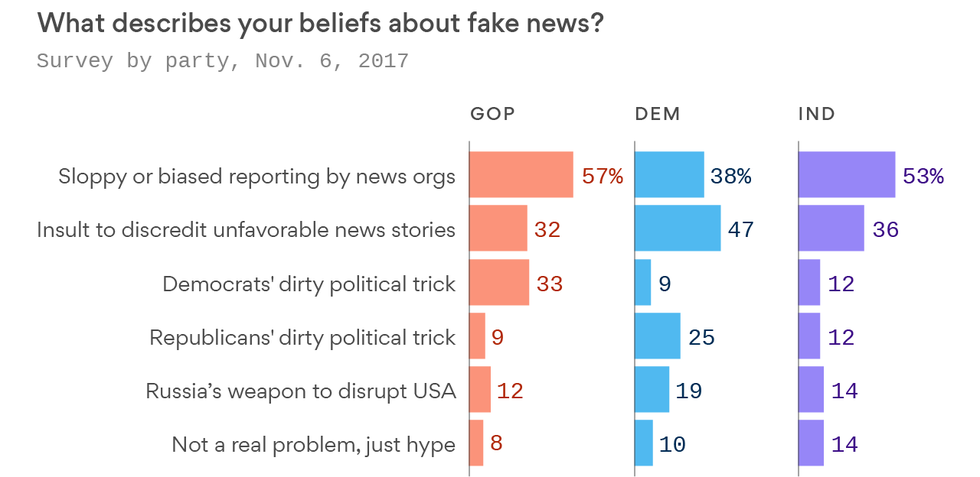 Data: Edelman Trust Barometer Special Flash Poll on fake news (Nov. 6; 907 respondents); Chart: Andrew Witherspoon / Axios
In an online flash poll on fake news for the 2018 Edelman Trust Barometer, Republicans were notably more likely to blame news organizations than Democrats were. Other key findings:
62% say trust in traditional media has decreased because of fake news (R 75%; D 50%; I 62%).
93% of Silicon Valley tech employees believe there needs to be more government oversight of tech companies, compared to 83% of the general population.
Silicon Valley tech employees that we surveyed is more likely to blame social platforms than mainstream media for the spread of fake news.
7. Trump v. CNN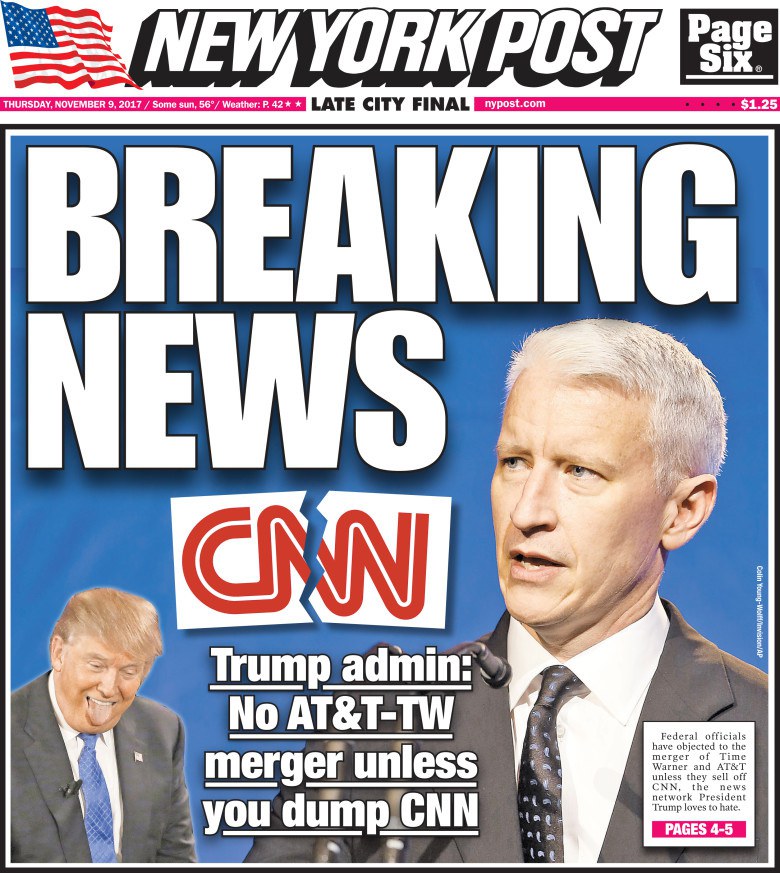 "At Heart of AT&T Merger, Another Fight Brews: Trump vs. CNN," the N.Y. Times reports on A1:
What's new: "[I]t seems possible that the Justice Department and AT&T will end up battling each other in court."
Why it matters: The ongoing negotiations have ... demonstrated how the Trump administration may regulate big-ticket mergers and acquisitions, representing the first major test for the government's antitrust strategy."
The frame: "Critics of the merger have described it as a sign that there is too much consolidation in the media and telecommunications industries."
Be smart: "Fighting the deal could prove challenging for regulators, antitrust experts said. The Justice Department would have to argue that AT&T would have an incentive to withhold Turner channels from rival broadband distributors like Verizon and Comcast."
Go deeper: "Why it's complicated for Justice Dept to ask AT&T to sell CNN," by Axios' David McCabe.
8. 26 dead in Texas include 8 children, teens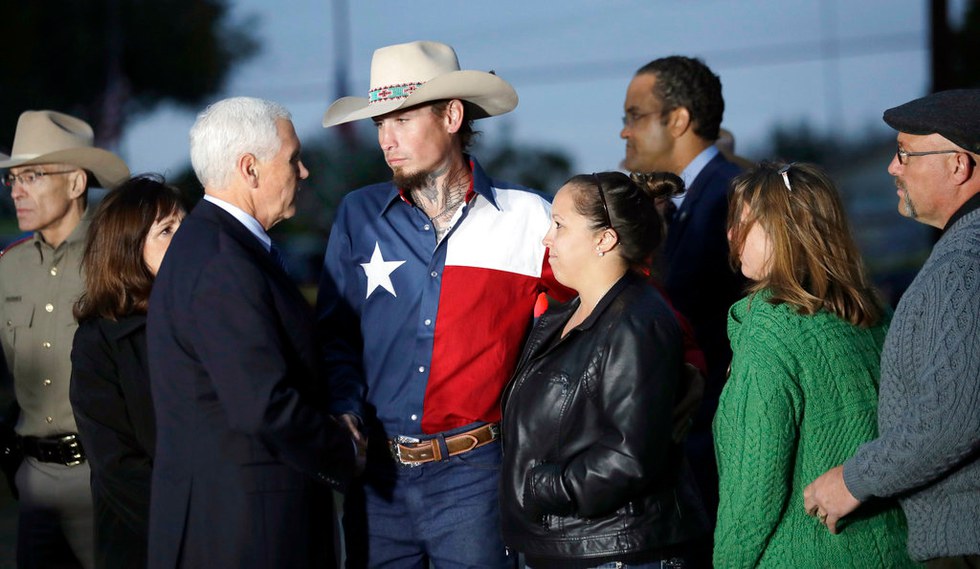 AP's Eric Gay
Vice President Pence and his wife, Karen, talk with Johnnie Langendorff, and his girlfriend, Summer Caddell, as they visit with first responders, family, friends and victims outside the Sutherland Spring Baptist Church in Texas yesterday. Pastor Frank Pomeroy and his wife, Sherri, are at right.
9. Data du jour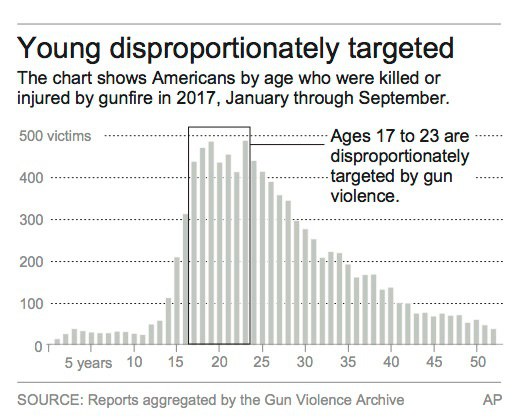 10. 1 future thing: Air Uber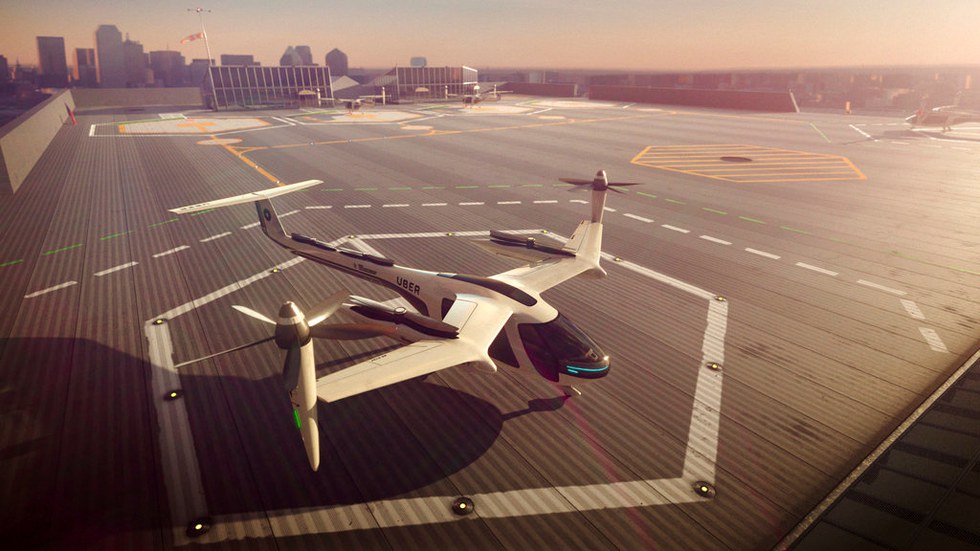 This computer generated image shows a flying taxi. (Uber Technologies via AP)
"Uber reaches for the skies with plan for sleek flying taxi," by AP's Barry Hatton:
"The ride-hailing service unveiled ... an artist's impression of the sleek, futuristic machine it hopes to start using for demonstration flights in 2020. The company aims to have its first paying passengers in various cities around the world by 2023, though the plan still faces major hurdles."
"The battery-powered aircraft looks like a cross between a small plane and a helicopter, with fixed wings and rotors. It was presented at an international technology conference in Lisbon, Portugal."
Why it matters: "The vehicle is intended to soar over traffic congestion, sharply reducing city travel times. Uber hopes it will eventually become a form of mass transport and cost commuters less than using their own car, though initially it will be more expensive than that, Uber's Chief Product Officer Jeff Holden said."
"The scheme still faces plenty of challenges, including certification of the new vehicle by authorities, pilot training and conceiving urban air traffic management systems that prevent collisions."