Hamas resumes hostage talks and narrows gaps with Israel, sources say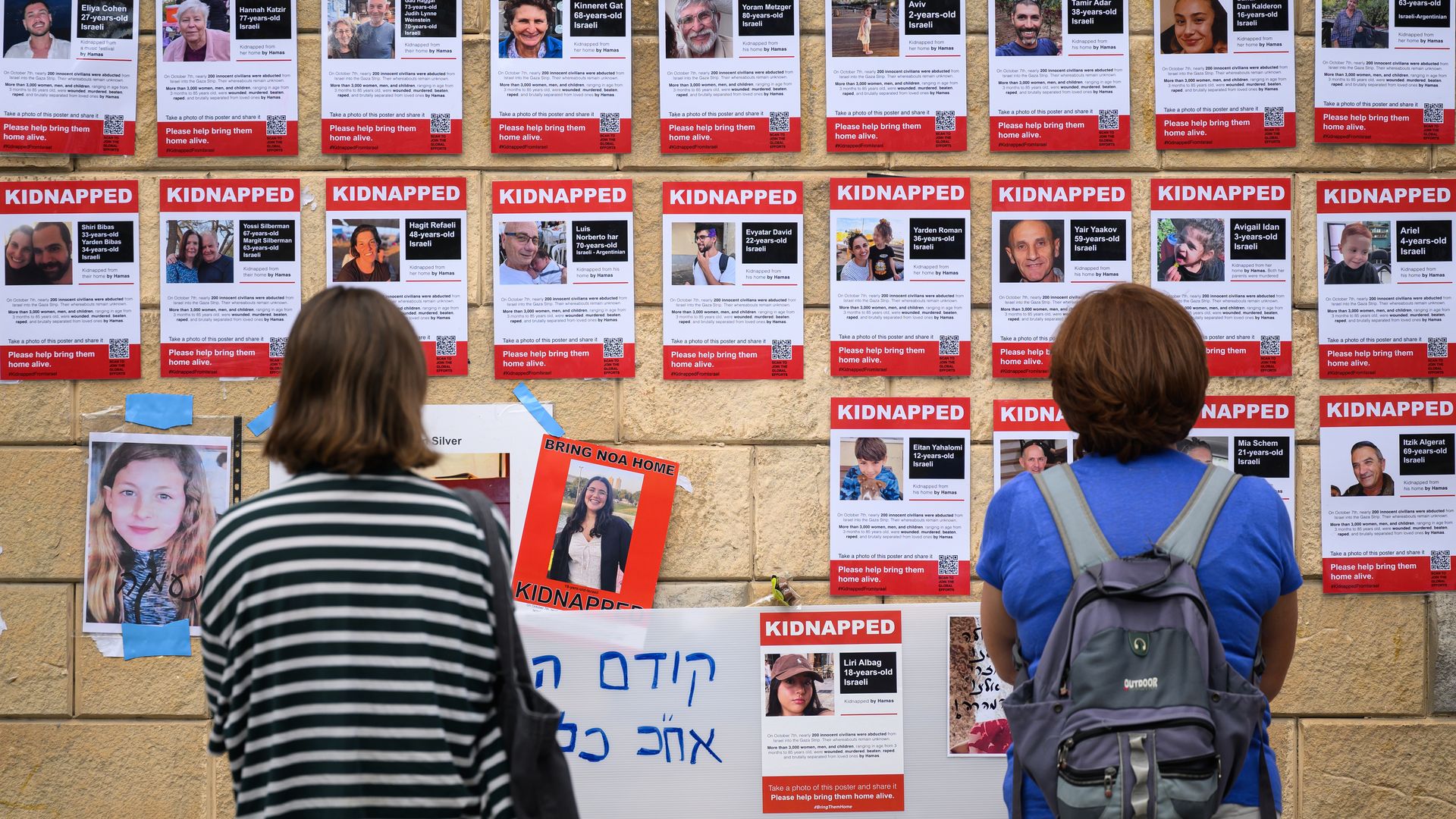 Negotiations to secure a deal for the release of dozens of hostages being held in Gaza are back on and showing modest progress after a pause lasting several days, three sources with direct knowledge of the issue tell Axios.
Behind the scenes: Yahya Sinwar, the Hamas leader in Gaza, went silent and stopped engaging with Hamas representatives at the talks in Doha after the Israeli military raided Gaza City's Al-Shifa hospital last week, leading to a suspension of the talks. Within the last 24 hours, Sinwar has re-engaged, the sources say.
Sinwar sent a new response to the Qatari mediators which indicated a narrowing of some of the gaps between the parties, but not yet enough to reach a deal, according to two of the sources.
Catch up quick: More than 240 people, including several Americans, were abducted during the Oct. 7 Hamas terrorist attack.
State of play: The talks between Israel, the U.S. and Hamas are being mediated by Qatar.
Qatari Prime Minister Mohammed Bin Abdulrahman al-Thani said on Sunday that he is confident a deal is close and the gaps between the parties are small and mostly of logistical nature.
Two sources tell Axios the details of the deal haven't been fully determined yet and there are changes every day. "Sometimes there are changes every hour," one source said.
Details: If a deal is reached it will be implemented in two phases, the sources with direct knowledge say:
In the first phase, Hamas is to release around 50 women and children in exchange for a five-day pause in the fighting.
As the five-day pause continues, Hamas will locate more women and children that it claims are being held hostage by other factions so that they could be released in a second phase.
Sinwar has agreed in principle to increase the number of women and children who will be released under the two-phase deal to more than the 50 he originally agreed to, according to two of the sources.
But Sinwar is demanding that Israel halt its aerial surveillance of Gaza for six hours per day during the pause so that Hamas operatives will be able to locate hostages without being spied on by Israel, the sources said.
Sinwar is also demanding that Israel release all Palestinian women and children held in Israeli prisons, two of the sources said. There are roughly 150 Palestinian women and minors held by Israel for taking part in attacks against Israelis.
Between the lines: Hamas is not holding all of the Israeli and international hostages taken on Oct. 7. Some are believed to be held by other militant or criminal groups.
Israel doesn't know the exact number of women and children Hamas is holding or is aware of, but Israeli officials believe there are around 20-28 more than the 50 Hamas has said it's holding.
Israel has demanded to know as part of the agreement the exact number of women and children that are being held hostage in Gaza, the sources say. One source said Israel won't just accept a general agreement that Hamas will release more hostages, but wants to know specifically how many will be released in the second phase.
Another sticking point is the number of aid trucks that will enter Gaza through Egypt each day under the deal.
Hamas is demanding that 400 trucks per day be allowed in, and that those trucks provide fuel for hospitals and bakeries in addition to other humanitarian goods.
The Israeli side says the Rafah Crossing can't process 400 trucks per day for security reasons.
Driving the news: President Biden's senior Middle East adviser Brett McGurk arrived in Doha on Saturday night and met with the Qatari prime minister to discuss the effort to release the hostages.
In interviews with CBS and NBC on Sunday, U.S. deputy national security adviser Jon Finer said a deal was getting "closer" but some issues remained unresolved.
Israeli Ambassador to Washington Mike Herzog told ABC that there are serious efforts to get a deal and stressed he is hopeful that a significant number of hostages could be released in the coming days.
Go deeper: Biden warns U.S. could sanction Israeli settlers who attack Palestinians
Go deeper