Scoop: Christie tells donors he still can beat Trump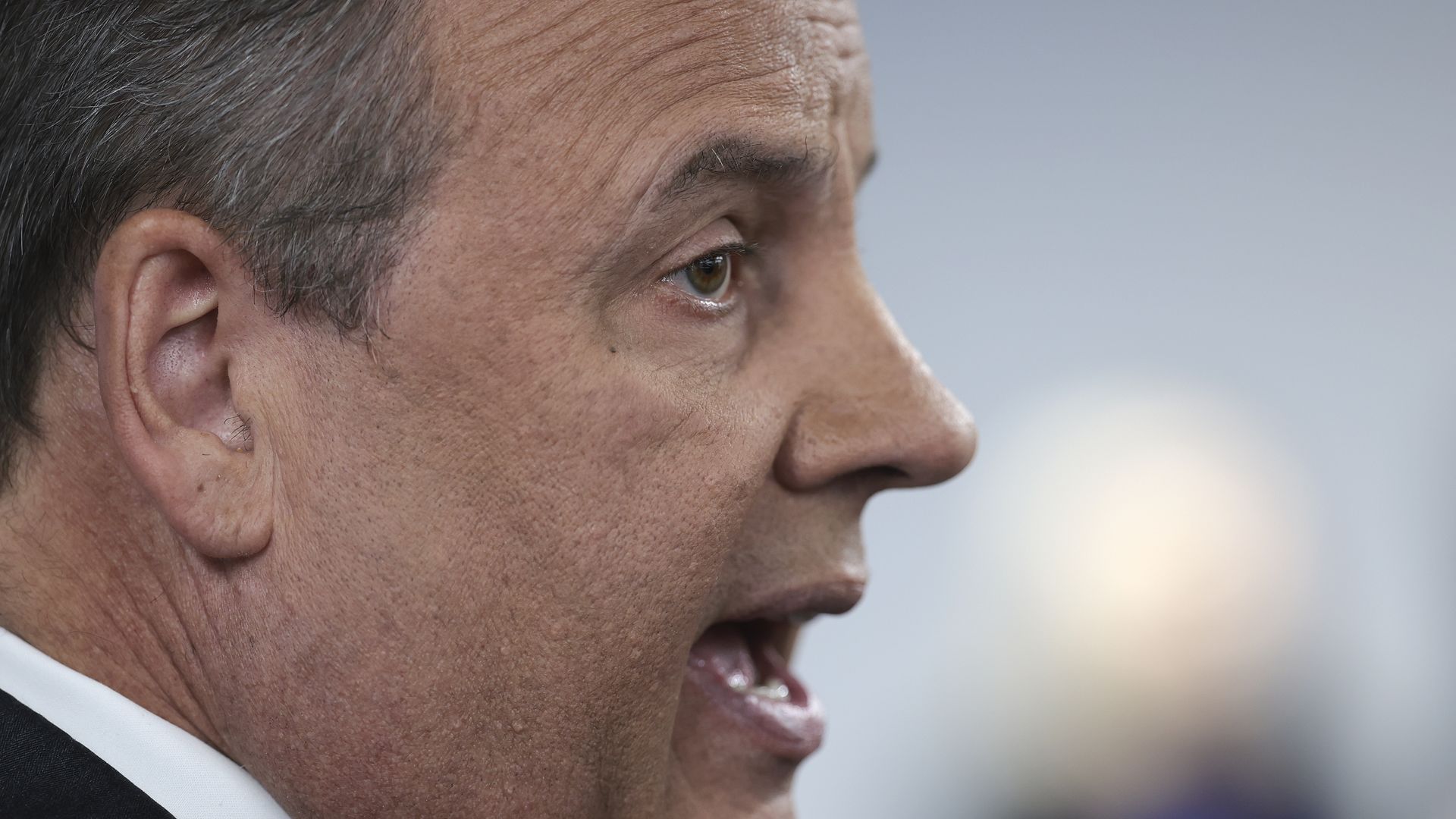 Chris Christie's presidential campaign sent a lengthy memo to donors on Friday, arguing that he has a path to the GOP nomination and signaling Christie will stay in the race through the Jan. 23 primary in New Hampshire — and potentially well afterward.
Why it matters: Despite pressure from some GOP leaders for lower-polling candidates like Christie to drop out, narrow the field and boost the chances of someone overtaking frontrunner Donald Trump, Christie argues that he's the most electable Republican in a one-on-one match-up with Trump.
The former New Jersey governor's appeal in the Granite State has made it difficult for any other non-Trump candidates to get within striking distance of Trump in the state — namely former South Carolina Gov. Nikki Haley, who has been rising in polls lately.
Driving the news: Christie's campaign touted a new CNN/UHN poll of likely GOP primary voters in New Hampshire showing Christie in third place with 14% — behind Trump's 42% and Haley's 20%, and ahead of Florida Gov. Ron DeSantis' 9%.
Christie was up 3 points since CNN's poll in September and Haley rose 8 points, as DeSantis and businessman Vivek Ramaswamy fell back into single digits.
In the memo, Christie senior adviser Maria Comella compared his effort to Sen. John McCain's comeback campaign in 2008, noting that the late Arizona senator was "in a distant 3rd place in New Hampshire and would spend most of November and December in 4th place nationally."
Christie is betting that New Hampshire — which allows independents to vote in the GOP primary — will allow him "to change the turnout model, and establish himself as the clear alternative" to Trump, Comella wrote.
Reality check: The poll also found that 47% of GOP primary voters in New Hampshire say they would "never" back Christie, a reflection of how his attacks on Trump have increased Christie's negative ratings.
Still, the campaign noted that this week's CNN poll was an improvement from one in September, when 60% of the likely primary voters said they'd never back Christie.
A Washington Post-Monmouth University poll released Friday found a similar dynamic in New Hampshire, with Trump polling at 46%, Haley at 18%, and Christie at 11% with 60% of New Hampshire GOP voters saying they'd be dissatisfied or upset if Christie won the nomination.
Christie's plan after New Hampshire is less clear. The campaign memo says that "independents still make up a significant portion of the primary electorate in South Carolina" and "there are several state primaries where independents can participate."
Between the lines: Much of Christie's memo argues that DeSantis and Haley can't win a head-to-head with Trump — making Christie the most viable option.
"With Trump the dominant candidate at this stage of the race, we are seeing what isn't working: Get to Trump's right, run as a Trump clone, ignore Trump, try to please everyone," Comella wrote.
"What case against Trump will Haley or DeSantis be able to make were the field to consolidate further, that they can't make now?"
The campaign cites a CBS poll from earlier this month that found Trump winning such match-ups with a consolidated field of either Haley or DeSantis against Trump.
Editor's note: This story has been corrected to reflect that Comella is a senior adviser to Christie, not a campaign spokesperson.
The Christie campaign's memo to donors:
Go deeper