Scoop: Biden's team weighs joining TikTok to court young voters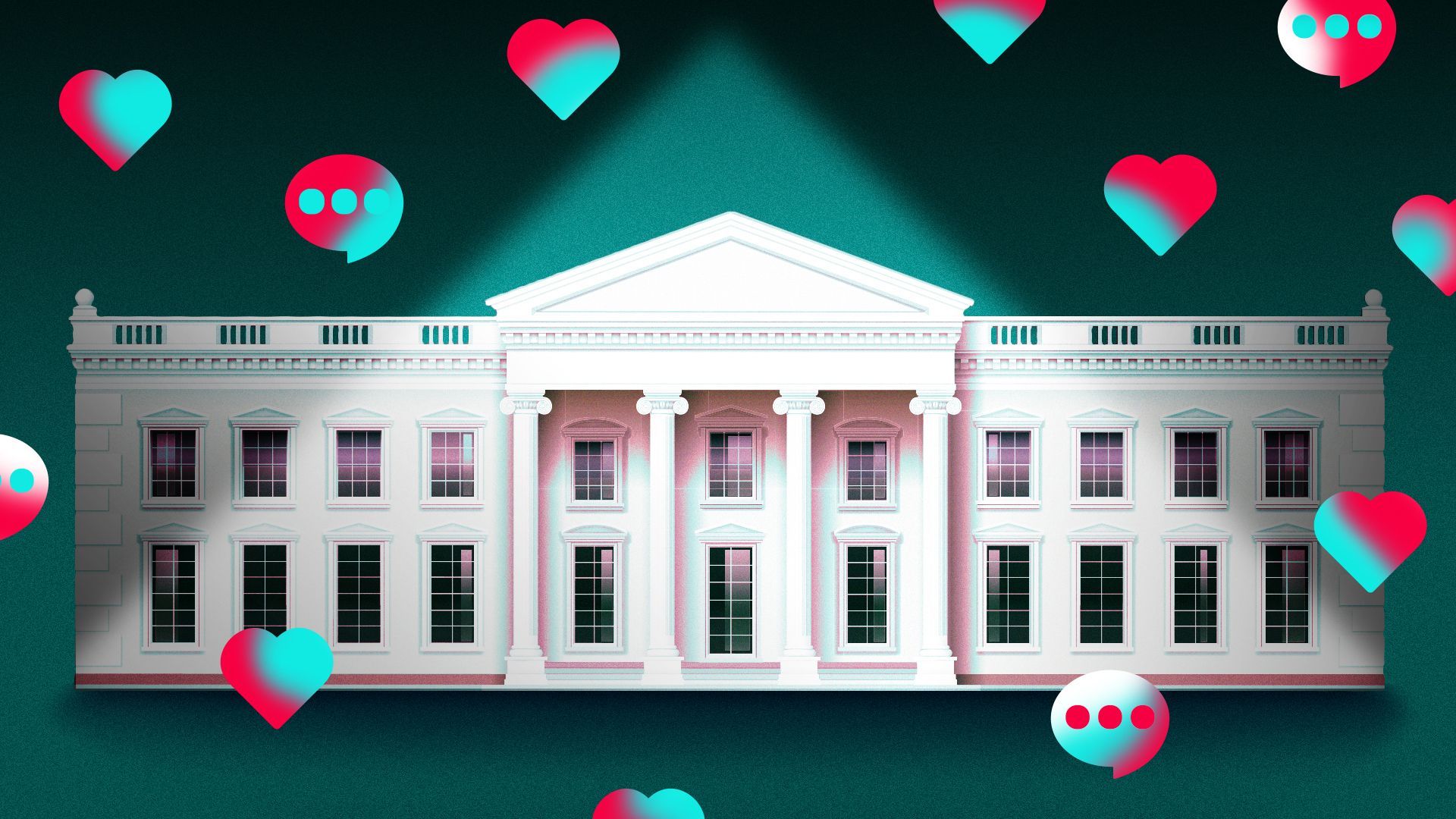 President Biden's re-election campaign privately has been weighing whether to join the social media platform TikTok to try to reach more young voters, according to two people familiar with the conversations.
Why it matters: Most Republicans have avoided TikTok over data security concerns because it's owned by Beijing-based ByteDance, but Democrats are increasingly split about using the popular app for short-form videos.
Despite the security concerns several prominent Democrats who have signaled presidential ambitions have joined TikTok, in part to reach young voters who are crucial to the party's chances in the 2024 elections.
The Biden campaign is considering a jump onto the platform at a time when polls suggest the president needs to boost his appeal to voters under 30, a group that typically favors Democrats by significant margins.
Zoom in: So far, Biden's campaign has tried to benefit from TikTok without joining it, by leaning on friendly social media influencers and having the Democratic National Committee on the platform.
Prominent Democrats on TikTok include Govs. Gretchen Whitmer (Michigan), Gavin Newson (California) and Josh Shapiro (Pennsylvania), Sen. Cory Booker (New Jersey) and Rep. Alexandria Ocasio-Cortez (New York).
"I'm trying to reach everyone, wherever they are," Shapiro told Axios. "And that's why I said you have to be on every platform and engage with them on my administration's work."
The DNC has said it takes precautions to protect its data by having dedicated devices for use on TikTok.
A Pew survey in July found 59% of Americans believe TikTok is either a minor or major threat to national security.
Even so, TikTok has been one of America's most-downloaded apps since 2018, and its executives told Axios earlier this year that the app had more than 150 million monthly active users.
Between the lines: Whitmer posts TikTok videos under the handle "biggretchwhitmer" in a nod to the "Big Gretch" moniker she's known as in Democratic circles.
Some lesser-known Democrats also have found large audiences on the platform.
Rep. Jeff Jackson of North Carolina, now running to be the state's attorney general, has 2.5 million TikTok followers — far more than Ocasio-Cortez's 942,100.
Some Democratic state parties, such as Wisconsin's, also have joined TikTok.
Zoom out: In recent polling, young voters have indicated they're less enthusiastic about Biden's re-election bid than they were when he ran in 2020.
Biden is effectively tied with Republican frontrunner Donald Trump among voters aged 18-29 in six politically divided swing states that will be crucial to deciding the 2024 election, according to a New York Times/Siena College poll earlier this month.
Biden was not on TikTok in 2020, but more Americans are relying on it for political content today.
32% of adults under 30 said they regularly get news from TikTok — a 255% increase since 2020, according to a recent Pew survey.
The intrigue: Biden's campaign is considering TikTok's merits as a campaign tool at the same time his administration is trying to regulate it and has banned it on government devices.
Earlier this year, the social media company brought on David Plouffe and Jim Messina — veterans of Barack Obama's presidential campaigns — to help defend it in Washington.
The other side: Many Republicans argue that TikTok is a Chinese influence operation.
Go deeper