Momentum builds to expel George Santos after House Ethics report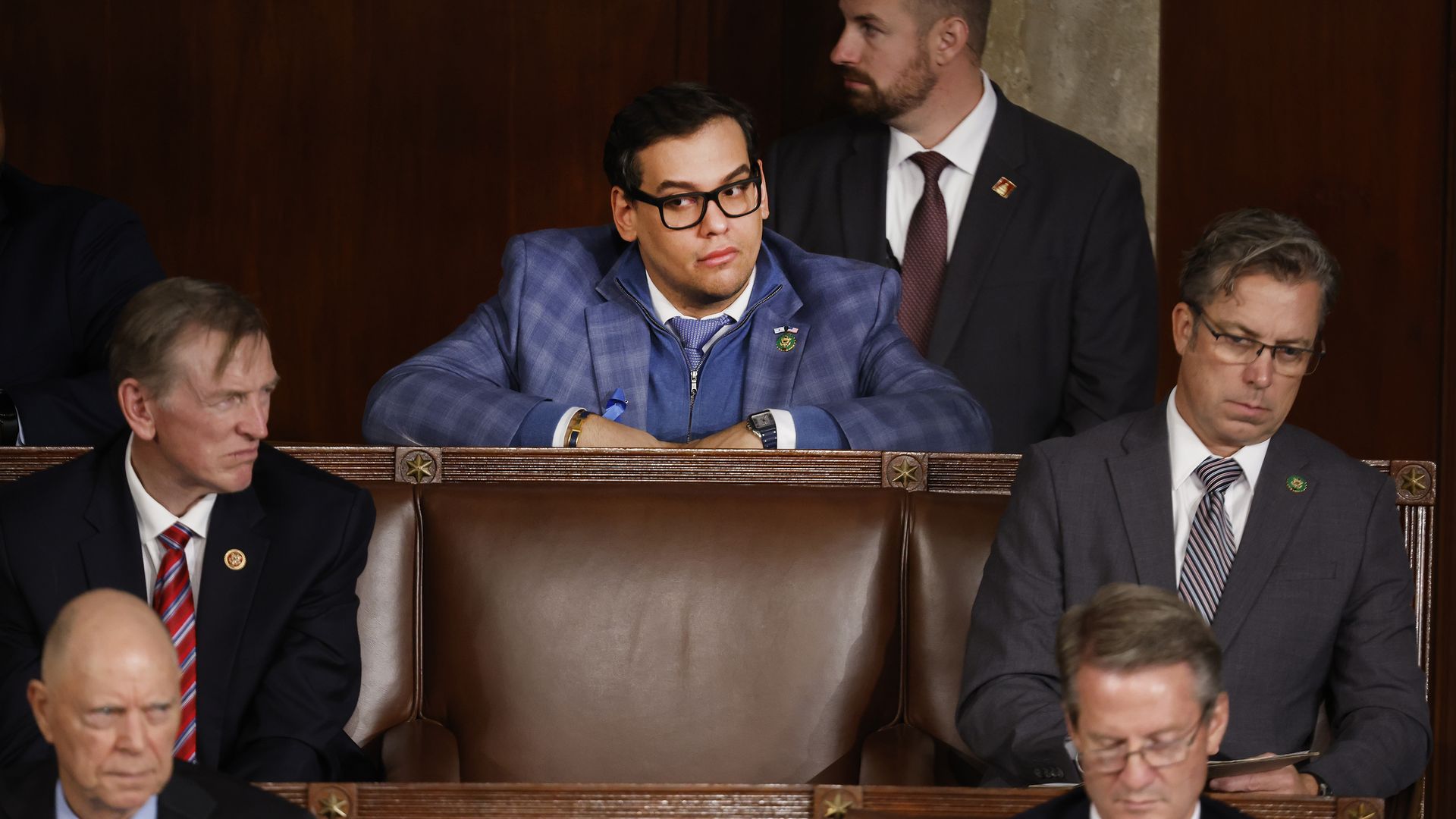 House lawmakers in both parties who voted against expelling Rep. George Santos (R-N.Y.) from Congress earlier this month now say they will support removing him in the wake of a damning House Ethics Committee report.
Why it matters: The House is expected to vote on expulsion shortly after they return from their Thanksgiving recess — meaning the embattled Long Islander's days in Congress are likely numbered.
"He's gone," predicted one House Republican.
Santos would be the first member of Congress expelled since 2002 and the first Republican ever expelled from the House.
Driving the news: Rep. Michael Guest (R-Miss.), the chair of the Ethics Committee, plans to file a privileged resolution to expel Santos at the House's pro forma session on Friday, two lawmakers familiar with his plans told Axios.
Rep. Robert Garcia (D-Calif.), who previously forced a vote on expelling Santos in May, said in a statement he will "once again be submitting a privileged resolution to expel this liar and fraud when we return to session on November 28th."
The Ethics Committee released a 56-page report Thursday that says the panel uncovered a "complex web of unlawful activity involving Representative Santos' campaign, personal, and business finances."
The report accuses Santos of "blatantly" stealing from his campaign and filing false reports to the Federal Election Committee and the House. The Investigative Subcommittee referred "substantial evidence" of "uncharged and unlawful conduct" to the Justice Department.
The backdrop: The House voted 179-213 against expelling Santos earlier this month after a group of New York Republican freshmen forced the issue to a vote on the floor.
182 Republicans and 31 Democrats voted against expulsion, with another four Republicans and 15 Democrats voting "present."
What they're saying: Rep. Jamie Raskin (D-Md.), who voted not to expel Santos earlier this month, told Axios he will now vote for expulsion.
So will Reps. Kelly Armstrong (R-N.D.) and Dusty Johnson (R-S.D.) — with the latter saying he will "gladly" vote to oust Santos.
Rep. Greg Murphy (R-N.C.) said he "purposefully waited for the results" of the committee's report before passing judgment, calling the findings "reprehensible and not worthy of being a member of Congress" and said he "will vote to expel him."
"Considering that the ethics committee made a unanimous referral to the DOJ, I will very likely support expulsion," said Rep. John Duarte (R-Calif.) — though he said he wants to hear the debate before coming to a final decision.
Zoom in: Even members of the Ethics Committee, many of whom typically vote present on matters before the panel, said they plan to vote for expulsion.
"The report speaks for itself," Rep. Andrew Garbarino (R-N.Y.) said in a statement. "He is undeserving of public office."
Rep. Susan Wild (D-Pa.), the top Democrat on the panel, said: "I intend to vote yes on any privileged expulsion resolution that is brought forward, as the work of the Committee is now complete, and I am no longer obligated to maintain neutrality[.]"
By the numbers: By Thursday afternoon, 19 Democrats and nearly a dozen Republicans who previously voted "no" or "present" said in statements, posted to social media or told Axios they planned to vote to expel Santos.
The members include Reps. Brendan Boyle (D-Pa.), Zach Nunn (R-Iowa), Josh Gottheimer (D-N.J.), Stephanie Bice (R-Okla.), Katie Porter (D-Calif.), Nicole Malliotakis (R-N.Y.), Ken Buck (R-Colo.), Steven Horsford (D-Nev.), Mariannette Miller-Meeks (R-Iowa) and Elissa Slotkin (D-Mich.).
An expulsion resolution requires a two-thirds majority, meaning all Democrats and roughly 75 Republicans would have to vote for it in order to pass.
The other side: Rep. Troy Nehls (R-Texas) told Axios the report "looks pretty damaging" but "why would we want to expel a guy ... [when] we've got a three-seat, four-seat majority. What are we doing?"
"I think until he's convicted, I'm going to hold off," Nehls added.
Editor's note: This story has been updated with additional developments.
Go deeper