Tesla's drive-in restaurant is finally taking shape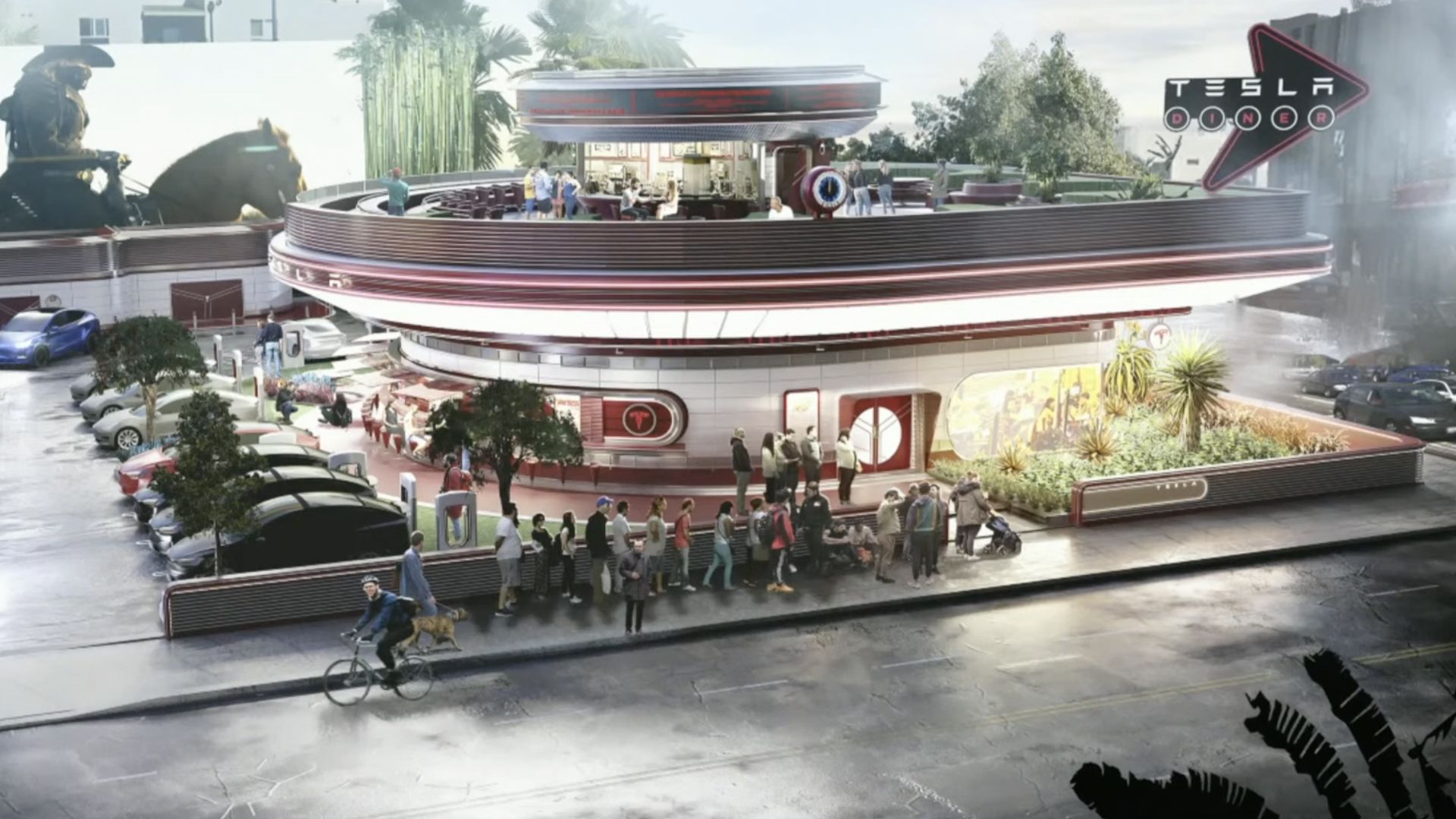 Tesla is rapidly constructing a planned 1950s-style diner and drive-in movie theater in Hollywood that will also be a Supercharger station with 32 charging stalls.
Why it matters: If the country's dominant electric vehicle (EV) maker plans to use its first public restaurant as a national blueprint, it could augur the start of a chain of charge-and-dine stations, which would be a new retail category.
Several existing food chains have announced plans to install EV chargers for customers to use while they chow down.
Driving the news: Nearly six years after Elon Musk teased on what was then Twitter that he was "Gonna put an old school drive-in, roller skates & rock restaurant at one of the new Tesla Supercharger locations in LA," construction is finally underway.
Tesla got approval in August from the L.A. Department of Building and Safety "to establish a diner and drive-in movie Supercharger," reports Ottomate, a food automation and robotics newsletter.
A permit posted at the site, at 7001 West Santa Monica Blvd., lists the contractor as PCL Construction.
The architect is Stantec, which previously designed and built a water treatment facility for Tesla in the Bay Area together with PCL.
Of note: Tesla, which notoriously does not show its playing cards to reporters, did not respond to two email inquiries about the restaurant.
Below are some photos from Nov. 3 of the Hollywood construction site — taken by my son, who lives in the area.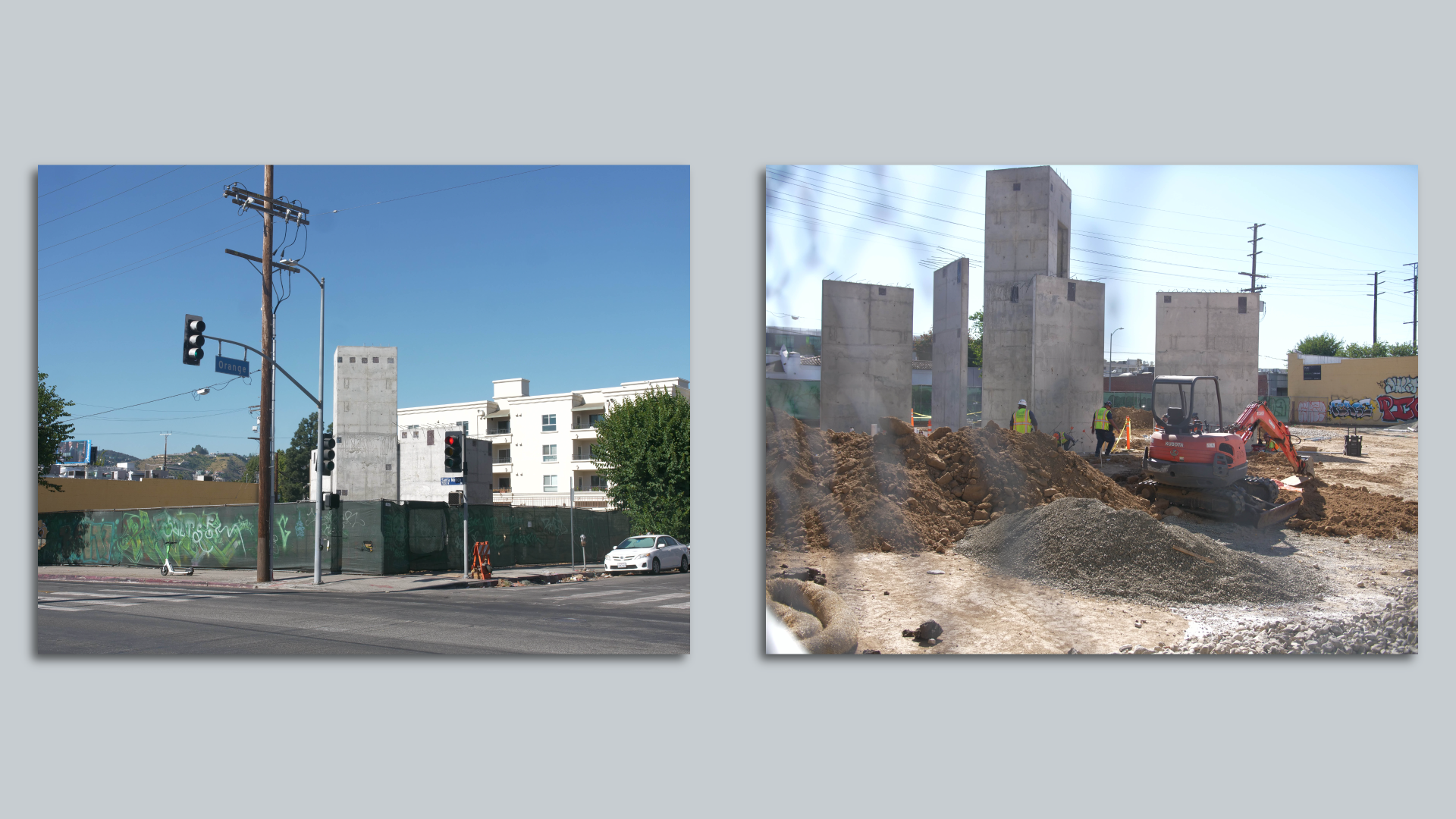 What they're saying: "Tesla originally planned to build the diner in the coastal city of Santa Monica but then moved the plans to Hollywood," reports Electrek, an EV news site.
The Hollywood site, formerly a Shakey's Pizza, lies along historic Route 66, Electrek says.
"The plan is for a two-story restaurant structure, surrounded by 32 charging stalls, with two movie screens and a rooftop bar," per Ottomate. "At ground level, carhop-style waitstaff may bring meals to folks who have ordered ahead from their cars."
There will also be "two movie theater screens where clips of famous movies will be shown," reports Teslarati, a news site dedicated to the automaker.
Details: "Groundbreaking gives us the impression that Tesla could have this project completed by the end of the year," per Teslarati.
"While it's a lofty goal, this project is one of Tesla's most anticipated, and with the automaker opening its Superchargers to other car companies in the spring, charging locations are one of the most heavily sought-after parts of the EV ownership experience," Teslarati writes.
Zoom out: The buzz surrounding the project prompted one specialist in architectural renderings to mock up a few unofficial concept images and post them to X, the Musk-owned site formerly known as Twitter: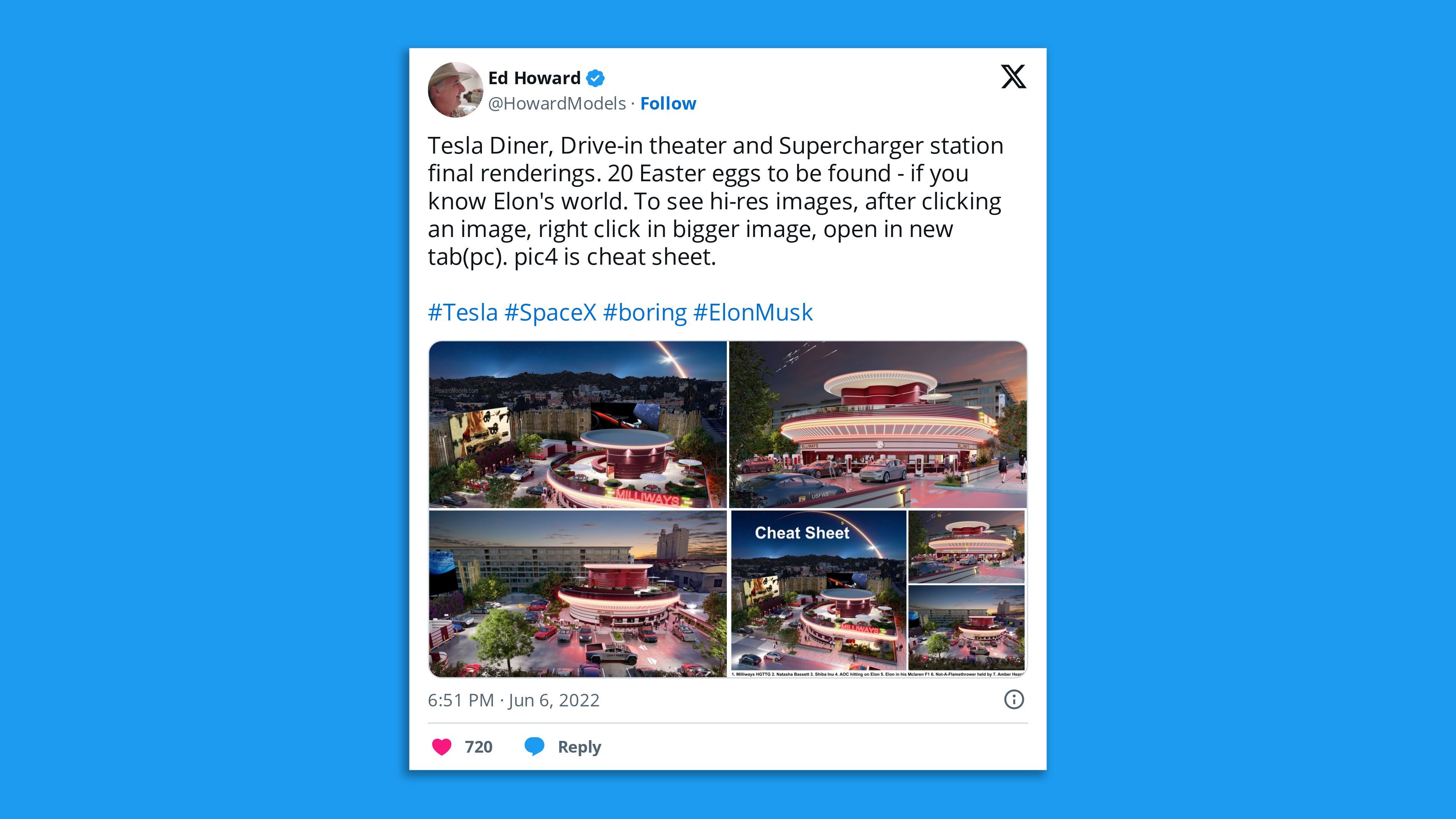 What's next: As the restaurant takes shape, it will be interesting to find out its name and whether Tesla plans to propagate the concept.
Go deeper