Scoop: Internal State Dept. memo blasts Biden, U.S. policy on Israel-Hamas war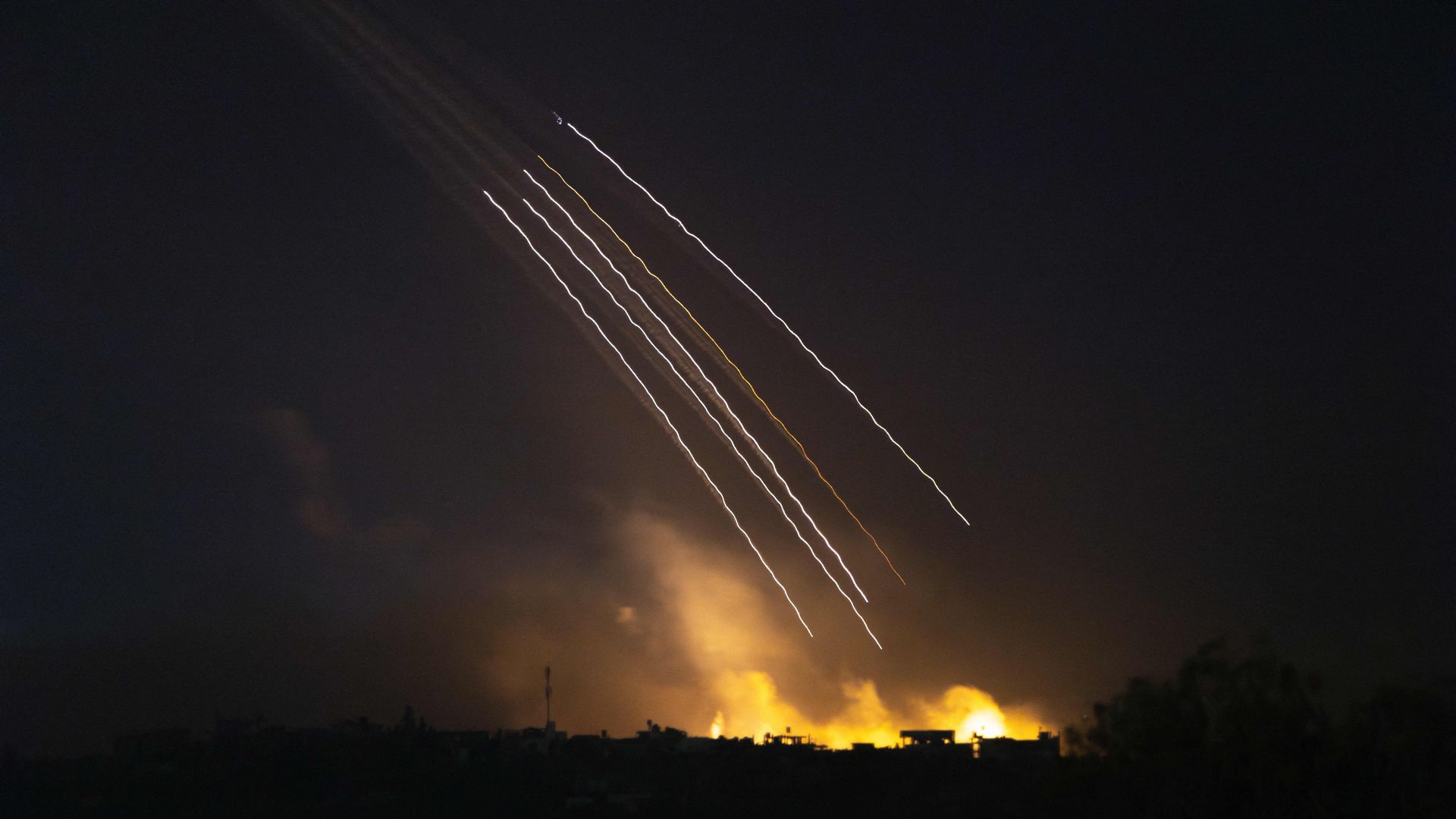 An internal State Department dissent memo accuses President Biden of "spreading misinformation" on the Israel-Hamas war and alleges that Israel is committing "war crimes" in Gaza, according to a copy of the memo obtained by Axios.
Why it matters: The scathing five-page memo — organized by a junior diplomat who has suggested on social media that Biden's support of Israel has made him "complicit in genocide" in Gaza — offers a rare look at the raw divisions within the Biden administration over the Israel-Hamas war.
The memo — signed by 100 State Department and USAID employees — urges senior U.S. officials to reassess their policy toward Israel and demand a ceasefire in Gaza, where more than 11,000 Palestinians have been killed in the war, according to Gaza's Hamas-controlled health ministry.
Some of the memo's language echoes that of progressive activists in the U.S., whose anger and protests over Biden's handling of the war have rippled through the Democratic Party — and created a new challenge for the president's 2024 campaign.
Without offering a specific example, the memo accuses Biden of "spreading misinformation in his Oct. 10 speech" supporting Israel, one of the signature addresses of his presidency.
The memo also said that "we strongly recommend that the (U.S. government) advocate for the release of hostages by both Hamas and (Israel)" — citing the "thousands" of Palestinians being held in Israel, including those "without charge."
Driving the news: The memo, transmitted to the State Department's policy office on Nov. 3, opens by noting the "recent atrocities committed by Hamas on October 7th" — a reference to Hamas' attack on Israel that killed 1,400 people and ignited the war.
For the most part, however, the memo's authors focus on Israeli Prime Minister Benjamin Netanyahu's counterattack on Hamas in Gaza.
Biden has backed Israel's response while expressing concern about humanitarian issues in Gaza, but the memo says Biden should do more to question Israel's actions.
Those actions — which have included cutting off electricity, limiting aid and carrying out attacks that have displaced hundreds of thousands of Palestinians — "all constitute war crimes and/or crimes against humanity under international law," the memo alleges.
"Yet we have failed to reassess our posture towards Israel," the memo states. "We doubled down on our unwavering military assistance to the (Israeli government) without clear or actionable redlines."
What we're watching: Throughout the document, there are broader critiques of U.S. policy in the Middle East and what the authors call a failure to advance a viable path to a two-state solution in the conflict between Israel and Palestinians, which Biden has said he supports.
"Members of the White House and (the National Security Council) displayed a clear disregard for the lives of Palestinians, a documented unwillingness to de-escalate, and, even prior to October 7, a reckless lack of strategic foresight."
The memo also criticized Biden for "questioning the number of deaths" in Gaza.
On Oct 27, Biden said he had "no confidence" in the figures provided by the health ministry in Gaza, while also saying he was "sure innocents have been killed" there.
The intrigue: It's unclear how many dissent memos have been filed within the State Department during the Israel-Hamas war. Politico reported last week on a memo that called for the U.S. to "publicly criticize Israel's violations of international norms."
That language is not included in the copy of the memo obtained by Axios.
Between the lines: Since the Vietnam War, the State Department has maintained a "dissent channel" to give diplomats — in distant embassies and in the department's headquarters — a way to register their opposition to policies.
Dissent memos are supposed to stay within the building, but sometimes they are leaked to the media.
Recent memos include a 2016 cable, signed by 51 diplomats, criticizing the Obama administration's policy toward Syria, which leaked.
A 2021 memo on the U.S. decision to withdraw forces from Afghanistan did not leak, but became the subject of a showdown between Congress and the State Department.
What they're saying: The State Department "is proud there is an established procedure for employees to articulate policy disagreements directly to the attention of senior department leaders without fear of retribution," a State Department spokesperson said.
"We understand — we expect, we appreciate — that different people working in this department have different beliefs about what United States policy should be," the spokesperson said.
The big picture: In Secretary of State Antony Blinken's public and private diplomacy, he has worked to ensure the flow of humanitarian assistance and minimize the military impact on Palestinian civilians, according to an administration official.
In his visit to Israel this month, Blinken asked Netanyahu and members of Israel's war Cabinet to begin humanitarian pauses in the fighting to allow aid to reach Palestinian civilians in northern Gaza.
Last week, Israel agreed to begin "tactical localized humanitarian pauses," Axios' Barak Ravid reported.
Last month, Blinken met with some State employees who have criticized Biden's approach, the Huffington Post reported.
Go deeper