GOP-led measure to expel George Santos defeated in House vote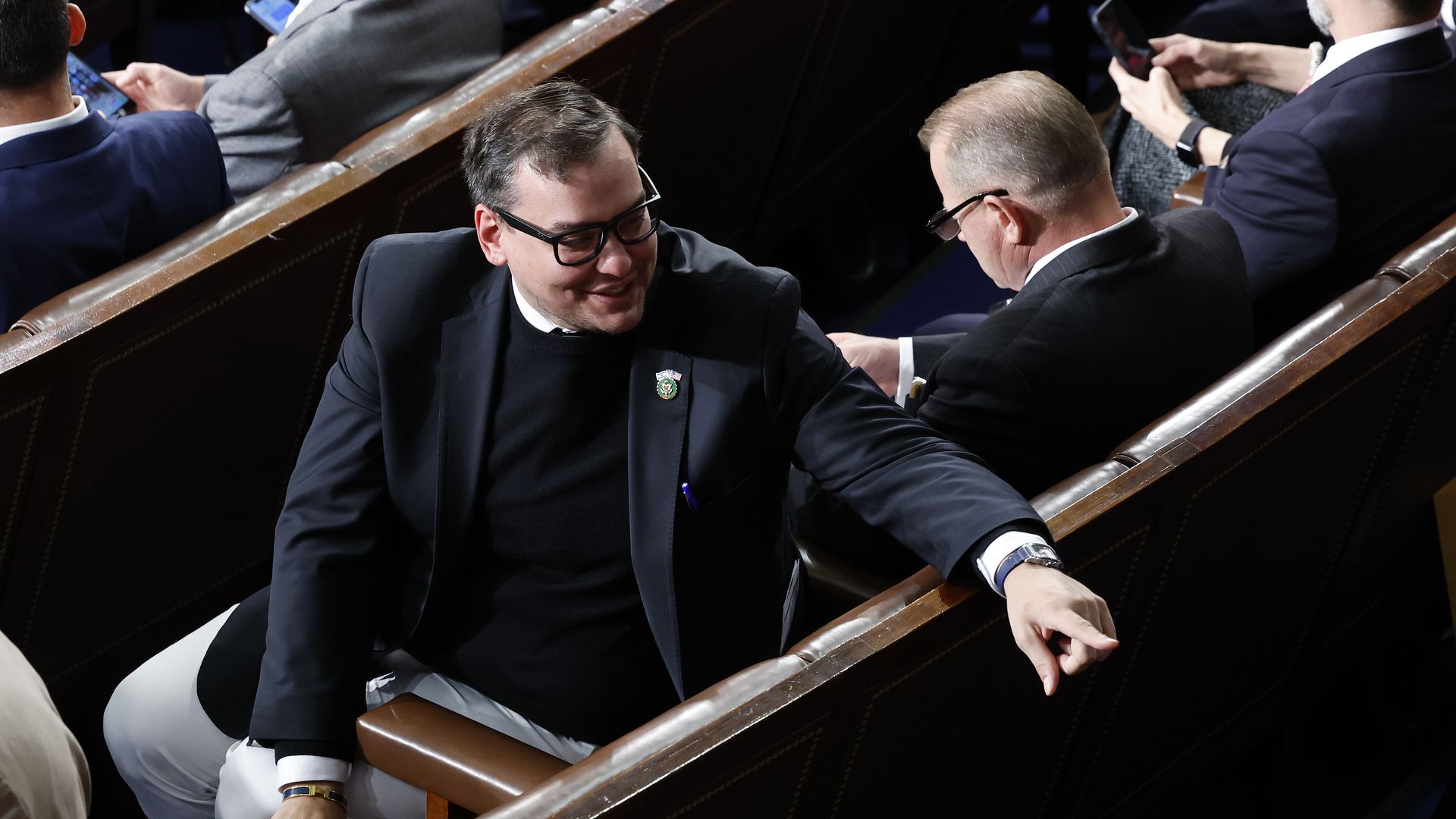 The House on Wednesday voted down a Republican-led resolution to expel Rep. George Santos (R-N.Y.) over his many fabrications on the 2022 campaign trail and his two federal indictments.
Why it matters: The Ethics Committee said it will have news on its investigation into Santos by Nov. 17, meaning the embattled Long Islander's days in Congress may still be numbered.
The Tuesday announcement by the panel gave some Republicans cover to vote against the resolution.
Driving the news: The resolution, introduced by Santos' fellow freshman Republicans from New York, received 179 votes, while 213 voted against it.
24 Republicans broke with their party and voted to expel Santos, but 31 Democrats voted against expelling him. Four Republicans and 15 Democrats also voted present.
Many of the Republicans who voted to expel Santos were moderates or swing-district members, including Santos' fellow New York freshmen who introduced the resolution.
What we're hearing: Some Democrats were concerned about the precedent of voting to expel Santos before either a conviction or an Ethics Committee report, several senior House Democrats told Axios.
One of the Democrats, dismayed that dozens of their colleagues voted against the measure, called it "unreal" and "really weird."
Democratic leadership urged their members to oppose an earlier vote censuring Rep. Rashida Tlaib (D-Mich.), but did not make a recommendation on the Santos measure.
The backdrop: A New York Times report last December revealed that Santos had lied about key elements of his resume as a candidate, including claims that he graduated from Baruch College and New York University, and worked at Citigroup and Goldman Sachs.
State of play: Members of both parties, including local GOP leaders in New York and some of Santos' House Republican colleagues from the state, called for his resignation shortly after he was sworn in earlier this year.
House Democrats forced a vote on expelling Santos in May, but Republicans voted to kill the measure by referring to the Ethics Committee.
Santos' second indictment, and the explosive evidence it contained, spurred a group of New York Republicans to revive the push to expel him.
The intrigue: The debate over the expulsion resolution saw some drama between New York lawmakers play out publicly on the House floor as Santos gave time to Rep. Dan Goldman (D-N.Y.) to speak in favor of expelling him.
Goldman, in his floor speech, said he agreed with "everything my Republican colleagues have said here today" but castigated them for voting against expelling Santos in May.
Goldman initially asked the New York Republicans for time to speak, but they declined, according to two Republican members. ""He's been a jerk to Republicans. We wouldn't give him water if he was thirsty let alone our time," one told Axios.
A source of the New York Republicans' anger is a post on X from Goldman trying to tie them to Santos via his former campaign treasurer.
What we're watching: If Santos remains in Congress, he still faces an uphill battle to keep his seat in 2024.
Go deeper