Microsoft launches probe after AI poll on woman's death sparks blowback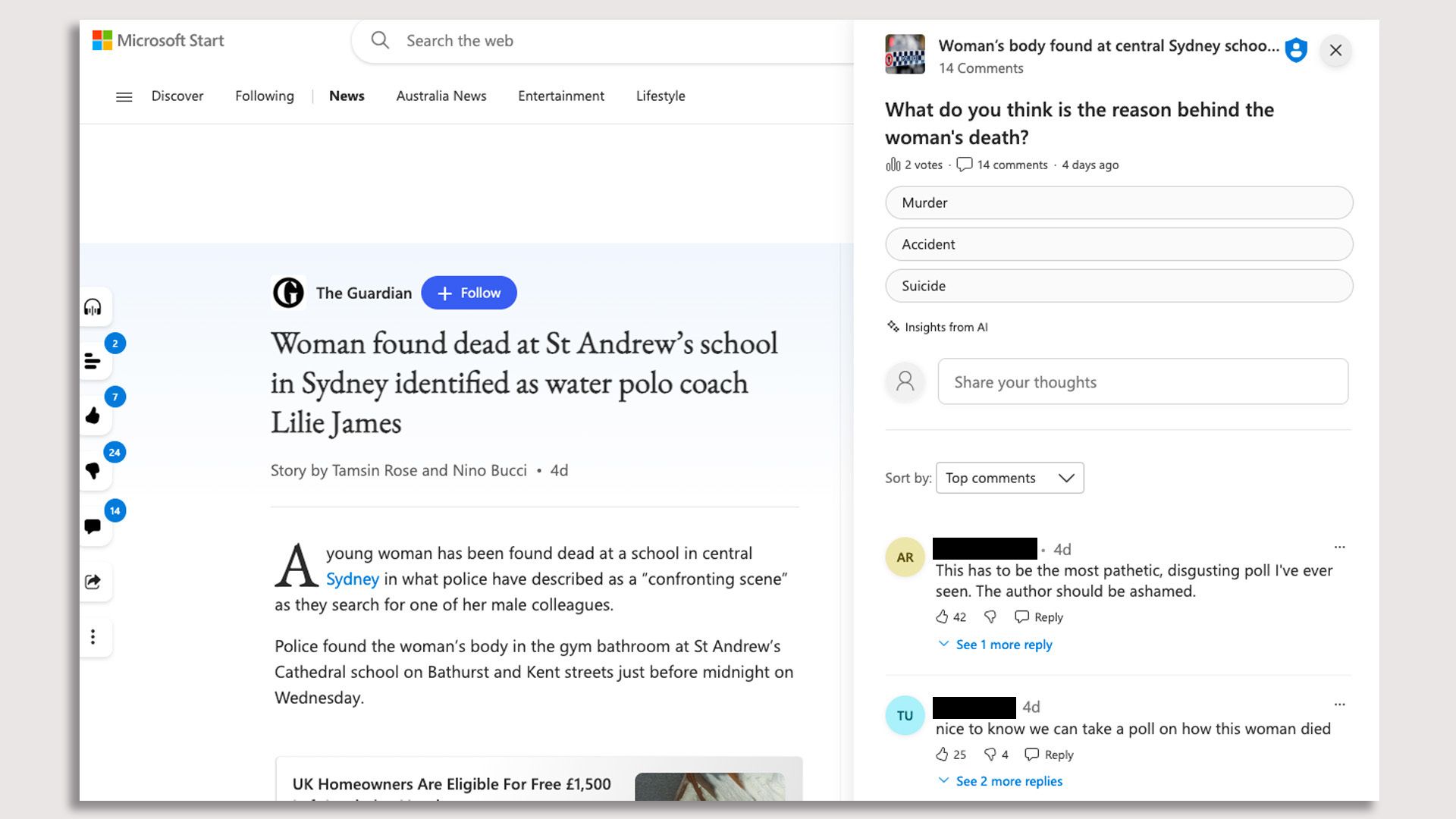 Microsoft has shut off all its AI-generated polls on news articles and launched an investigation after the Guardian Media Group blasted the tech giant for a poll that ran alongside a story about a woman's death.
Driving the news: "A poll should not have appeared alongside an article of this nature, and we are taking steps to help prevent this kind of error from reoccurring in the future," Microsoft said in a statement to Axios on Wednesday.
The Microsoft statement said the tech giant had "deactivated Microsoft-generated polls for all news articles" and is "investigating the cause of the inappropriate content."
Backstory: On Tuesday, The Guardian Media Group demanded that Microsoft take public responsibility for the poll, which ran next to an article about a woman found dead at a school in Australia, according to a letter obtained by Axios.
The poll, which ran within Microsoft's curated news aggregator platform Microsoft Start, asked the reader what they thought the cause was of the woman's death.
"This is clearly an inappropriate use of genAI by Microsoft on a potentially distressing public interest story, originally written and published by Guardian journalists," Guardian CEO Anna Bateson wrote to Microsoft president Brad Smith.
Why it matters: While Microsoft did eventually remove the poll, the damage was already done.
Readers slammed The Guardian and the article author in the poll's comments section, whom they assumed were responsible for the blunder.
"This application of genAI by Microsoft is exactly the sort of instance that we have warned about in relation to news," Bateson's letter said, "and a key reason why we have previously requested to your teams that we do not want Microsoft's experimental genAI technologies applied to journalism licensed from the Guardian."
Details: Bateson urged Microsoft to add a note to the poll, arguing Microsoft should take "full responsibility for it."
She also asked for assurance from Microsoft that it will not apply "experimental technologies on or alongside Guardian licensed journalism" without its explicit approval.
In addition, she accused Microsoft of failing to "substantively respond" to the Guardian's request to discuss how Microsoft intends compensate news publishers for the use of their intellectual property "in the training and live deployment of AI technologies within your wider business ventures."
The big picture: Newsrooms have been grappling with ways to leverage artificial intelligence responsibly while ensuring they don't compromise their editorial content.
Many are currently pushing tech firms to pay them to use their content to train AI models.
What to watch: Following an embarrassing publishing experiment from CNET earlier this year, more media companies are including disclosures of the use of AI in their editorial products.
In her letter to Smith, Bateson asked that Microsoft always make it clear to users "wherever genAI is involved in creating additional units and features as they apply to third party journalism from trusted news brands like the Guardian."
Editor's note: This story has been updated to include a statement from Microsoft.
Go deeper