How about them apples? Researchers create heat-resistant varieties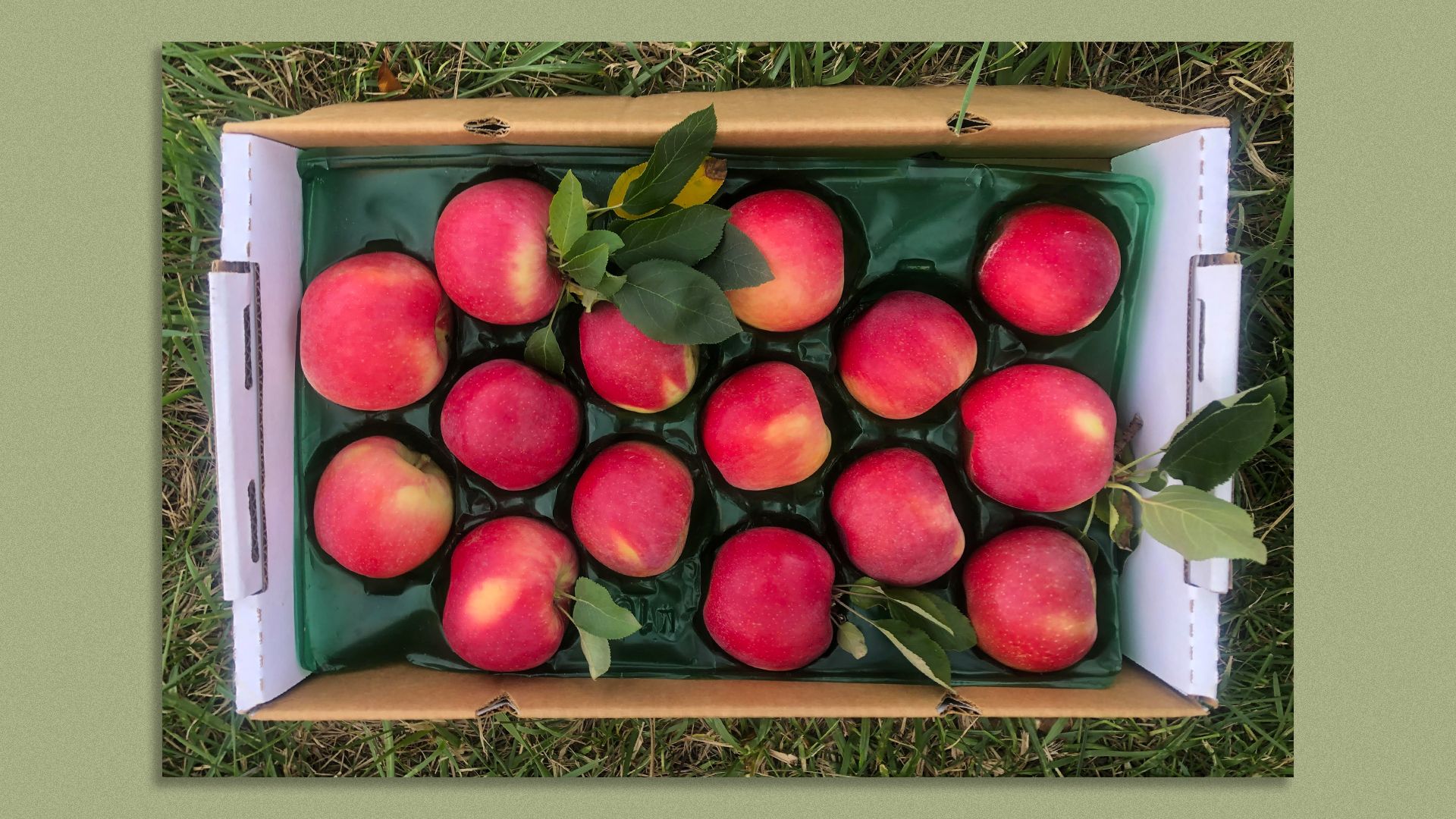 For an apple a day to keep the doctor away, the fruits have to be resilient to climate change.
Why it matters: Newly patented variations of apples that thrive in warm weather, developed by a University of Maryland researcher, could be a solution to stunted production in recent years.
"We [Maryland] have the heat, we have the humidity and we have more diseases," said Christopher Walsh, a plant science and landscape architecture professor, who developed the variants.
"Because it's hot and a long growing season, the trees grow a lot more."
Threat level: Worldwide and U.S. apple output have both decreased, the Washington Post reports.
Hotter climates and heat waves are one of several challenges to the crop, in addition to labor shortages and fire blight, a bacterial disease.
Walsh's new apple variations, currently called MD-TAP1 (a child of Gold Rush apples) and MD-TAP2 (a child of Fuji apples), address all of these challenges. TAP stands for Tree Architecture Project.
What they did: Walsh's team changed the architecture and genetics of the trees so that they're smaller than most commercial apple trees.
The surviving trees are essentially resistant to the threat of fire blight, which has destroyed apple crops in the U.S.
Walsh finds a patentable apple variety for every thousand or so trees that he plants seedlings of, he said. Before the two this year, he previously patented one other heat-tolerant variety that was grown in a different way.
The intrigue: These variations grow on manageable trees that require less pruning than usual, which is what growers recently have been yearning for.
"Our architecture projects are trying to get as much of the fruit into the sun as possible," he said. "So it's got fewer limbs that need to be removed and they grow in a way where it becomes manageable for the grower."
What's next: The apples won't be on supermarket shelves for at least a couple years, Walsh said.
A commercial nursery has to buy the crop and grow trees, or his team has to run its own nursery operation, before the apples are available to consumers.
Go deeper: A startup is measuring ripeness to deliver perfect fruit
Go deeper