Axios Explains: The myth of a U.S.-Mexico "open border"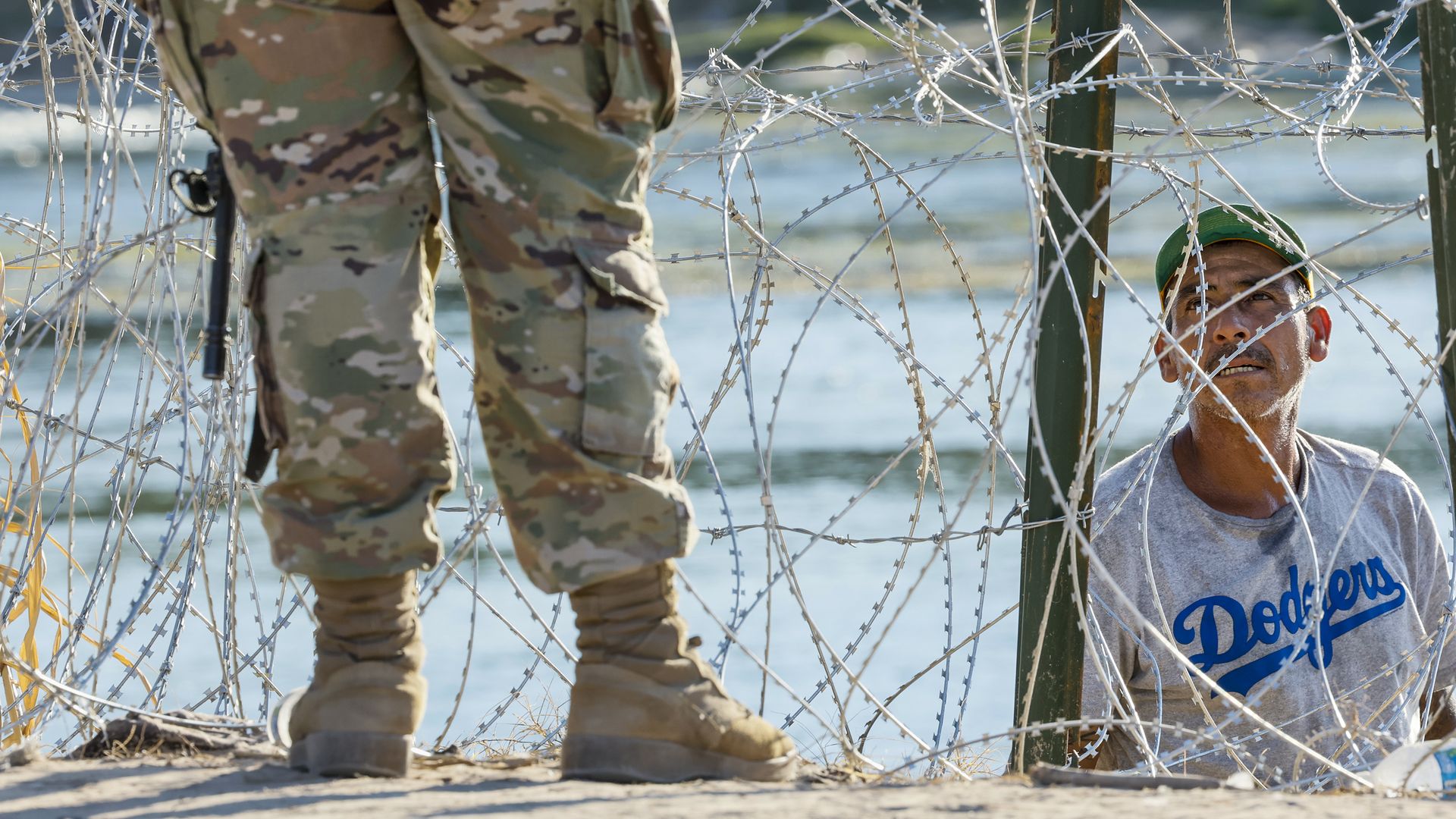 As the Biden administration grapples with the soaring number of migrants and asylum-seekers at the U.S.-Mexico border, conservative pundits and politicians have upped accusations that some Democrats support "open border" policies.
The big picture: By using the term "open border," conservatives — including Rep. Jim Jordan, R-Ohio, who is seeking the role of House speaker — are suggesting that anyone can get into the U.S. without much hassle. But the reality is that the southern border is more fortified than it's ever been.
Reality check: Since 1992, the U.S. has quadrupled the number of Border Patrol agents — from less than 5,000 to nearly 20,000 today.
The history of the border
The United States hasn't had an open border since the early 1920s, when it was relatively easy for migrants to cross from Mexico or simply buy a boat ticket from Europe.
Before World War I, there were no American consulates to apply for a visa, and Mexican migrants and Mexican Americans went back and forth between both countries with ease.
Yes, but: The rise of the Ku Klux Klan in the 1920s resulted in the passage of several immigration restrictions amid growing anti-Catholic and anti-Jewish sentiment.
The Border Patrol was created to keep out Chinese migrants coming in from Mexico.
New restrictions were put on Mexican migration, and migrants from south of the border were sprayed with pesticides when they entered the U.S. from about 1910 to 1950.
The fortification of the border
The U.S.-Mexico border became more militarized over the years, but a significant clampdown occurred during the Clinton administration with Operation Gatekeeper and Operation Hold-the-Line, which greatly expanded patrols in Texas and California.
Both efforts were aimed at halting illegal immigration and preventing easy back-and-forth travel through holes in fences. In El Paso, Texas, for example, 400 agents and vehicles were stationed every 100 yards to prevent illegal crossings.
The terrorist attacks on Sept. 11 led to more restrictions.
But, but, but: Migrants continued to try to enter the U.S. without permission in the absence of a timely legal path.
Many died or risked their lives by traveling through the arid Arizona desert, where temperatures reach triple digits.
Behind the "open border" myth
An Axios review of news stories found that the "open border" language took off during the Obama administration as conservatives worked to thwart planned immigration reform.
Obama pulled back from nominating Thomas Saenz, who is now the president of the Mexican American Legal Defense and Educational Fund, to run the Justice Department's civil rights division after conservative pundits falsely claimed he was "an open-borders extremist."
Obama was routinely attacked for supporting open borders, though he stepped up deportations and was labeled by immigrant advocates as the "deporter-in-chief."
Zoom out: Today, GOP presidential candidates repeat the false claim that President Biden supports open borders.
In two presidential debates, candidates Nikki Haley, Vivek Ramaswamy and Mike Pence alluded to open borders with little evidence.
Upset over Biden's decision to lift a Trump-era policy, Texas Gov. Greg Abbott denounced Biden for having open border policies, though he didn't define what that was.
What they're saying: "We don't have open borders because the U.S. government is attempting to stop as many people who cross the border as they can," David J. Bier, associate director of immigration studies at the Cato Institute, tells Axios.
In fact, the Biden Administration is now deporting migrants to Mexico even if they aren't from Mexico.
"If the administration was pursuing any kind of open border policy, the number of people being arrested would be dropping. And that's not the case. They're arresting and expelling as many people as ever."
Subscribe to Axios Latino to get vital news about Latinos and Latin America, delivered to your inbox on Tuesdays and Thursdays.
Go deeper