Updated Oct 13, 2023 -

World
Scoop: Israel tells UN to evacuate the northern Gaza Strip within 24 hours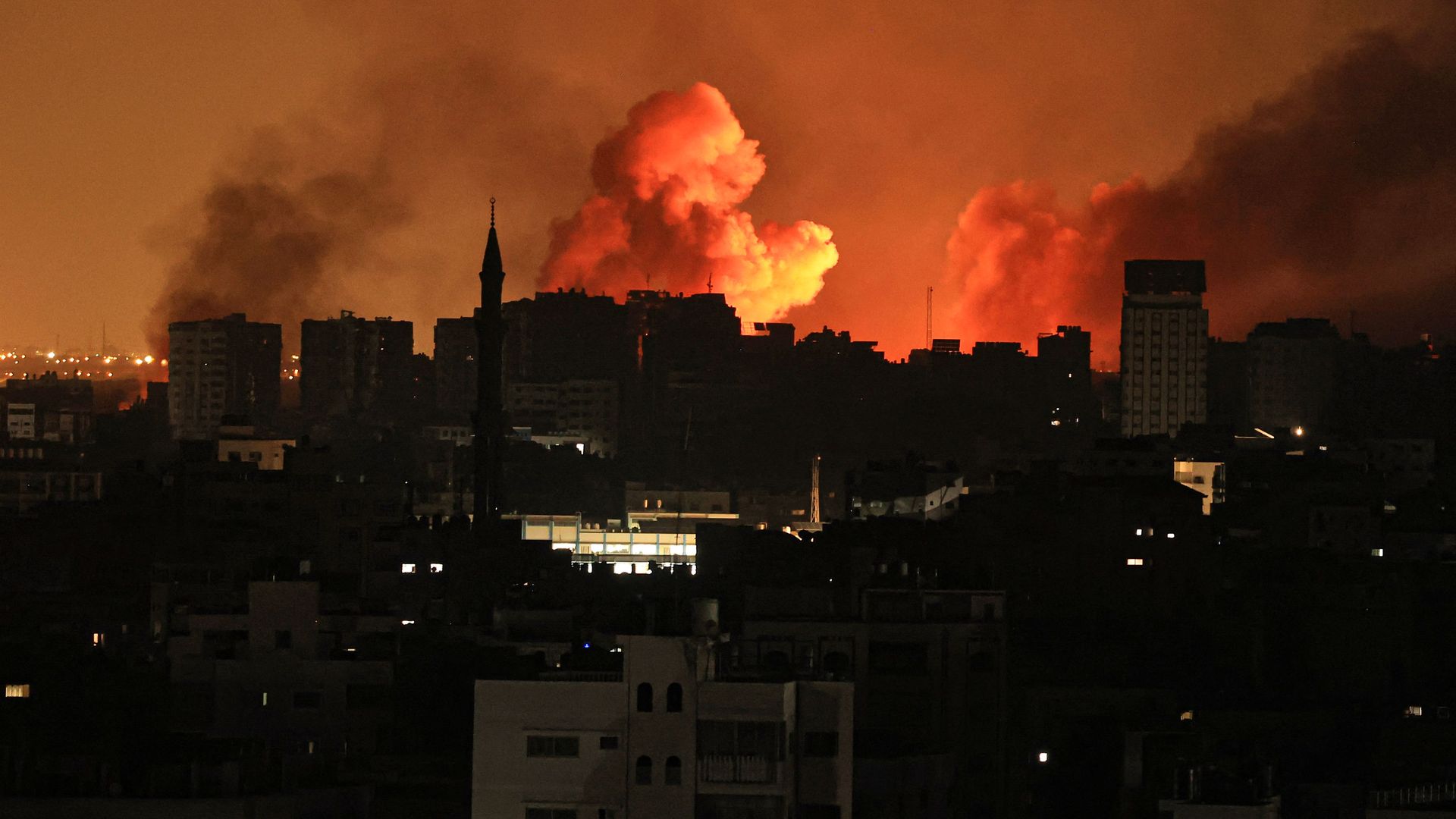 The Israeli Ministry of Defense and the IDF notified the UN just before midnight local time that Palestinians living north of Wadi Gaza should evacuate to the southern part of the Gaza Strip in the next 24 hours, according to UN spokesperson Stéphane Dujarric and another source with direct knowledge.
The big picture: More than 1 million Palestinians live in this area. The message could be a signal that the Israeli military is preparing for an imminent ground operation.
The sources told Axios that the IDF's reason for the notification was in order for civilians not to be hurt by the military's actions and operations.
"We call on all civilians in Gaza City to move south," Israeli Defense Minister Yoav Gallant said Friday in a press conference with U.S. Defense Secretary Lloyd Austin in Tel Aviv.
"We don't want to harm them. Whoever wants to save his life should go south. Hamas is camouflaging itself inside civilian population and we are going to go in and dismantle its infrastructure," Gallant said.
More than 1,530 Palestinians and 1,200 Israelis have been killed, thousands have been injured, and hundreds of thousands of others have been displaced since the latest fighting between Israel and Hamas began. Hamas is believed to be holding about 150 hostages in Gaza.
Driving the news: The Israeli military has carried out a heavy bombardment of Gaza since Hamas militants attacked Israel on Saturday.
It's also imposed a "complete siege" on the enclave, which is home to more than 2 million Palestinians.
What they're saying: The IDF said in an announcement to Gaza City residents that they should all evacuate and move south of Wadi Gaza.
It will "continue to operate significantly in Gaza City" in the coming days and Israeli forces will "make extensive efforts to avoid harming civilians," the IDF said.
"You will be able to return to Gaza only when another announcement permitting it is made," the IDF said.
The IDF urged residents to distance themselves from Hamas, which it said was using them as human shields.
It warned civilians not to approach the area of a security fence with Israel because it said Hamas militants were hiding in tunnels "underneath homes and buildings and populated with innocent Gazan civilians."
Meanwhile, Dujarric told Axios: "Today, just before midnight local time, team leaders of the UN Office of the Coordination of Humanitarian Affairs and the Department of Safety and Security in Gaza were informed by their liaison officers in the Israeli military that the entire population of Gaza north of Wadi Gaza should relocate to southern Gaza within the next 24 hours.
"This amounts to approximately 1.1 million people. The same order applied to all UN staff and those sheltered in UN facilities – including schools, health centers and clinics," Dujarric said.
"The United Nations considers it impossible for such a movement to take place without devastating humanitarian consequences," Dujarric added.
"The United Nations strongly appeals for any such order, if confirmed, to be rescinded avoiding what could transform what is already a tragedy into a calamitous situation."
State of play: UN Secretary-General António Guterres spoke twice on Thursday night with Israeli Ambassador to the UN Gilad Erdan and said he wants to get clarification at the highest political level about Israel's request to evacuate the population from the northern Gaza strip, a UN source said.
Erdan in a statement called the "UN's response to Israel's early warning to the residents of Gaza is shameful!"
"For many years, the UN has turned a blind eye to the arming of Hamas and its use of the civilian population and civilian infrastructure in the Gaza Strip as a hiding place for its weapons and murder," Erdan said.
"Now, instead of standing by Israel, whose citizens were slaughtered by Hamas terrorists and who tries to minimize harm to those not involved, it preaches to Israel. It is better for the UN to focus now on returning the hostages, condemning Hamas, and supporting Israel's right to defend itself," he said.
Go deeper: Israel had intel on Hamas activity but didn't put Gaza border on high alert
Editor's note: This story has been updated with additional details.
Go deeper