Ford, GM lay off about 500 more employees, citing expanded UAW strike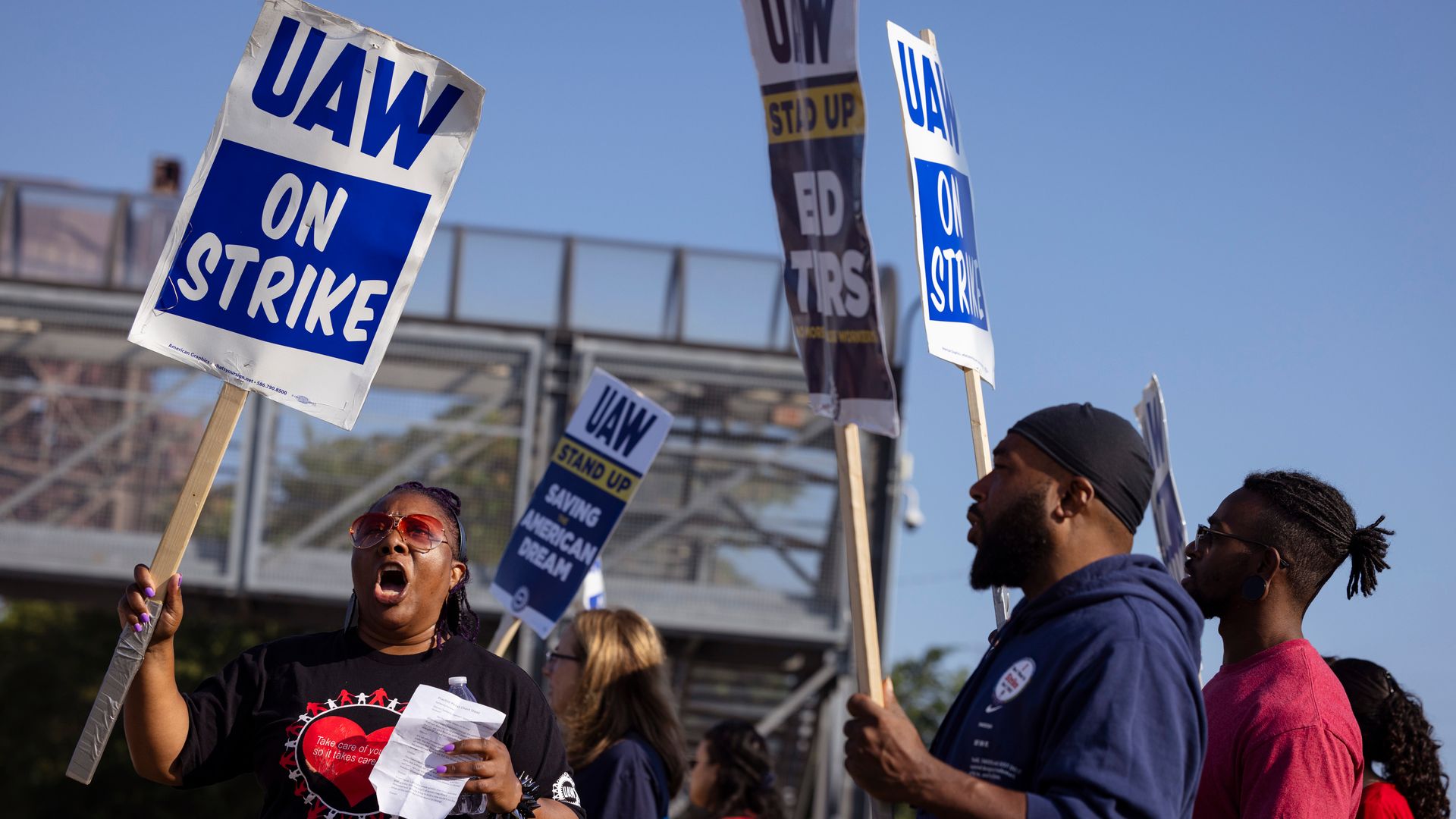 Ford and General Motors laid off 500 more people after the United Auto Workers widened its historic strike last week, the automakers confirmed to Axios Tuesday.
Why it matters: Roughly 3,000 workers have been impacted by layoffs since the UAW strike against the Detroit Three began last month.
By the numbers: Ford has laid off 930 employees since the strike began. General Motors has laid off about 2,000.
Ford announced 330 layoffs on Monday, after the company previously laid off 600 last month.
General Motors laid off 164 employees on Friday at two of its metal centers.
Catch up quick: Before September, UAW had never simultaneously held strikes against Ford, GM and Stellantis.
UAW President Shawn Fain expanded the historic strike last Friday after what he said was a lack of meaningful progress with Ford and GM in negotiations.
About 17% of UAW membership at the Detroit Three, or roughly 25,000 workers, are on strike at 43 facilities in 21 states.
The union is seeking a 36% pay increase and a return to traditional pensions and retiree health care. It is also looking for protection against the rise of electric vehicles, which they fear will use non-union labor.
Stellantis made a substantial offer to the union, Fain has said. With Ford, the two sides have inched closer to an agreement on wages and benefits.
What they're saying: The strike, which started on Sept. 15, is at an "inflection point," Liz Door, Ford's chief supply chain officer, said in a statement on Friday.
"If prolonged, this really could have a significant impact as it extends into our other Ford factories," she said. "We see anywhere between 325,000 to 500,000 employees that could be laid off."
Axios' Joann Muller contributed reporting.
Go deeper