Key player in nascent carbon removal industry says no to oil money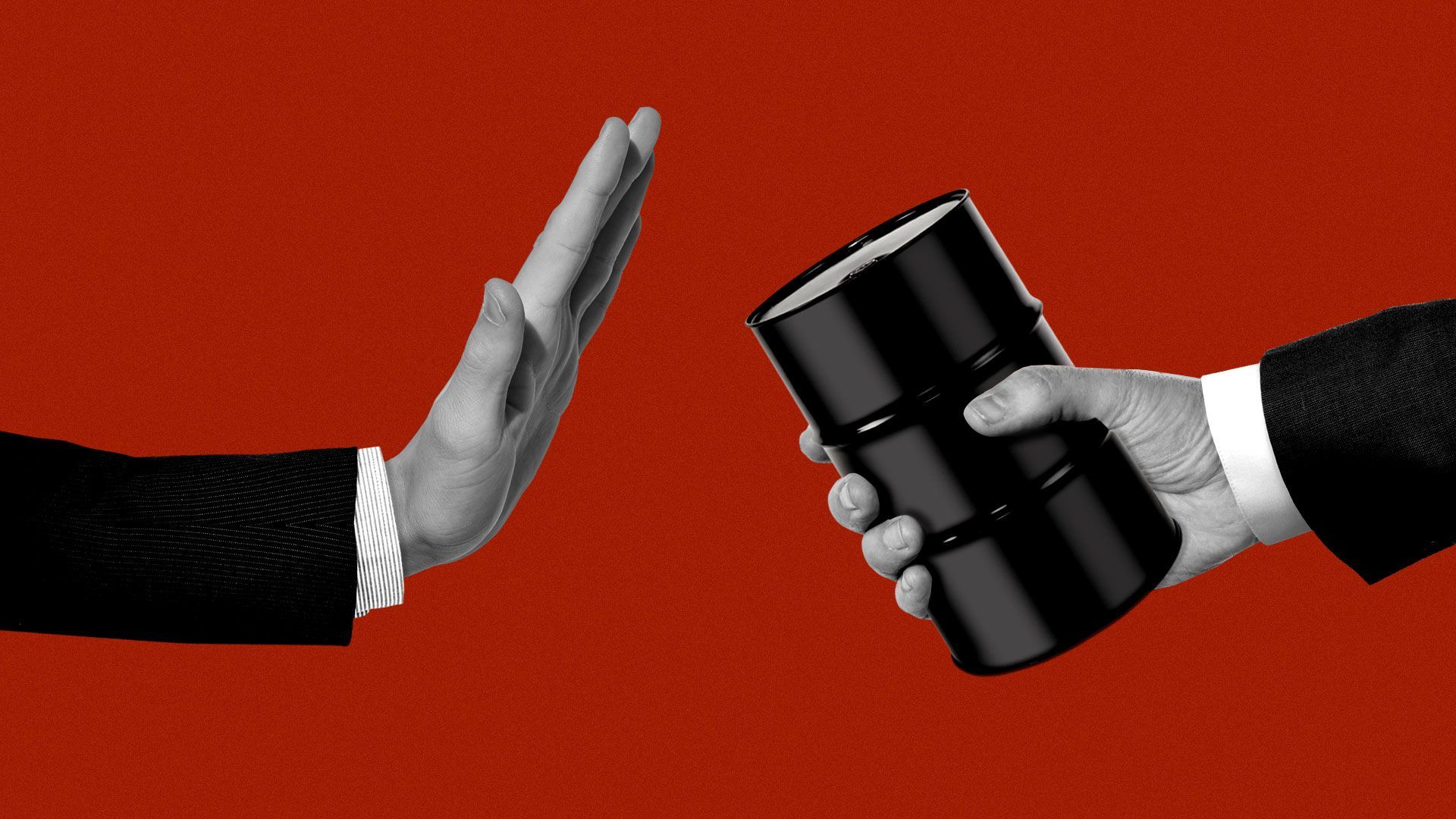 A key company in the nascent direct air capture sector won't accept investment from oil-and-gas companies.
Driving the news: The firm in question, Heirloom, also promised that no carbon dioxide removed with its technology will be used for enhanced oil recovery, wherein CO2 is injected to boost well output.
The company, in a new blog post, says DAC can't be a "fig leaf" for more emissions and "excusing" fossil fuel expansion.
"We do not subsidize our technology with fossil fuel revenues," it said.
Why it matters: It signals evolving ways the young industry will — or won't — intersect with oil companies increasingly investing in the tech.
Oil giant Occidental Petroleum announced in August that it's buying DAC startup Carbon Engineering in a $1.1B deal.
The intrigue: While Heirloom is ruling out oil industry investment, there are conditions under which it might sell removal credits to major emitters including oil and gas companies, Vikrum Aiyer, Heirloom's climate policy head, tells Axios.
He cited cases where government policies might compel purchasing of CO2 removal "in line" with Paris Agreement targets and if removals complement — but don't replace — emissions cuts.
The big picture: The oil provision is part of Heirloom's fleshing out its wider corporate principles, as it looks to help ensure "rules of the road" for the emerging carbon removal sector.
They come as private and government investment into DAC and other CO2 removal tech grows.
State of play: Heirloom's other guidelines include...
Transparency around measurement and verification of CO2 removal and environmental impacts "so communities can be confident our technology doesn't harm air and water quality."
"Strong worker protections, with competitive wages and benefits, and a strong commitment to apprenticeships."
"Community benefits agreements" that could include investment in areas like housing, transit, STEM programs, and revenue-sharing with Indigenous communities.
What they're saying: "Companies...risk squandering our chance to help fight climate change and grow the economy if we don't adopt rigorous, transparent principles that guard against the exploitative behavior that created the climate crisis in the first place," Heirloom posted.
Catch up fast: Heirloom's part of Project Cypress, one of two consortiums splitting up to $1.2 billion in federal funding for creating DAC "hubs."
The company also recently struck a deal to provide removal services to Microsoft.
What's next: Heirloom's move adds to ongoing discussion around standards for a sector some climate activists and communities view skeptically.
Carbon180, a pro-carbon removal group that's working to ensure engagement with affected communities, now has a dedicated environmental justice team.
The Energy Department is formulating principles for carbon management, spanning removal and industrial capture.
Alayna Chuney, Carbon180's deputy environmental justice director, said companies and government are increasingly seeking "meaningful engagement" with communities around monitoring, equity and more.
Yes, but: Chuney had kind words for Heirloom's push. But overall, "funding is going out a lot faster than the transparency is being relayed to communities," despite ongoing efforts.
The bottom line: As investment grows, so are efforts to alleviate fears. But don't expect skepticism to vanish anytime soon.
Go deeper