Scoop: Yellen's plan for a breakthrough with China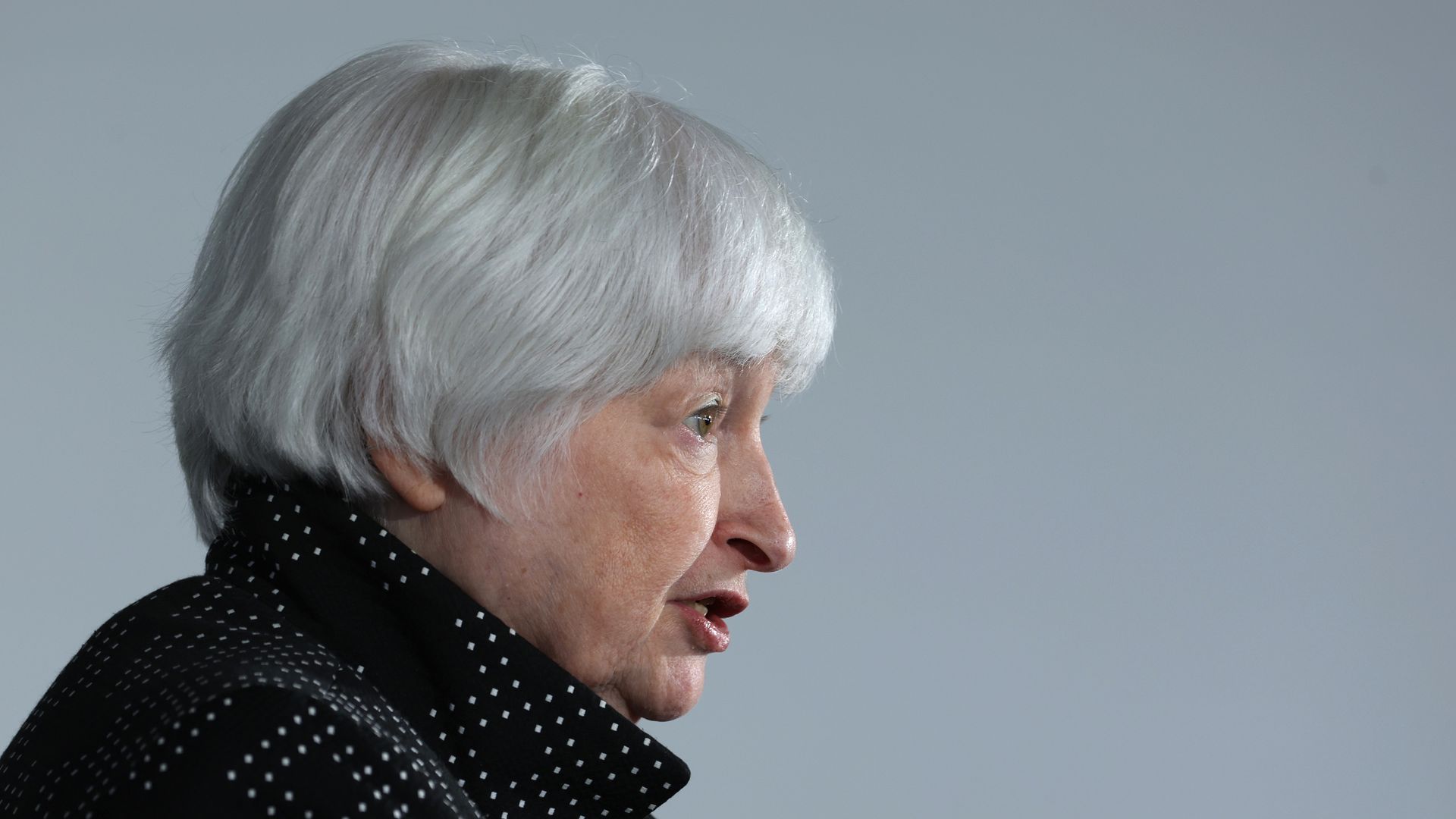 Treasury Secretary Janet Yellen will use improved communications with Beijing to discuss "contentious" issues, gain new insight into China's economy — and learn how leaders there plan to respond to issues, she tells Axios.
Why it matters: The Biden administration is taking a series of steps to try to repair relations with China's government, ahead of a potential meeting between President Biden and China's president, Xi Jinping, later this fall.
At the same time, top Treasury officials want a better understanding of the fundamentals — and potential risks — in China's economy, the world's second-largest behind that of the U.S.
"We want an opportunity to be able to ... pick up the phone and ask questions when issues arise that we need to understand — and vice versa," Yellen said. "It will provide some opportunity to discuss contentious topics."
Yellen added that the aim is to "deepen our understanding of what's happening in [China's] property sector, the general economic problems that they face and the policy approaches that they're taking."
Driving the news: The nations' governments announced two new U.S.-China working groups working groups last week.
The two sides also are discussing a potential U.S visit by Xi's top economic adviser, Vice Premier He Lifeng, to help pave the way for a Biden-Xi meeting at the Asia Pacific Economic Forum in San Francisco in November, according to the Wall Street Journal.
The Biden administration hasn't officially announced Xi's participation, but a State Department spokesperson said, "There's no substitute for leader-to-leader communication."
Zoom out: The Chinese economy faces substantial challenges, which has scary implications for global growth.
Its property market is in a free fall, and the construction giant Evergrande defaulted on $300 billion in liabilities in 2021.
China's youth unemployment rate is above 20% — the government announced in August that it would stop releasing monthly data on it.
Zoom in: For at least 20 years, Democratic and Republican administrations have sought to formalize communications with their Chinese counterparts to manage global risks between the world's two biggest economies.
That approach, the so-called Strategic and Economic Dialogue, led to big formal meetings where a range of topics were discussed.
The new working groups are designed to discuss economic issues at a more technical level — and more frequently.
The big picture: U.S.-China relations soured in Biden's first two years and there were few high-level meetings, either at the economic or strategic level.
In their first face-to-face meeting as presidents in November of 2022, Biden and Xi sought to improve the countries' relationship, with plans for a series of Cabinet -level visits.
Yellen, meeting her Chinese counterpart in Zurich in January, announced plans to visit Beijing in the "near future."
But her trip, along with one by Secretary of State Antony Blinken, was postponed, after a Chinese spy balloon drifted above middle America.
What we're watching: The two sides still haven't restored military-to-military communication, which was a key goal for Blinken when he visited in June.
Yellen hopes to receive feedback from the Chinese on Biden's executive order to restrict outbound investments into China's semiconductor, artificial intelligence and quantum computing industries.
Go deeper