What it will take to eliminate disparities in fertility care for Black women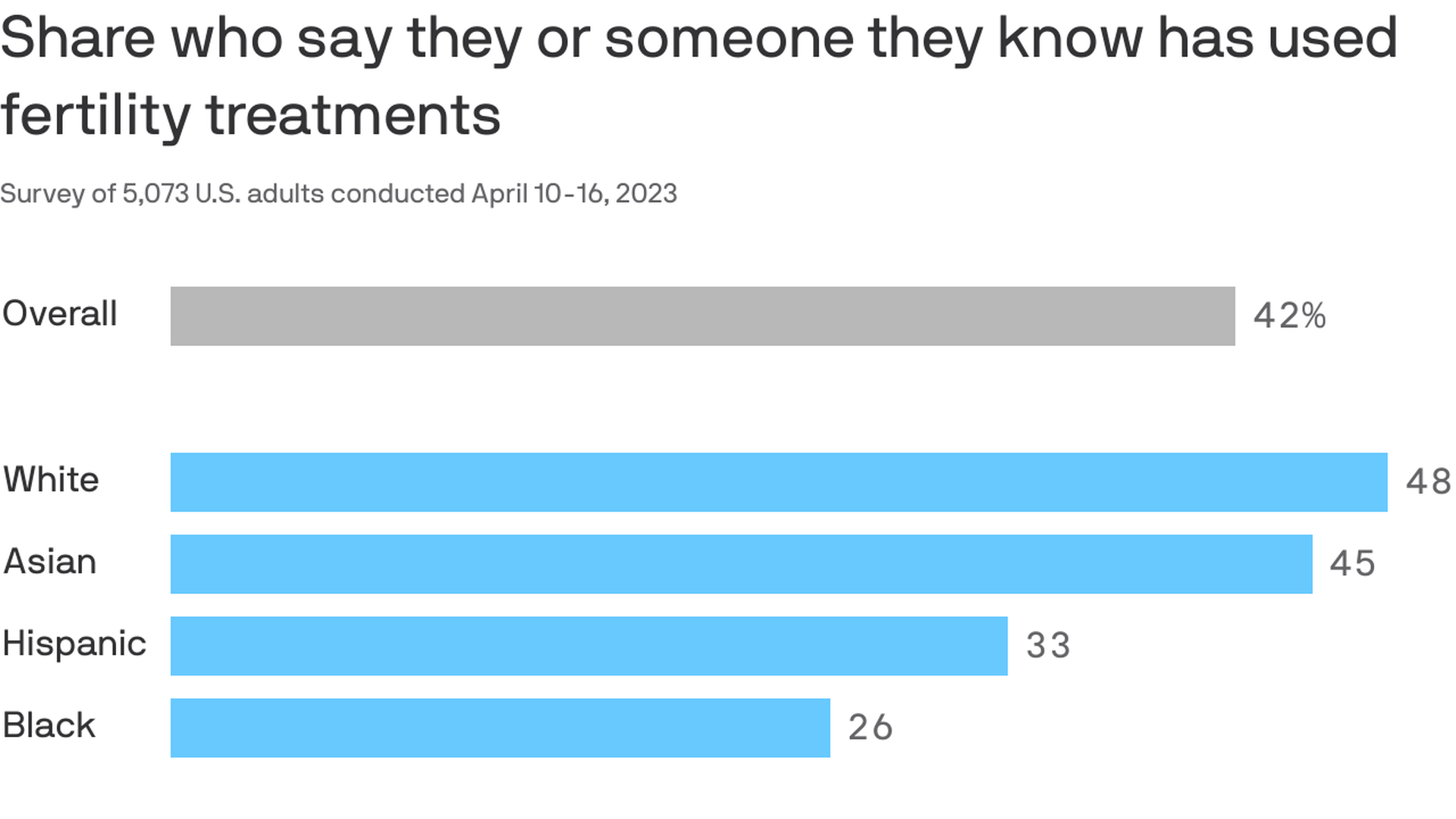 From better medical training to more inclusive health benefits, a host of new efforts are aimed at reversing long-standing disparities and stigma that have prevented Black women from seeking out fertility treatments.
Why it matters: Black women may be twice as likely to have fertility challenges than white women, but cultural factors — underscored by new research — contribute to Black adults seeking treatment less and silently suffering more.
By the numbers: According to new Pew Research Center data, about a quarter of Black adults said they or someone they know used fertility treatments, while nearly half of white adults surveyed said the same.
People may want fertility services for numerous reasons, and the survey didn't ask why people sought them out.
What they're saying: "In the Black community, fertility treatment, in general, is [considered] something that quote-unquote 'only white women partake in,'" says Stephanie Thompson, a reproductive endocrinologist and infertility specialist.
"Being a Black woman, myself, and being a Black fertility specialist, this is something I have seen and known throughout my entire career," she says.
Because Black adults with infertility don't tend to share their experiences, "you think you're the only one [and] there's this thought process that Black women don't suffer from infertility, even in our own community."
"I think the stigma is related to the historical perspective that Black women are not supposed to be infertile, and that goes back to slavery [when] part of the purpose of Black women slaves was 'breeding,'" Thompson says.
Those cultural pressures and less familiarity with fertility options are some reasons why Black patients are typically older than white patients when they do seek out treatment.
That hurts their chances at a live birth, because fertility success is largely dependent on a woman's age.
"The earlier you are diagnosed [and] the problems are addressed, the better the outcomes will be," says Thompson.
Of note: Across racial and ethnic groups, causes of infertility are estimated to stem from male reproductive issues one-third of the time, female reproductive issues one-third of the time, and the rest from both or unknown factors.
Infertility is one reason people seek reproductive treatment like egg freezing, but there are numerous reasons for it, including being in a same-sex couple or anticipating that your fertility will be impacted by a procedure.
Between the lines: A combination of health issues and systemic barriers may contribute to higher infertility rates among Black women.
Black patients are less likely to seek out early health care treatment overall — including for potential fertility health concerns like uterine fibroids that affect Black women at disproportionately high rates — partly because of the community's historic distrust of a health care system that has mistreated people of color.
Historic racism isn't only a deterrent from seeking care, but also a cause for needing it: Studies suggest that chronic exposure to systemic racism could lead to negative health outcomes, including infertility.
Cost is another major barrier to accessing fertility treatment.
The average cost of one in-vitro fertilization cycle is between $10,000 and $15,000, according to the Society for Assisted Reproductive Technology — and that's before medications and additional cycles that could cost thousands more.
Even patients whose health plans cover IVF can face huge bills.
Relatively few state Medicaid programs cover fertility assistance, which has a disproportionate impact on women of color, according to KFF.
Thompson says she is seeing some positive changes that could encourage more Black adults to seek out fertility services.
For one, employers are offering more fertility benefits to help attract and retain employees.
Also: Medical school curriculums are now more focused on "cultural competency" and "treating every aspect of a patient's life" — something that Thompson says got little attention when she was a student.
And news coverage and social media are doing "a much better job" of acknowledging and addressing this issue.
Another welcome new development, Thompson says, is the growing number of support groups.
Fertility clinics likely can provide information on support networks — there are many.
But she says that sharing fertility experiences with good friends shouldn't be overlooked.
"You'll find that many probably know somebody or have gone through it, and they can serve as a support for you."
Go deeper