Biden to make history by hitting UAW picket line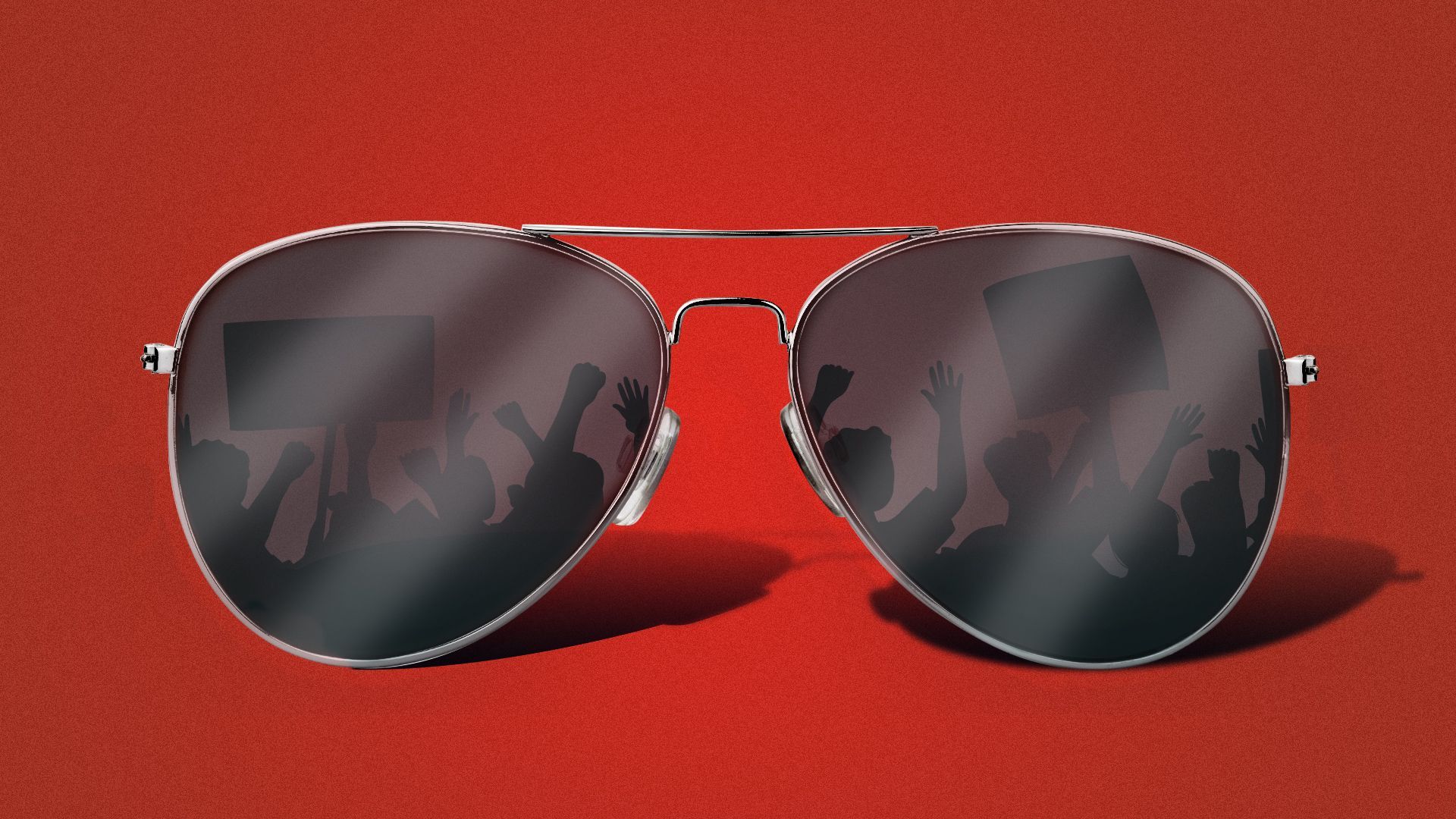 President Biden is scheduled to visit striking workers on a UAW picket line in Michigan later on Tuesday.
Why it matters: It's the first time a sitting president has ever visited a picket line, and a sign of just how critical a resolution of the autoworkers strike, now in its 12th day, has become for the president.
Biden's full-throated support for the union comes at an unusually pro-labor moment for the country — a time when the Republican party is also making more of a play for union votes.
Former president Trump is set to speak in Michigan on Wednesday.
The big picture: The strike —which now covers 38 plants and distribution centers across 20 states — has forced Biden onto a tightrope.
He's balancing his pro-union stance and the need for the UAW's endorsement in Michigan, a battleground state for 2024, with his administration's support for a fast transition to electric vehicles.
The union wants to make sure workers don't lose out in a green transition — a fate met by unionized workers in the coal industry, for example.
Biden makes a similar argument: EV jobs should be high-quality; a "win-win" for unions and automakers, as he puts it.
Be smart: "If both the UAW and Biden can say that the transition to a green economy means high-paying union jobs," that's a win for the union's push to organize more workers, Nelson Lichtenstein, a labor historian at the University of California, Santa Barbara, said in an email. It's a win for Biden, too, if it pulls in more working-class votes.
It's unclear if they can pull that off.
Context: "Candidates for president have often appeared on picket lines, but not a sitting president," Lichtenstein said.
As a candidate, Biden visited three picket lines. A White House official said he'd been mulling a visit to a UAW line since the strike was announced.
State of play: Since the strike started earlier this month, GM, Ford and Stellantis have lost production of more than 16,000 vehicles, according to a Deutsche Bank analysis cited by the AP.
Anderson Economic Group, whose clients include GM and Ford, says the stoppage caused $1.6 billion in its first week — for the companies and workers who are losing out on wages.
That's below Anderson's earlier estimate that the strike would cost $5 billion after 10 days — likely because the UAW is selectively striking only certain facilities.
Zoom out: Even before he announced the Michigan visit, Biden's been unusually supportive of the union. In August, he said the UAW workers deserve "a contract that sustains the middle class."
"Presidents typically don't get this involved because they oppose unions (most Republicans) or take labor support for granted (most Democrats)," said Kate Bronfenbrenner, a professor at Cornell's School of Industrial and Labor Relations, in a message to Axios.
Plus, "Democrats do not want to anger business donors to their campaigns or anger Republicans so much they are unable to pass their key legislation," she added.
The UAW under newly elected president Shawn Fain has been playing hard to get with the White House; the union has yet to endorse a presidential candidate for 2024.
When asked how Biden could earn the UAW's support earlier this month, Fain said, "We expect action, not words."
Trump is faring worse with the union: Fain has said that a second Trump presidency would be a "disaster." And upon the news of Trump's visit, Fain said, "Every fiber of our union is being poured into fighting the billionaire class and an economy that enriches people like Donald Trump at the expense of workers."
Worth noting: The Obama administration played a large role in brokering the 2008 contract where UAW agreed to big concessions amid an industry crisis, said Sharon Block, a former Obama and Biden official, now a labor professor at Harvard Law School.
The automakers have since come back from that disaster. "The administration was part of that moment where the UAW made great sacrifices to save the auto industry," she said. "And so now there's been this sort of historic turn."
Go deeper