House GOP again fails to advance Pentagon funding, deepening spending crisis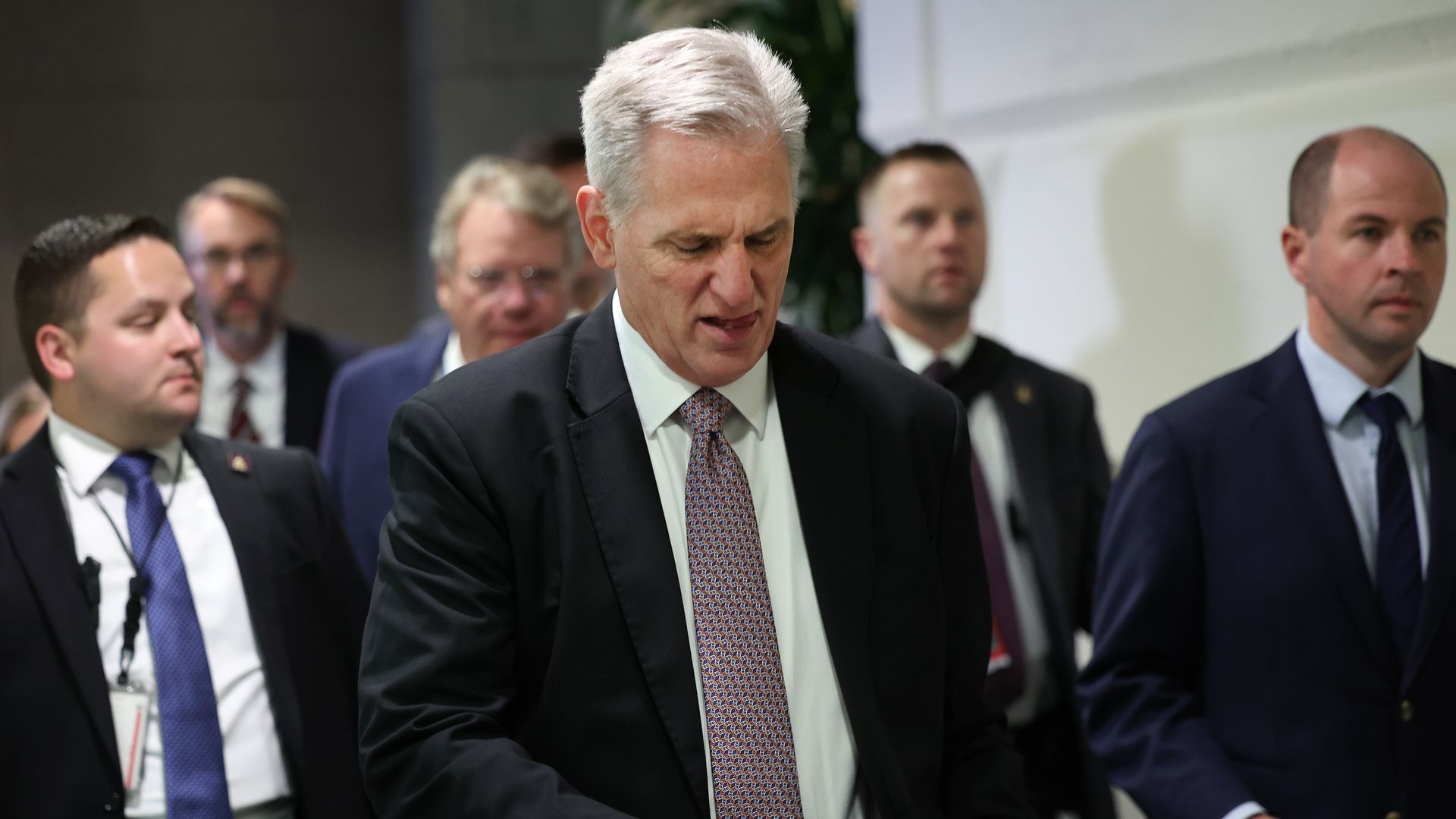 House Speaker Kevin McCarthy (R-Calif.) failed for a second time on Thursday to advance a bill funding the Department of Defense, dealing another huge blow to his efforts to avert a government shutdown on Oct. 1.
Why it matters: House Republicans are in a state of crisis, unable to even begin debate on an appropriations bill that typically garners broad support.
Driving the news: The House voted 212-216 against moving the funding bill to a final vote.
Five right-wing lawmakers – Reps. Dan Bishop (R-N.C.), Andy Biggs (R-Ariz.), Eli Crane (R-Ariz.), Marjorie Taylor Greene (R-Ga.) and Matt Rosendale (R-Mont.) – voted with Democrats against the measure.
What they're saying: Bishop suggested his vote was geared toward trying to force GOP leadership to provide a "schedule of appropriations bills" with a clear topline spending number.
"Every time there's the slightest relief of the pressure, the movement goes away," Bishop said.
Rep. Tim Burchett (R-Tenn.) said leadership may have to "give some concessions. And the concessions better be written in stone."
The other side: "This is nuts," said Biden-district Rep. John Duarte (R-Calif.), who railed against the five GOP "no" votes.
"They call themselves fiscal conservatives ... But they're willing to cost us hundreds of billions, if not trillions, in government growth so they can fundraise off Twitter."
What we're watching: The vote bodes poorly for McCarthy's already grim prospects of passing a bill he rolled out Wednesday to keep the government funded until November.
Some moderates said they believe a short-term spending bill proposed by the bipartisan Problem Solvers Caucus may now be the best alternative.
"I would have told you this morning, 'no, probably not,' that was probably the secondary option coming into today," said Rep. Nick LaLota (R-N.Y.). "But maybe it will be the primary option moving forward."
"Any final bill is going to be bipartisan," said Rep. Mike Lawler (R-N.Y.). "If anybody doesn't realize that, they're truly clueless."
Go deeper