As inflation drops, the Fed's big challenge: What's next?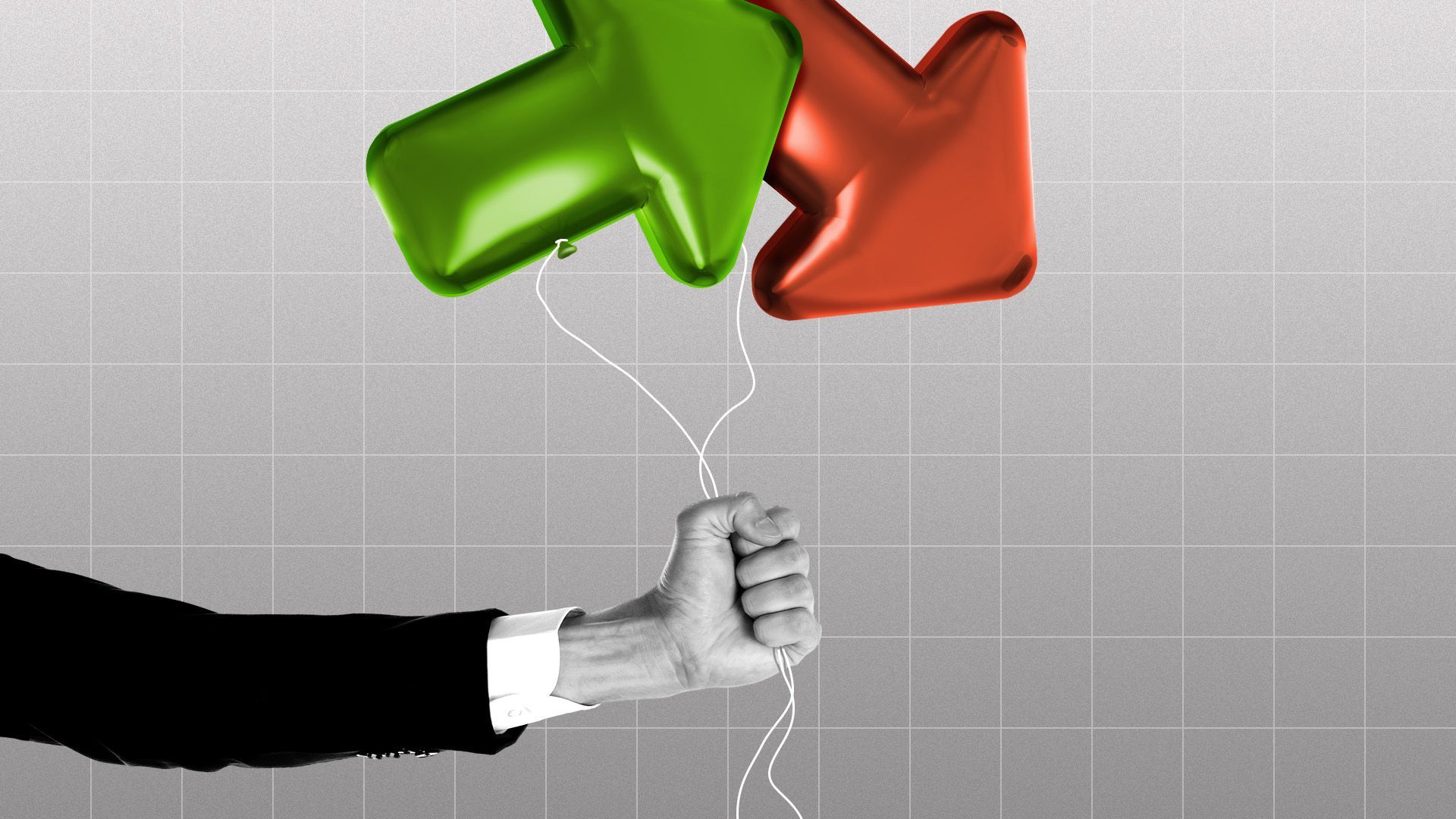 At the Federal Reserve's policy meeting this week, the big question will be less about what to do now (which is likely "nothing") but what, if anything, to do next.
Why it matters: Inflation looks to be on a glide path downward, even as economic growth shows surprising resilience. Against that backdrop, Fed officials must decide whether they need to push interest rates even higher to truly vanquish inflation.
Assuming the Federal Open Market Committee elects not to raise rates, the tone of chair Jerome Powell's post-meeting news conference could offer important clues about how they're leaning.
Also taking on particular importance is the "dot-plot," the visual representation the Fed publishes quarterly capturing the range of opinions among 19 top policymakers about where rates are likely to go.
The details: In the last release of the projections in June, 12 of 18 top officials anticipated it would be appropriate for their target interest rate to rise above 5.5% this year, which would imply one additional rate hike by December.
Since then, inflation has mostly downshifted, giving the officials greater comfort that the actions they have already taken will do the job and bring inflation down to target.
However, growth has been surprisingly strong. In June, the median Fed official expected full-year GDP growth of only 1%. Now, it looks likely to be north of 2%, in conflict with Fed officials' oft-stated view that it will take a period of below-trend growth to bring inflation down.
As such, an open question for Wednesday's meeting is whether there is still a comfortable majority of officials anticipating another rate hike.
Also worth watching is what happens with the officials' 2024 dots. A majority of officials anticipated interest rates below 5% at the end of 2024, implying at least two interest rate cuts next year.
A distinct possibility is that the dots will simultaneously imply less support for another rate hike this year and more support for keeping rates high through next year.
And keep an eye on the officials' views of where rates should settle in the long term, which has crept up in light of high budget deficits and shifting patterns of globalization.
What they're saying: "FOMC participants will leave the meeting more convinced that the July hike was the last for the cycle," said Tim Duy, chief U.S. economist at SGH Macro Advisors, in a note.
"That said, the Fed will not declare absolute victory just yet," he added. "The Fed has been caught off guard by the faster-than-expected third quarter growth, and that will leave it wary that it still has some more work left ahead of it."
Go deeper