Big Tech wields AI might to accelerate cancer research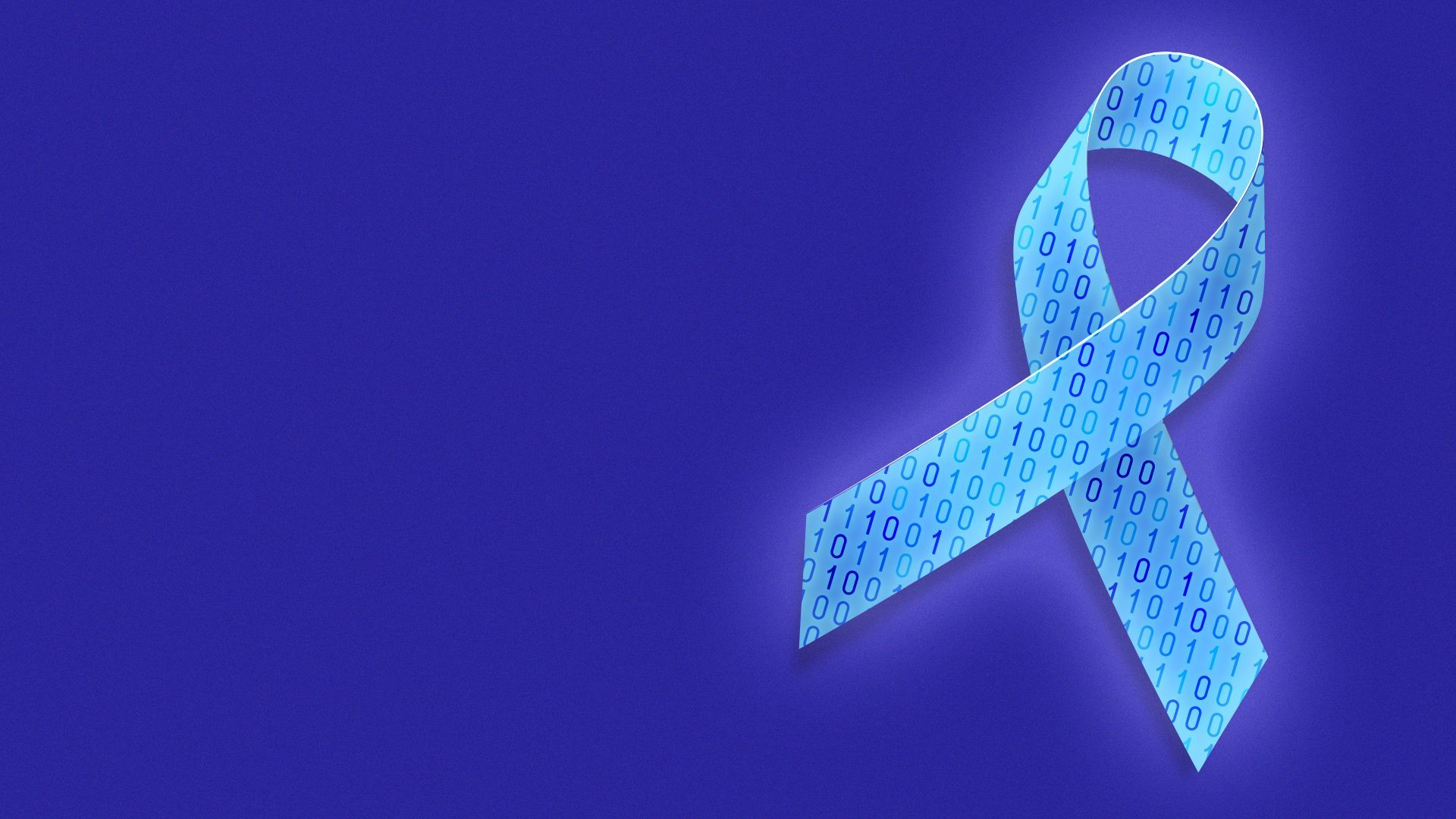 Major tech companies are throwing their weight behind artificial intelligence in cancer care, lending their technological prowess to legacy institutions and startups trying to navigate a fast-evolving area of medicine.
Why it matters: The explosion in AI has the potential to transform how the medical system researches and treats cancer, but only if the underlying tech is there to support it.
Driving the news: Microsoft's research subsidiary last week announced it's pairing its supercomputing power with the capabilities of Memorial Sloan Kettering's health tech spinout Paige to build one of the world's largest image-based AI models for digital pathology and oncology.
This could nudge pathology into hitting the kind of tipping point that radiology experienced years ago, when it moved from film to digitized scans, unlocking AI's power to help pinpoint hard-to-find cancers, officials said.
"We are creating new AI models that will enable unprecedented insights into the pathology of cancer," said Desney Tan, managing director of Microsoft Health Futures in a statement. "Unleashing the power of AI is a game changer."
Paige CEO Andy Moye put it this way: "We're sort of the experts in this space and Microsoft's not. But what they are is the big sort of tech giant that is interested in helping propel the field forward, not just in health care, but across all of AI."
The big picture: Tech giants like Microsoft, Google and Amazon have been battling for their expanding corners of the health care universe for years.
In the wake of OpenAI's ChatGPT launch last fall, that race for health care dominance has expanded into generative AI models, Bloomberg recently reported.
For instance, Amazon this summer unveiled a new generative AI tool for clinician documentation called HealthScribe, while Google is reportedly working on a medical chatbot.
Cancer is one of the major areas where those companies have set their sights.
This week, Amazon Web Services announced it's providing technical support to Seattle-based Hurone AI, a startup focused on addressing gaps in cancer care among underrepresented populations, as part of its health equity work.
Hurone is integrating Amazon's generative AI, known as Bedrock, to expand its personalized cancer treatment software for use by doctors at health systems in Nigeria, Kenya and Rwanda.
"We have a global oncologist shortage versus the number of cancer patients that have been diagnosed every year, so we can amplify their work using artificial intelligence and ensure that patients can get remote care," said Hurone CEO Kingsley Ndoh.
Last month, medical device company iCAD announced a worldwide commercialization agreement with Google to expand the use of its AI to augment breast cancer screening. It came after the partnership's work suggested several years ago that AI could perform better than radiologists at detecting breast cancer.
Be smart: It's not just the tech giants that are leaning into AI for cancer care. Pharmaceutical brands such as Moderna are bullish on its potential for cancer drug development.
On Thursday, AI-driven drug firm Generate announced a $273 million funding round for work in multiple diseases, including cancer, from Amgen and Nvidia.
Zoom in: One important factor to consider is the amount of resources it takes for these advances.
A recent S&P Global's 2023 Global Trends in AI report found data management, security and accessing sufficient computing resources were the top challenges for deploying new AI projects.
In the case of pathology, Paige is pushing to move the field to digitized slides — and that takes a lot of data and computing power, Moye said.
"A single slide when it's scanned is about two gigabytes worth of data. Right? We have 6 million of these slides digitized, which is many many petabytes of data," Moye said. "We're getting to really big scales here. Microsoft helps with that."
Yes, but: There are still a number of challenges ahead for harnessing AI in health care safely. Regulators still have a lot of catching up to do in the face of strong industry pushback, as was the case with FDA's proposal to regulate AI clinical support tools.
"It's not gonna happen next year, but it's going to happen over time," Moye said. "And I think it's the right thing to do because you don't want bias, you want to use clinical grade tools that are generalizable and are appropriate for the population that that clinician is looking at."
Go deeper