Amazon Web Services CEO Adam Selipsky spreads his AI bets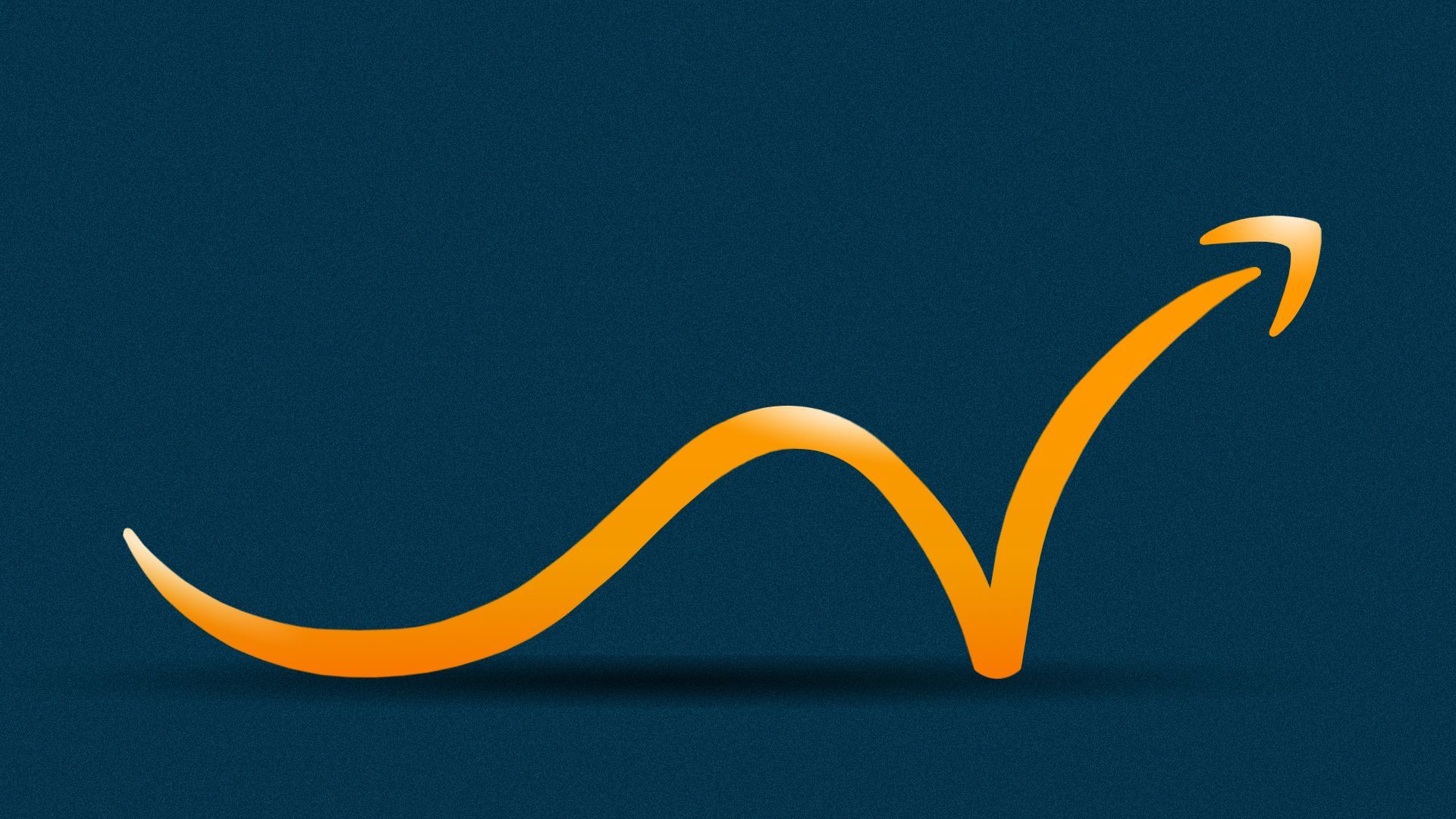 Artificial intelligence is sure to spark a "reinvention...for almost every application" that hundreds of thousands of Amazon Web Services customers run, AWS CEO Adam Selipsky says.
Why it matters: AWS is the the leader in cloud services, with 32% market share, ahead of Microsoft's 22% and Google's 11%, per Synergy Research Group. The company says it already has 100,000 customers using AI, and it's readying itself for a world in which the rest of its client base is doing the same.
How it works: AWS wants to give its customers choice from a wide range of models for their generative AI applications — whether Amazon's own or offerings from Anthropic, Cohere, Stability AI and others.
The company is building its own custom chips, training its own models, writing its own software layers for training and tuning others' models, and providing simple front-ends making it easy for developers to generate code to connect AI services.
This "full-stack" approach is the key to making generative AI pay off, Selipsky argues.
By taking an end-to-end approach to data services, Selipsky is both maximizing his potential market and spreading his bets.
It's hubris for anyone to claim to know who will be the winners of generative AI's economic transformations, he believes — so he's positioning AWS as the ultimate toolchest for the widest possible set of customers.
The details: AWS's stack begins with its own machine-learning chips — led by Trainium, which is optimized for training AI models.
AWS sees Trainium as an alternative to Nvidia's market-leading GPUs and hopes to one day outperform them in price-performance terms. For now, Selipsky says, "Trainium is another choice alongside GPUs — it's not a replacement."
In the middle of the stack is Bedrock, a service for building and fine-tuning foundation models. While AWS has developed its own series of foundation models, called Titan, it believes most customers will employ other models, so it's "putting a premium on flexibility and choice," says Selipsky — keeping AWS aligned with its mission of "democratizing IT."
At the top of the stack are applications like Code Whisperer — a code companion that takes input in plain language and returns code, designed to make AWS an AI "easy button," Max Peterson, AWS VP for Worldwide Public Sector, told Axios.
Amid a general hiring slowdown, generative AI is one area where AWS says it continue to "very actively" hire.
The intrigue: Selipsky isn't afraid to deliver side-eye at upstart AI companies. He noted to reporters visting Amazon's HQ in Seattle Thursday that services such as ChatGPT have been banned by some organizations because of security concerns.
"We're being super careful — [taking] more care than a lot of others have taken in the model development. We take accurate results from the models really seriously," he said.
"We're not waiting for anyone" to implement high safety and security standards around AI, he said, and a slew of other executives said that the company is focused on reducing made-up results ("hallucinations") in its own models.
Yes, but: Selipsky told Axios he wouldn't offer a timeline for when AWS would deliver on the voluntary commitments toward AI safety made by Amazon in July at the behest of the White House.
State of play: Enthusiasm explains some delays around generative AI deployment, AWS executives, including Selipsky, told Axios.
Some AWS customers have started with 200 or more ideas for how to build generative AI features or new products, leading to months spent narrow those numbers down to pilots and deployments.
But AWS execs are bullish on the ability of organizations to deploy generative AI quickly — as long as those customers have invested in well-organized data.
"Customers that move quickly are moving quickly because their data is already in a data lake," said AWS vice president Mai-Lan Tomsen Bukovec.
Tomsen Bukovec said some customers — including Canva and Snap — were able to deploy major AI features in just a few weeks.
What's next: "We expect to see [more] customers operating at scale with generative AI in October or November. Generative AI is 50% tech, 50% culture change," said Matt Wood, AWS vice president of AI.
Go deeper