What's at stake in Google's antitrust trial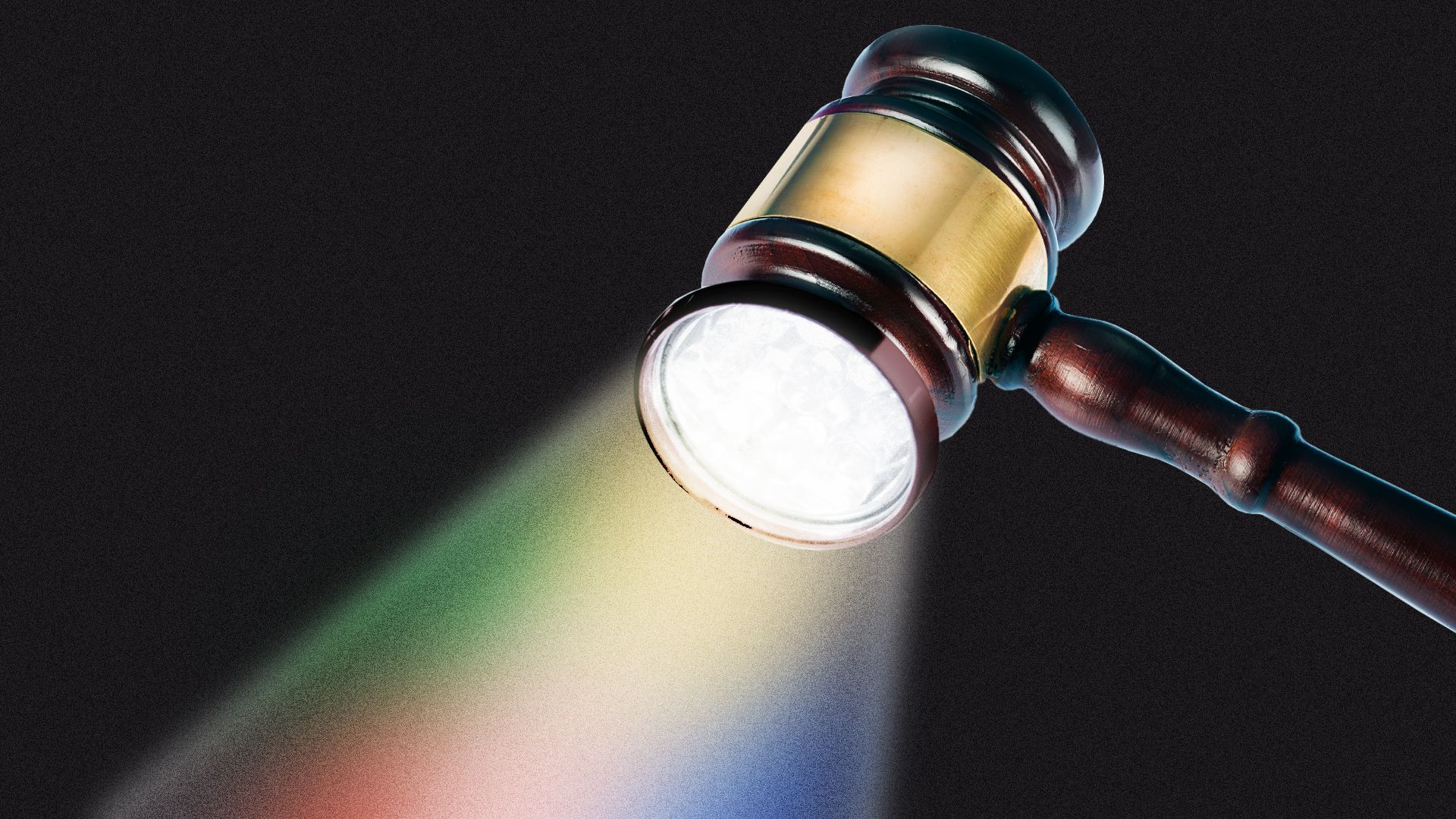 This week's historic start of Google's trial on federal antitrust charges will test the tech giant's two-decade-long dominance of the internet search field as never before.
Why it matters: Google's standing as the online world's most-used answer oracle is being challenged in court at the exact moment that the company also faces a technological earthquake in the form of ChatGPT and generative AI.
In its suit, first filed in 2020, the Justice Department accused Google of operating a monopoly in online search and using that monopoly power to limit competition, stifle innovation and violate users' privacy.
Google rejects the charges. "We obviously think there is a lot of competition in this space," Kent Walker, Google's chief legal officer, told Axios. "We're constantly changing search."
Zoom out: Every 20-25 years, the Justice Department's antitrust enforcers have taken on a dominant tech company.
First it was IBM's turn (1969-1982), then Microsoft's (1998-2002). Google now has the baton.
Each of these trials has taken place as one era in computing was transitioning to another: From the mainframe to the PC, for IBM; from the isolated PC to the Web, for Microsoft. The advent of AI now looms over Google's case.
Yes, but: IBM and Microsoft were singular colossi. Google's dominance of search and online advertising coexists with the power of other digital giants like Apple, Amazon, Meta and a resurgent Microsoft.
If the court rules against Google, the firm could face financial penalties, conduct mandates, or other remedies.
Legal experts don't view an order to "break up" Google as a likely outcome. The company's search business doesn't cleave neatly into parts in the way that, arguably, Microsoft's operating system and browser products did.
A decision against Google could also hurt Mozilla, Apple and other companies that receive big payments from Google to make its search engine the default choice in their products.
The danger to Google may lie less in the trial's outcome than in the distractions and cautions imposed by its simple existence.
IBM and Microsoft both lost momentum in their markets during the course of their antitrust ordeals, even though they both ultimately won their court battles.
Companies hesitate and second-guess themselves when they know they're being watched by regulators.
What's next: The trial is expected to last around two months. Any ruling could then be appealed.
In 2000, Microsoft faced defeat at trial and a judge ordered the firm be split in two — but a year later, the company largely reversed that loss on appeal.
Editor's note: This story has been corrected to note that the trial is expected to last two months (not four).
Go deeper