Public freakouts, burnout, and bullying: Bad behavior is here to stay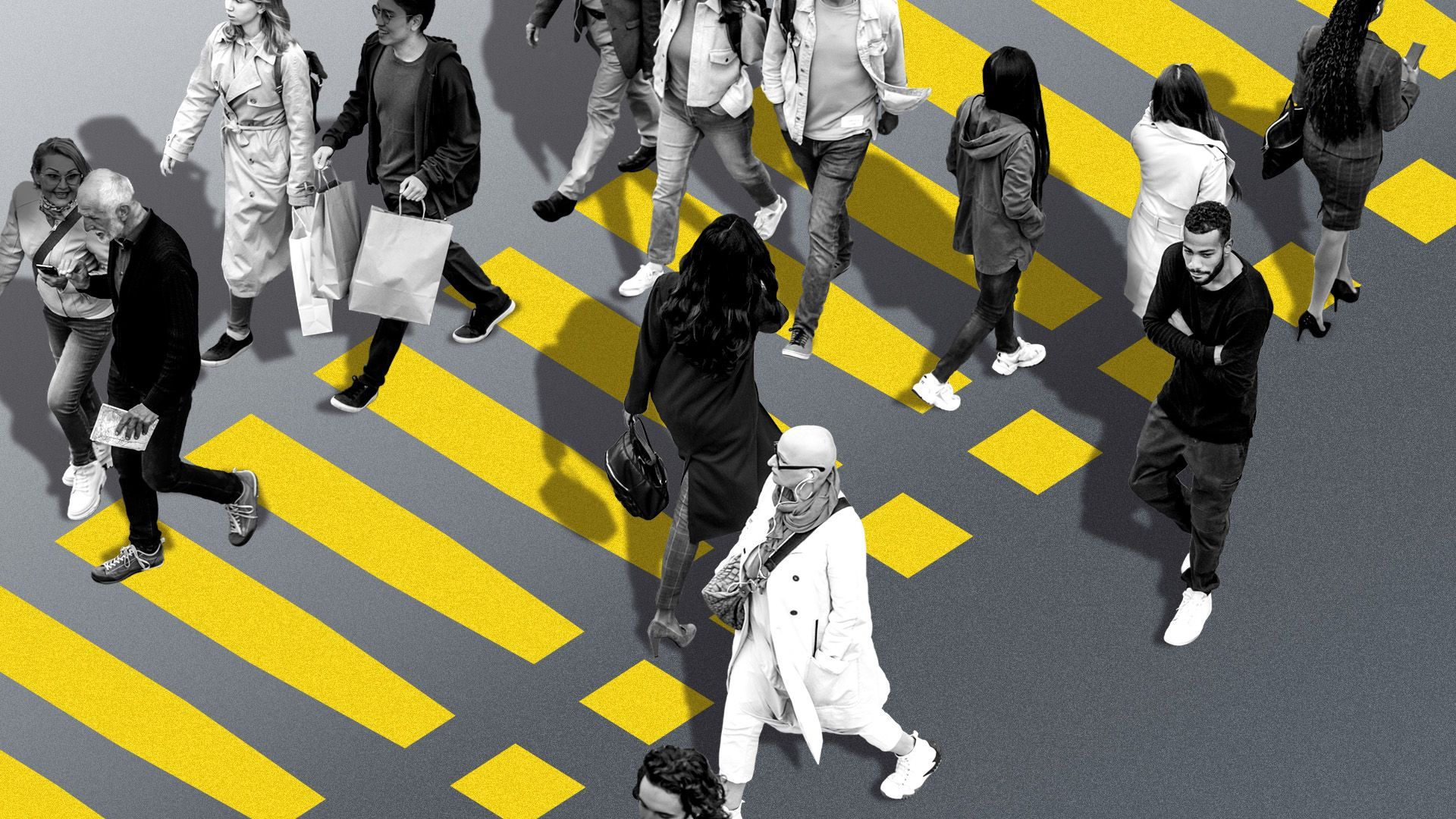 Concertgoers throwing things at performers, people talking on their cell phones through movies, tourists defacing historical landmarks in pursuit of the perfect selfie — the first truly post-pandemic summer has shown the bad behaviors unleashed during the stress of COVID aren't slowing down.
Why it matters: A mix of worsening mental health and decaying societal connections, both exacerbated by the pandemic, may be driving this trend in rude behavior that could extend far beyond COVID's upheaval, mental health experts told Axios. Though other factors are also at play, they said.
What they're saying: "I think it's a breakdown of social norms," Megan Ranney, dean of the Yale School of Public Health, told Axios.
"The pandemic really did change us very inherently because, for the first time in anyone's lifetime, it was like every man for himself. You know, we were fighting over toilet paper," said New York-based neuropsychologist Sanam Hafeez. "It broke life as we knew it."
The big picture: Obviously, not everyone has lost all sense of decorum. But anyone you ask likely has their own fresh anecdote of witnessing entitled customers barking demands at staff or an angry outburst at a restaurant. "Adult tantrums, rule-breaking, rudeness and general bratty behavior has not only become increasingly common on airplanes, it has spread," the Los Angeles Times recently wrote.
Ranney has experienced some of this herself — as a prominent public health expert, she and colleagues saw an increase in threats throughout the pandemic.
She said she's also seen more parents justifying their own children bullying other kids and more people treating her staff rudely on research projects.
Flashback: Early in the pandemic, reports of bad behavior such as increased outbursts on airplanes and violence against health care workers became more common.
A study in the Harvard Business Review last year found rude behavior was increasingly the norm.
People seem to recognize how they are relating to each other in public hasn't improved much since then.
Just a few weeks ago, a video of an American Airlines pilot urging fliers to "be nice" and "respectful" to each other went viral. "I shouldn't have to say that," he said.
Zoom in: Psychologists have pointed out people are socializing less and reporting higher levels of loneliness and poorer well-being than before the pandemic. But at the same time, people seem to feel more comfortable canceling plans with others.
"We need society to keep defining and holding us accountable," Hafeez said. "And when society stopped for a very good reason, it's almost like we gave ourselves this silent permission to drop our pretenses."
Work is likely contributing to widespread stress and frustration. More people than ever are feeling burned out in their jobs, partly because of workforce shortages and a shift toward remote work that means they're on the clock longer.
"We just seem to have no time because everyone says 'Oh, it's OK. We can do a Zoom," Hafeez said. "There's no downtime left. You're just emotionally and mentally exhausted, right?"
Of note: Of course, all these changes can't be blamed on the pandemic. Experts also noted the increasingly volatile political environment is contributing to a general loss of civility.
They also pointed to how technology — and social media in particular — has fundamentally changed how people interact with the world.
In a recent Washington Post story about bad behavior by tourists, clinical psychologist Andrea Bonior said social media is fueling a "main character" mindset that gives people permission to disregard others. "There's an element of being the star of your own story," she told the Post.
The impulse to document and share every part of one's life on those platforms at times seems pathological, said Allison Holt, medical director of telehealth platform Talkiatry.
In some cases, she said, it shares characteristics of narcissistic personality disorder, which includes requiring excessive admiration, having a sense of entitlement with unreasonable expectations of favorable treatment, and lacking empathy if it's part of an enduring and damaging pattern.
"If you think about people who are on planes and trampling people at concerts, I mean, it's just total lack of being able to see anybody else's perspective," Holt said.
The bottom line: The pandemic — combined with plenty of other cultural forces — has shaken up the way we live, increased stress and some bad behavior along with it.
That doesn't mean the long-term changes need to be permanent, experts said. Rededicating ourselves to having in-person interactions with friends and colleagues and giving a little bit of grace can go a long way.
"The good news is, it isn't that some innate characteristic of humans has changed," said Ranney, the Yale public health expert. "We just need to work to come back together as a community and to practice the Golden Rule."
Go deeper