Tropical Storm Idalia is a feared Gulf intensification scenario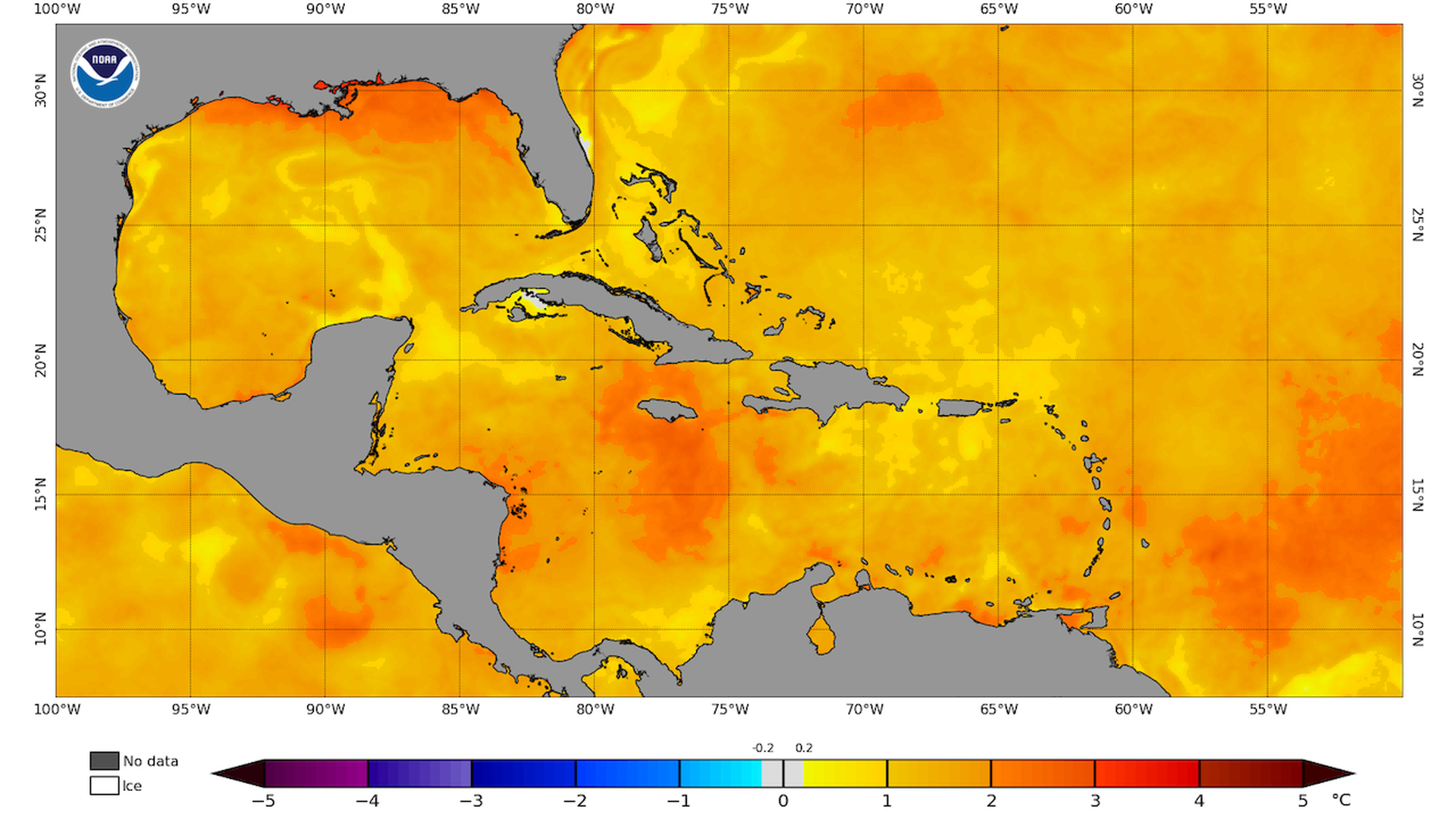 Tropical Storm Idalia may be following the path of many previous storms, but it is about to encounter Gulf of Mexico waters that are record warm for this time of year — the equivalent of a powder keg for hurricane energy.
Threat level: Storm intensity forecasts are notoriously hard to make, especially more than a day in advance, but this is even tougher with Idalia.
The National Hurricane Center is currently forecasting that Idalia will make landfall somewhere between Tampa and Tallahassee on Wednesday as a low-end Category 3 storm, but there is room for that intensity forecast to be too low.
The NHC is now explicitly calling for rapid intensification to take place during the early Tuesday to Wednesday time period, based on computer model guidance and other tools.
Sea surface temperatures ahead of the storm's forecast path average close to 90°F. Notably, that ocean heat extends to at least 100 feet beneath the ocean's surface, providing a deep reservoir of heat for the storm to tap into.
Especially during the past decade, the Gulf of Mexico has become notorious for giving rise to rapidly intensifying storms, which means that their winds increased by at least 35 mph in 24 hours.
The big picture: "Rapid intensification is historically hard to predict and the numerical guidance often struggles to capture it adequately," Jim Kossin, a hurricane expert at the University of Wisconsin-Madison and the nonprofit First Street Foundation, told Axios in an email.
Recent studies show that rapid intensification can account for large storm strength forecasting errors, mainly from underestimates.
"On the other hand, we have been seeing more and more explosive intensification over the past 5-to-10 years, and this certainly must be making everyone nervous," he said via email.
"These recent rapid intensification events have also been recently linked to climate change, which tends to create new normals that forecasters may struggle to get comfortable with."
Of note: Hurricanes Ian and Michael rapidly intensified before making landfall in Florida during the past few years. Similar patterns played out with other storms hitting parts of the U.S., such as Hurricanes Laura and Ida.
And Idalia is likely to encounter waters even hotter than some of those deadly and destructive storms did.
The intrigue: Several studies have tied human-caused upticks in the occurrence of rapidly intensifying tropical cyclones, as well as the magnitude of their jumps in intensity.
Research has also unequivocally tied increasing ocean temperatures to human-caused climate change — and this has been on full display this year, boosted further by an El Niño event in the tropical Pacific.
July, for example, set a record for the hottest global ocean temperatures on record, beating the previous record set a month earlier.
The Gulf of Mexico has seen its temperatures skyrocket in recent months, thanks to long-term trends plus a torrid heat dome stuck over the South and Southeast during the spring and summer.
The unusually hot waters have in turn helped worsen the severity of the heat by enhancing humidity levels. On Sunday, for example, New Orleans shattered its all-time high temperature record, with a high of 105°F.
Zoom in: Multiple locations in Florida, Mississippi, Louisiana and other Gulf States are sure to record their warmest meteorological summers (the period from June through August) on record.
The planet's oceans have warmed at quickening rates during the past 100 years as they absorb the vast majority of the extra heat trapped by human-caused greenhouse gases.
A 2019 study in the journal Nature found a trend in the Atlantic Ocean toward more rapidly intensifying storms between 1982 and 2009. The research tied this trend to climate change through computer modeling simulations.
And a 2017 study, published in the Bulletin of the American Meteorological Society, found that a storm that intensifies by 70 mph in the 24 hours before landfall, which occurs about once every century today, could occur as frequently as every five to 10 years by 2100.
Be smart: Tropical storms and hurricanes obtain their energy from warm ocean waters and a moist, warm atmosphere. Unusually warm ocean waters and a hotter atmosphere can lead to rapid intensification, but it's not a guarantee.
For all their power, hurricanes are fragile giants, and they require the right mix of conditions to quickly increase their maximum sustained winds.
For example, if wind shear buffets Idalia, which occurs when winds blow at different speeds and/0r directions with height, then the storm may not be able to take advantage of the toasty waters.
However, some recent storms have turned wind shear into an advantage, and intensified rapidly regardless, such as Hurricane Ian last year.
The bottom line: "I don't envy them on this one," Kossin said regarding the NHC forecasters handling this storm.
Go deeper