This summer's extreme weather may be just a preview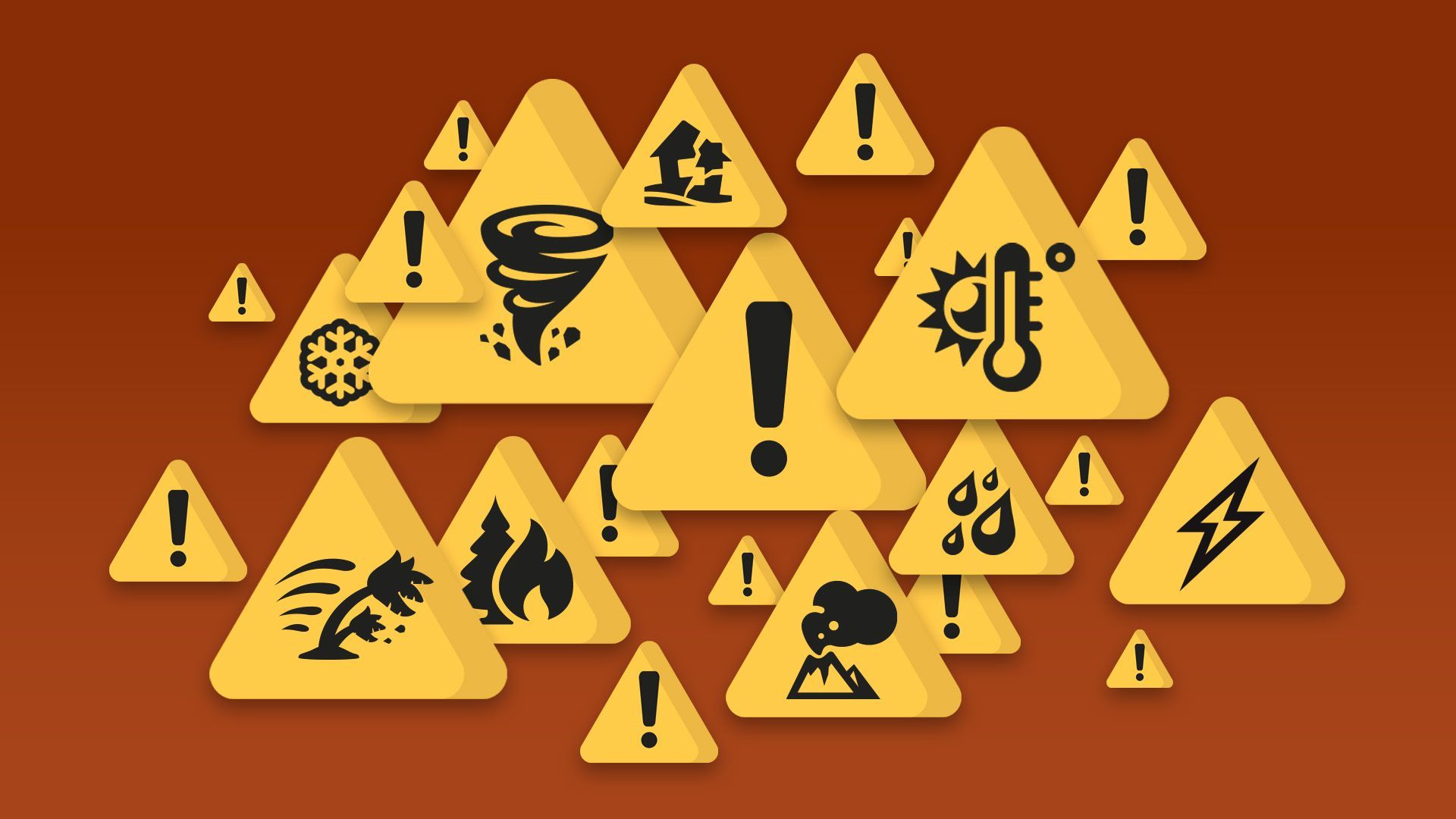 The era of simultaneous climate disasters is here to stay. This new reality is now on full display from Texas to the Northwest Territories of Canada.
Why it matters: The climate impacts this summer are a mere preview of what the planet will look like after warming at least 1.5°C (2.7°F) above preindustrial levels.
That has already been achieved now, albeit briefly, bolstered by human-caused climate change and an El Niño event.
The picture that emerges is deadly, expensive and concerning. It may spur policymakers to put a greater emphasis on climate adaptation and resilience initiatives at the COP28 climate talks in Dubai later this year, along with compensation for climate-related damage for developing nations.
The big picture: Most observers did not have these extreme weather events, all happening at the same time, on their climate change bingo card for 2023. During Canada's worst wildfire season on record, a complete evacuation of the largest city in the Northwest Territories was carried out, while Kelowna in British Columbia is threatened by advancing flames as well.
At the same time, Tropical Storm Hilary made a rare incursion into California, yielding flash flooding, mudslides, debris flows and nearly unheard-of rainfall rates in the middle of the desert.
The storm is consistent with studies showing increasing precipitation extremes overall with climate change, and a trend toward wetter hurricanes.
Meanwhile, in the middle of the country, an infernal heat dome is spiking heat indices to staggering territory between the Twin Cities and Houston.
This is all occurring in the wake of the deadliest wildfire disaster in modern U.S. history, which may have had certain climate change links.
Between the lines: When we look back upon this summer, it's likely that the heat and wildfire scourge will stand out as the most impactful and unusual.
Some areas' heat waves have never fully relented since the spring, primarily among parts of Texas, Louisiana and South Florida.
As of Monday morning, about 117 million people in more than a dozen states are under extreme heat alerts.
During the past 30 days alone, the U.S. has seen 8,304 hot temperature records set or tied, compared to 1,321 cool temperature records.
Over the long term, warm records have been disproportionately dominating cold ones, on an annual and decadal basis. If the climate were not warming due to human activities, this ratio would be roughly even.
Context: Climate change is causing heat waves to be more intense, longer-lasting and more frequent. Studies in recent years have shown that some extreme heat events would not have occurred in the absence of human-caused climate change.
Of note: Hundreds more extreme heat records are likely to fall this week in the Central U.S. as the heat dome reaches a record intensity, a telltale sign of a highly anomalous event.
What's next: While Hilary's remnants are forecast to inundate areas all the way to the northern Rockies, the record-strong heat dome is likely to only intensify this week.
As for the fires in Canada, they may take until winter (or longer) to die down.
Oh and by the way, the Atlantic hurricane season seems to be waking up from a long slumber...
Go deeper