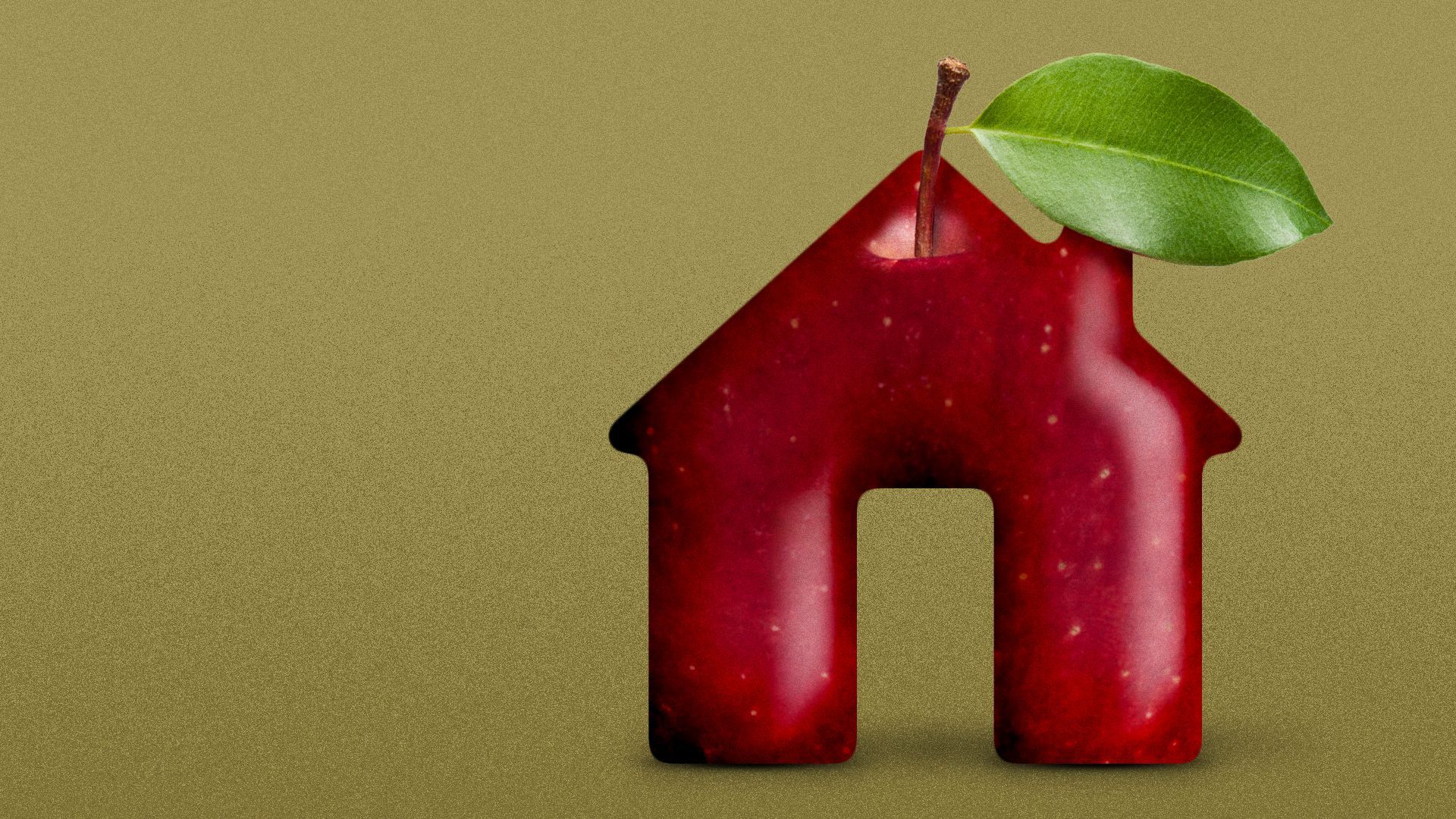 In a desperate effort to combat a chronic teacher shortage and a housing affordability crunch, school districts across the country are getting into a new industry: homebuilding.
Why it matters: On their salaries, many teachers simply can't afford to live where they work, which can have repercussions on the quality of students' education, Becky Pringle, president of the National Education Association, told Axios.
Pringle, a former teacher, said those forced to commute for hours aren't spending as much time with students and are more prone to burnout.
Driving the news: According to the nonprofit National Council on Teacher Quality (NCTQ), in 15 of 69 U.S. cities a starting teacher salary could not affordably cover a one-bedroom rental in 2022.
Since 2017, the average American home price has risen 40%, and the one-bedroom rent in the largest metro areas has increased 22%, per NCTQ.
But starting teacher salaries have only risen 15%.
NCTQ has found teachers need three times as long as the average U.S. household to save for a 20% down payment.
State of play: There are more than 36,500 teacher vacancies in the U.S., estimates Kansas State University Professor Tuan Nguyen, though he says that is likely to be an undercount because of lags in some state's data reporting.
Nationwide, the average salary range for teachers (adjusted for cost of living) is $57,637-$83,992, per NCTQ.
The big picture: "When teachers can't afford to live in the communities where they teach … that cost can be considerable," NCTQ president Heather Peske told Axios. It "threatens the teacher pipeline" and contributes to turnover, she said.
"If you can increase their salaries, then teachers can afford to get into the housing market," she pointed out. And then, they'll be more likely to stay.
Zoom in: Districts across the country with affordability problems are betting on various models of constructing housing with below-market rents, often leveraging tax-free, district-owned land.
The first teachers moved into a Los Gatos, California, complex built in partnership with a nonprofit earlier this year.
San Francisco's school district is building one teacher housing project with a nonprofit developer and considering another.
Austin Independent School District is looking for development partners to build and manage two teacher housing complexes on unused district land within the year.
The school superintendent in Bentonville, Arkansas, recently proposed developing 9 acres of district land for housing, Axios Northwest Arkansas reported.
Pojoaque Valley School District near Santa Fe, New Mexico, secured federal funding to build modular homes for teachers, per the Santa Fe New Mexican. Chino Valley north of Phoenix is doing something similar, CNN reported.
What they're saying: In Los Gatos, south of San Francisco, most teachers live at least an hour away, educator Elizabeth Sharkey told Axios San Francisco's Shawna Chen.
This year Sharkey became one of the first teachers to move into its new teacher housing, which she called a game-changer.
"It's a mile-and-a-half from where I work, from my school, so I can walk to school," she said. It makes it possible for kids to see their teachers "taking interest in their lives outside of the classroom."
The American Federation of Teachers, the nation's second-largest teachers union, last year opened a teacher housing complex in rural West Virginia, its president, Randi Weingarten, told Axios.
"We're not in the business of building housing, but what was clear is that there was no housing," she said.
They're open to doing more projects, she noted, but said fundraising for it was difficult. They were forced to borrow money, take out a mortgage and use tax credits.
Reality check: Although each district's situation is different, the root of the housing problem lies in chronic undercompensation of teachers, said Pringle with the NEA.
According to the Economic Policy Institute, teachers have for decades experienced a "wage penalty" — meaning they consistently make less than their non-teacher college-educated counterparts.
The penalty hit a record high in 2021 at 23.5% less.
The other side: Jeremy Striffler, the director of real estate at the Independent School District in Austin, Texas, said it is already going into a deficit to cover a recent compensation increase, and it can't raise pay more until lawmakers change the state's student funding formula.
So Austin has been left to think, "What else can we do?" he told Axios. "It's not in lieu of increasing compensation, it's in parallel."
Threat level: The affordability problem disproportionately affects teachers of color, who are more likely to have student debt.
Plus, Peske with NCTQ said: "Educators of color often want to go teach in schools or districts that have higher percentages of students of color. And those are typically urban districts, where the cost of housing is less affordable."
Meanwhile, some districts are working the problem from the salary angle. St. Paul Public Schools in Minnesota is offering hiring bonuses for hard-to-fill positions like special education, which seem to be helping, Axios Twin Cities reported.
Districts from Little Rock, Arkansas, to Los Angeles have recently raised pay.
D.C. teachers have had access to a down payment assistance program since 2019. Louisiana just began one for teachers and first responders, and a San Antonio city councilmember recently proposed a version.
What we're watching: Salaries on average make up 80% of district budgets and are the biggest controllable incentive, Peske said. Before building housing, schools should reassess salary structures, she said
For example: Peske questioned why teachers with graduate degrees often get paid more, when there's "very little evidence that a master's degree makes a difference when it comes to impact on kids."
Go deeper