Scoop: Kari Lake prepares to enter Arizona Senate race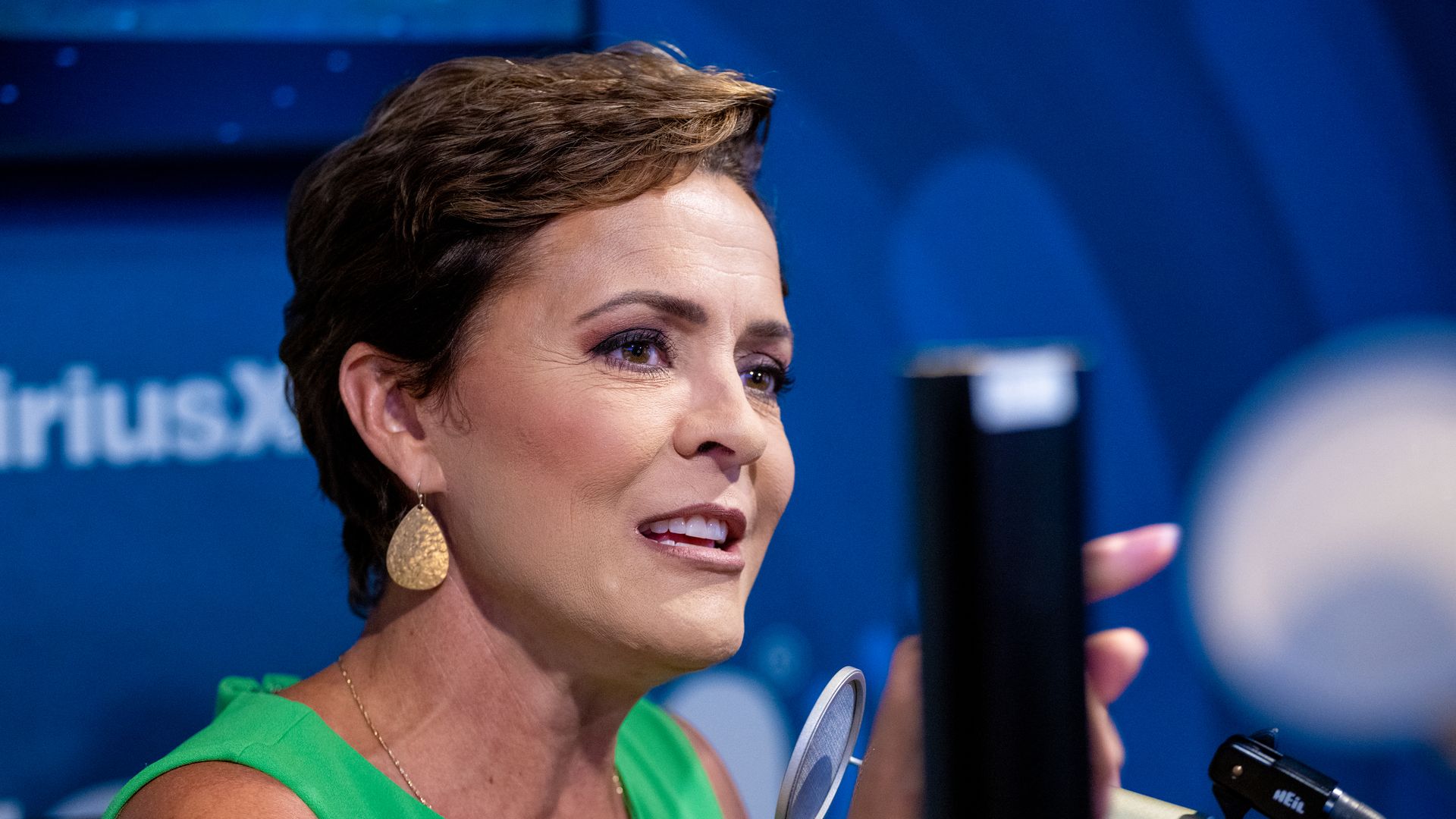 Former Arizona GOP gubernatorial nominee Kari Lake is staffing up for a Senate campaign in anticipation of an October launch, making Arizona ground zero to replay — and relitigate — GOP losses in the last two elections.
Why it matters: A potential three-way battle, with Sen. Kyrsten Sinema running as an independent, will expose deep divisions in both parties on whether to appeal to their bases or independents in a critical 2024 battleground state.
The race will have implications in the presidential campaign and give President Biden an opportunity to run against the "ultra MAGA" mindset that Lake represents, even if former President Trump isn't Biden's opponent in November 2024.
Lake, who has not conceded her gubernatorial loss in 2022, is one of Trump's most ardent defenders and frequently amplifies the false election claims at the heart of the former president's most recent indictment.
Between the lines: The race also offers a state-level experiment on the implication of a possible three-way presidential contest, with Sinema playing the role of a No Labels candidate.
Driving the news: Lake is expected to spend most of September in Arizona interviewing potential staff and consultants, a source familiar told Axios.
The former TV news anchor has hit the campaign trail with Ohio GOP Senate candidate Bernie Moreno in recent days, drawing a crowd of more than 650 people in a rural area.
"I'm really, really excited about [Sen. J.D. Vance], I'm super excited that Bernie Moreno's going to be in the Senate. And if they're in the Senate, I just might have to join them," she said during a Monday fundraiser in Cleveland with Vance and Moreno.
What they're saying: "When President Trump gets back in the White House he's going to need fighters like Kari Lake in Washington, DC to help enact his Agenda 47," Caroline Wren, a senior adviser to Lake, told Axios.
"Kari Lake is seriously considering a run for the United States Senate and will be making a final decision this fall."
The big picture: If Lake wins the GOP's primary next August, she likely will face Democratic Rep. Ruben Gallego and Sinema in the general election.
Sinema, once the darling of her (old) party for being the first Democrat to win an Arizona Senate seat in 30 years, has spent most of the Biden presidency at odds with progressives — on corporate taxes, filibuster reform and other issues.
Gallego, a Marine combat veteran, wants to replace Sinema by appealing to his party's base. He's convinced that Arizona voters want fundamental — and not incremental — change in Washington.
What's next: Sinema has not yet officially announced whether she will seek re-election, but she reported nearly $10.8 million in cash-on-hand last quarter.
A recent poll from Noble Predictive Insights showed Sinema narrowly trailing both Gallego and Lake in a three-way race. An Emerson poll indicated Sinema would pull away more votes from Republican voters than Democrats.
Pinal County sheriff Mark Lamb is also seeking the GOP nomination and has raised more than $600,000. Last year's unsuccessful GOP Senate nominee Blake Masters is also reportedly considering a run.
The bottom line: Sinema's decision on whether to run again is expected to have a significant impact on the race, as party campaign arms and outside groups gear up to spend millions in Arizona.
To keep control of the Senate, Democrats can't afford a loss in a state that is trending purple, especially in a cycle when so many of their incumbents are up for re-election in red states.
Go deeper