Exclusive: Media startup Puck raises more than $10M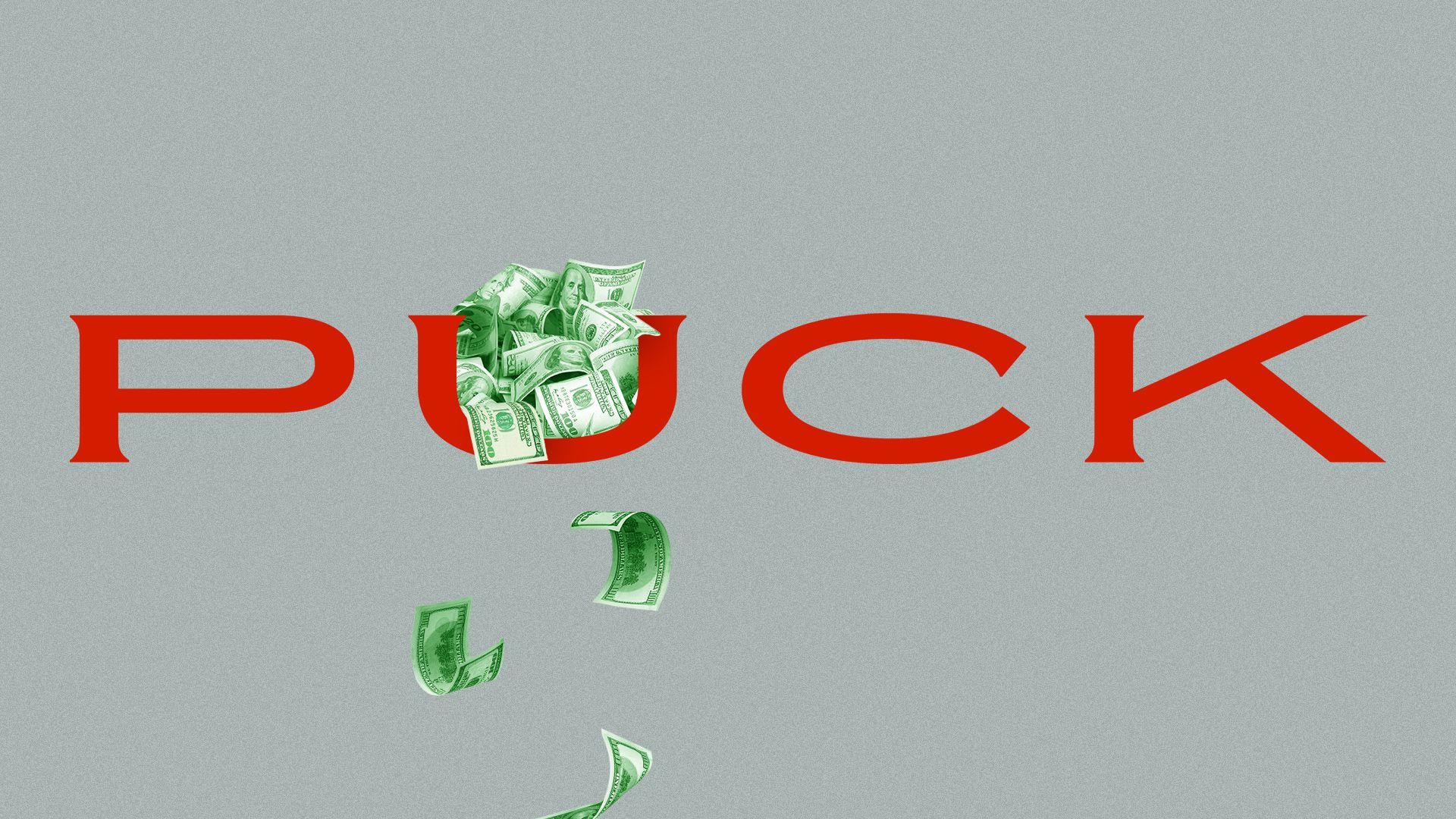 Puck, the buzzy media startup that covers the intersection of Hollywood, Silicon Valley, Wall Street and Washington, has raised over $10 million in a Series B growth round, Puck co-founder and editor-in-chief Jon Kelly told Axios.
Why it matters: The amount of money is less significant than that it raised at all, given a slowdown in dealmaking within the media industry.
Details: The round, which closed last week, was led by British investment firm J Rothschild Capital Management, which invests in startups across industries, including crypto, fintech and entertainment.
Puck's two existing investors — Standard Investments, an investment arm of Standard Industries, and private equity giant TPG — both participated in the round.
Those two firms continue to serve as Puck's largest investors, despite not leading the Series B round.
Between the lines: The money will be used, in part, to add headcount and expand Puck's core subscription and advertising businesses, as well as its licensing business.
The company has already begun producing podcasts for Spotify's The Ringer and Audacy, and it plans to leverage more of its journalism and talent to continue building new shows.
"As a result of this fundraise, we'll be hiring more great authors, operators, and marketers; building out our I.P. business; and expanding our footprint into Hollywood and Washington, D.C., in particular," Kelly told Axios.
By the numbers: Today, Puck has 31 employees. With the new funding, it plans to add another 8-10 people by the end of the year.
The firm is not yet profitable on a 12-month trailing basis but has charted several profitable months.
The new round values the company in the mid $70 million range, post-money, a figure first reported by the New York Times.
Kelly told Axios earlier this year that Puck has roughly 240,000 free and paid newsletter subscribers. The New Yorker reported in December that Puck has roughly 30,000 paid subscribers.
Catch up quick: Puck launched in 2021 after raising a $7 million Series A funding round led by Standard Investments and TPG.
The outlet, dubbed by the New Yorker as "The E-Mail Newsletter for the Mogul Set," began with a focus on email and has since expanded into events and podcasts.
Puck has been raising its Series B round since late last year. It was reported, and confirmed by Kelly, that Puck was in touch with RedBird Capital Partners, a private investment firm, about participating in the raise, but it did not ultimately participate.
In May, Axios reported that Puck's co-founder and CEO, Joe Purzycki, would be leaving the company. Kelly told staff at the time that the firm is looking for a chief executive who can lead Puck through its next phase of growth. A new CEO has yet to be named and the search for a replacement continues.
The big picture: Puck represents a new type of media business that rewards journalists for building brands and direct connections with their audiences.
At times, the proximity of its writers to their subjects has been the target of criticism. But those relationships have also helped Puck create a distinct voice for itself as the media brand for insiders.
How it works: Puck's business model allows journalists to take a cut of the subscription revenue their newsletters bring in within a broader Puck-branded subscription bundle.
The emphasis on reporters' personal brands is meant to empower them to create more content across different mediums, which is why the company is leaning into new licensing opportunities.
Puck's business model leverages its high-touch subscriber relationships to sell ads. The company regularly sells sponsored roundtable dinners and events, catered to high-end subscribers.
"We're laser-focused on the task of building an amazing cultural product around a team of generationally talented journalists — the people who influence the influencers," Kelly said.
"At the same time, we're more committed than ever to redefining the business model of journalism, and ensuring that the creators remain in the middle of the equation."
Between the lines: Most traditional newsrooms have been slow to elevate journalists as individual brands, creating a vacuum for new startups looking to cover industry-specific news.
Semafor, a newsletter and events-based media startup that launched a year after Puck, has similarly put an emphasis on elevating journalists as influencers in their own right. The company has raised $34 million to date, mostly from family offices and wealthy individuals.
What to watch: Unlike media startups of the aughts, which raised hundreds of millions of venture capital dollars to scale quickly, startups like Puck are raising less money, often from private equity firms or family offices, to focus on slow, methodical growth.
Go deeper